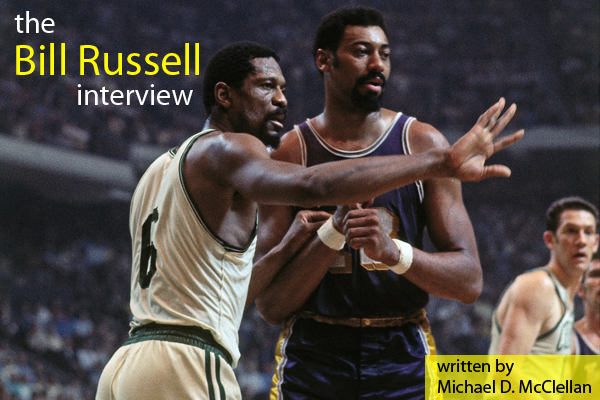 By:  Michael D. McClellan | The most decorated champion in the history of professional sports is standing four feet away from me, the culmination of a 25-year journey, and I'm sweating like an awkward, teenage schoolboy about to ask the hot girl to the prom.  My heart hammers hard inside my chest.  My face is flush.  I've done plenty of interviews like this before, from marginally successful basketball players to some of the biggest names in the NBA, and I've always been under control, confident in my own skin, aware of my place in the natural order of things.  I simply ask the questions.  The star does the rest.  No pressure.  I've interviewed Magic Johnson, Julius Erving and Kareem Abdul-Jabbar.  I've talked hoops with Jerry West and Bob Cousy.  I've shot hoops with Jerry Lucas.
But this…
Anyone who knows anything about me knows that my sporting passion lies squarely with the Boston Celtics.  Growing up, my entire world was Larry Bird.  I was a walking, talking encyclopedia of everything green-and-white.  I could tell you even the most random piece of trivia about the team, from its formation in 1946 to its most recent game to everything in-between.  Bird's birthday?  December 7 – Pearl Harbor Day.  Red Auerbach's alma mater?  George Washington University, 1941.  If only I had poured the same energy into academics, who knows, I might be working as a Wall Street power player, or maybe lecturing on the genetic inner-workings of DNA-to-RNA transcription, or analyzing subatomic particles at the Large Hadron Collider in Geneva, Switzerland.
Okay, maybe not.  But seriously, what fun would that have been anyway?  The Celtics were my universe, an obsession run amok.  Flash-forward:  I'm married.  House.  Son.  Career.  And yes, the Celtics are still right there, front and center.  I've written a book about the team, a collection of interviews with former Celtics players ranging from Dave Cowens to Bob Cousy to Robert Parish.  I'm talking Celtics on the radio with former Finals MVP Cedric Maxwell.  The obsession even follows me to bed, where I unknowingly wake my wife in the middle of the night, softly chanting 'Larry Bird' over and over in my sleep.
And just when I didn't think it could get any better, when my wife is convinced that this Celtics sickness has reached its absolute apex, I'm presented with the opportunity of a lifetime:  A one-on-one interview with the great Bill Russell.  Three weeks later I find myself in Las Vegas, embedded in the 'Bill Russell and His Legendary Friends Fantasy Basketball Camp', here to participate as a camper and to write about Russell, the greatest winner in the history of professional sports.  If there is a Mt. Rushmore for sports legends, Russell's face is on it, alongside Babe Ruth, Muhammad Ali and Michael Phelps.  We're talking two NCAA championships, Olympic gold, 11 NBA titles in thirteen seasons with the Boston Celtics, the last two of those as player-coach.  Player-coach!
.
And now here I am, four feet away from the single greatest player in franchise history – one of the greatest living athletes of all-time – and I'm having a full-blown panic attack.  I do my best to hide it, to come across like the consummate professional, to convince myself that this is just another interview.  And just when I get a handle on my emotions something else washes over me – something else I can't control, no matter how hard I try:
I get giddy.  As giddy as a schoolgirl at a One Direction concert.  Giddy like a young child on Christmas morning.
How can I not?  I'm standing face-to-face with the great Bill Russell, about to hold court with a person recognized by President Barack Obama with Presidential Medal of Freedom, the nation's highest civilian honor.  This is a man known as much for his fierce pride as his unparalleled basketball accomplishments, a man who experienced racism, bore it with dignity, and refused to be defined by the color of his skin.
I stand there, on the basketball court at the Tarkanian Basketball Academy in Vegas, heart pounding, palms sweating, a goofy, ear-to-ear grin spread across my face like some sort of Silly Putty experiment gone bad, when I realize, for the first time, that this giant of a man standing in front of me isn't smiling back.
"Why are looking at me like that?" he asks gruffly, his eyes penetrating me to the core.  "Do I know you?"
The color drains from my face.  My grin evaporates.  My heart sinks to my feet.
"Mr. Russell," I say sheepishly, "my name is Michael McClellan, and I'm here to write about the camp."
"Who?"  He asks his question pointedly, lets it hang in the air while an awkward silence settles in between us.  The look on his face is the same basic look I give when a telemarketer calls just as I'm sitting down for dinner.  He leers at me, annoyed.  "I didn't ask for a writer."
My mind is racing in a million directions at once, and the panic is back – only this time I can't conceal it.  You'll never get me to admit that I was on the verge of tears, but let's just say that my emotional foundation had gone the way of one of those Fukushima nuclear reactors; yes, it's safe to say that I was in complete meltdown mode.
And then, just like that, the great man in front of me begins to cackle.  It's the famous Russell laugh, loud and long and full of life.  He smiles at me warmly and shakes my hand.
"Welcome to the camp," he says, giving me a pat on the back.  "I know who you are – relax, we're going to have a good time this week."
~ ~ ~
William 'Bill' Felton Russell was born on February 12, 1934, in Monroe, Louisiana.  His family dealt with the ugliness of racism on what seemed a daily basis, and those early years left an indelible impression that would later influence his relationship with Boston's citizens, the team's fans, and the sportswriters who regularly covered the Celtics.  To many, Russell was viewed as surly, standoffish and – hang onto your hats, ladies and gents – downright racist.  But there's a saying that you shouldn't judge another until you've walked a mile in his shoes; once, Russell's father was refused service at a gasoline station until the attendant had taken care of all the white customers.  When his father attempted to leave and find a different station, the attendant pointed a shotgun at him, threatening to kill him unless he stayed and waited his turn.  Incomprehensible now, but not in the 1930s South, where African-Americans lived in constant fear of a white population rotten to the core with prejudice.
"One of my favorite memories, and I've told this story many times before, is that my grandfather had never seen me play basketball.  So my father and my grandfather go to the game, and they're watching me play.  During the game, [St. Louis Hawks superstar] Bob Pettit says to my grandfather, 'It's nice to meet you, Mr. Russell.'  On the way back to Monroe after the game, my grandfather says to my father, 'Something happened to me today that's never happened before.'  My father said, 'What's that?'  And my grandfather said, 'I'm ninety-one years old, and that's the first time in my life that a white man has called me Mister.'"
"One of my favorite memories, and I've told this story many times before, is that my grandfather had never seen me play basketball.  So my father and my grandfather go to the game, and they're watching me play.  During the game, [St. Louis Hawks superstar] Bob Pettit says to my grandfather, 'It's nice to meet you, Mr. Russell.'  On the way back to Monroe after the game, my grandfather says to my father, 'Something happened to me today that's never happened before.'  My father said, 'What's that?'  And my grandfather said, 'I'm ninety-one years old, and that's the first time in my life that

a white man has called me Mister

.'" – Bill Russell
Russell's parents, Charles and Katie Russell, grew increasingly frustrated with the persistent racism of the South, and eventually decided to relocate the family to California.  He was eight years old when they settled in Oakland.  While race was the primary reason behind the move, there was also a financial incentive in the form of World War II and the demand for labor to support the massive war effort.  Charles landed a job in the Bay Area shipyards, but lost it in 1945 when the war ended.  From there the family lived in a series of project homes.
While poverty would leave an imprint, a far more significant event occurred in 1946, when Russell's mother became sick with the flu.  In the hospital for two weeks, and with the doctors unable to determine how to treat the stubborn illness, Katie Russell died suddenly – and, in the process, and left a cavernous void in her son's world.
"I had the best pair of parents a person could ever hope for," Russell says.  "My first memory of life, was that my mother and father loved me.  They also taught me the value of education, and the importance of learning something new every day.  That stuck with me."
While academics remained a priority following the loss of his mother, athletic success seemed less of a sure thing.  He was a wispy-thin 5'10" when he entered McClymonds High School, and failed to grasp even the most basic basketball concepts.  He was only slightly better as a member of the track team.  It seemed that his athletic career would come and go in the blink of an eye, but Russell was cat-quick, with large hands and great instincts, assets that kept basketball coach George Powles from cutting him as a sophomore.  Powles stressed the game's basic fundamentals, and he encouraged the young Russell to focus on improving these skills.  The message immediately resonated with Russell, who was not used to hearing such encouragement from whites.  That motivation, coupled with a growth spurt to 6'5" by his senior year, transformed him into a defensive standout.
.
"Defense was taught differently back then," Russell says.  "It was thought that you had to stay flatfooted to react quickly and play good defense.  Today that seems preposterous, but back then the game wasn't played the same as it is now.  It was played on the floor.  Almost everyone utilized the set shot on offense.  I wanted to use my strengths to make defensive plays, so I started jumping to block shots.  It was something the coaches initially wanted to change, but I stuck with it.  I think everyone eventually came around [laughs]."
Despite emerging during his senior year, the late-blooming Russell was still raw offensively and was offered only one scholarship upon graduation.
"I wasn't one of the fair-haired athletes at McClymonds," Russell reflects.  "When I left high school, I was not missed, honestly.  Nobody even said, 'Whatever happened to…'  That didn't even come up [laughs].  But I had a goal to go to a first-rate college, even though there were cliques at the school – parents and students alike – who didn't think I'd get in, and who thought I'd flunk out if I somehow got accepted."
"I wasn't one of the fair-haired athletes at McClymonds.  When I left high school, I was not missed, honestly.  Nobody even said, 'Whatever happened to…'  That didn't even come up [laughs].  But I had a goal to go to a first-rate college, even though there were cliques at the school – parents and students alike – who didn't think I'd get in, and who thought

I'd flunk out

if I somehow got accepted." – Bill Russell
His entrance exams proved he belonged.  He was easily accepted into the University of San Francisco, where he grew to 6'9" and quickly introduced the world to the art of blocking shots.  How good was Russell at the art of rejection?  Filthy good; stats weren't kept for blocked shots until Russell came along, and today his name is synonymous with the act.
"When people think about rules, they think about the things that you can't do," Russell says.  "But rules also tell you what you can do, if you think about them in the right way.  When it came to the rules of basketball, one of the things I learned was how to block shots.  At that time I'd never seen anybody block shots.  But in the rulebook it says that as long as the ball is ascending, the defender can bat it away.  So that's what I started doing."
At USF, Russell flourished; he, along with future Celtics teammate KC Jones, led the Dons to 56 consecutive victories and NCAA Championships in 1955 and 1956.  Russell was named the NCAA Tournament Most Outstanding Player in 1955.  He averaged 20.7 points and 20.3 rebounds in his three-year varsity career, emerging as a revolutionary and dominant force who could control a game at the defensive end.  Russell credits his late high school coach for the inspiration.
.
"Outside of my father, and my grandfather, George Powles had a bigger impact on my life than any other man," Russell says.  "When I went to USF, I told him I wanted to be the first All-American from McClymonds, and I was.
"Interestingly enough, George started out as the baseball coach at McClymonds, and then the principal gave him basketball, too.  He was the only white coach that would let the black guys play on his American Legion baseball team.  Frank Robinson, a dear friend and the first black manager in Major League Baseball, played baseball for George at McClymonds while I as there.  And I became the first black head coach in any of the major professional sports.  We both owe a lot of our success to George."
Selected to represent his country as a member of the 1956 U.S. Olympic basketball team, Russell helped lead the US to gold at the Melbourne Games that November.  By then he was property of the Celtics, whose coach and general manager, the legendary Red Auerbach, had worked a trade for his rights with the St. Louis Hawks.
For much of the 1950s, Auerbach and the Celtics had been flush with offensive firepower.  They had two of the best guards in the league in Bob Cousy and Bill Sharman.  And they had a lithe, 6'8" center named Ed Macauley who could score but do little else.  Auerbach knew his team needed defense to compete for titles.  Russell, he felt, was the missing piece to the championship puzzle.
But there was a problem:  Because of their second-place finish the year before, the Celtics would be picking too late in the draft to get Russell.  And because Auerbach wanted to use a territorial selection to nab Holy Cross star Tom Heinsohn, Boston would forfeit its first-round pick altogether.  So Auerbach began to think trade, and he set his sights on the St. Louis Hawks, who owned the second overall pick in the draft.
Why focus on the second pick?  The first pick belonged to the Rochester Royals, but that team already had a promising young big man in Maurice Stokes, and Auerbach also knew that Royals owner Les Harrison wasn't going to meet Russell's demand for a $25,000 signing bonus.  The second pick belonged to the St. Louis Hawks.  Hawks owner Ben Kerner was open to talk trade, especially if the transaction involved St. Louis native Macauley, a six-time NBA All-Star and a local hero in St. Louis, where he had starred for St. Louis University.  Auerbach could easily afford to part with Macauley if he was getting Russell in return, but it wasn't until Boston agreed to add rookie Cliff Hagan to the mix that Kerner acquiesced.
When Russell finally arrived, he fit the defensively-challenged Celtics like a glove.  Playing in 48 games, he led the league in rebounding.  Ironically, Boston would face the Hawks in the 1957 NBA Finals, squaring off against Macauley and its other star, Bob Pettit.  The series went the distance, with Game 7 held in Boston on April 13.  The Celtics prevailed 125-123 in two overtimes, giving Boston its first NBA Championship.
Russell was spectacular on defense throughout the series, and just like that, the Boston Celtics Dynasty was born.
~ ~ ~
As I'm talking with Russell, I'm quickly reminded that the long-running narrative between the City of Boston and its basketball star has been anything but romantic, especially in the early years.  Boston was still segregated when Russell arrived, and the Civil Rights Movement was as racially charged here as in any city in America.  To say that fans had a love-hate relationship with the centerpiece of their dynasty is a supersized understatement.  And as for Russell himself, he instead chose to insulate himself from the city, the fans who loved the team, and the sportswriters who covered basketball in Boston.  To him, the Celtics were his family and all that really mattered.  Nothing outside of this cocoon, in his estimation, deserved his time or attention.
Many fans were conflicted by this proud black man who alternately brought them glory and denied them access into his world.  They viewed him as small, petty and spiteful, and his actions only fueled their distrust in him.  Yes, Russell was great, but he refused to acknowledge fans, wouldn't sign autographs and was prickly with the media.  To them, he was ungrateful and unworthy of their loving devotion.  Russell couldn't have cared less.  To him, the same fans who cheered for him were the same fans who wanted a segregated Boston.  They were the same fans who broke into his house, smashed his trophies, scrawled racist graffiti on his walls, and defecated in his beds.
"Philosophically, the opposite of love is not hate," he was once famously quoted.  "The opposite of love is indifference.  So you don't carry around hatred in your heart, because it takes your ability to be happy.  I don't hate anybody."
Inside the Celtics organization, Auerbach created an environment that was tailor made for the San Francisco big man.  To Auerbach, there were no black players or white players.  There were only basketball players, and he knew that he had the game's ultimate weapon in Russell.  Their relationship was as close as any in the history of sport.
"I have enormous respect for Red, as you know," Russell says quickly.  "It was a special relationship – I actually loved the man.  And I never played for him – we worked together.  That's the reason for our success.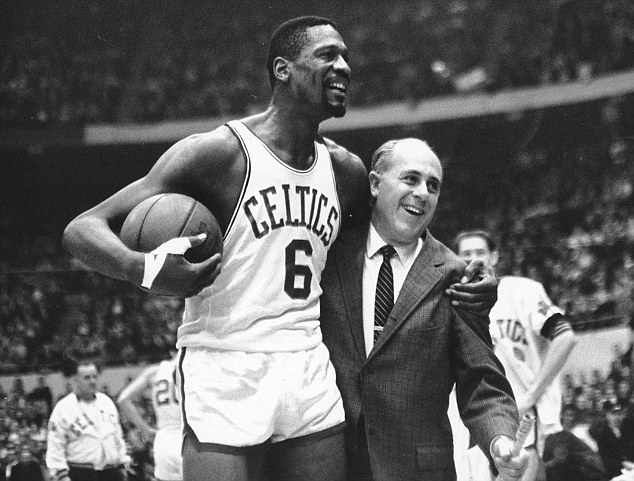 .
"I trusted Red explicitly – there was never a single day that I mistrusted him.  He was an absolutely brilliant man – his background was in mathematics, and he was a master at psychology.  He had the best set of ears that I've ever known when it comes to a man in his position.  He would have two or three conversations with a player, and he would know how to relate to the player from then on.  He understood that you couldn't treat everyone the same way, because everyone is wired differently, so he tailored his approach to each player.  That takes an enormous amount of hard work, but the results speak for themselves."
"

I trusted Red explicitly

– there was never a single day that I mistrusted him.  He was an absolutely brilliant man – his background was in mathematics, and he was a master at psychology.  He had the best set of ears that I've ever known when it comes to a man in his position.  He would have two or three conversations with a player, and he would know how to relate to the player from then on.  He understood that you couldn't treat everyone the same way, because everyone is wired differently, so he tailored his approach to each player.  That takes an enormous amount of hard work, but the results speak for themselves." – Bill Russell
Boston started the 1957-58 season on fire, winning its first 14 games en route to the NBA's best regular-season record.  After storming through the playoffs, the Celtics found themselves in a rematch with the Hawks in the NBA Finals.  After splitting the first two games of the series, Russell went down with a severe ankle injury and was ineffective the rest of the way.  St. Louis would win the championship, but it would be the only time in twelve Finals appearances that Russell's Celtics would come up empty.
"Bob Pettit worked harder than almost any player I've ever seen," Russell say, reflecting on his friend and adversary.  "That series was no exception – he scored 50 points in Game 6 of that Finals.  His name was synonymous with second effort."
Russell was voted the NBA Most Valuable Player following the 1957-58 season, an award that surprised no one, least of all the player himself.
"I was one of the best athletes on the planet," Russell says after a moment of careful thought.  The statement does not come across with the slightest hint of hubris attached.  "In 1956, I was ranked as one of the top three high-jumpers in the world in track and field.  I ran hurdles, I competed in the long jump, and I could run the 400 meters in the 40s.  When I jumped on the basketball court, I could get my eyes above the rim.  I could touch the top of the backboard.  But being an MVP is more than just being a great athlete.  An MVP makes the players around him better, and I think I did that."
Rebounding is more about anticipation and positioning than it is about size and strength, and Russell was a master of both.  He led the league in rebounds for a third consecutive year in 1958-59, averaging 23.0 per game.  The Celtics returned to the NBA Finals for the third straight year, sweeping the Minneapolis Lakers 4-0 to reclaim the title, the team's second in three years.
The 1959-60 season welcomed Wilt Chamberlain to the NBA, and with it one of the greatest individual rivalries in the history of sport was born.  It made for great theatre, a decade-long collision of giants on the hardwood, first with Chamberlain as a member of the Philadelphia Warriors, and later with him as the hulking center for the Los Angeles Lakers.  Russell was viewed by many as a team-first player, unconcerned about personal stats or awards, and focused only on the bottom line – winning.  Chamberlain was taller, stronger, and far more skilled offensively – he would famously score 100 points in a single game – but he was also portrayed by the media as a selfish player more concerned with personal accolades than winning championships.
And while the press painted these two goliaths as bitter adversaries, loathing each other to the core, nothing could have been farther from the truth; whenever Boston played a Chamberlain team on the road, it was not uncommon for Russell to spend the night at Wilt's house as a guest.
Friends or not, matching up against such a physically imposing player as Chamberlain caused Russell plenty of headaches through the years.
"I couldn't never play him the same way twice," Russell says, "because I knew that it just wasn't going to work.  We played against each other for a long time.  We went through our fair share of battles, and got to know each other pretty well.  And for the most part, my approach was a little different in every game."
.
And Russell's take on his rivalry with Wilt?
"That's where the common misconception comes into play," Russell replies.  "It wasn't a rivalry – it was a competition, which is completely different.  In a rivalry, you have the victor and the vanquished.  Wilt was never vanquished, and neither was I.  We were both hugely successful at what we did, but while we both played the same position, we played it differently.  So it wasn't a rivalry.  But there was a tremendous amount of respect between us.  I once told Wilt, 'I'm probably the only guy on this planet who really knows how good you are, because I get to see it up close and personal every time we play [laughs].'"
Despite all of the hype surrounding Chamberlain's arrival, the season ended the way it began – with the Celtics in the NBA Finals, this time in rubber match with Pettit and the Hawks.  The series would go seven hard-fought games, with Boston winning Game 7, 122-103.  Russell was at his magnificent best in the deciding game, scoring 22 points and grabbing 35 rebounds as the Celtics won their second consecutive championship.
Boston won the title again in 1960-61, again against the Hawks, this time cruising in the Finals, 4-1.  Russell was again named the NBA's Most Valuable Player; Chamberlain, in the eyes of many, was busy putting up gaudy, me-first numbers that meant little in the bigger picture.  It was a contrast of substance over style, and a subject that even Russell's teammates were willing to speak publicly about.
As Don Nelson told the Boston Herald, "There are two types of superstars.  One makes himself look good at the expense of the other guys on the floor.  But there's another type who makes the players around him look better than they are, and that's the type Russell was."
The next season, 1961-62, sounded a familiar refrain:  Chamberlain garnering headlines for his 50.4 point-per-game scoring average, and Russell walking off the court a champion, beating the Los Angeles Lakers in seven games.  Russell was again named the NBA's Most Valuable Player.
This isn't to say that Russell alone was responsible for the championship glut going on in Boston.  Auerbach was as shrewd a personnel man as there was in the game, bringing in complimentary pieces like Satch Sanders and Sam Jones to give the Celtics additional punch on offense and defense, respectively.  And in 1962 the Celtics added another future Hall of Famer, John Havlicek, via the '62 NBA Draft.  But, as another MVP trophy and a 4-2 series win over the Lakers in the '63 Finals would prove, Russell was clearly the straw that stirred this championship drink.
~ ~ ~
If the 1960s reflected the Celtics' NBA dominance, it was also reflected the fight for civil rights in the United States – with Russell front and center for both.  He was consistently principled, often controversial, frequently misunderstood.  He loved his teammates like family, and was unwaveringly loyal to those who shared the same locker room – black or white.  If the Kennedys were Camelot, Russell and the Celtics were a colorless band of basketball brothers.  In 1963, when Russell marched with the Reverend Martin Luther King during the 'I Have a Dream' speech, every player on the roster understood why and questioned nothing.  When the Celtics played an exhibition game in Kentucky and a local hotel refused to let the black players sleep there, Russell and his black teammates refused to play in the game and headed back to Boston – with full support from Auerbach and Russell's white teammates.
.
It was an uncommon bond among a group of uncommon men, and it helped to keep the Celtic Dynasty humming along at a scary clip.  Even the retirement of Russell's dear friend, Bob Cousy, following the '63 season, couldn't stop the Celtics from winning their sixth consecutive NBA Championship, beating the San Francisco Warriors, 4-1.
The 1964-65 season will forever be remembered for one seminal moment, this in Game 7 of the Eastern Division Finals, with the Celtics clinging to a one point lead, 110-109, with five seconds remaining against Chamberlain and the Philadelphia 76ers.  Russell's inbounds pass hit a guide wire supporting the basket, giving the Sixers the ball with no time elapsed on the clock.  Suddenly, Boston's championship streak was in serious jeopardy.  Philadelphia's Hal Greer inbounded the basketball to Chet Walker, and then John Havlicek – with the help of the late Johnny Most's legendary radio call – etched his name into the team's storied history:
Most:  "Havlicek steals it!  Over to Sam Jones!  Havlicek stole the ball!  It's all over!  Johnny Havlicek stole the ball!"
Two weeks later the Celtics were kings of the world for a record seventh consecutive time, again beating the hated Lakers.  For Russell, it would also culminate with a fifth and final NBA Most Valuable Player Award.
When I ask Russell about winning the NBA's ultimate individual award, he makes it clear that it was never solely about him.
"I'm in Las Vegas this week with Sam Jones and Havlicek," he says, "and like I've told some of the campers, I won eleven championships with the Celtics.  And without those two guys, it might have been three.  Maybe.  They are the epitome of great teammates.  Sam had the most basketball skills of any player I've ever seen.  We won eight straight championships, and six times during that run, Sam was asked to take the shot that meant the season.  If he missed it, that meant we were done.  He never missed.  I personally owe a great deal of my success to those two guys – and Red."
That record eighth consecutive championship would follow the 1965-66 regular season.  It also signaled the end of Red Auerbach's hall-of-fame coaching career, as he retired from the bench to focus on running the team from the front office.  Auerbach's first order of business:  Replace himself with a coach who could relate with his superstar.  The solution?  Auerbach hired Russell as player-coach, with Russell becoming the first African-American coach in league history.  The move was pure genius, as Russell led Boston to a 60-21 regular-season record, but the championship run was snapped by the Philadelphia 76ers team in the Eastern Division Finals.
Despite whispers that the aging Celtics' championship days were behind them, Boston rebounded a year, exacting revenge on Philly in the 1968 Eastern Division Finals.  It wasn't easy, but Russell outplayed Chamberlain when it counted most, making the key plays down the stretch of Game 7 to eliminate the 76ers. Boston then beat Los Angeles in six games to win the team's 10th championship in 12 seasons.
The 1968-69 season would be Russell's last.  The Celtics' nucleus of Russell, Sam Jones and Satch Sanders was another year older, and the team struggled to make the playoffs.  And when the Celtics somehow reached the 1969 NBA Finals, again facing the hated Lakers, almost everyone expected a Los Angeles championship.  Superstars Elgin Baylor and Jerry West were in their primes, and the team had added a hungry Chamberlain to the mix.  Yet somehow, the underdog Celtics were able to square the series through six games.
Playing Game 7 on the road in LA, Russell found all of the motivation he needed in the Forum rafters, where thousands of purple and gold balloons hung in mesh netting, waiting to be released.  Lakers owner Jack Kent Cooke further angered and motivated the Celtics by putting a reference to a post-game victory ceremony in the game leaflets.
Russell played all 48 minutes of Game 7, and when it was over the Celtics were celebrating another championship at the expense of the Lakers.  It was the team's 11th championship in thirteen seasons, an unparalleled run of greatness.  No one knew it then, but Russell had played his last basketball game, walking off as the greatest winner in the history of team sports.
~ ~ ~
Russell would reemerge and reinvent himself through the years, with head coaching stints in Seattle and Sacramento, and with a gig as an NBA color commentator for CBS.  He also dabbled with acting, wrote an autobiography, and, more importantly, reconciled with Boston and its rabid basketball fans.  A frequent spectator at home games, no one was happier than Russell when the Celtics snapped a 22-year championship drought in 2008.  In 1970, he was named to the NBA 25th Anniversary All-Time Team.  In 1974, Russell was elected to the Naismith Memorial Basketball Hall of Fame.  In 1980, he was named to the NBA 35th Anniversary All-Time Team.  That same year, he was voted Greatest Player in the History of the NBA by the Professional Basketball Writers Association of America.
And yet, all of these accolades fail to capture the true essence of Bill Russell – that of a man unflinchingly centered on his beliefs, regardless of how the world chooses to judge him.
~ ~ ~
In 2010 Russell received the Presidential Medal of Freedom, the country's highest civil honor, from President Obama.  It was the culmination of a lifetime spent standing up against racism and discrimination in all its forms, a crowning achievement of a principled life well-lived.  Obama would be on-hand three years later, when a statue of Russell was unveiled at Boston's City Hall Plaza.  When asked after the unveiling about what he wanted his legacy to be, Russell simply responded, "That I cared about the children and the country in a meaningful way."
~ ~ ~
My four days in Vegas produces a lifetime of memories:  Playing one-on-one with Julius Erving; learning the skyhook from Kareem Abdul-Jabbar; private shooting lessons with Sam Jones; hanging out with Charles Barkley at the Wynn Hotel & Casino.
But the biggest moment, and the one that will stay with me longest, is the image of the great man glaring down at me, he alone in on the joke, watching me fall apart, brick-by-mental-brick.  At that moment I am transported to 1963, right to the heart of the Celtics championship run, a thousand grainy black-and-white clips of Bill Russell and Wilt Chamberlain coming to life before my eyes.  I can taste the champagne flowing in the locker room.  I can smell the rich smoke from Auerbach's victory cigar.  I can hear Most's sandpaper voice as he makes that legendary radio call.
.
And then, just like that, Russell unleashes that famous laugh, a cackle that brings me back to the present.  I'm off the hook.
"Let's talk," he says.
As we move to a table to do the interview, I'm reminded that no matter what I end up putting on paper, nothing can do justice to the man sitting across from me.  I can only do my best and, like the Lakers before me, know that despite my best efforts, when it comes to the great Bill Russell, I'll come up just short when the final word is written.
http://www.fifteenminuteswith.com/wp-content/uploads/2014/01/the_bill_russell_interview2.png
400
600
Michael McClellan
http://www.fifteenminuteswith.com/wp-content/uploads/2016/08/FifteenMinutesWith_NewLogoPrototype.png
Michael McClellan
2014-01-03 05:14:31
2016-10-25 01:57:39
Bill Russell - Reign Man