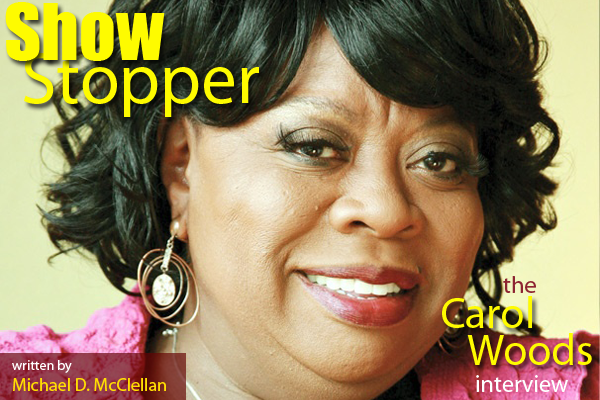 By:  Michael D. McClellan | Broadway.  Mecca of the theatre universe.  If you grew up dreaming of a stage career, chances are you've dreamt of performing in one of New York City's illustrious show houses, the electricity of a live audience alternately jangling your nerves and juicing you up, the sellout crowd an affirmation of the commitment to your craft, the applause-soaked curtain call a validation of your God-given talent.  In this dream world you've got what it takes – the chops, the moxie, that mysterious, elusive and coveted 'It Factor' that separates you from the pack and puts your name up in lights.  You are equal parts charismatic force of nature and God's gift to thespians, and you've straight up proven the Sinatra maxim right – that you can make it anywhere, because you've made it right here, in Gotham, and you've done it with a chutzpah that borders on the absurd.
And then, somewhere along the line, reality sets in:  Maybe you don't have the pipes you thought you had.  Or you can't dance like Baryshnikov after all.  Or you don't have the drive that it takes to make it, or you can't handle the rejection that comes with trying to break into show biz, or you aren't willing to pay your dues like the grinders who sacrifice so much to make it look so damned easy.  The dream atrophies, and you move on with your life.  That's just how the world works for the rest of us, the ninety-nine percent who fantasize about a career in the performing arts, only to see those outsized hopes and dreams end up as creative road kill.  We come to terms with reality and then we buy a ticket and go enjoy the show like everyone else.
Unless you're someone like Carol Woods.
Woods has forged a remarkable career as a singer and an actress when she could have just as easily taken the path of least resistance.  She could have been a nurse, and there's no question she would have been damned good at it, and the world would have been a better place because of her care of the sick and afflicted.  But nursing wasn't Woods true calling, even if she didn't realize it herself at the time.
"I wanted to be a nurse. 

Singing was something that I did in church,

and at the time I didn't think it was something that could pay the bills.  I pictured myself working in a hospital my whole career.  I'm glad it didn't work out that way." – Carol Woods
Without a doubt, Carol Woods was put on this earth to perform.  She's been knocked on the seat of her pants umpteen times only to get back up, dust herself off and kick disappointment's ass in the process.  Adversity?  Woods has been there.  Done that.  Hers is a story of struggle and sacrifice, of personal loss and redemption, of trusting that heavenly voice to transport her safely through some of the darkest places imaginable.  It's hard to get much darker than burying a son.  Woods knows.  She's had to find her way out of those depths, remaking life after death has proven itself so cold and unfair.  She's had to pour her grief into the lyrics of the songs she sings, searching for answers and meaning when neither seem possible.
…and in my hour of darkness…
…she is standing right in front of me…
…speaking words of wisdom…let it be…let it be…
Yes, life has tested Woods in ways that we cannot possibly comprehend, but, thankfully, the journey has been filled with more blessings than anguish.  The gifted performer has accumulated a lifetime of stories and treasured friendships, hanging with the late Freddie Mercury, acting alongside Martin Short, and sharing a Vegas stage with Liza Minnelli among them.  And if you've caught the Broadway production of Chicago over the past decade and a half, chances are you've caught Woods in character, breathing life into her signature role as Matron Mama Morton.
.
The genesis of Woods' strength – as an entertainer struggling to make it in show business, and later, as a mother trying to make sense of a life cut short – can be traced to her childhood, and the influence of being raised in the church.  Her passion for music also got its start during those Sunday morning services, where gospel grabbed hold and refused to let go, eventually morphing into R&B, and then later into jazz, pop and the show tunes that have come to define her career.
"I grew up in church," Woods recalls quickly, her commanding voice both warm and infectious.  "That's my foundation – as soon as I could talk, I was singing.  Everybody in our family was musical, so that's really where it all started.  My grandmother and grandfather migrated from the West Indies to Harlem in the early 1900s, before moving to Jamaica, New York, which is part of Queens.  They bought a fifty year-old house, and then rented the bottom floor of the house next door and made that into a small church.  They called it 'The Friendly Church'."
Born on November 13, 1943, Woods' childhood was heavily influenced by that friendly little church next door.  Whether it was choir practice, Sunday School or evening worship, Woods was in church every day of the week except for Monday, when the doors were closed and everyone involved took the time to exhale.  On Sundays, Woods' grandmother cooked for the entire congregation.
"Our grandfather raised our fruits and our vegetables," Woods says.  "So a lot of the ingredients were homegrown.  We had fruit trees.  We had a pond full of fish in front of the house.  It was a great place to grow up.  It was like a little slice of country living in Jamaica, New York.
It was a simpler time back then, more Wonder Years than Breaking Bad, an age of innocence that brings a smile to Woods' face, and with it a flood of memories.
"Funny story," says Woods.  "In our church, you couldn't have a boyfriend unless you were engaged, so I got engaged when I was thirteen years old [laughs].  My boyfriend asked me to marry him, and I said yes.  Of course, we didn't get married, and there was no hanky-panky going on.  Maybe a kiss here and there, but nothing intimate – it was innocent, sweet and funny all at the same time."
Still, Woods tied the knot at an early age.
"I got married at seventeen," Woods says quickly.  "Oh my, I'd like to know what the heck I was doing, Michael.  I was a baby!
"I was raised in such a sheltered environment.  I got married on June 10, 1961, and there was no honeymoon.  I got married on that Saturday, and went to church on Sunday, and didn't go to work on Monday.  I called my girlfriend Peggy and said, 'Let's go play handball.'  That was so much fun – and after handball we went over to her house and had a glass of Kool-Aid.  We were on the porch, shooting the breeze, and the phone rang.  It was my mother.  She was screaming her head off, 'Why aren't you home?'  I asked her what's the matter, and she said, 'You have to come cook dinner for your husband.'  I said, 'I gotta cook dinner for him?'  I didn't have a clue!  I started crying.  I got on my bicycle and I cried all the way home – I don't even know how I could see.  I was in such despair.  I thought I had gotten away from the cooking, because up until then I had been cooking for a houseful of people.  I was living in a fifteen room house and all of my grandfather's and grandmother's children were married and had gone on their own way.  I was the last cook left in that house!"
The church would prove the source of Woods' musical influence, as it has for so many other artists.  When the Reverend Al Green got down on his knees to belt out Sam Cooke's "A Change Is Gonna Come" at the inaugural concert for the Rock and Roll Hall of Fame, he was doing more than just paying tribute to one of his favorite singers.  As Green swooped and soared through Cooke's song at the Cleveland event on September 1, 1995, he was celebrating the power and enduring influence of black gospel music.
"Gospel music was such an influence on me, because in those days I was just singing gospel, so for me it was all about the gospel singers.  Dorothy Norwood.  The Reverend James Cleveland.  Other gospel singers of that period.  I was seventeen at that time.  It wasn't until I was twenty-five that I started singing what you call secular music.  And then my influences were people like

Billie Holiday,

Dionne Warwick, Margaret Whiting,

Doris Day,

the popular singers from that era." – Carol Woods
"I love melodic tunes, I love melodies.  I always hooked into the melodies, but then later on realized that while the melodies were crucial, it was the lyrics that were the most important.  In those days it was the melody that caught me first.  But I came to love and appreciate beautiful lyrics.  I'm a fan of Melissa Manchester – I met Melissa in New York at the 92nd Street Y.  This was years ago.  She's a lovely lady.  Burt Bacharach and Hal David, oh my God.  The music that they wrote for Dionne was stellar.  That voice of hers was velvet.  Just listen to all of that old stuff that she did.  Aretha Franklin was one of my idols.  Chaka Khan.  Beautiful voices – like I said, I love the melodies."
Growing up, it wasn't long before Woods realized that she had been given a gift; she could belt those gospel songs as if the heavens had opened up and angels had come down to join us.  And while Woods' divinely rapturous voice got her plenty of attention, she never dreamed of being a singer, at least not at that point in her life.  Back then she wanted to be a nurse, remember, so she went to nursing school and got a job at New York's Queens General Hospital.  That's when reality set in.
"Nurses didn't make anything back then," Woods says.  "I loved nursing, but the economics just weren't working for me and my two children."
She became a postal worker instead.  If this seems light years from a career that would later include  juicy roles in Broadway productions ranging from Chicago and The Full Monty, it should also underscore the raw, natural talent that would later propel her to the far more exotic worlds of music/cabaret, film and television.  Hell, even Einstein started out as a humble patent clerk.
Woods' destiny was sealed when a friend asked her to sing at an office party.  Afterwards, the same friend goaded her into auditioning for his friend who owned a nightclub.  It was an epiphany, the ultimate lightbulb moment, but there was a small problem; she didn't have any material of her own, or any idea of where to start.  Almost everything she'd done to that point was gospel music.
"I knew a few popular songs," Woods recalls.  "Songs like Summertime, Stormy Monday Blues and Sunny, but I didn't have enough material to really go out and perform.  So I started at the beginning.  Each week I'd learn a few more songs, and eventually got to the point where I could play a complete set."
~ ~ ~
Between 1965 and 1970, Woods performed with a group known as Carol Woods and the Executives. They recorded just one song called Ooh Baby, which is still in circulation today, but the experience proved to be one of her big breaks.  Ooh Baby led to an association with the UK label Ember Records and a number of disco/soul-themed recordings which can now be found on the recently re-issued CD Carol Woods: Out Of The Woods.
.
"When I went to England, everything changed," Woods says.  "I recorded Out of the Woods after meeting Jeffrey Kruger, who owned the independent record label Ember Records.  Jeffrey worked with some of the biggest names in the music business, people like Marvin Gaye and Barry White.  He even worked with country music performers like Johnny Cash, Kris Kristofferson and Tammy Wynette.  He was very well-connected.
"I went over and I did a tour of England – I opened for Gladys Knight and the Pips in London and Amsterdam.  

I opened for Glen Campbell in London;

that was at the London Palladium.  I don't think Glen was too happy about that, because the kind of music I was singing wasn't country music.  Glen didn't think it worked, but Jeffrey thought it was a good fit." – Carol Woods
It was during this time that Carol was introduced to a future rock icon, Freddie Mercury of an up-and-coming band named Queen.
"We really hit it off," Woods says.  "We met in the sixties, right before Queen became a global success, and our friendship lasted until his passing.
"I went back to England in 1987 to do a show called Blues in the Night, which started its run at the Domnar Warehouse in London before moving to the Piccadilly Theatre.  Initially I didn't want to go back to Europe, but I'm glad that I did because the show was a great success and I was nominated for an Olivier Award.  Freddie Mercury showed up on opening night and fell in love with my performance.  He enjoyed it so much that he just kept coming back.  He was a sweetheart; he would come to my dressing room with a bottle of Joly Champagne.  He would stay and watch the show, and when it came time for me to sing a song called Wasted Life Blues, he would pop the champagne, pour two glasses and wait in the left wing for me to finish my performance.  When I got through singing, I would exit stage left and celebrate by taking a sip of champagne.
.
"Freddie was a great guy – generous to a fault, because he would be so accommodating to friends and family.  I'd spend Christmas and Thanksgiving at his place.  Queen would be there.   Freddie would be at the piano, or someone from the band would be at the piano, and everyone would sit around and sing songs.  It was a great time.  I'm so thankful that I got that chance to spend time with him in '87, because at the time I didn't know that he was sick and that he wouldn't be with us much longer.  The time that we spent together was just priceless."
Woods has another Freddie Mercury memory that she cherishes.
"I was really, really lucky to be asked to do background for him on the album 'Barcelona', with Montserrat Caballé, a world renowned operatic soprano.  So I got credit for performing on that album with him, and that's something that I will always cherish.  And it's a fabulous album."
Despite her career's early forward progress, Woods found herself struggling to make ends meet.  She was working, but the money was anything but steady and she had the wellbeing of her children to consider.
"I  stayed in England and did those tours, because I was a professional and I wanted to fulfill my obligations," Woods reflects.  "And then I flew back home.  It was time.  I was disenchanted with the music business because I didn't have any money.  The money that I was supposed to be making just wasn't there – when I came back to the States and met with my managers in New York, there was no money.  What I made I spent just living over there.  So I just stepped out of the music business for a couple of years.  I was done.  I went back to doing my nursing; the way I looked at it, I was a nurse before I got into this and I could do it again, so I fell back to nursing during that period when I returned from Europe until I got back into the business.  It was the right thing for me to do at the time, and given the circumstances of my life back then.  I knew the money was going to be there every week – with benefits."
The self-imposed hiatus didn't last long; to say that show business was in Woods' blood is as true as saying she needed air in her lungs to survive.  She was working a 9-to-5, banking a steady paycheck and feeling much more comfortable with the stability in her life, but she couldn't walk away cold turkey.  Not with performing before live audiences such a significant part of her DNA.  Imagine Johannes Vermeer not painting, or Steve Jobs not inventing, or Howard Stern not shocking.  Try as she might, Woods just couldn't stay away.
"I actually got back into the business by chance," she says, smiling.  "I went to a nightclub on a Saturday night with my boyfriend at the time, because he wanted to see a new group perform.  When I got there I couldn't believe my eyes – these guys were all in my band before I got out of the business.  They were at this club to play a set, only I didn't know they were going to be there.  Well, they asked me to come up on the stage and join them, to sing a song, so I got up and did a couple of numbers with them.  It was like I'd never left.  I was hooked all over again."
Woods' next big break came when her voice caught the attention of New York's theatre community.
"My theatre career started in the '70s," Woods says, "at the Billie Holiday Theatre in Brooklyn.  It hadn't been open long – it was a new, Off-Broadway black playhouse, with actors such as Samuel L. Jackson and Debbie Allen developing their crafts during those early years.  Marjorie Moon was the Executive Director at the Billie Holiday, I think she started there in 1973, a year after the Billie Holiday Theatre opened.  I believe she's still there today.  Wonderful woman, and very talented.  I performed in a show called Young, Gifted and Broke, which was funny and ironic, because we were all young, gifted and broke [laughs].  Mikell Pinkney was the director.  Weldon Irvine was the one who wrote the music for the show, he was a very gifted composer who wrote everything from jazz, rhythm & blues, gospel, funk and hip hop during his career.  He also co-wrote Young, Gifted & Black with Nina Simone.  Young, Gifted and Broke was my first experience in theatre, and everything just snowballed from there."
Theatre suited Woods' oversized personality equally powerful voice to a T, but so did cabaret.  She continued to sing all over New York City, taking the stage at places as varied as the Blue Coronet in Brooklyn, where Miles Davis and the Miles Davis Quintet also performed, and the Red Carpet in Queens.  Yes, the up-and-coming Woods was everywhere back in those days, nightclubs and concert halls alike.  It was exciting work, and put her onstage with a wide range of genius talent.
"I performed in Brooklyn, Queens, Manhattan.  The Baby Grand in Brooklyn.  The Baby Grand in Manhattan.   I worked with some of the greats –

Dizzy Gillespie

in Jersey, Horace Silver, Mongo Santamaria.  Brilliant performers.  I did a lot of things that I don't even talk about." – Carol Woods
So many stories.  A life made rich by memories and relationships, friendships and fun times.
Carol Woods:  "Oh my, there are too many great times to count.  The theatre world is like one big family.  I did One Mo' Time – I did that at the Village Gate, which is a nightclub at the corner of Thompson and Bleecker Streets in Greenwich Village, and also in Japan.  In London.  All over the country – in New Orleans.  I played Ma Reed and Big Bertha.  At the Village Gate, I remember getting ready to go out for my first entrance, and my first line when I open the door is, 'Man, what did I tell you people?'  So I open the door, and I get a whiff of something that is so vile and so foul, and I almost puked.  Somebody made a fart.  It was Bruce Strickland, and he let one out just before I went onstage – I'm sorry, but that's just wrong [laughs].  What was I to do?  The audience is right at your footsteps, at your feet, they're right there, that's the way the seating was at the old Village Gate.  Everyone was right up close.  I just turned around and walked out so that I could breathe.  It was horrible!"
Through the years, Woods has shared the stage with some of the funniest people in the business.  She played Mrs. Crosby in The Goodbye Girl, with funnyman Martin Short as part of the cast.  As you might imagine, some of this production's best high jinx and humorous improv was saved for offstage.
.
"Oh, I loved that show and I loved the people," Woods says.  "Me and Martin Short had so much fun with Bernadette Peters.  We laughed all of the time.  Martin used to pull pranks on me and I used to pull pranks on him.  It was so funny.  Stunt-wise, there was one time when he rigged my dressing room with a water hose – he literally rigged it to the water fountain.  He put a hole in the wall, and ran the hose right underneath my dressing table, so that when I sat down, the water from the hose would just wet me all up.  I screamed like you wouldn't believe!  And as you might imagine, he laughed so hard at my expense, and then he ran away like a scared schoolchild [laughs]!  Martin Short and I had a lot of fun with that show.  I love him dearly."
Woods also performed in the musical Follies.  She chuckles at the thought.
"It was at the old Belasco Theatre," she says, "and I remember the uniqueness in how the set was built.  They had designed it like you were actually in a nightclub.  There were plenty of good times to be had; I used to walk around the theatre with this little purse, and I always stuffed it with food for the cast.  Louis Zorich, who is Olympia Dukakis' husband, would help me hand the food out to the waiters – there were waiters who would come around with hors d'oeuvres on their trays, but everybody liked my cooking better [laughs].  I would bring fried chicken, take it out of my purse and put it on the tray.  Bruce Kimmel, the producer, would scream out, 'What does she have tonight?'  I would bring fried chicken, colored greens, cornbread…good home cooking.  I did the same thing during other shows.  When I was doing Chicago they sewed up my pocketbook, because I used to put fried chicken in my pocketbook – but I would have it in aluminum foil.  They sewed my pockets up!"
The more we talk, the more it becomes clear that having a sense of humor is one of a performer's greatest assets when it comes to breaking into show business staying there.  Talent is a prerequisite, that must-have element that every singer, dancer and actor must have in order to succeed.  But if you're going to hang around as long as someone like Carol Woods has, then you've got to be able to roll with the punches.
"Every business is hard, it all depends on how much you love it," Woods says.  "You have to put your shoulder to the wheel.  I worked my fingers to the bone to get to where I am.  Kids today want it so much, and they are quadruple threats.  They work so hard.
"My thing is, when I went away and came back with no money, I put things in perspective.  

I quickly learned to put God first,

then family, and then everything else comes after that.  So I worked hard, but I also knew that there were things that were more important than work.  Because without God, where are we?  Without our families, where are we?" – Carol Woods
"Through the years I've encountered people that helped me survive and grow in this business, how to get started on the right foot, how to set goals and achieve them.  And I listened, because I'm a good listener.  That's what you have to be able to do.  If you're a good listener, you learn, and a lot of people can't do that.  Those are the people who get knocked down and don't know how to get back up.  They don't have a contingency plan, or a path forward.
"You need a mentor – I recommend that highly.  I met Margaret Whiting in 1983 after I got to do One Mo' Time at the Village Gate.  I was working in a show with her called Taking My Turn at the Entermedia Theatre on Second Avenue in New York City.  She asked me to play in her troupe – they were paying a tribute to her friend, singer/lyricist Johnny Mercer. The late, great Johnny Hartman was in the group.  So she asked me to join the troupe, which I did, and Margaret taught me so many things – about business, about phrasing, about how to turn a lyric.  Everybody that I've met has given me a bit of this and a bit of that, and it's turned out really great.  The education, the experience that I've gained throughout my life, it's all played a part in where I am today."
Perhaps forgotten now, Whiting was a pop music star in the 1940s, while Mercer was a man ahead of his time, forming Capitol Records in 1942 and guiding it to a preeminent place in the music industry.  Whiting was frequently featured on the label in those early years, first recording My Ideal, followed by the hit song That Old Black Magic. Whiting's Moonlight in Vermont sold two million copies in the first year, and A Tree in the Meadow was her second million-seller.  So when it came to choosing a mentor, it's safe to say that Carol Woods knew what she was doing.
"Margaret Whiting was someone who I looked up to and admired greatly," Woods says.  "She recorded more than five hundred songs during her long career.  She was so versatile, which is something that resonated with me – she continued to record music after she moved from California to New York, but she also concentrated more and more on live performances, at venues like Arci's Place, The Ballroom, Michael's Pub and Danny's Skylight Room.  She did radio at one point in her career.  She did TV.  It helped me to chart my own career and taught me to keep my options open.  And it's paid off – I've been able to record music, act on Broadway, work in film, and hold concerts like An Evening With Carol Woods at Carnegie Hall.  It's been a good run, Michael.  I've been very blessed to have a mentor like Margaret Whiting."
Woods' signature role, and easily her longest running engagement, has been that of Matron Mama Morton in the Broadway production of Chicago at the Ambassador Theater.
"I played Matron Mama Morton for seventeen years," Woods says proudly.  "I truly enjoyed myself for seventeen years – we had our ups and downs, but my ups were much, much greater than my downs.  Things work out, if you're willing to work hard and pay your dues.  I just think the opportunity perform in Chicago was like that, because of everything going on in my life.  I needed that role more than it needed me – I lost a son in 2005, and he left six children behind.  And I have a daughter who has three children, and I had to help to support them.  I'm convinced that God gave me a job that lasted as long as it did, and that His hand allowed me to help take care of my family financially.  Think about it – how many people can say that they were able to work on Broadway, in the same role, for seventeen years?  You just don't see that kind of stability in this business.  So, I firmly believe that this was God's hand at work.
.
"And it has been not only been a financial blessing, it has been an artistic blessing as well.  I grew by leaps and bounds with my acting and singing, just by being around all of these wonderful people that I've had the opportunity to work with.  And Barry and Fran Weissler were great producers, simply the best.  They gave a lot of people work."
Was she ever involved in a production that she didn't particularly enjoy?
Woods pauses to reflect, and then:  "Smokey Joe's Café.  Oh Lord have mercy, that was a rough one because I joined the production as a replacement when B.J. Crosby had to have surgery.  It was hard working with that company – I didn't have as much fun as I had with other companies.  It was just different, that's all I really want to say.  I don't want to gossip.  I'm not a kiss-and-tell kind of girl [laughs]."
One of Woods' highlights was being nominated for an Olivier Award for her performance in Blues in the Night, Britain's equivalent to the Tony Award.  Pretty heady stuff, and plenty reason to be proud.
Woods:  "Let me tell you something, Michael, it was a great honor, because I've not yet been recognized for my work on Broadway.  I haven't been nominated for a Tony, I haven't won a Tony, so even though I didn't win the Olivier I was just so happy to have been nominated.  I remember the morning that the committee contacted me.  The gentleman on the phone said, 'Did you hear?'  And I said, 'Hear what?'  He said, 'You've been nominated for the Olivier Award.'  I was so ecstatic.  I really was – I was knocked off my feet."
Through the years, Woods has also worked in film – she played Aunt Bunny in Eddie Murphy Raw, and she's appeared in movies such as Across the Universe, The Honeymooners, and Steppin' Out.  Steppin' Out remains one of her favorites.
"Well I did that show on Broadway," Woods says.  "I worked with Tommy Tune and Marge Champion.  Marge taught us yoga every day, and I lost forty-five pounds during that production.  The fact that I'd done the play really helped give me an edge when it came time to cast for the movie.
"There are so many great memories when it comes to that movie, Michael.  At the end of the show, the night of our wrap party, my granddaughter Leanna was born – on October 26, 1990.   I'll never forget it.  We were downstairs at the studio, and somebody said to me, 'Let's find out if the baby has been born.' So we all went upstairs and called the hospital, and I ended up speaking with an Asian lady who told me that the baby had been born.  She said 'It's a girl.'  I immediately booked two plane tickets for the first flight out of Toronto to New York – my son was actually in Steppin' Out with me, he played my son in the movie – and the first thing I did in New York was stop at Crazy Eddie and buy a video camera.  From there we went to St. Vincent Hospital, video camera in hand.  It was such a joyous occasion.
It was her character Rose that helped form a special friendship with the incomparable Liza Minelli.
"We had a ball making Steppin' Out.  I did that movie with Liza Minelli, Shelley Winters and Julie Walters.  Jane Krakowski and Bill Irwin were in it, too.  It was a star-studded cast. 

Liza is such a beautiful person

– when the movie was finished, she flew some of us to Las Vegas in one of Pia Zadora's jets." – Carol Woods
"It was such a surreal experience, flying across the country in a private jet to see Liza perform.  I remember her telling me, 'Carol, when you come to Vegas bring your music, because I'm going to bring you on stage to sing.'
"So on that Friday night she saw me sitting in the audience and she called me to come backstage.  She said, 'Did you bring your music?'  I did.  I had my music in my hands.  Liza said 'I want you to sing Come Rain Or Come Shine.  I'm going to lead it off, and then I'm going to give you the microphone, and then I want you to blow their socks off.'  I looked at her, dumbfounded.  And she said, 'Do you hear me?' And I said, 'Yeah'.  I was so embarrassed, but it was all I could get out under the circumstances [laughs].  So Liza said it again, with even more emphasis:  'I want you to blow their socks off.'
.
"Well, Liza opened up with her number, and then she stopped the show and said she had a friend in the audience named Carol Woods, and that Carol Woods was one of the best singers she's ever heard.  And then she asked me to join her on the stage.  You have to understand, Michael, I'm scared to death.  I'm shaking!
"Somehow I managed to get out of my chair, and then they helped me get up on the stage.  Liza then asked me what I would like to sing.  I said, 'Come Rain Or Come Shine.'  So Liza starts singing it, and then she gives me the microphone and I starting singing…and then, just like that, she sits down on the stage at my feet.  At my feet!  Tears start streaming down my face.  I don't remember singing that song, I just remember the audience going crazy after I was done, and Liza standing up and hugging me.  It was such a special moment.  It was so well-received that Liza put me on stage again Saturday and Sunday.  That was amazing.  Who does that?"
Woods has also worked in TV, with credits ranging from the mid-to-late '90s cult sitcom The Parent 'Hood, to commercial hits such as Law & Order, The Practice, and The Good Wife.  When it comes to performing, does she have a favorite platform?
"I love theatre," she says contemplatively.  "I think I'm drawn to it because it's organized.  Every night you know what you're going to do, and you know what you're wearing.  I like the structure.  But it's hard.  You're doing eight shows a week.  There are demands that come with the theatre that don't come with film and TV.
"Yes, theatre is my favorite, but it's so hard for me to pick one over another.  There are things that I enjoy about them all.  I love doing comedy television, because they have a hiatus in the summertime [laughs]!  And I love singing.  That's my first gift.  I love lifting spirits.  One lady, who came to see Blues in the Night in London at the Piccadilly Theatre, left me a note that I'll never forget.  It read, 'When I came to the theatre I felt blue, and when I left I felt all colors of the rainbow.'  And I think that's what it's all about when it comes to being an entertainer.  It doesn't matter what we do – whether we write, sing, act or whatever, I think that's what our charge is.  Artistically, it's our job to make the audience feel something that they hadn't expected to feel when they bought a ticket and sat down to watch us perform."
Of everything Woods has done in her career, perhaps nothing is more personal, or more powerful, than her onstage performance at the 50th Annual Grammy Awards.  When Woods took the stage that night to sing the Beatles classic Let It Be, she wasn't only doing so to help promote the film Across the Universe, a revolutionary rock musical that re-imagines America in the turbulent late-1960s.  Woods was singing from a place that few of us could imagine.  And if you haven't seen the Woods audition video for her role in the film, then you haven't seen the raw, real-life emotion that comes when a mother loses a son.
Carol Woods – Audition Video – Across the Universe
.
"That audition was so difficult for me, because I had just lost my son in a car accident in January of 2005.  I only had one son, and I have one daughter, so both of them are my best friends.  The audition came up in June, so it had only been six months since his passing.  My son was my favorite fan.  He wanted me to make it so bad…he wanted me to be a huge star.  I adored him.  It was so hard – something I wouldn't wish on anyone.
"I went to this audition after I read what the premise was about – the Detroit riots in the '60s, and the unimaginable pain of a mother losing her son.  I knew that I had to try.  The song was so touching and so personal for me.
"It was something I'll never forget.  I went into the audition with Across the Universe director Julie Taymor, and she told me they were going to videotape me, which I didn't know about until I got there.  I forgot about the camera as soon as I started singing.  As I got to the end I got so emotional, because I was thinking about my son, and I just broke down.  Afterwards, I explained everything to Julie and I apologized for breaking down – the song was so emotional and it just got the best of me.  I got a call when I got home, letting me know that I'd gotten the part.  The first day of rehearsal was January 29, which was my son's birthday."
Raw emotion was on full display at the Grammy Awards, both on the stage and in the audience.  By the time Woods finished singing, everyone was on their feet.
.
"That night was a spiritual release," Woods says.  "I remember getting a call from my manager, telling me that the Grammy's called, and that they wanted me to sing Let It Be.  When I went to Los Angeles, I could feel my son's presence.  When I walked onto that stage I could feel him walking with me.  It was something he would have adored, to have the opportunity to be there with me and to see that performance.  And even though I didn't win the Grammy, I was able to pay tribute to my son…and that means more than anything."
~ ~ ~
As we wrap our interview, I'm struck by something that comedian Steve Martin once said:  "I just wanted to be in show business. I didn't care if I was going to be an actor or a magician or what.  Comedy was a point of the least resistance, really.  And on the simplest level, I loved comedy."
Carol Woods could have been a nurse.  She could have remained a postal worker.  Her life could have gone in any number of directions, but gospel music hooked her during those Sunday morning services at that friendly little church next door, and her life was changed because of it.  And our lives have been enriched ever since.
"Right now I'm working on a show called One Hour With You, and I'm using the music from Margaret Whiting's dad, Richard Whiting.  It's going to be ready next year.  I'm working with Debbie Whiting, Margaret's daughter, who is producing it.  It's my way of giving back to someone who's helped me.  I'm working on this project with Tex Arnold, who was Margaret's musical director for thirty years, so I have the pleasure of working with him.
"We're marching forward.  I'm going to do the Whiting show and then I'm just going to take it easy.  I've been doing this for a long time.  I want to call the shots."
http://www.fifteenminuteswith.com/wp-content/uploads/2015/07/the_carol_woods_interview.png
400
600
Michael McClellan
http://www.fifteenminuteswith.com/wp-content/uploads/2016/08/FifteenMinutesWith_NewLogoPrototype.png
Michael McClellan
2015-07-06 02:43:05
2016-10-25 02:03:57
Carol Woods - Show Stopper