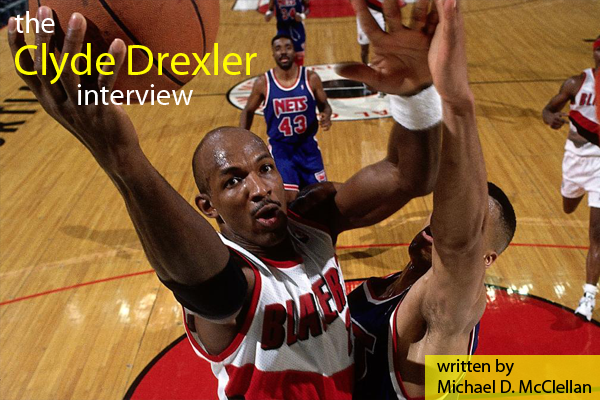 By:  Michael D. McClellan | What is it about nicknames that endear us to our sports heroes so?  This isn't a relatively new phenomena, unlike the tattoo craze that, in recent years, has inked both athletes and fans alike.  Nor are nicknames specific to race, culture, creed, or even the sports that we follow with such crazed fanaticism.  And I get it, this has never been just a sports thing; nicknames pervade all walks of life and have since the dawn of time; odds are you go by an abbreviated version of your formal name, or maybe a version that rhymes it, or maybe something that describes a significant fact or feature about yourself.  That's how Arnold Auerbach becomes Red Auerbach.  Or how Marshall Mathers becomes Eminem.  Nicknames add another layer to who we are, and, better yet, they give us another story to tell over beers at the local pub.  It's what they do.  But when it comes to sports, the connection goes much deeper.  Nicknames say something about the athletes we love, as well as the ones we love to loathe.  Reggie Jackson crushes homers in the clutch on the game's biggest stage, and voila!, Mr. October is born.  William Perry tips the scales at 350 pounds, plows his way into the end zone, and we can't get enough of The Refrigerator.  Some nicknames are eccentric, some self-proclaimed, some eccentric and self-proclaimed; think Darryl Dawkins and you immediately evoke his alter-ego, Chocolate Thunder, the charismatic, backboard-breaking 76ers center hailing from – wait for it – Planet Lovetron.  Hell, Dawkins even had nicknames for his dunks.  Meeting with reporters following his first rim wrecker, Dawkins, without hesitation, dubbed it the 'Chocolate-Thunder-Flying, Robinzine-Crying, Teeth-Shaking, Glass-Breaking, Rump-Roasting, Bun-Toasting, Wham-Bam, Glass-Breaker-I-Am-Jam', a nickname so expansive that it qualified for its own zip code.
Its own zip code!
Okay, I exaggerate, but you get where I'm coming from.
And it's not just about individual athletes.  Detroit had its Bad Boys, Dallas its Doomsday Defense, St. Louis its Gashouse Gang.  Sometimes the names are colorful – the Minnesota Vikings of the 60s and 70s featured the Purple People Eaters.  Sometimes the names are shameful – the 1980 New Orleans Saints were so bad, going 1-15, that fans started coming to the games with paper bags over their heads and referring to their team as the Aints.  Sometimes the names are even…boring:  The 1972 Super Bowl champion Miami Dolphins remain the NFL's only unbeaten and untied team.  The nickname adopted by its punishingly perfect defense?  No Name.
Seriously, I'm not making this stuff up.
Coaches get in on the act, too.  The State of Alabama worshipped Paul "Bear" Bryant, while Hoosier Nation celebrated the ever-combustible Bobby Knight, affectionately known as "The General" for his stint in the US Army.  Even our fictional sports heroes have nicknames.  Sylvester Stallone gave us Rocky Balboa, a.k.a. "The Italian Stallion", while his onscreen nemesis, Apollo Creed, was known alternately as "The Master of Disaster", "The King of Sting", "The Dancing Destroyer", "The Prince of Punch", and "The Count of Monte Fisto".  George Herman Ruth would have been equally great without "The Great Bambino" moniker, but with it Babe Ruth transcended sport and became something far bigger indeed.
.
As I sit down with NBA Hall-of-Famer Clyde Drexler, nicknames are squarely in the forefront of my mind, and for good reason.  Drexler was an all-time great player with an all-time great handle – Clyde "The Glide" – and, as a star at the University of Houston, he was part of arguably the greatest team nickname in history:  Phi Slama Jama.
"I was tagged with it by some of my high school basketball teammates," Drexler says.  "It was during my eleventh grade year.  Back then, your nickname had to rhyme with your real name, so that's the big reason it stuck. I was cool with it, mainly because it wasn't embarrassing [laughs].  Some of those guys had seriously embarrassing nicknames, but I got mine because I could take off so far from the basket and dunk the ball.  People still call me Glide to this day."
Before he was Glide, Drexler was just plain Clyde, a basketball-obsessed kid growing up on Elm Tree Drive in Houston, not far from where he would star collegiately as a member of the hometown Cougars.  Back then kids spent much of their free time outdoors, and Drexler's mother knew exactly where to find him; dribbling a ball in their driveway, or playing ball on one of several nearby courts.
"I was 8 or 9 years old when I started getting serious about basketball.  My mom would give me a new ball every Christmas, like clockwork, because she know I would spend the rest of the year wearing the old one out. We had a lot of good times.  My friends and  I would play outdoors year round, even during the blazing hot summer months.  We didn't think anything about it.  It was just what we did." – Clyde Drexler
Drexler seemed destined for a basketball career, even way back in the early 70s.  He would often tag along with older brother James, insistent that he be included in the pickup action, even though he was several years younger and hardly ready for those rough and tumble games on the boiling Houston concrete.
"Early on, I didn't get into many of the games," Drexler says, smiling.  "I'd get to shoot until everyone showed up and they picked sides, and from then on it was mostly watching from the sidelines.  The guys my brother played against weren't pros or anything like that, just weekend warriors like James.  But they knew how to play.  I learned a lot just from watching them.
"When I was younger I'd follow James to the neighborhood courts at Albert Thomas Middle School, and also Crestmont Community Center and MacGregor Park.  When I got older we'd travel farther in search of better competition.  It became about the challenge.  Anywhere the best competition was, that's where we went."
For the best street ballers, that meant proving yourself at Fonde Recreation Center, which was the hoops equivalent to New York's famed Rucker Park.
"Fonde was the place to go.  It was definitely our version of The Ruck.  If you loved basketball, you could go to Fonde and watch pro players going against each other in those pickup games.  It was a melting pot of talent.  You had guys that nobody knew about.  You had former college players show up to ball, guys that had played somewhere in college but couldn't make it to the NBA or ABA." – Clyde Drexler
"When I was in high school all of these guys were better than I was, and a lot of them were bigger and stronger, so I can't say that I played much at Fonde until I went through my growth spurt.  But when I finally did play, I shared the court with pros like Moses Malone, Robert Reid, Darryl Dawkins, Allen Leavell and Major Jones.  A lot of great players honed their skills there.  Hakeem Olajuwon was another one who played there later on.  So if there was action at Fonde, you'd find me out there trying to get better."
About that growth spurt:  Drexler sprouted nearly 7 inches between his freshman and sophomore years at Sterling High School, and finally dunked for the first time on the bent rims at the Albert Thomas courts.
"That first dunk was a big moment for me, and as memorable for me as a first kiss.  Being able to dunk caught a lot of people by surprise, because I'd spent most of that summer visiting family in New Orleans.  I was close to 6'6" when I got back to Houston.  The guys in my own neighborhood didn't recognize me."
You would think that a player like Drexler, whose résumé includes an NBA Championship, Olympic gold and selection as one of the NBA's 50 Greatest would have been a high school phenom, but that wasn't the case.  There were no McDonald's All American honors for Drexler, and no Parade Magazine selections.  Those accolades went to players like Patrick Ewing and Doc Rivers.  In fact, at one point it looked like Drexler might not play high school ball at all – at least not for Sterling High and its head basketball coach, Clifton Jackson.  Why?  Drexler was sick at the time of Jackson's varsity tryouts, and only after some coaxing from Drexler's friends did the coach relent and offer him a chance to show his stuff.  Even then, the road to basketball stardom was rocky.
"Yeah, it was tough at the beginning," he says.  "Coach made us do calisthenics before we practiced, and I really struggled to finish a set of 25 pushups.  He got on me pretty hard for being late that day, and ordered me to do another set.  I could only do a handful, because I'd grown so quickly and didn't have a lot of upper body strength.  He got mad and threw me out of practice before practice even got started.  So I went home, and that was it."
Stung, Drexler vowed never to play for Jackson.  He instead planned to transfer to nearby Worthing High, where he could exact his revenge by playing for the rival school, but a funny thing happened on the way to getting even; Drexler started turning heads in the lunchtime pickup games in the Sterling gym, often dominating the upperclassmen on the court with him.
.
"I played well during those games and people started to notice.  One day Coach came into the gym to watch.  I don't think my team lost a game that day, and when we were done the seniors tried to carry me over to him [laughs].  I told them I'd never play for that guy, and I picked up my books and left.  When I got home later that day, I walked into the living room and Coach was there, talking to my mother.  They had clicked.  She set me straight.  She said that I was going to play, and that was it."
The transformation from Clyde Drexler to Clyde the Glide was only just beginning.  A big Julius Erving fan, Drexler worked tirelessly to duplicate the Doctor's moves, many of them honed by Erving at The Ruck.
"I would play anywhere I could.  I'd walk, ride my bike, hitch a ride, whatever it took to find a game." – Clyde Drexler
Although Drexler put together a nice senior season at Sterling, he didn't find himself heavily recruited at the Division 1 level.  In fact, his arrival at the University of Houston hardly caused a ripple.
"I was okay with that," he says.  "Everything that I'd been through to that point had taught me the value of resilience, and it had also given me a very humble outlook on things.  Basically, I'd already learned that sometimes you've got to wait your turn, watch and learn.  I also knew that I had to work hard.  Even though I had developed onto a leaper who could take the ball coast to coast, I knew that I had to prove myself at the collegiate level.  Nobody knew who I was."
Count Houston's head coach, Guy Lewis, among those who didn't seem to get the memo regarding Drexler's jaw-dropping athletic ability or his burgeoning basketball skills.
"My first day of practice, Guy put me on the third team," Drexler recalls.  "And that meant I sat out while the first and second teams scrimmaged.  That was very hard – my competitive nature being what it is, I knew that I was already better than most of the players on the court.  During a break in the scrimmage, Guy looks over and tells me to turn my practice jersey inside out and join the first team, because they were getting rolled and he wasn't happy about it.  Rob Williams was the point guard on the first team, and we immediately clicked.  He started throwing me alley-oop passes and I responded by throwing them down.  That's all it took.  I never left the first team."
Which brings us to Phi Slama Jama.
Coolest.  Effing.  Team nickname.  Ever.
.
"Phi Slama Jama was way ahead of its time," Drexler says.  "Think about it.  We revolutionized how the game was played.  We had an athletic seven footer in post, a 6'10" power forward, we had two 6'8″ swingmen, and a 6'3″ point guard.  And we were all very talented.  That's an NBA lineup playing college ball.
"And the way we played, with our pressing defense and our up-tempo style, it was just so much fun to watch.  Our fans really appreciated what we brought to the floor every night.  They recognized that while we were one of the most athletic teams in the country, we played hard on both ends of the court.  That was our identity.  We played exceptionally hard, racked up a ton of style points along the way, and gave our fans something that college basketball hadn't seen before." – Clyde Drexler
One of those players dunking his way to stardom was a raw Nigerian recruit, an athlete short on basketball experience but long on potential, a seven-footer with exceptional footwork honed on the soccer pitch from an early age.  His given name?  Hakeem Abdul Olajuwon.
His nickname?
The Dream.
"I was there when he came to the university from the airport," recalls Drexler.  "He arrived in a taxi and you could tell immediately that he was a genuinely nice person.  As a basketball player he was very raw in the beginning – let me emphasize:  He was very, very raw.  But you could see the potential immediately.
"Being the new guy on campus, the coaches sent me out to meet this new recruit from Nigeria.  They told me he was supposed to be a seven footer, and that if he wasn't then I should put him back in the cab and send him back to the airport [laughs]."
The pairing of Drexler and Olajuwon with Larry Micheaux and Michael Young, among others, created an atmosphere reminiscent of the ABA and its free-wheeling style of play.
"We changed the landscape," he says quickly.  "We had 8 to 10 guys who played above the rim.  We were scary in terms of our pure athletic ability, top to bottom, and opposing teams would slow the game down to keep us from dunking all over them.  You'd be surprised at some of the tactics that teams would use because they were so afraid of our talent."
Was there a psychological advantage gained by the dunk?
"We didn't dunk for show, the spectacle of our dunking was merely the byproduct that our fans enjoyed.  It was all about intimidation and getting high-percentage shots.  If I could get to the rack and dunk on my opponent, then I've accomplished both goals.  Teams were scared of us.  It was almost like Mike Tyson walking into the ring before knocking someone out."
With otherworldly talent and depth for days, Guy Lewis' Cougars would reach two Final Fours in Drexler's three seasons at Houston.  The team would go 42-3 over that span, with a 26-game winning streak.  What about his time there stands out most?
"The closeness of the guys on the team," he says quickly.  "Nobody picked us to win our conference, much less reach the Final Four, so I'm proud that we exceeded expectations every single day.  We had so much talent.  Larry Micheaux was a beast, and one of the toughest guys I ever played with or against.  If he came out today he would be a top five pick, that's how good he was."
When Drexler declared for the 1983 NBA Draft, there was little argument that Virginia's Ralph Sampson would be the first player selected.  As mind-boggling as it seems now, Drexler himself didn't go until Portland chose him with the fourteenth pick.  The number two pick?  Steve Stipanovich to Indiana.  Eek.  Sorry about your luck, Pacers.
Drexler:  "I had heard I was going to go top three.  Houston was holding the first and third pick, and everyone knew that the Rockets were taking Sampson with the top pick.  They had just hired a new coach in Bill Fitch, so when they picked Rodney McCray I understood the reasoning – Sampson was tall and thin, and they wanted to put some size around him.
"It worked out in the end, because Portland needed a player like me.  And it wasn't all about my leaping ability or all of the circus dunks.  They were more impressed because I scored so high on the test they had given me when I visited.  That made me feel wanted, so I was excited when they called my name.
"Was it disappointing when I didn't go in the top five?  Yes, but sometimes things don't happen the way you want them too. But I'm not the type to crumble in the face of adversity; I knew that once I was given the opportunity to play and to show my value as a basketball player, then the team that selected me would realize that they'd made the right choice.  Whether that was the Rockets at three or the Trail Blazers at fourteen, it really didn't matter to me." – Clyde Drexler
"Bottom line, history rewarded the Blazers.  They drafted a player with a 44-inch vertical, who ran a 4.2 forty, and who could bench press over 300 pounds, but you can find a lot of athletes with jaw-dropping numbers who don't succeed at the professional level.  I was able to translate my athleticism to the NBA, and in the process I was able to showcase my versatility.  I went from averaging eleven rebounds in college to starting at point guard in the NBA, and averaging 18 points and eight assists along the way.  There aren't many players who can say that."
It was head coach Jack Ramsey who occasionally experimented by playing a young Drexler play the point.  What did Ramsey see that convinced him to make such a move?
"We had some really good players on the roster my rookie year," he says, "so it was all about trying to find a spot to play me.  When you're new and you've got veteran guys in front of you like Jim Paxson, Fat Lever and Calvin Natt, you need to prove yourself and earn your playing time.  Fortunately for me, I was a versatile player.  I could play multiple positions because I was a good rebounder and I could also handle the basketball.
"When we played the Lakers, Jack Ramsey felt that my athleticism matched up well with Magic Johnson.  He felt that I could do a lot of the things that Magic could do, and he felt that I was more athletic, so that was a big reason I played a lot of situational point early on.  Fortunately for me, he knew that my strong suit was playing the two, which was my more natural position."
Almost poetically, Drexler's rookie season mirrored his modest starts at Sterling High and the University of Houston.  He did not create the immediate impact that Magic or Larry Bird had produced before him.  Instead, he averaged a meager 7.7 points-per-game, did not make the NBA All-Rookie Team, and struggled to separate himself from that deep Blazers backcourt.  In the monopolistic world of NBA superstardom, Drexler's early value was decidedly Baltic Avenue, at least relative to the Boardwalk empires created by Bird and Magic.
"They were special from the get-go.   You're talking about two of the all-time great players when you're talking about those two gentlemen. But the competitor in me knew that I would eventually prove myself, even though I didn't come into the league with all of the buzz and the early success that they enjoyed.  I had fun competing with them through the years.  From a matchup standpoint, I was versatile enough to make them work hard for their shots.  I could disrupt their rhythm.  Neither of those guys ever guarded me, because they were too foot slow, but I always looked forward to the challenge of playing those great Lakers and Celtics teams.  I knew I had to raise my game to go up against the best." – Clyde Drexler
Ramsey's point guard experiment paid dividends in Drexler's third NBA season.  A stress fracture in the guard's upper left tibia, suffered early in the season against the Utah Jazz, sidelined Drexler for ten days.  When Drexler returned to the court, he found himself running the offense.
"I averaged something like 18 points, 8 assists and 5 or 6 rebounds that season," Drexler says.  "The stress fracture was in my dominant jumping leg, so I really couldn't jump the whole year.  I could run with no problem.  So I could either sit out and get better or play without really being able to jump like I was used to doing.  I wanted to play, and that's what I did.  The injury robbed me of my biggest weapon, which was my ability to jump over guys, but I was able to adjust and help my team in different ways.  I had to play the game from the ground because of the stress fracture.  It was a blessing in disguise, because it allowed me to learn about basketball from a completely different perspective."
That season, 1985-86, resulted in the first of Drexler's ten NBA All-Star selections.  However, the measuring sticks for the NBA's elite remained Bird and Magic.  Each was considered a virtuoso with special talent to effect the game in multiple ways.  By 1986-87, Drexler began to find himself mentioned in that same rarefied air. He joined Johnson and Bird as the only players in the league to average more than 21 points, 6 rebounds and 6 assists.  Like a great independent film, the critical acclaim for Drexler's accomplishments was universal.  The players, coaches and those who covered the NBA understood and appreciated the significance of what Drexler brought to the game, as did Portland's rabid fan base.  The trouble was, Drexler played in a small market and didn't play for one of the NBA's marquee franchises.  It also didn't help that Drexler played the same position, at the same time, as one of the game's greatest.
"Michael Jordan and I played the same type of game," Drexler says.  "The biggest difference is that he shot the ball more than I did.  That's not a disparaging comment because he worked so hard on both ends of the court, and he was great on a nightly basis.  But if you look at the other aspects of our games, you'll see that the numbers and percentages are startlingly close."
.
Like Jordan, Drexler helped elevate the dunk to an art form, following in the footsteps of his idol, Dr. J.
"Growing up, I wanted to be like Julius Erving," Drexler says.  "He was my presenter during my enshrinement into the Basketball Hall of Fame.  He was my role model, and the person that I patterned my game after.  He was a class act, on and off the court.  He not only dunked the ball, but he dunked it with a flair that few have ever been able to duplicate.  I learned from him that dunks were not only a high percentage means of scoring, but that they could completely change the momentum of a game.  It was a great weapon.  I wasn't as flashy a dunker as Dr. J, but I felt that I was just as effective."
In his prime, Drexler could match both Jordan and The Doctor in pure leaping ability.
"We used to have dunk contests when I played in Portland," he says, smiling.  "There was one time when we had six guys, and we'd raise the basket after every dunk.  Whoever couldn't dunk at the new height was eliminated.  We got the basket as high as 11'7", and I was the only guy left who could do it.  I dunked it easily, and could have dunked another four or five inches higher if I needed to."
The 1989-90 season started a three-year run of greatness for the Trail Blazers, spurred in part by a trade for rugged power forward Buck Williams.  With Drexler at the top of his game, Portland would reach the NBA Finals in 1990 and 1992, only to lose on both occasions.
"Was it disappointing?  Sure, it was.  But we had great teams and we came very close to winning it all.  Portland is a great place to play basketball.  The fans are some of the best in the world.  I really enjoyed my time there.  I loved the people, loved the franchise, loved the owners and everybody around it.  I will always consider myself a Trail Blazer.  We went to the Finals in 1990 and 1992, and we had the best record in the league in 1991.  That three year run was pretty much unexpected, so I feel like we exceeded expectations even though we weren't able to get it done in the Finals."
The pain of losing to Michael Jordan and his Chicago Bulls in the 1992 NBA Finals would give way to the joy of being a part of the Dream Team later that summer.  It was an historic collection of talent, headlined by Jordan, Bird and Magic, and coached by Chuck Daly.  The team would crush all-comers on the way to bum-rushing the gold medal.
"It doesn't get any better than that.  The Dream Team was one of the best teams ever assembled and I was lucky to be a part of that. I had a great year with Portland that year, and I got to go to the Olympics after that. It was a honor to play for my country.  We had something special going on.  It was like the Beatles had landed in Barcelona [laughs].  To see the rest of the world come out to watch us play, practice, or even meet us at the games or the arena, it was amazing." – Clyde Drexler
Sports Illustrated writer Jack McCallum would revisit the Dream Team twenty years later, writing a book that included controversial quotes attributed to Drexler about teammate Magic Johnson.  In the book, Drexler is quoted as saying that the HIV-afflicted Magic was a shell of his former self and didn't deserve a spot on the Dream Team.  He also is quoted as saying that Magic was named MVP of the 1992 NBA All-Star Game in part because of the illness.  Social media ran with the rumors, claiming that Drexler was bitter about not being named MVP of the '92 All-Star Game.
"I've responded to those statements," Drexler says.  "Magic and I have a friendship that goes back a very long time.  It was all baseless."
Portland traded Drexler to the Houston Rockets midway through the 1994-95 season, reuniting him with college teammate Hakeem Olajuwon.  Houston entered the playoffs as a sixth seed, with Drexler averaging 21.4 points-per-game.  In the playoffs, Drexler proved to be the missing piece of a championship puzzle.
"I helped orchestrate the trade," Drexler says.  "It was time.  I loved playing in Portland, but I could see the end of my career coming and I knew that I was running out of chances to win a championship.  Portland was rebuilding.  Houston was home.  I'd grown up there, played high school ball there, had played college ball there."
The Rockets had the pieces to compete for a championship – they were the defending champs, and they had beaten the New York Knicks the year before.  But Houston was struggling to get back on track, and they needed something to jumpstart another championship run.  Drexler proved to be the injection the Rockets needed.  In the Finals, Houston swept an Orlando Magic team lead by a young Shaquille O'Neal.
.
"It was the highlight of my professional career.  I can't compare it to winning the gold medal, because they are two totally different things.  The gold in Barcelona was all about playing for my country and bringing the gold back to the United States. Winning the NBA Championship was incredibly special in its own way.  I'll never forget it.  I remember hugging my teammates and kissing my family.  It was special, because it had finally happened.  After all of those years of trying to win a title and walk off the court as the last team standing, it had finally happened."
Drexler would retire following the 1997-98 season, his quest for greatness complete.  He would step away in an exclusive club, joining Oscar Robertson and John Havlicek as the only players to score 20,000 points, grab 6,000 rebounds and collect 6,000 assists.
"That's pretty good company to keep.  Both of those guys were known for their versatility – Oscar is the only player in NBA history to average a triple-double for an entire season.  An entire season!  That will likely never be duplicated.  And just look at how many points Havlicek scored in his career, and he didn't have the three-point line when he played."
For Drexler, retirement from the NBA led to a coaching stint at his alma mater, where he coached the Cougars for two seasons before stepping away to focus on his family.  Since then he has worked as a radio broadcaster for Rockets games.  He has also dabbled in TV, most famously as a contestant on ABC's Dancing With The Stars.  What was it like being a part of DWTS?
"It was a great core workout," he says fondly.  "I learned some wonderful ballroom dances. I'm an average-to-below-average dancer. But I had a lot of fun. You never stop dancing. That's what life is all about. You cannot be afraid to be embarrassed because dancing is an expression, and there is no bad expression."
Nor are there any bad nicknames, although some are better than others.
Clyde "The Glide" is living proof of that.
http://www.fifteenminuteswith.com/wp-content/uploads/2014/11/the_clyde_drexler_interview.png
400
600
Michael McClellan
http://www.fifteenminuteswith.com/wp-content/uploads/2016/08/FifteenMinutesWith_NewLogoPrototype.png
Michael McClellan
2014-11-12 04:26:54
2016-10-25 02:05:43
Clyde Drexler - Glide Time