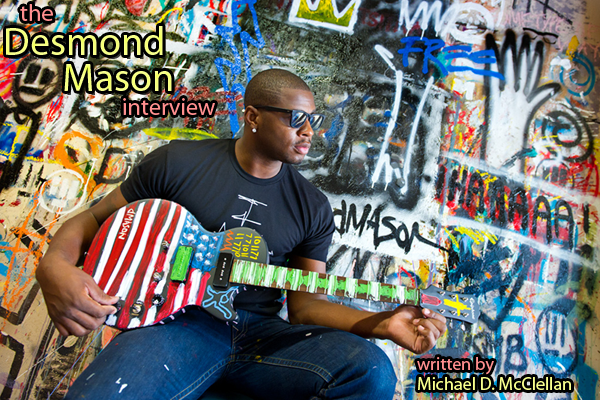 Leonardo da Vinci once said that art is never finished, that is only abandoned.  Desmond Mason, burgeoning artist with an emphasis on abstract expressionism, he of the 10-year NBA career punctuated with the bold brushstroke that is victory in the 2001 NBA Slam Dunk Contest, quickly concurs with the genius painter behind the world's most famous face.  For Mason, the final act of applying his signature represents the inevitable abandonment of his work, the bittersweet letting go that all artists must endure in the creative process, an act which serves as a poignant juxtaposition to the thrill that comes with embarking on the journey.
"It's part of being an artist," Mason says, "but that doesn't make it any easier.  When you reach that point it hits you, and you know the time has come to walk away from that particular piece.  But then you get to focus on the excitement that comes with creating the next piece."
The rush that comes with starting a project resonates with me.  But for those of us born without a creative streak, the thought of stepping in front of a blank canvas can be an intimidating prospect, a fear not unlike that of a rec league hack trying to guard Mason in a pickup game at the local Y.  Sure, we comprehend the physical dimensions of the canvas, and we're cognizant of its size and texture, but we are clueless about everything else.  We are Chris Rock without the bite, Michael without the moonwalk, Einstein without the general theory of relativity.
"I don't know where it came from.  My parents weren't artists.  But I started drawing when I was eleven, and there was something about it that hooked me." – Desmond Mason
Artists like Desmond Mason see what we do not.  Where we observe a flat, two-dimensional surface with corners and edges, they see infinite potential, a limitless three-dimensional space brimming with possibility.  They connect with their art on an emotional level, plumbing the depths of psyche and soul, working from a complex palette of hurt, love, humor, anger, fear.  The result?  They deftly transform the canvas into a DeLorean, complete with flux capacitor, transporting us to another place in time.  Or they use it to create a mirror, casting light on something deep within ourselves.  Or they turn it into a camera, tempting the voyeur in us all.  Or they connect us to a polygraph.  Or usher us into a confessional.  They challenge our assumptions of the world around us, and force us to reconsider the preconceived notions within us.  They draw us in, rattle our cages, sweep us away.  It's what they do – not that it comes easily, or without consequences.
"When you look at some of the artists that I idolize, they experienced some really hard times," Mason says.  "Jean Michel Basquiat, Jackson Pollock, Pablo Picasso – Picasso was a big womanizer.  These guys are iconic in the world of art, but success came with a heavy price for each of them.  I've been fortunate to avoid that and live my life properly, and at the same time really get into my work."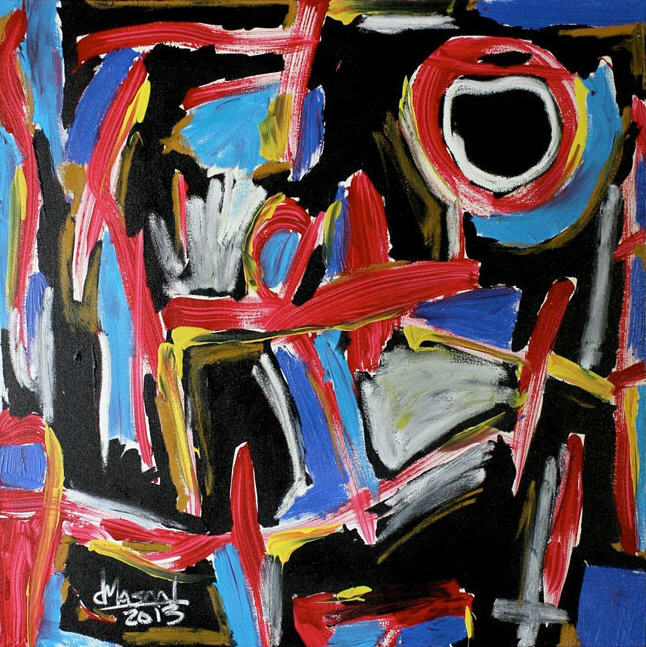 .
Mason is Jackson Pollock without the bottle and the baggage.  His art is a visceral, paint-from-the-gut expression of mood and memories, a reflection of a life that stretches from his childhood home in Waxahachie, Texas, to NBA cities like Seattle, Milwaukee, New Orleans, Oklahoma City, Sacramento and beyond.  His basketball prowess brought him to Oklahoma State University, where he developed a reputation as a premiere defender, and landed him in the first round of the 2000 NBA Draft, the launch-point of a decade-long pro career.  And while Pollock may have an edge with the brush, Mason could rock the rim in ways the earthbound Pollock could have only dreamt.
"Pollock has had a huge influence on my art.  I watched the film based on his life and it changed everything.  I wanted to paint like that, without boundaries.  That's when I made the conscious decision to become an expressionist." – Desmond Mason
.
Mason's journey from baller to brash expressionist goes against type, providing professional athletes with a New Millennium blueprint for life after the final buzzer.  Take a coaching gig?  Hang around the sport as a commentator?  Nope.  Not in Mason's DNA.  His path flies in the face of convention, defiant almost, the way Picasso's shift to cubism forced the world to look at art differently, or the way Tupac's poetry demanded that the world acknowledge hip-hop.
"After retirement I did some radio stuff here and there," Mason say, "but I never had a desire to coach.  It just wasn't my thing.  I know how hard coaches work, and how much energy and effort they put into getting players to understand what they're trying to accomplish.  That wasn't my deal.  Painting and creating was my thing, and that's what I wanted to do with my life."
At Oklahoma State, Mason majored in studio art, intertwining his two loves.  On the court he was quick and athletic, and unafraid to take the ball to the rack.  Off of it, he continued to draw and dream.  It would later prove to the be the foundation stone of what set Mason apart:  While most viewed him as a professional basketball player who liked to draw and paint, Mason saw himself as an artist who also happened to possess mad hoop skills.  The game would come and go.  His art would be with him a lifetime.
"I had to put my art in the background for a while," Mason says.  "I knew I had a shot at getting drafted and playing in the NBA, but I wasn't going to be a high lottery pick.  I knew that I had to focus on showcasing my game if I wanted to achieve my dream."
The strategy worked.  The Seattle Supersonics, intrigued with Mason's skill set, selected him in the first round of the 2000 NBA Draft, the seventeenth player chosen overall.  Mason joined a team headlined by superstar guard Gary Payton and an end-of-career Patrick Ewing.  The team finished 44-38, just missing the playoffs.  A year later, the high-flying Mason dunked his way to the 2001 NBA Slam Dunk title, at one point soaring over – yes, over – teammate Rashard Lewis to hammer in home.  A relative unknown at the time, Mason suddenly found himself living that Andy Warhol maxim about fifteen minutes of fame.
.
"The dunk contest definitely brought me a lot of attention," he says.  "I enjoyed the experience, and it was definitely a big deal to be the first Seattle player to win it.  As an artist, Seattle was also where I made my break from realism.  I decided my art needed to change, and the approach had to be something completely different.  That's when I decided to paint from emotion."
This shift opened up a new world for Mason.  He suddenly found himself free to explore without the constraints of replicating objects on canvas.
"The way I work is very emotional, so mood is a major part of my work," he says.  "Whether I'm happy, sad, or frustrated…whether I'm exhausted or energetic.  All of these things change the direction of where my work wants to go.  It also affects my creativity at a base level – the colors, textures and scale of my work all vary based on mood."
Mason had already proven that he could paint in a beautifully realistic manner, so why the departure to abstract expressionism?
"At my school I was taught to do all of the high-detail things that lend themselves to photorealism.  I could do those things today, but that's not me.  No disrespect to anybody that's painting in this style, but I feel like that's just reproducing.  There are artists who enjoy having someone sit in front of them so that they can paint them.  You need a special talent for that.  You need to be able to capture life, create textures, and paint in depth.  But at the end of the day you're recreating, and that's not the kind of art that I'm interested in." – Desmond Mason
What was the appeal of abstract art?
"With abstract expressionism, your art comes from emotions that you're trying to convey on canvas.  Color textures tie so closely to those emotions.  That's what I love about it.  It's hard for a realist to let go of realism.  I've done it, but it took a long time to completely let go.  It's much easier to teach an abstract expressionist or a contemporary artist to become a realist, because it's all technique.  Letting go of structure, and letting go of realism, those things are really hard."
Perhaps no sport is as singularly expressive – or as distinctively unique – as basketball.  Gaze across the tapestry of the NBA's rich history, and you see styles that range from the soulful cool of George "The Iceman" Gervin to the relentless ferocity of Air Jordan.  If Mason were to paint three of the all-time greats with words – Bill Russell, Julius Erving, and Kareem Abdul-Jabbar – where would he start?
"Bill Russell was iconic," Mason says.  "He was a rock for his team, and he was a game changer for the NBA.  He wasn't extremely talented offensively, but he was eating glass on both ends of the court.  He was the glue for his team and the biggest reason the Celtics were a dynasty in the 60s.
"Julius Erving was flash and style.  Big hands.  He was one of the first guys doing the high crossover.  He had that big afro.  The bell-bottoms.  The chops.  The goatee.  He was the face of the ABA, the best player in that league, and he came over to the NBA and he didn't disappoint.  He was star power and bringing that flash and charisma that put people in the seats.
"Kareem had that sweet post game, and that devastating skyhook.  His skyhook was as close to automatic as any shot in NBA history.  He had those big goggles and those little shorts, and he was a long, lanky guy.  In Los Angeles they called him 'Cap, because Kareem ran that team.  Magic Johnson was great, but the Lakers would have never been the Lakers without Kareem."
Given the opportunity, would he ever paint these legends?
"No disrespect to any of these great players," Mason says, "but I've never wanted to paint athletes.  I never wanted to be the next LeRoy Neiman.  That wasn't my world.  My world was engaging with my art on a different level and becoming someone different.  For me, it has always been about finding my own direction and creating my own processes."
~ ~ ~
Where Picasso threw open the doors of abstract art, letting others like Desmond Mason follow him in, it was Mason who has merged the worlds of celebrity athlete and emerging artist, borrowing a page from Andy Warhol along the way.  Mason's Midtown OKC studio faces the street and gives passersby a glimpse into his creative lair, where he can be found working on his next piece, a pair of Beats Headphones over his ears, the music simultaneously fueling his creative fire and blocking out those who stop to gawk.  It is pure charisma; art at its coolest.  Mason, like Warhol before him, has found a way to turn himself – and his creative process – into art.
.
"There are times when I completely lose myself in my work," Mason says, "and I don't even notice anyone watching me.  It's not the same as zoning out – it's almost like a blackout, like I'm totally gone from the rest of the world.  I think that's when I'm the most creative.  I believe if you have other things in your mind that interferes with your process, then you can't be as creative as you need or want to be.  So I really try to block out the rest of the world and just go in and create.  That's why I listen to a lot of music.  I put myself in my world of relaxation, and everything just opens up.  I don't ever force myself to paint.  When I don't feel it, I leave my studio.  I get up and go home and I try it again another day."
What, exactly, is playing on those headphones when he's creating his art?
"I love hip-hop and R&B, but people who really know me know that I listen to a wide range of music.  I did two exhibitions when I lived in Milwaukee, and both were based on Nora Jones albums.  I love Nora Jones.  I listened to both of her albums over and over when I was creating the pieces at the time, and I played those albums throughout the exhibitions.  So my taste varies.  I'll listen to Alan Jackson when I paint.  Bocelli.  Vince Gill.  I'll go back to hip-hop – guys like Biggie, Lil Wayne, Drake and Jay-Z.  Then I'll listen to Oasis.  And then Metallica.  I listen to all kinds of music." – Desmond Mason
If Mason could pay homage to a particular artist, dead or alive, the lyrical equivalent of a Picasso or a Henri Matisse, who would it be?
"I listened to Tupac a ton before he passed away," Mason says.  "I still do.  The thing that stands out about Tupac is how absolutely intelligent he was.  He actually went to an art school when he was growing up in New York.  One of his teachers called him one of the best poets who ever went to that school.  He was a very, very talented guy.  He went to the streets and he started using his knowledge and his poetry to mold and shape hip-hop music.  He was able to take that talent and create a whole culture around it.  He laid the foundation for hip-hop, and it was reflected in his poetry."
The voyeuristic feel of Mason's midtown studio, coupled with his passion for music, provided the inspiration behind the short film American Artist, which featured Mason painting nonstop for nearly forty-eight hours straight.  American Artist premiered at OKC's deadCENTER 2014, one of the fastest growing and most critically-acclaimed film festivals in the United States.
Mason:  "When we did the film, it was the culmination of something that I'd been wanting to do for about five years.  I worked with a husband and wife team, Jeremy and Kara Choate, who own a company called Choate House.  They're a very talented and creative team, and I have a great deal of respect for them both.  We'd done some projects together before, but this was a big one, and they were the only people I would allow to make this film with me.  It was unique in that I painted for upwards of forty-six hours without a significant break.  I went home and slept for a little bit, took a couple of showers, but I basically painted nonstop for virtually two straight days.
.
"The goal was to create as much work as possible and exhaust myself in the process, so on the film I'm really trying to hunt for creativity and force myself to work.  I think we succeeded in showing that when I'm in the studio, I'm not just launching paint at canvas.  There's a strategy behind what I'm doing."
The film is both fascinating and mesmerizing.  No words are spoken.  The Choates expertly capture Mason's creative process and take us along for the journey, giving us an inside look into his work.
"I painted a full-sized dumpster, a bunch of big-scale pieces," Mason says. "One piece was sixteen feet by eight feet, and one was ten feet by five feet.  I ended up doing five pieces throughout the course of those two days.  It was exhausting, both mentally and physically, but it was quite an experience.
"No words are spoken in the film because I wanted it running on the wall during my exhibition.  The response was so positive that we entered the film in the 2014 deadCENTER Film Festival, and the board accepted it.  We're currently looking at extending the run time of American Artist and entering it into other film festivals – the Toronto Film Festival, the Big Apple Film Festival, and possibly even the Sundance Film Festival once we meet the criteria.  I would love to do more with deadCENTER – I've worked with Lance McDaniel, the executive director, on other projects.  I loved being a part of deadCENTER because it is so artistic." – Desmond Mason
In the film, Mason frequently rides a skateboard. The passion dates back to his childhood.
"I've been skateboarding since I was young," he says, voice gathering speed.  "I had a lot of friends who rode skateboards – they were the artsy kids in my little small town, and those were the kids that I hung around with because I really clicked with them.  So that's where I picked up skateboarding.  When I started playing professional basketball I had to give it up, because I didn't want to get hurt and the NBA didn't allow it as part of my contract.  I've gotten back into skateboarding now that I'm retired from basketball, but I don't do the tricks that I used to do [laughs].  I do a lot of longboarding, so I longboard all over OKC.  As a matter of fact, I've recently combined my passion for art with my passion for longboarding, launching a new skate shop in Edmond which features boards that I designed.  This allows me to continue to live through things that I love and brings me back to the passion that I developed in skateboarding when I was younger."
Whether painting for a film like American Artist, or creating in his studio without the omnipotent presence of the camera, Mason, like all artists, wrestles with the biggest question of all:  When is a work complete?
"Never," he says without hesitation.  "It doesn't matter  if you're doing realism or abstract expressionism, a painting is never complete.  Most artists have taught themselves to just stop whenever they get to a comfortable position.  When I feel like I'm done, I lean it against a wall and walk away from it for a week or so.  When I come back, I'll look it over again, and I don't see anything that moves me, I walk away completely.  That's when I sign it.  That's the last thing I do."
.
Is there anything that knocks Mason off of his creative track?
"I don't like controversy," he replies, "so that's one of the things that I lose focus on.  If I'm a little too frustrated about something, or if I'm constantly being interrupted while I'm working, then eventually I get off of my game.  Those things can really kill my mood and ruin the vibe.  I try to avoid that as much as possible, and I try to isolate myself when I'm working – that's why I moved my studio away from the house when we lived in Milwaukee.  It was too easy to walk in the kitchen and start a conversation with my wife, and the next thing we were discussing plans for dinner later that night, or what movie we want to watch [laughs].  So having my studio at home made it too easy to my mind off of my work."
~ ~ ~
Great actors have the ability to lose themselves in their characters, making us forget and believe at the same time.  Robert De Niro becomes Jake LaMotta in Raging Bull.  Daniel Day-Lewis transforms himself into Abraham Lincoln, and we're suddenly chilling out with the 16th President of the United States.  Great art is the same way – the lines between art and artist blur, and we are unable to distinguish where one stops and the other begins.  Does Desmond Mason feel the same connection with his work?
"Absolutely," he says.  "I can get to the point where I block out the rest of the world, and that's when I look at everything in a completely different way.  I paint from the emotion of the moment.  A lot of artists suffer getting into or out of that place, but I was fortunate enough to avoid a lot of the art world's stereotypical hardships.  Alcoholism, drugs and depression were never really my world.  I think professional basketball, and the lifestyle that it provided, had a lot to do with that.  I was never a starving artist, and never a tortured soul."
What emotion most frequently finds its way onto canvas?
.
"Everything that I paint is very colorful and energetic, even if I'm selecting earth tones or neutrals.  The same thing applies if I go with a blue color palette, the way Picasso did when he was painting from a place of sadness and mourning.  Regardless of my selection, everything is energetic.  If it's a blue energy, it's a blue energy.  If it's a red energy, it's a red energy.  And it's never just all red or all blue.  There are tones on tones on tones, and texture on top of texture.  Bottom line, energy is the one thing that I try to portray in all of my work."
Energetic works.  Being different also works, and marching to the beat of a different drummer is Mason's modus operandi.  Equal parts former NBA baller, expressive artist and glam celeb, Mason brings an 'It' factor to his craft that demands your attention and insists that you take his work seriously.  It's a persona that clicks because it represents the authentic Desmond Mason, and not a carefully constructed façade. Growing up in Waxahachie, Texas, Mason gravitated to the punkers and the Goths, even though his natural athleticism endeared him to the jocks.  And when the opportunity to dabble in ceramics came about, the young Mason was quick to pounce.
"Ceramics is where it all started," he says proudly.  "I started taking art seriously around the age of thirteen, when a ceramics class was offered.  I started sketching and drawing the pieces that I would score in ceramics class, so that's what actually led me to drawing and painting.
"Most people don't realize how hard it is to create a ceramics piece, Centering the clay is hard within itself, because my hands are so large.  And if you can't get that clay centered, it's going to be just a little bit off by the time you get that clay up.  If it starts to wobble you're going to lose it, so you've got to be very focused on what it is you're doing.  Sculpture is the same way – you need a certain level of focus, as well as energy and direction.  It all goes hand in hand." – Desmond Mason
Does Mason have a desire to contribute a sculpture to the OKC landscape?
"Oklahoma City has the MAPS committee, Arts Council, and several other committees focused on art and sculpture in the city, and I believe they have a very good plan in place for the next five-to-ten years.  I'm definitely intrigued about the prospect of doing sculpture if there is an opportunity, and not just in ceramic or cement, but in other materials like bronze.  It would be great to get some abstract pieces out there and add a little more diversity to the art scene in Oklahoma City."
Sculpture, like art, puts an artist's work squarely on display, often exposing emotion and vulnerabilities along the way.  Does Mason experience any fear or trepidation when it comes to the public's consumption of his art?
"There was a point in time when I was a little nervous about releasing my art to the world," Mason says.  "I remember my first show, and being as nervous about that moment as I was about playing in my first NBA game.  I was putting my emotions on display and for other people to judge, and that was very hard because my art is very personal to me.  It's different today.  I've learned to deal with the criticism and the naysayers.  I've also learned to process the feedback, good or bad, and not get too high or let someone's opinion tear me down.  It's all about how you deal with what comes out of that."
~ ~ ~
In retracing the footsteps of Desmond Mason's 10-year NBA journey, I can't help but wonder:  If he could paint each phase of his career with splashes of color, what palette would he use?
"Oh man, being drafted was a career highlight," he says quickly.  "Those were my yellow colors, everything from canary to gold.  I was happy, emotional.  It was a moment I didn't think would ever happen.  Because in Waxahachie, Texas, we weren't trying to make it into the NBA.  We were just trying to make it out of the neighborhood, hopefully get to college and get a degree.  To hear my name called, and going to a place where there were only 415 guys in the world doing what I was about to do, it was one of the best feelings that I'll ever have."
Winning the Slam Dunk title?
Mason:  "It was a deep emotion, so if I'm relating it to colors in my art I'm going with blue because it was several months after the Oklahoma State University plane crash.  I was a rookie when that crash occurred, and I lost my best friend from college.  I also lost a kid that I mentored – Nate Fleming.  Everybody on that plane I knew very well.
"I was actually at the arena when the plane went down.  I remember walking by a TV, and there were some ball kids watching the news and it was being reported that a plane was lost.  It was devastating.  To be able to compete in the NBA All-Star Weekend, and to win the Slam Dunk Contest in their honor, is one of the most emotional moments in my life."
Being traded?
"The first trade was red," Mason says.  "The day before the trade I was told that I was going to be a part of Seattle's future, that my career was going to begin and end in Seattle, blah, blah, blah.  It's almost the kiss of death when you hear that.  I wasn't very happy when the trade went down, but you have to consider that I was very young at the time.  I moved on to Milwaukee, which turned out to be a great spot for me.  I grew under the coaching staffs of George Karl and Terry Porter.
.
"I later had a conversation with Michael Jordan, when he was with the Washington Wizards, and he told me not to take a trade personally, that a trade means another team wants you more than the team that currently has you.  That's the way he looked at it from then on – if somebody wants you, they're going to do whatever it takes to trade for you.  And teams aren't going to give up good players for nothing.  So that's the way I looked at it.  It helped – from then on, I took any other trades or trade rumors with a grain of salt, because I knew I'd be heading to a better situation with another team."
Career high scoring average for a season?
"That was a good one," Mason says.  "So let's go with any of the warm, vibrant, energetic colors.  It was a great flow with guys like Michael Redd, Tim Thomas and Keith Van Horn.  It was a great year, and it was good to be able to get the ball at will, and to be able to do things on the court that I knew I could do.  That's the way it was for me during my career in Milwaukee, but especially that year, because the offense seemed to be about me and Michael Redd.  We were scoring options one and two.  It was fun, and was like being in college all over again, where the coach gives you the ball and tells you to go score.  So I enjoyed those moments."
Retirement?
"Retirement for me as more in the yellow color palette.  I walked away from the game of basketball with deals on the table, both in the United States and in Europe, and I was ready to move on and do something different.  Basketball was my life for a long time, but it wasn't everything.  It meant a lot to me, especially when I was younger, but when it came time to walk away I knew I was going to do something different.  I knew when I couldn't play at the level, mentally, that I needed to play at, I knew it was time to walk away.  Physically I was fine.  Mentally I just wasn't engaged as much anymore.  That's when I knew that I needed to step away from the game, because I was either going to get hurt, or I was going to cheat my teammates by not giving it my all.  And that wasn't me."
~ ~ ~
As the interview winds down, I find myself thinking once again for some of the all-time greats and their masterpieces; Picasso and his Les Demoiselles d'Avignon, often described as the rupture moment between the art of the past and the art of the future; Warhol and his Campbell's Soup Cans, the ubiquitous staple food found in millions of American homes brazenly turned into high art; Salvador Dalí and his Persistence of Memory, with its soft melting pocket watches an unconscious symbol of the relativity of space and time.  Different eras, different styles, but all three have something in common: Inspiration.  Where does Mason's inspiration come from?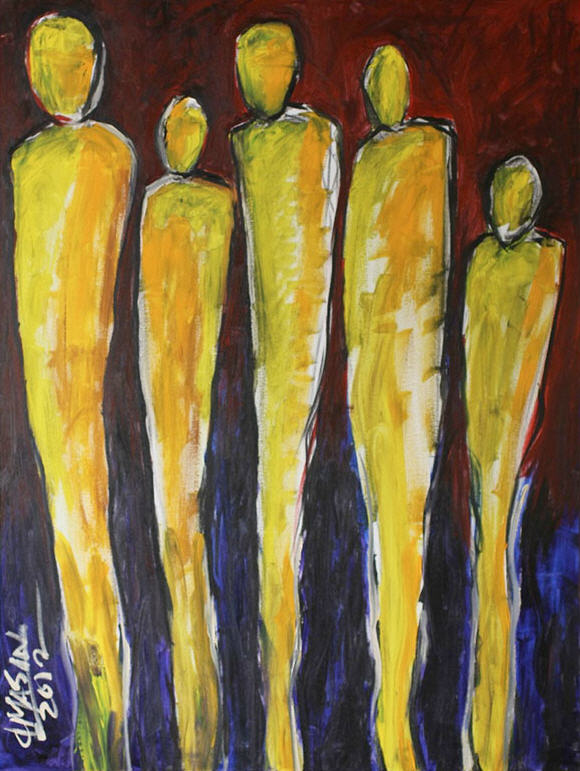 .
"My family keeps me grounded and provides me with a great deal of inspiration," he says.  "I have an eight-year-old daughter and a five year-old son, and they're the most important parts of my life.  My wife has been behind me from the beginning.  They make it easy for me to focus on my art and create.  And being able to travel has been big, because you're exposed to so much and you have the opportunity to connect with your surroundings.  Take an old fence, for example.  If you look at it the right way, you can see the creativity in it.  It might be completely falling down, but the age, textures and color variations tell a story.  It's all about how you look at it, and the emotions that it evokes."
And how has Mason evolved as an artist?
"There's definitely an arc, a trajectory," Mason says.  "It was very much the same type of thing for me when I started playing in the NBA.  As a rookie, I was still very raw.  The first step in my evolution was learning to be a professional, and then improving my basketball skills.  From there I was given a lot more responsibility, and then I had the whole free agency period.  And as I got older I became more of a leader, and also a mentor to the younger players on the teams that I played on.  As I approached retirement, I knew that it was my time to step away from the game, and I was happy with what I had accomplished in basketball.  It's hard for me to say this, but I wasn't the guy who was going to be the hall of famer, or the All-NBA First Team player, or a perennial All-Star.  I'm fine with what I did in my career.  I'm totally okay with that.  I wanted to be a really good basketball player, and make the most of my talents, and I was just really blessed and fortunate to have great coaches and teammates that helped me to become the player that I was in the NBA.
"In art, it's the same basic scenario.  I just want to create good paintings.  In the art game I think I'm doing well, but in the big scheme of things I'm still a rookie.  There's this big world of art out there that I haven't tapped into yet.  My goal, to borrow from the basketball analogy, is to continue to practice and play hard, to continue to engage myself, to continue to listen and learn from my peers.  I want to reach the point where people can look at my art in a museum, or a gallery, and recognize that I was a little bit different.  That this guy, Desmond Mason, was an athlete who was also a real artist.  That he wasn't pretending.  That art was something that he was very passionate about.
"And I'll be there one day, I totally believe that."
http://www.fifteenminuteswith.com/wp-content/uploads/2014/10/the_desmond_mason_interview.png
400
600
Michael McClellan
http://www.fifteenminuteswith.com/wp-content/uploads/2016/08/FifteenMinutesWith_NewLogoPrototype.png
Michael McClellan
2014-10-18 06:21:05
2016-10-25 02:00:04
Desmond Mason - Paint Baller