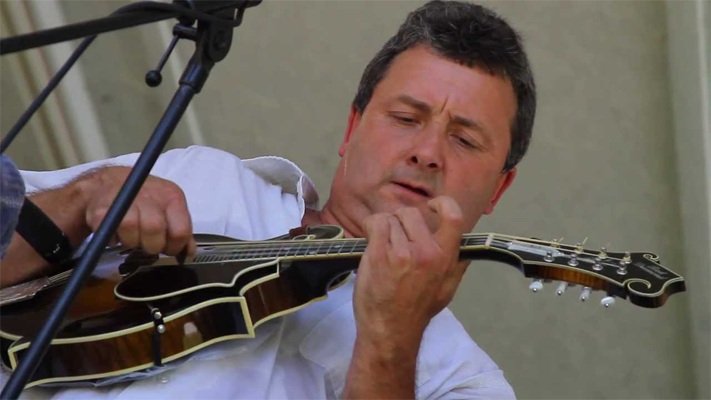 By:  Michael D. McClellan | He has the kind of God-given talent that comes along once in a generation, this mandolin-playing genius with the hands that should be insured by Lloyds of London, and yet he remains something of a mystery to most of us, a hidden treasure with one of the most unique stories in the music business, and that's perfectly fine with him.  Johnny Staats is comfortable in his own skin.  He gets up early every workday morning, as he has for the past twenty-plus years, and he sets out in his brown U.P.S. truck, delivering packages on his route just north of Charleston, West Virginia, working long hours in the freezing cold of winter and in the sweltering heat of summer, content to earn an honest day's pay for an honest day's work.  Never mind that his talent is, in a word, otherworldly.  Never mind that he's on a first-name basis with country music legends Brad Paisley and Kathy Mattea.  Forget for a moment that he's played the Grand Ole Opry not once, not twice but five times.  Johnny Staats is as self-effacing as they come, this despite his prodigious talent and his five-star street cred among some of the heaviest hitters in Nashville.
Is there another story in music remotely like this?
Imagine Bach, Beethoven or Mozart forging tools in a blacksmith's shop by day, and then performing in front of royalty by night.  Johnny Staats drives that U.P.S. truck down some of the dustiest roads you could imagine, getting it done on time and with a smile on his boyish face, all the while looking forward to taking the stage and giving the next command performance.  Yes, Johnny Staats kills it when it comes to the mandolin.  You'd just never know it unless you've seen him play – or unless someone has let you in on his secret.
We sit down at a Bob Evens Restaurant in Ripley, WV, not far from where Staats calls home.  It's crowded with families fresh from Sunday morning church service.  A waitress approaches – her name is Val, and it's immediately clear that she knows Johnny.  Turns out that they went to high school together.  She smiles.
"I didn't know you were having lunch with a celebrity," she gushes, and then jumps into her favorite Johnny Staats story.  Everybody in these parts, it seems, has one.
The Johnny Staats narrative begins at the age of eight, when his father put a mandolin in his hands for the first time.  The connection with the instrument was instantaneous.  So was his passion for bluegrass.  Staats fell in love with the music of Bill Monroe, the mandolin player who essentially created bluegrass music, and he soon found himself dreaming of a career like his idol's.  By age 9 he was playing in his first band, Bluegrass Heritage.  By the time he was a teenager, Staats was performing in regional competitions and developing a reputation as something of a string-playing whiz-kid.  The attention was lost on him; for the unassuming Staats, it was simply a matter of him doing what he loved most.
"I came from a musical family," Staats says.  "It's just what we did.  My father played guitar, and I remember him asking me what instrument I wanted to play.  I said drums, but he shot that idea down quickly [laughs].  He had an old mandolin in the house, so he handed it to me and that's how it all started.
.
"My father played guitar, and I remember him asking me what instrument I wanted to play.  I said drums, but he shot that idea down quickly [laughs].  He had an old mandolin in the house, so he handed it to me and that's how it all started." – Johnny Staats
"The first song I ever learned to play was a folk song called Get Along Home Little Cindy.   Dad would hum it out for me, but I also listened to it on an old 8-track tape player.  I remember letting it play and listening to it all night – the machine would click, and it would play again.  And then when I was trying to learn all of the breaks, the way Bill Monroe or Doyle Lawson or Sam Bush or the other great mandolin players might play the song, well then I used a record player for that."
It was clear from an early age that Staats was different, and that he followed his own musical compass.  This became even more evident as he reached high school.
"Back when I was going to high school, bluegrass music wasn't very cool or very popular," he says.  "I'll put it this way, you wasn't going to pick up a girl if you played bluegrass music [laughs].  Everyone in high school was interested in the mainstream music, the rock bands, groups like REO Speedwagon, things like that.  But that wasn't me.  There was something about string music that appealed to me.  That's what I was all about."
Not that Staats was one dimensional or close-minded when it came to sampling music.
"I listened to a lot of stuff," he says quickly.  "I listened to everything from rock to bluegrass to jazz to classical.  I loved classical music, and still listen to it today.  Bach is my favorite.  But I didn't listen to much country music at all, and that's still true today.  I think the reason is because I like high-energy music, not the stuff that's going to put you to sleep."
That energy and creativity carried Staats to mandolin titles in Charleston's prestigious Vandalia Festival in 1996, 1997 and 1999.  From there, it seemed like only a matter of time before Staats would put together his first record.
"Kathy Mattea worked with me on my Wires and Wood album," Staats says.  "She sang on the song Coal Tattoo.  It almost didn't happen, because family is the most important thing to me and I didn't want to chance a good-paying job for something so risky.  But Ron Sowell, the Mountain Stage music director, was pretty persistent about it.  He begged me to go to Nashville, said it couldn't hurt to go down and check it out."
The visit, by all accounts, went extremely well.  Staats was able to meet influential people in the music business, like Sony executive John Van Meter, as well as connect with a number of well-known and well-connected musicians.  Even at that, getting Staats to commit to cutting an album was anything but a slam dunk.
"When we got back from Nashville, there was a lot of talk about me making a CD,"  Staats says.  "But I really wasn't interested.  I was happy with the way my life was going.  But Ron kept after me, he told me that there wasn't any risk because the music company was fronting the money to cut the CD.  So we went back down to Sony Tree Studio on Music Row, right in the middle of downtown Nashville.
"It was a whirlwind.  We were working with people like Kathy Mattea, Sara Evans, Sam Bush of the New Grass Revival, Jerry Douglas, Tim O'Brien – all huge names in country and bluegrass.  And they all wanted to jump in and help us make this CD."
.
"It was a whirlwind.  We were working with people like Kathy Mattea, Sara Evans, Sam Bush of the New Grass Revival, Jerry Douglas, Tim O'Brien – all huge names in country and bluegrass." – Johnny Staats
This was early 2000.  What happened next only adds to the lore that is Johnny Staats.
"We put the CD out, and Sony was shopping it around," Staats says in his familiar West Virginia twang.  "Well, there was this music store in Nashville – Tower Records – that was actually playing our demo on the floor when a guy from New York City walks in.  He hears the music and immediately asks the store manager about it, and she tells him about me.  Turns out his name is Neill Strauss, and he's a writer for The New York Times.
"One thing led to another, and he ended up getting my home phone number.  So he calls and introduces himself, tells me he's a reporter from New York, and that he'd like to come to West Virginia and do a story on me.  I think it's a prank call, so I hang up on him.  Then he calls back and explains that he wants to follow me around on my truck and feature my music in the Times.  So I call my boss, and he says, 'I reckon it's okay, bring him on down.'"
The story, published on February 1, 2000, was titled Bluegrass in a Big Brown Truck.  In a world void of social media, word of the package-delivering, mandolin-playing U.P.S. driver still spread like wildfire.
"Mr. Strauss rode with me on the truck all day," Staats recalls.  "He was pretty tired when it was all over, because it's hard work delivering packages.  And right before he left he said something I'll never forget – he said that my life was getting ready to change.  I didn't pay any attention to it, honestly.  I just thanked him for coming down and invited him to come back anytime.  As far as I was concerned, that was the end of that.
"Well, as soon as the story hit the street, the phone calls flooded in at the U.P.S. office in Parkersburg, West Virginia.  CBS called.  CNN called.  The Today Show.  Good Morning America.  It was overwhelming, and not just for me – my boss wanted to know what was going on, and I told him I had no idea.  That's how surprising it was when everything hit.  Thankfully, the company worked with me so that the shows could come and do their interviews and film their segments.  CNN came twice.  The Today Show came twice.  It was crazy around that place for a while."
.
"Phone calls flooded in at the U.P.S. office in Parkersburg.  CBS called.  CNN called.  The Today Show.  Good Morning America.  It was overwhelming, and not just for me – my boss wanted to know what was going on, and I told him I had no idea." – Johnny Staats
Staats also made the pages of People Magazine, who saw the Times article and ended up doing a full-page piece of their own.  The memory causes Johnny Staats to smile.  He shakes his head.  You know there's a story's coming.
"I'll never forget it," he chuckles.  "The guy from the magazine shows up, it's the dead of winter – there's snow on the ground – and he's wearing sunglasses.  He's going to follow me around on the truck like Neill Strauss did, so I tell him he may want to pick up a pair of boots somewhere.  He just shrugs and tells me he'll be fine.  Well, we jump in the truck and make a stop, and I'm carrying a package to a house.  He's walking behind me.  Suddenly, I hear this awful noise.  When I turn around he's on the ground, flat on his back.  He'd slipped on the ice in those fancy dress shoes and hit hard – I think it knocked the breath completely out of him."
Critical acclaim for Wires and Wood was universal.  And at a time when bluegrass musicians didn't land major record deals, the extra media attention helped push Staats into rarified air.
"I signed a deal with Giant Records," Staats says.  "Ricky Skaggs told me that deals like that don't come around very often for bluegrass musicians.  So, for me, it was an easy choice to make."
And while signing with Giant represented a high-water mark for Staats, he would soon get a taste of the less glamorous side of the music business.
"Within six or seven months of me signing, Giant records went under.  We sold something like 30,000 copies the first three months before that happened, which is unheard of in bluegrass music.  That's a top selling CD in that category.  So up until the collapse of Giant Records, everything was a whirlwind for me.  And I think Neill Strauss was the guy that started it all.  He must have known that it was a good story – here's a working man in Johnny Staats who also plays bluegrass – and I think he knew he was going to start something big with that article.  He tried to warn me before he flew back to New York, and boy was he right."
For Staats, the collapse of Giant Records wasn't the end of the road – there  would be other opportunities available to him in Nashville – but the bankruptcy left an indelible mark.
"I could have gone back there and done other things, but it just wasn't for me.  The music business is either steak or beans – when everybody likes you, you're up on top, eating steak.  And when your popularity wears off, then you're back to eating beans.  There's a lot of pressure on an artist.  If you're not out there selling records, then they're not going to keep you around very long.  So after the Giant collapse I decided to keep it fun."
Keeping it fun meant forming a new band.
"We call ourselves Johnny Staats and the Delivery Boys," he says proudly.  "It's been working out great.  I'll be able to retire from U.P.S. in about four years, and then I'll be able to play all that I want."
With a new band came the inspiration for a new album – this time with complete creative control.  Staats and the boys recorded and produced it themselves.  They are also responsible for the marketing, and don't have to wonder whether a record company is going to pull the rug out from under them.
"The album is called Time Moves On," Staats says, pausing.  "It was pretty sad how this project started out.  I lost my dad two years ago to cancer.  He wrote the lyrics to the title track, and I can still remember him telling me he needed to finish the song before he passed away.  So this album is very personal for me.  There are times when I start playing that song and I just can't finish it – I have to switch to another song in order to keep going.  I still can't believe he's not here with me today.  It's hard.
"I initially wanted to release this album with a record company, but they expect you to tour and make appearances to promote your work.  It was going to be a big demand on my time, and I have a great job with U.P.S.  I couldn't be in two places at once.  So I told the boys in the band that we were going to do this ourselves.  And we're making double the money."
One of the more unique songs on the album is Big Coal River, notable because of the involvement of Billy Edd Wheeler.  Wheeler, from Boone County, West Virginia, is a folk music giant.  His songs have been played by such artists as Elvis Presley, Johnny Cash and Kenny Rogers.  Wheeler's song Jackson turned out to be a Grammy Award winner for Cash; and his Coward of the County helped Rogers transcend country music and win over a whole new population of fans.
"We're great friends, Staats says.  "Billy wrote the song Coal Tattoo, which is on the Wires and Wood album, and he said that the version on my album is his favorite.  The Oak Ridge Boys have a rendition.  There have a lot of other acts that have covered, too, but Bill really liked the way I did it.  That song started our friendship.  We are in touch a lot, we've played a couple of shows together, that sort of thing.  So Billy approached me, and said that he'd like to write a song together.
"Billy wrote the lyrics from his home in North Carolina, sent them to me and asked me to put a melody to it.  I told him that I already had a melody in my head – somber and sort of haunting.  The funny thing is that I didn't have to change anything.  The lyrics and the melody just fit together like a ball and a glove.  It was a thrill just to work with a genius like that – he's written plays like Hatfields and McCoys, and he's just an unbelievable artist."
Another song with a unique story on the album is Sneakin Deacon.
"I named that song after my old coon dog," Staats says, smiling.  "That was the same coon dog that I took hunting with us when CNN came to town.  Larry King from CNN told me that he was coming to listen to me play music, but that I was going to take him coon hunting [laughs].  Boy, it was crazy – who would have thought I'd be coon hunting in the West Virginia hills with Larry King?"
Never Mind the Mule is, like most of Johnny Staats' material, very personal in nature – in this case, a snapshot of his life as a truck driver for U.P.S.
"That song wrote itself.  I listen to what people say, and every morning this guy I work with would say, 'Never mind the mule, just load the wagon'.  And I thought it would be a great title for a bluegrass song.  And the lyrics tell the story of what we do as drivers.  We work late, and those back roads sure can get lonely at night."
As an artist, lonely is not the word to describe Johnny Staats.  His prodigious talent has taken him to Nashville and back, and has allowed him to share the stage with some of the biggest acts in show business.
"I have a good friend who plays for Huey Lewis," Staats says.  "His name is Johnny Colla.  He's the one who started Huey Lewis and the News, along with Huey himself.  I met Johnny in Nashville.  Well, he called me a couple of years ago and told me that the band was coming to Charleston to perform, and he asked me to bring my mandolin and come to the show and play.
"I make it to the performance hall right before the show, and Johnny introduces me to Huey on the spot.  We're standing there, and Johnny asks Huey if I could join them onstage.  Huey just smiles and says, 'Okay, let's do it.'  This was five minutes before the show was going to start – I just came straight from work and got there as quick as I could.
"The next thing was deciding which song I'd play in with, and Johnny recommended Working for a Living.  Huey, said, 'I'll play the first two bars on the harmonica, and right after that I'm going to bring the band in.  You take the second two bars.'  I'd never practiced the song, but I'd heard it on the radio.  Well, Huey brought the band way down and low, because I'm playing a string instrument and it's better from an acoustic standpoint to do it that way.  And it just worked out.  I jumped right in there and played an acoustic solo, and it sounded like we'd been practicing it for years.  Funny thing is, I was still wearing my U.P.S. uniform [laughs]."
Staats has also opened up for good friend and country music star Brad Paisley.
"That was on Mountain Stage," he says.  "I love Brad to death, he's a great friend.  It was me and Robert Shafer, and it was just a two-piece band; me on mandolin and Robert on guitar.  It was an awesome experience – when we finished, we received a really long ovation.  I couldn't believe it.  Everybody was into what we were doing onstage, so it was a thrill just to be up there.
"Brad Paisley is the real deal.  He's a great guitar player and an even better person.  I'll never forget, Brad brought his father to the show, and brought him off the bus to come in and hear me play.  I thought that was pretty nice."
.
"Brad Paisley is the real deal.  He's a great guitar player and an even better person.  I'll never forget, Brad brought his father to the show, and brought him off the bus to come in and hear me play." – Johnny Staats
Shortly after the release of Time Moves On, Staats received a call from the International Bluegrass Music Association.  The request:  A live performance at the annual awards show.
Staats:  "Funny how it happened.  When we decided to cut the CD, we knew we didn't want a lot of expense associated with it.  So we made it ourselves in the front room of a house in Ohio, doing it the old way, and the next thing I knew, the IBMA had a copy and was requesting that we play at the awards show in Raleigh, North Carolina.
"It was a pretty big deal.  They wanted us to showcase the CD at the awards show, and only twelve bands in the country are chosen to perform.  I knew right then I had to figure out a way to get down there.  So I called my boss and told him that I needed to switch my vacation [laughs].  We played three different times.  The crowd was on their feet – I think they liked our high-energy style.
"We really had a great time down there.  It gave me a chance to renew friendships with some of the old pickers and bluegrassers that I hadn't seen in a while.  Some of them would ask where I've been, and I would just tell them that I've been working.  I've never ran from hard work – that's something that my dad taught me.  And you know, there are a lot of people, if they could play an instrument the way that I do, they wouldn't be lifting packages every day and risking injuries to their fingers.  But that's not me.  I like to work."
Today, Johnny Staats and the Delivery Boys stay busy – in more ways than one.  Like Staats, the boys in the band all have day jobs.
"We push each other musically," Staats says.  "We have Ray Cossin on fiddle – he's only eighteen years old.  His parents starting bringing him to me for fiddle lessons when we was twelve.  He's gifted.  I'd show him a song and he'd learn it before he left.  Before long he was learning two or three songs every time he'd come over.  He got so good that I hired him into the band.
"We have Butch Osborne on the banjo – I've been playing with Butch for twenty-five years.  He's a concrete truck driver.  Davey Vaughn is the guitar player.  He's a surveyor for the State of West Virginia.  His brother, Dan Vaughn, is a preacher."
Staats and his band have plenty on their plates these days – requests come in a steady stream – and he doesn't have any regrets about choosing the safer route with U.P.S., no pun intended.
"We have total freedom.  Like I told the boys, we can put out anything we want.  We can play wherever we want, whenever we want.  We can satisfy ourselves, and hopefully the public will like it.  We don't have to make record companies happy, and we don't have to go through the grind of touring to sell a record.  We just need to show up at a gig and play our music and love it."
And that, in a nutshell, is the essence of Johnny Staats:  An artist unencumbered by the corporate side of the music world; a mandolin-playing genius who has earned the respect and admiration of some of the biggest names in the business; and, above all else, a family man content to put in that honest day's work for an honest day's pay, while the rest of us watch him produce preposterously brilliant music in his spare time, as if it were as natural to him as the act of breathing.
Editor's Note:  Be sure to check out the official Johnny Staats website at:  http://www.johnnystaats.com/
http://www.fifteenminuteswith.com/wp-content/uploads/2013/11/johnnystaats1.png
400
711
Michael McClellan
http://www.fifteenminuteswith.com/wp-content/uploads/2016/08/FifteenMinutesWith_NewLogoPrototype.png
Michael McClellan
2013-11-29 04:09:59
2016-10-25 01:55:34
Johnny Staats - Hidden Treasure