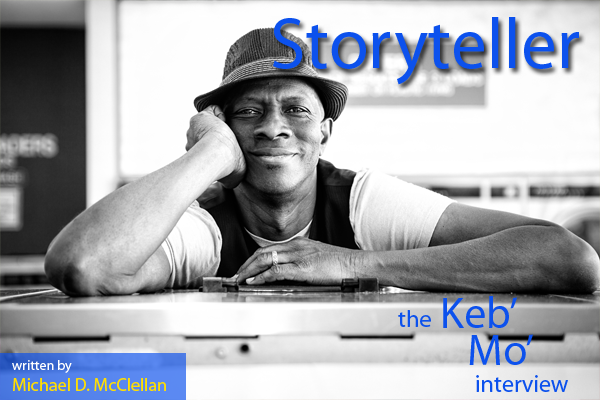 By:  Michael D. McClellan | The blues was born at the turn of the twentieth century, in the Mississippi Delta and other regions of the Deep South, a reminder of hard times brought on by the burdens of slavery, the Great Depression and just being black.  Those who played the blues did so from a place of pain and suffering, of 30-cent days spent working from sun up to sun down, of sharecropping for a plantation owner who deducted nearly every dime from pittance wages and paid the rest in barrels of flour, lard and molasses.  People forget that now.  They don't know or seem to care that the music they listen to today – be it R&B, soul, jazz, rock and roll, or hip hop – can be traced back to those Saturday afternoons when the blacks would gather at the local commissary, dancing on the parched earth out front while Charley Patton thumped the paint off his old guitar, or while Sonny Boy Williamson sat on the porch, going to town on his trusty harmonica.  The blues back then was an elixir, a tonic for the troubled and afflicted, its message springing up from the hellish, hardscrabble existences of the economically and socially oppressed.  Where Bach and Beethoven composed concertos for kings, bluesmen like Willie Foster and Blind Blake Booker played for those who turned the plow in the unbearable Mississippi heat — slaves, ex-slaves, and the descendants of slaves who sang as they toiled their lives away in the sharecropper's cotton and vegetable fields.
The blues has been compared to the sound of a sinner on revival day, its message visceral, cathartic, and starkly emotional.  Those who do it best are those who plumb their own hurt and hard times, despite being generations removed from the plantation juke joints where so many of the early blues musicians entertained.  The lineage has survived — nay, flourished — with artists like Muddy Waters and B.B. King taking blues music to new heights, their contributions raising the bar for the rest who have followed.  Diversity has also played its part; Stevie Ray Vaughan, Eric Clapton, Carlos Santana and others have broadened the audience in their own ways, drawing in new fans while nudging the blues closer to the mainstream, which is ironic, given that blues music underpins nearly everything being played on the radio today.  The grit behind Tupac's thug life?  The angst in Morrissey's lyrics?  The braggadocio that drives an Usher track?  The playfulness in a Katy Perry tune?  You can trace it all back to the early pioneers like Bo Carter and Isaac Watts, many of them poor and uneducated, obscure artists who played their music to soothe the soul, not sell tickets.
.
Today, blues music has splintered and fractured into a broad spectrum of sub-genres, with everything from country blues to punk blues available for download.  And while there are flavors for every taste, the ability to tap into raw emotions, both lyrically and musically, set the great storytellers apart from the rest of the crowd.  As Otis Rush once said, 'Them pains, when blues pains grab you, you'll sing the blues right.'
Kevin Moore – better known to the music world as Keb' Mo' – has been telling stories and singing the blues right since the early 70s, earning three Grammy Awards and international acclaim for his work, all while proving that the genre can be moved forward without being fueled by the one-two punch of unrelenting oppression and abject poverty.  His is an impressive résumé certainly, but success didn't just drop in Moore's lap – in fact, it came about as stubbornly as freedom comes to a man doing hard time in prison, with a decade spent scratching out a living as a backup musician, followed by a lost decade with little in the way of acclaim, twenty-plus years of wandering, virtually unnoticed, across the musical landscape.  How many artists break through after twenty years on the fringes?  How many give up?  It's safe to say that Moore has paid his dues, perhaps not in the same way as a Jimmy Reed, whose struggles included frequent bouts with the bottle, or a Robert Leroy Johnson, who burst on the scene only to die mysteriously at age 27, spurring the Faustian myth that he sold his soul at a crossroads to achieve success.  Archetypes surely, but Moore's story is equally blues apropos, a survivor who doggedly carved out his own path while chopping down the large stalks of resistance standing in his way.  Just don't try pigeonholing him in the genre where he's had the most success.
"Getting tagged as a blues artist —

that's just a consequence of people not actually hearing me.  

"They've just heard about me." – Keb' Mo'
He has a point.  Growing up in Compton to parents with Southern roots, Moore was exposed to gospel music at a young age.  He also got a taste of R&B, which had a strong influence in shaping his future.  This was pre-NWA Compton, decades before the Big Bang explosion of gangsta rap and the stars it would produce – Easy-E, Ice Cube, and Dr. Dre among them.  The impressionable Moore listened to everything back then, his musical interests stretching from the Beatles to Willie Nelson to virtually everything in the Motown universe and back again.  More than anything, he was intrigued by the stories within the songs, the arrangement of the words, and the emotions and imagery they evoked.
"My roots are in songwriting," Moore says. "That's where I got my start, and I still spend a lot of time crafting songs.  I came up in Los Angeles, and I listened to a lot of country songs during the 1970s.  It's just crazy how well-written those songs were.  I learned a lot from the songwriters of that era."
Moore's first go at music came when he was ten years old.  He was recruited into his school's band, playing trumpet and instantly feeling a connection to the notes.  From there he went on to try steel drums and a variety of other percussion instruments, and whatever else he could get his hands on.
"Man, I just wanted to play," he says with a chuckle.  "It didn't really matter at that point, I would have played the triangle or an oboe if they let me."
.
It was only when he picked up the guitar that Moore found his true passion.  It hooked him, setting in motion a chain of events that would eventually lead to some serious street cred – Gibson releasing a Keb' Mo' Bluesmaster acoustic guitar, starting price $2,000.  It was an honor Moore couldn't have envisioned as a preteen.  There were a lot of tough rows to hoe standing between him and that signature guitar that would eventually bear his name.  Back then he simply wanted to play.
"When I picked up a guitar the first time, that was it," Moore says. "Within a couple of weeks I knew four, five chords.  I could strum.  I had to learn, but I enjoyed it so it wasn't something that I considered work.  Trust me, I was ready to rock."
Moore restlessly experimented with the guitar.  He tinkered.  He borrowed.  He played in a number of cover bands after high school, performing Top 40 hits and oldies, adding layers to the artistic strata that would ultimately shape him as a musician.  Nothing was off-limits; someone introduced him to Caribbean and African sounds, including the music of the Neville Brothers, with each new experience further shaping him, but deep down the nagging in his subconscious refused to go away.  Moore had yet to land on his true identity.
"There were many influences early on.  Television, Top 40 radio, and the music being played in the 1960s…those were all an important part of my adolescence.  James Taylor left an imprint.  These were all positive influences, but they weren't necessarily the means to an end.  I was still figuring myself out, still trying to find the authenticity that I lacked at that point in my career.  It wasn't a linear journey to discovery.  There were many detours and offshoots along the way." – Keb' Mo'
One such offshoot occurred in 1973, when Moore joined a blues-rock group headed by Papa John Creach, the former vocalist for Jefferson Starship and Hot Tuna.  Three years and three albums later, Moore had the role of backup musician down pat.  He'd toured.  He'd spent time in studio.  It helped lay the foundation.  By the end of the '70s he'd opened for jazz and rock artists such as the Mahavishnu Orchestra, Jefferson Starship, and Loggins & Messina.
"Those were important years for me as a songwriter," Moore says.  "By the mid-70s I was writing in Papa John Creach's band and I was hooked on the songwriting.  I understood the importance of storytelling, and I knew I that I would be writing songs for as long as I was going to play music."
Propelled by this apprenticeship, Moore was ready to venture out and explore his place in the musical universe.  He cut an R&B-based solo album, Rainmaker, in 1980, for Casablanca, which garnered little notice.  Casablanca promptly folded, and Moore slipped into the abyss.  Dreams of stardom evaporated.  Survival became the modus operandi.  Moore played wherever he could find a job, and in 1983 he joined the house band at Marla's Memory Lane, a Los Angeles nightclub.  There he met blues saxophonist Monk Higgins, the bandleader who Moore later credited as "probably the most important element in developing my understanding of the blues."  He also met guitarist Charles "Charlie Tuna" Dennis, who played rhythm six-string behind B.B. King.
"Charlie taught me that there are all kinds of blues:  Delta blues, Texas blues, Chicago blues, soul-blues," says Moore.  "So many flavors.  It had a profound effect on my thinking.  It shaped me.  I started opening my mind and learning how deep the blues was."
His discovery of historic blues artists Robert Johnson and "Big" Bill Broonzy also resonated profoundly, and over the next decade Moore continued to shape his identity by blending their acoustic framework with the pop, R&B, rock, jazz and soul that had been the foundation stone of his own style.
"The blues added the realness that had been missing.  It added a truth, and extra dimension," Moore says.  "Until then, I was just trying to mix music and make something that sounded good.  The results felt like hollow knockoffs of real music, but when I really paid attention to blues, I was like, 'Wait a minute.  This is what's been missing out of my experience.  It's been right under my nose my whole life.'  It was right there, you know, a true epiphany waiting to happen.  I just didn't really think about it until then.  It changed everything."
~ ~ ~
As Kevin Moore's struggles continued, there was no hint that a transformative decade was looming on the horizon.  He'd resigned himself to grinding out a career as a lower tier musician, toiling away in obscurity, taking gigs wherever he could find work, convinced that his window of opportunity had closed.  He was 39, and he had nothing of substance to show for nearly twenty years in the business.  It wore on him.
"

I was convinced my career was over.  

By that point, I felt that if I was lucky I'd be able to play blues gigs for $40 or $50 a night…if I was lucky.  I was living out my own personal version of the blues, even if I didn't realize it at the time, but I think that was an important part of my growth." – Keb' Mo'
Moore's luck, as it turned out, was about to change.  In 1990, the casting director for Rabbit Foot, a theater production in Los Angeles, needed an actor who could play a Delta blues musician.  Moore recognized it as a carpe diem moment.  He took the plunge.
"I said I could play the part – I lied [laughs]…but then a funny thing happened…I really got drawn into the role," he recounts.  "It was hard work.  I've done other acting since then, and while I enjoy it, I understand how incredibly difficult it is to play a character and do so with authenticity.  In some respects it mirrors music in that same way; those who do it best are those who are true to themselves.  Vince Gill, Bonnie Raitt, Bob Dylan…they trust who they are, and they follow their own internal compass."
.
Moore's turn in Rabbit Foot proved to be a liberating, unexpected joie de vivre; he found a freedom he hadn't expected, a chance to let go, an opportunity to cleanse his pallet and reinvent himself as an artist.  So successful was his performance that Moore was cast in another bluesman role in the play Spunk.  Then he played Robert Johnson in a docudrama entitled Can't You Hear the Wind Howl?  Ironically, the recognition that came from playing blues musicians on stage brought him a popularity that had been lacking in his twenty-plus years as an actual blues performer.
"The response was incredible," says Moore. "I didn't envision it broadening my audience the way that it did, but it turned out to be much more than a detour from my main gig.  In a lot of respects, it was definitely a turning point."
The roles also presented Moore with a long-awaited shot at redemption; fifteen years after watching his first album flop, Epic Records reached out with a record deal.  This time, Moore was ready.  To signify this transformative new chapter in his life, Moore embraced a new name — Keb' Mo' — an African-American version of his given name, which he felt would better reflect his burgeoning blues persona.  It was first coined by a friend, drummer Quentin Dennard, who had started using the name during sessions at Los Angeles nightclubs when Mo' would sit in with house musicians.  It proved to be the capstone of his musical transformation.
The self-titled record brought with it a deluge of attention, with positive reviews from such publications as the New York Times, People, and the Houston Chronicle introducing him to legions of new fans.  The love came in waves, as critics hailed Mo' as an important new voice with both authentic blues roots and a contemporary sound.  After more than two decades on the fringes, invisible for the most part, the 39 year-old Mo' was suddenly an overnight success.
Predictably, Mo' took the acclaim in stride.  He knew, perhaps better than anyone, that every adversity, every failure, every heartache carries with it the seed of equal or greater benefit – and a healthy dose of perspective.  Don't get him wrong:  The newfound fame that came with his gold record was a welcome bedfellow; but, at this point in his career, he simply enjoyed what he was doing, whether that meant playing backup in smoky nightclubs or being hailed as the Next Great Bluesman.  Being very much in demand was an added bonus.
"I really didn't care anymore.  I just wanted to play music.  I honestly didn't care if I was successful or not.  I didn't care if I was living out of a box downtown. 

I didn't concern myself with how others perceived my career.  I just wanted to perform.

  When all had failed, when I felt that I had had every chance to make it and hadn't made it, I decided to just do what I wanted to do.  It was liberating.  And when I finally did achieve a certain level of fame and success, I think it really helped me take the newfound attention and put it in the proper perspective.  I just reminded myself that I'd always been a good storyteller.  I didn't become one just because I was suddenly getting all of this attention." – Keb' Mo'
Mo's storytelling is at the heart of everything that he does artistically.  He plumbs the depths of human emotion.  He captures common experiences in a way that connects and resonates, painting pictures and taking us on a shared journey that is, at its essence, pure blues.
"Blues storytelling comes out of the soil, from the hearts of hardworking men and women, you know," he says.  "It's real, organic.  There isn't a shiny veneer involved, even if the finished product is more slickly produced today than the blues albums from years past.  I'm proud of the songs that I've written, I'm proud of the realness in them, and that they don't feel as if they belong in a Hollywood production or a Broadway play.  Blues comes from the people, so everything that I do, I stay true to that.  I want it to be for the people.
"For me, it's always been about the journey – making music and telling truths.  And a record is like a stop along the way in that journey, you know?  How I'm looking at that particular moment.  What's going on with the relationships in my world.  My thoughts on politics and anything else I'm experiencing on the journey of life."
The commercial success of Keb' Mo' led to more engagements at music festivals, clubs, and coffeehouses.  He was a hot commodity – a fan favorite, a media darling, and an industry cause célèbre all rolled into one…and someone who now found himself opening for stars such as Jeff Beck, Carlos Santana, Buddy Guy, Joe Cocker, and George Clinton.  This turned out to be the starting point in an incredible second act, something totally unexpected, and yet something we should have seen coming, as predictable as a Fibonacci sequence.  In 1996 Mo' released his second album, Just Like You, in which he stretched himself by working with a full band and tackling several rock-based songs.  Just Like You won the Grammy Award for Best Contemporary Blues Album – as did his next release, Slow Down, in 1998.
.
Mo', obscure for the greater part of two decades, was suddenly ubiquitous, his music heard everywhere – on radio; on the television series Touched By an Angel and the CBS drama The Promised Land; on several film soundtracks, including One Fine Day, Tin Cup, and Down in the Delta; and on the concert stage, as Mo' shared star billing with such performers as Bonnie Raitt and Celine Dion.  He collaborated with a host of other artists ranging from Amy Grant to Solomon Burke, and performed the theme song for the smash sit-com Mike & Molly.  As hard as it was to fathom how long it had taken for Mo' to catch on, it was equally difficult to comprehend how quickly he'd caught fire; by '98 it seemed as if a who's-who of music royalty was covering his songs, from Joe Cocker with Has Anybody Seen My Girl, to the immortal B. B. King with Dangerous Mood.  Yes, America's next great bluesman had arrived.
"I didn't gravitate to the blues until I was in my 30s," Mo' says.  "I was playing popular music, what I thought was cool.  Later on, I realized I was empty inside.  I didn't have anything to say.  And then I started listening to the blues and I discovered it had something to say.  It's deep and powerful.  I saw a realism I hadn't found in anything else.  It fit.  It gave my music the identity that I'd been searching for from the very beginning."
Mo' released two new albums on 2000; The Door, which garnered his third Grammy nomination, and Big Wide Grin, a children's album featuring many songs from Moore's own childhood, along with some newer children's songs and some by Moore himself.  In 2001, he appeared on Sesame Street with Kermit the Frog, Grover, Elmo, and other muppets performing the song Everybody Be Yo'self.  While Big Wide Grin seemed like an odd career choice, especially given the wave of critical acclaim he was riding at the time, Mo' embraced the project with enthusiasm.
"I like having definition but not being defined.  That was the case with the material that ended up on Big Wide Grin.  The creative energy just kind of took over and I just went with the flow.  I stopped everything to work on that record." – Keb' Mo'
His choices on the album were risky, from the high funk of Sly & the Family Stone's Family Affair to the soul of the O'Jay's Love Train; from Stevie Wonder's Isn't She Lovely to Joni Mitchell's Big Yellow Taxi, and the raunchier Fat Foot Floogie.
"I thought I'd show up in the studio, and then get back to my real work," says Mo' with a laugh.  "And then I got hooked, you know?  It was a way to celebrate the many different forms that families take, from the intact nuclear unit to extended and blended families.  It was also a vehicle to expand awareness about adults' responsibility to younger generations.  It was an important work from that standpoint; we're wielding this great power of thought and mind and deed, and sometimes we use it carelessly."
Mo's continued to explore, taking other unconventional risks including a cover of the Hank Williams hit  I'm So Lonesome I Could Cry, for a tribute album to the great country-western star.  He followed this by straying even farther from his blues roots, giving us his take on Shakespeare's Sonnet 35 for a Royal Academy of Dramatic Art benefit recording,When Love Speaks: Sonnets of Shakespeare.  Released in 2002, the recording includes performances by such disparate artists as Joseph Fiennes, Sir John Gielgud, Alan Rickman, Kenneth Branagh, Fiona Shaw, Des'Ree, Annie Lennox, and Ladysmith Black Mambazo.
"This project really stretched me," says Mo'.  "It challenged me in ways that I had never been challenged musically, so there was a certain amount of apprehension on my part.  I wasn't sure I could pull it off.  Personally, it remains one of my bravest undertakings as a musician."
~ ~ ~
Blues remains Mo's calling card, the foundation stone on which his reputation is built, underpinning everything he does as a musician.  He appreciates its rich history, and he has a sense of his place in the pantheon of great blues players.
"Blues music is a part of the legacy of the plantations in the South, along with the Underground Railroad, gospel music and jazz," he says.  "That's really the beginning of African-American culture in America, because we came to this continent with no culture – our culture was stolen from us.  Today, it's a crazy new world.  Now the blues is much more diversified.  Color doesn't matter.  I know a lot of white guys that can sing the shit out of some blues.  It still connects.  The old, hard, black audience – which we don't have anymore – wouldn't get hung up on what color you were.  To them, the blues was the blues.  That was the only color that mattered."
Mo' toured widely in the early 2000s, cementing his reputation as a major concert draw, but Big Wide Grin triggered a three-year hiatus in his solo recording activity.  When he did return to the studio in 2004, it was with a flourish of musical creativity and political activism, this in the form of the bluesy Keep It Simple, whose 12 original songs were all written or co-written by Mo' himself, and Peace…Back by Popular Demand, an album of covers of classic protest songs of the 1960s.
Keep It Simple brought Mo' his third Grammy, again for Best Contemporary Blues Album, and featured  an eclectic array of guests that included bluegrass mandolinist Sam Bush and husband-and-wife duo Vince Gill and Amy Grant.  It also afforded him the license to flex his political muscle, as Mo' plunged headlong into the Vote for Change campaign aimed at defeating President George W. Bush in the November election that year.  Although Vote for Change  ultimately proved unsuccessful, Keb' Mo' shared the stage with some of the top names in the music business, rubbing elbows with the likes of Bonnie Raitt and Bruce Springsteen and other music cognoscenti.
.
"There was more to what we were doing than simply trying to replace a president," Mo' says.  "The concert series was about rethinking our place in the global landscape; you know, the United States as the ultimate policeman…as judge, jury and executioner…those things just didn't fit anymore.  So, it was more about trying to defeat outdated policies and philosophies.  Closed-minded, heavy-handed politics just don't work today.  We no longer need to play the role of the world's big, bad wolf.  I think we've come a long way since then, so the effort wasn't in vain."
Suitcase came next, in 2006, and with it another Grammy nomination.  The self-produced The Reflection was released five years later in 2011, notable in that it was the first release on his own label, and featured guest spots from the likes of heavy hitters Vince Gill, Dave Koz, Marcus Miller and David T. Walker. The Reflection earned Mo' another Grammy nomination, this time for Best Blues Album.
"

I'm as proud of the nominations as I am with winning.  

I think nominations tend to get swept under the rug and forgotten about, even more so in today's culture.  Just having your work recognized in that way puts it up there with the best.  To me, that's a reason to celebrate." – Keb' Mo'
Mo' followed The Reflection with BLUESAmericana, which was released during the spring of 2014.  The album builds on what has become Mo's own unique take on the blues, an identifiable style that hits you from the first few bars, with the andante banjo, soft harmonica and no nonsense drums setting the tone from the opening track.  The record also proves that Mo' is comfortable melding the old and the new, that he can stay true to what blues is while giving it a dash of modern day flair.
"I trust my instincts and go with them," he says.  "I understand the importance of respecting the great blues players who have come before me, and I try to do my best to uphold the tradition and culture, but I think it's just as important for me to do my own thing."
~ ~ ~
Keb' Mo' has worked hard to find his way as an artist, to carve out his place on the Mt. Rushmore of blues musicians, and yet in many ways he remains elusive, hard to nail down or pigeonhole, and that's exactly the way he likes it.  He's a working man's superstar, the blues equivalent of Bruce Springsteen, and yet he's not exclusively blues.  He zigs when you expect him to zag.  He flirts with the boundaries of what blues is, not necessarily testing the limits of the genre, but rather spilling over into something else just long enough to keep us guessing.  And just when we think we've gotten him figured out, Mo' throws us a curveball.  It's just enough to please the avant garde while simultaneously irritating traditionalist fans who like their blues served up with a healthy dose of B.B. King and a side order of Muddy Waters.  That he anchors himself to the blues while refusing to be confined to the genre is what sets him apart, and he remains unapologetic when it comes to his shape shifting.
"

I never set out to be a 'blues guy'.  

Why would I put limits on myself?  At the same time I get it – blues is very powerful and fuels what I do.  It's a big part of who I am." – Keb' Mo'
What Mo' is, is a damned good musician.  Just ask Eric Clapton, or Jackson Browne, or any number of A-List performers who count themselves as fans.  At Clapton's Crossroads Festival at Madison Square Garden, Mo' performed with the legendary Taj Mahal following an over-the-top set by good friends Vince Gill and Keith Urban.  That they mesmerized the sold-out audience at Madison Square Garden was no surprise; that they stole the show speaks volumes to how far Mo' has come since his early days as a backup musician.
.
"Crossroads is a hell of a lot of fun," he says.  "There are so many talented guitar players that you almost have to pinch yourself.  I enjoy it.  It's not really a competition.  Of course, people in the audience have their favorite performers, and that's fine.  For me, it's about showing and contributing whatever I can to make it a success."
The world keeps spinning.  Mo' keeps playing.  A lot has changed since the those sweltering days on the plantation, when the songs in the field doubled as a cryptic form of communication for the slaves who sang them. Today, a blues player can spring up from Compton, emerging after twenty years of struggle like some sort of musical cicada.
"The blues is something that always comes back," Mo' says.  "For the big music to survive, they have to sell a lot of records to teenagers.  You need pop stars like Taylor Swift and Katy Perry to sell a lot of records and to keep the music industry financially sound.  Blues was never mainstream.  I don't think it was ever meant to be mainstream.  It was somewhat popular in the '50s and '60s, but it's true significance lies in it being a part of all other popular music.  It's foundational.  Turn on the radio and listen to anything Top 40.  The blues is in there, just below the surface.  The blues is that powerful.  It nurtures us in a way that new stuff can't.  It's always going to have a seat at the table."
http://www.fifteenminuteswith.com/wp-content/uploads/2015/09/the_keb_mo_interview.png
400
600
Michael McClellan
http://www.fifteenminuteswith.com/wp-content/uploads/2016/08/FifteenMinutesWith_NewLogoPrototype.png
Michael McClellan
2015-09-06 06:11:02
2016-10-25 02:03:32
Keb' Mo' - Storyteller