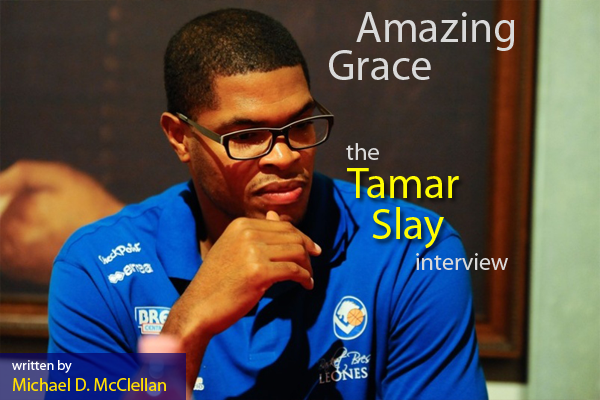 By:  Michael D. McClellan | Adversity is a funny thing.  Some, when faced with it, cave, quit, or run for cover.  They shrink from its white hot glare, choosing to use it as a crutch or an excuse, often electing to play the victim card and then spending a lifetime going on about what might have been.  If only.  If only.
Others choose to meet adversity head on.  They stiffen to its challenge, rise up and emerge transformed.  These hearty souls view adversity as a gut check, each test not unlike a strong wind that tears away from us all but the things that cannot be torn, so that we see ourselves as we really are.  It's in these moments – the big reveal – that every failure, every heartache, every loss is amplified, and it's here that some look adversity squarely in the eye, defiant, refusing to back down.
Some, like Tamar Ulysses Slay.
Who would blame Slay if things had worked out differently?  If the story had collapsed into poverty?  If the script had taken a dead-end, minimum wage turn instead of delivering him to Marshall University?  What if the dream hadn't been realized, and it was someone else's name that had been called during the 2002 NBA Draft?  What if there had been no trip to the NBA Finals, no opportunity to see the world, no chance to take care of a mother who had sacrificed so much for him?
It could have gone down like that.  Adversity comes early and often when you're born West Virginia poor.  It has no trouble finding you when your childhood existence is splotched with drugs and alcohol, or when your favorite uncle is gunned down in cold blood.  Slay knows.  Slay was tested.  He could have taken a different path and become a statistic and no one would have given this alternate existence a second thought.  Just another kid who got into trouble and ended up dead or in jail.  Or another high school dropout flipping burgers and drinking beer and going on about what might have been.
If only.  If only.
Fortunately, Slay's story isn't one of squandered opportunity or bad choices.  This isn't about a lifetime worth of regret and what ifs.  This is about Schrödinger's cat being very much alive, the classic Copenhagen paradox be damned.  In Slay's world, there is no room for self-pity.  There is no use for the victim game.
There is only the desire to be the best person one can possibly be.
~ ~ ~
Slay's story begins in Beckley, the largest city in southern West Virginia, 20,492 strong when he was born back in 1980.  It's home to the impressive Exhibition Coal Mine and also to Tamarack, the nationally known and respected artisan retail center.  It's a picturesque area, a beautiful, Norman Rockwell mix of forest plateaus and farmland situated close to three national parks.  The historic Greenbrier Resort is a short drive away, and skiing, golf and horseback riding are all at your fingertips.  Economic opportunity is a more elusive aspiration – according to the most recent census, 20.9% of Beckley's population are below the poverty line, a number virtually unchanged from the mid-eighties when Slay was growing up.  And poor though she was, Slay's mother, Phyllis, never let that define her.
"My mother didn't graduate from high school.  We never had much, but when Christmas came around there would be presents everywhere, and we always had a big Christmas dinner.  The lights would get turned off, but she'd find a way to get them turned back on within a day or two." – Tamar Slay
So was basketball, which would fuel his imagination and ultimately provide him with a way out.  It would also be his anchor against the tempest.
"I've always been about turning negatives into positives," Slay says.  "There were plenty of challenges growing up – alcohol and drugs and things like that were never far away.  Instead of going down that path and not graduating from high school, I decided to do something different with my life.  Basketball became my outlet.  It helped me to deal with my stress and frustration.
"My father was a positive influence – I remember him taking me into the backyard and teaching me how to throw a football and teaching me the proper way to tackle.  He also tried to teach me how to shoot a basketball, but I didn't listen to him because he was a football player [laughs].  But it was things like this that helped me to stay out of trouble and to stay focused on what I really wanted out of life."
How many kids can navigate a world dotted with drugs and come out on the other side unscathed?  Better yet, how many have tried and failed?  Layer in a steady stream of overdue notices, the scarcity of money and the eventual homelessness, and the odds of becoming a statistic go up exponentially.  These are the kinds of conditions that trap the young, sucking them into a dark place from which few escape.  But not Slay.  All of the adversity would only fan the flames, turning an average basketball player into a standout at Beckley's Woodrow Wilson High School.
.
"The rough times shaped me and helped make me who I am," Slay says matter-of-factly.  "I doubt I would have been successful if I hadn't gone through those things.  If I'd been blessed with money and privilege, I don't think I would have had that burning desire to improve as a basketball player."
For the uninitiated, Woodrow is West Virginia's most decorated basketball program.  The Flying Eagles have won 16 state championships, finished second 8 times, and set a record by reaching the state tournament twelve consecutive years.  It was Slay's dream to on day add his name to Woodrow's storied basketball tradition.
Says Slay, "Growing up in Beckley in the '80s and '90s, I remember watching the great players that went through the program, guys like Tink Brown, Kevin English, the Nabors brothers, Anthony Scruggs, Ryan Culicerto, Shane Flannin.  Actually, I listened to most of the games on the radio, because we couldn't afford to go to the games in person.  But that was okay.  I'd have my little Nerf basketball hoop set up in my room, and I'd pretend that I was Gene Nabors, or Tink Brown.
"The tradition is so rich at Woodrow.  By the time I arrived it was like being part of the Chicago Bulls during Michael's run in the '90s.  There was a statewide respect for the program, and then there was Coach Barksdale, who was such an intimidating guy." – Tamar Slay
Coach Dave Barksdale's place in the Flying Eagles' pantheon of greatness is long since secure:  17 seasons, 335 wins against only 93 losses, 11 straight trips to the state tournament and five championships.  And while Slay would go on to become one of the best to ever to play for Barksdale, it took him some time to attain that lofty status.
"There was a fear factor from the very beginning," says Slay, "because I knew that I had to work my tail off to get noticed.  As a ninth grader I wasn't that good at all, but between my ninth and tenth grade years all of that hard work started to pay off.  I also grew from 5'-9" to 6'-4", which helped.  My original goal had been to make the JV team, but I ended up making varsity as a sophomore, starting half of the season."
Was it hard to win the favor of a bottom line guy like Barksdale?
"I was like a sponge," Slay says.  "Barksdale would give me different drills to do, and I did whatever he said.  He would walk into the gym at the start of practice and I was already there, getting up shots well before anyone else arrived.  I'd have a full sweat going, and he would just smile.  He still tells that story whenever he talks about me."
The willingness to work and learn cemented Slay's legacy at Woodrow.  He would earn All-State honors in '97 and '98, winning state championships both years, his career culminating with the Evans Award,  which honors West Virginia's best high school basketball player.
"The hard work came from a desire to be great, and because I wanted to win," Slay says.  "That's the main thing they stressed at Woodrow – winning championships.  It wasn't about individual stats, becoming player of the year or being named All-State.  Winning was the passion that drove me.  The individual accolades were a byproduct of wanting to be the best team in the state.
"It all started with defense – that was Barksdale's philosophy.  He stressed that defense wins championships, and that's what we focused on.  We weren't focused on how to go between the legs or behind the back.  What we accomplished came out of his program, which taught us how to win."
Does Slay have favor one title over the other?
"I tell everybody that my eleventh grade year was the team that I trusted the most," Slay says.  "I knew we were going to win every night because we played so hard, and because we had such good team chemistry.  When it came down to the final minutes of the game, no matter what the score was, I was always confident that we were going to come out on top.  We always found a way.  It was also my first championship, so maybe that's why I feel such a connection to it.
"As a senior, we had four Division I players on the roster.  We dominated.  We won the championship game by 30 points that year.  Games were never in doubt.  We got upset by Logan in the regular season – I still can't believe we lost to Logan – and South Charleston beat us.  But we won most of the games by twenty or thirty points.
"I talk about it like it was yesterday, but it was a great experience – winning championships, cutting down the nets, becoming player of the year, things like that.  I'll never forget my time at Woodrow Wilson, and I'll cherish the memories forever.  It was a great experience."
~ ~ ~
Adversity followed Slay to Marshall, reminding him of who he was and where he came from.  While most incoming freshmen spent their summer vacations chilling at the beach, saying goodbye to old high school friends and shopping for the things college students need to get by, Slay and his family were in survival mode.  Slay, the jewel of head coach Greg White's recruiting class, was homeless.
"That whole summer we didn't have a place to live," Slay says.  "I slept on the floor at my brother's place, and my mother slept on the couch.  It was pretty much the whole summer, because we'd gotten evicted from our house.  It fueled me.  I felt like I was the one who could get us out of this mess.  I would go to the gym that summer and take out my frustrations, spending six or seven hours working out, and it still wouldn't be enough.  I felt like I had to go harder, or that I had to get more shots up.
.
"When I walked onto the Marshall University campus that day, we could barely afford a comforter for the bed in my dorm room.  And then my roommate walked in with his comforters, TVs and stuff like that.  Coach White to this day says that I ran like I had to feed my family, and he was right; I had to figure out a way to break my family's cycle of not having money and not being successful.
"God blessed me with this height and the ability to play basketball, and I wanted to take full advantage of both.  I was so proud to do it in my home state.  Getting recognition from Marshall University made it even sweeter.  I'm Marshall for life." – Tamar Slay
The 6'-8" Slay made an instant impact at Marshall from Day One.  He was mature beyond his years, eager to learn, willing to grind.  Sense of urgency?  Hell yeah, that was Slay, hooping like he was broke and hungry, motivated by the thought of his mother sleeping on that ripped and tattered couch.  The hard work paid off:  Slay was a four-year starter for Marshall, finishing sixth in scoring (1,792 points) and eighth in career field goals made (626).  He also finished seventh in steals (142), 12th in blocked shots (53) and 17th in free throws made (289).  But for Slay, it was about more than the stats and the steals and finishing as the Herd's all-time three-point shooter.
"I was the only one in my family to go to college and stay for four years," he says, his voice tinged with a mix of pride and regret.  "I just knew I wanted it and that I was determined to get it.
"One of my friends growing up was a huge competitor.  We played ball together in high school, and he hated to lose at anything – basketball, PlayStation, it didn't matter.  But then, after high school, every time something negative happened he'd just give up.  I used to ask him why he didn't have the same determination about life that he had when it came to playing games.  I would encourage him all the time, but it didn't work.  He didn't listen.  I was determined not to go down that same path."
Slay led the Herd in scoring during his sophomore, junior and senior seasons, averaging a career-best 19.9 points-per-game in 2000.  His combination of size and skill made him the most versatile player on Greg White's roster, a Swiss Army Knife in high tops.  His high character and engaging personality also made him made him a great ambassador for Marshall athletics.
.
"I wasn't perfect," Slay says.  "There were times that, if I did drink a beer or two in college, I'd get angry about all the adversity in my life.  I'd wonder 'Why me?', but the next day I would refocus on my goals and go right back to work."
Getting back to work meant taking another step toward his dream, even though there were many who didn't think Slay would get a sniff at the NBA level.  To Slay, the doubters and haters were nothing but noise, another layer of the onion to be tuned out and peeled away.  Those were the easy things to dismiss.  The heavy emotional lifting, however, cut much closer to the heart.
"One of the hardest things I've ever dealt with occurred when my Uncle Pierre was shot and killed right here in Charleston," Slay recalls.  "He was out with his girlfriend, and a guy in a bar was drunk and bothering everybody.  There was an altercation between him and my uncle, and the guy pulled out a gun and shot him in the back.  My uncle did some things he shouldn't have, and spent three years in jail because of those things – but he was like a brother to me.  He used to take me to the basketball court with him when we were kids, and because I was the youngest of all my brothers and cousins, I'd always be the last one picked when we chose teams.  Uncle Pierre would always pick me.  I have a tattoo on my arm to honor him.
"The shooting was tragic.  He was killed the same weekend he got out of jail.  He played on a basketball team when he was in jail, and he picked my number for his jersey.  He wrote me all the time.  He was looking forward to getting out and seeing me play for Marshall, but it never happened." – Tamar Slay
Slay pauses to collect his thoughts, and to gather himself.  More than a decade has passed since his uncle's murder, but the memory is still fresh, the wound not fully healed.  It's been said that the bravest sight in the world is to see a great man struggling against adversity.  Sitting here now, I'm witness to the struggle firsthand.
"We were coming back from Atlanta," Slay continues, "where we had just played the Georgia Bulldogs.  It was my freshman year, and I remember being nervous about playing a big-time SEC school.  Georgia had a guy who ended up being a lottery pick in Jermaine Jones, but I scored in double-figures and was feeling good about my performance.  When we got on the plane, Coach White sat down beside me – he never sat beside me – and he talked to me the whole time.
"As soon as we landed in Charleston, Coach White said, 'Do you have an Uncle Pierre?'  I said, 'Yeah.'  He said, 'Well, he got into a fight last night, and he was shot and killed.'  And I said, 'No, my uncle is in jail, it can't be him.'  And Coach White said, 'No, no, it's him.  I talked to your mother and your Uncle Pierre was shot and killed last night.'
"It's blurry, but I remember slumping down against the wall, with Cornelius Jackson, my teammate, comforting me.  I was devastated.  Coach Snell drove me from Charleston to Redstar where my grandmother lived, but I don't remember anything about the trip.  All of my family members were there.  It was an emotional time – I was angry because he was shot and killed for no reason.  I remember going to the funeral, and then coach picking me up because I had to go to practice.  My mind wasn't right – I was shooting air balls and just going through the motions.  I eventually found a way to cope with it, and turned it into fuel for the fire."
~ ~ ~
After four years at Marshall, Tamar Slay allowed himself to entertain that NBA dream in full earnest.  It's a dream shared by millions of players around the globe, and everywhere you look – high school teams, small college campuses, Harlem's famed Rucker Park, your local rec league – you'll find dudes who believe they have what it takes to crack an NBA roster.  The reality?  Three in 10,000 high school seniors, or 0.03%, are drafted by an NBA team.  To increase your odds, it helps to be tall, skilled, or both.  Intangibles like intelligence, character and work ethic sweeten the pot, and Slay had those in spades.  He hired and agent, and with the 2002 NBA Draft fast approaching, he found himself tempering family expectations.
"It was crazy," Slay says.  "I knew for a fact that I wasn't going to go in the first round, because my agent had checked around the league.  He said I had a chance to go to Cleveland in the second round at thirty-five, or Milwaukee at forty-eight, or Miami at fifty-three.  My father and my brother weren't buying it – they were both nervous and acting weird, and convinced that I would go in the first round.  I tried to convince them otherwise.  We got into a heated argument over it, and I ended up kicking them out of my hotel room the night before the draft.
.
"The next day, I had some close family friends over at my mom's house to watch the draft.  Her place was super small – two bedrooms – and right in the hood.  My friends were sitting around the TV, watching every pick, convinced that I was going to be drafted in the first round.  I was outside passing football, trying to keep my mind off of the draft until the Cleveland pick came up.  That's when I went inside and sat down with my boys.  My mom was in the back room, watching it with my wife.  I just remember her hands sweating, because she was so nervous.
"The Cleveland pick came and they selected Carlos Boozer, which turned out to be a great pick.  Milwaukee went with a kid named Dan Gadzuric, who only lasted a year in the league.  So I waited until the fifty-third pick and I said, 'Guys, this is it.  I'm going to the Miami Heat.'  I knew I was going to Miami because they guaranteed that they would select me if I were still on the board.  Instead, Miami picked Rasual Butler, who turned out to be a great player.
"I was disappointed, but I told myself that I'd make it as a free agent, or that I might have to go overseas.  My mom was crying, and I said, 'Mom, don't worry about it, I'll figure it out.  There are other ways to make it to the NBA.'" – Tamar Slay
Slay was drafted by the New Jersey Nets.  It was a dream come true, but a blessing and a curse all rolled into one, as he would be joining a veteran team that had just reached the 2002 NBA Finals, one that had been swept away by the Phil Jackson / Kobe / Shaq Lakers.  New Jersey featured All-Star players like Jason Kidd and Kenyon Martin, and a roster peppered with solid pros like Richard Jefferson and Kerry Kittles.  Head Coach Byron Scott was determined to climb the mountain and return to the Finals, and management added All-Star center Dikembe Mutombo to fuel another championship quest.  For Slay, it added up to another uphill challenge:  Being drafted was one thing.  Making the Nets' opening night roster would be another story.
Slay's NBA experience all started with a phone call from fellow West Virginian Rod Thorn, a legend in the Mountain State who had taken over the Nets and had just been named NBA Executive of the Year.
"The first conversation I had with Rod was when he called me on draft night," Slay says.  "I had worked out for eleven different teams but the Nets weren't one of them, so I really didn't know anything about New Jersey.  He said he saw me play in the Chicago pre-draft camp, and that he'd seen me play a few times in college.  He said they'd probably send me to Europe for a couple of years and let me develop, but I played so well in the summer league that they offered me a two-year contract.  Looking back, I wish they'd sent me to Europe, where I could have played, because sitting for two years and not playing a lot hurt me.
"I held my own in practice," continues Slay, "but it didn't matter what I did, because the Nets were a veteran team with championship aspirations.  They had their minutes and their rotation.  There were so many times when me and Richard Jefferson – who is a good friend – would go at it during practice.  I would dominate him, and J-Kidd and the guys would tease him about it [laughs].  Richard Jefferson was very supportive – we'd go out for dinner, and he would say , 'Tamar, look, if you would have left school a year early, this would have been a different situation.  Just stay with it, you're a great player.'
The Nets would return to the NBA Finals in Slay's rookie year, a bookend dream come true and a perfect juxtaposition to hearing his name called during the draft.  Slay would spend two seasons with New Jersey.  Were there lessons learned?
Slay:  "When I got to the NBA I think I gave those guys too much respect, and didn't go at them like I should have.  Playing against a J-Kidd and a Mutombo, I think I got caught up in their names and reputations.  If I'd gone to a team with younger guys, like Milwaukee, maybe it would have been better for my development.  In New Jersey I was the rookie on a team with a lot of big names.  I was the little guy, and I was too much of a 'Yes sir, no sir' guy.  In order to survive in the NBA you've gotta be an animal.  You've  gotta be a dog.  You can't be a nice guy.  You've gotta be – excuse my French – you've gotta be an asshole.  I wasn't that.  It's not who I am."
What was his relationship with Thorn like?
"Rod was a competitor," Slay says.  "If we lost, he would be so upset on the plane.  I didn't have a close personal relationship with him; he would talk to me about my game, and tell me some of the things I needed to work on.  He thought I should be a shoot-first player.  He said that made my game was better when I was hitting my outside shot.  And he told me I needed to be more consistent at shooting the ball.  At the time, the three-pointer in college was so much more different than the three-pointer in the NBA.  It was a huge adjustment.  I struggled shooting the three my rookie year.
"Rod was intense, but he also knew how to have fun.  On the plane, he would have his Texas Hold 'Em going with J-Kidd, Kenyon Martin and Luscious Harris.  Every flight.  And he would lose his money every time [laughs]." – Tamar Slay
After his two year stint in New Jersey, Slay found himself in a new uniform – but not for long.  After eight games in a Bobcats uniform, Slay's NBA career was over.
"I ended up going the Charlotte Bobcats in the expansion draft and got hurt.  It was a bad situation, because they didn't run their organization right at that time.  Hindsight is twenty-twenty; it's always easy to look back and know which decision was the right decision to make.  If I had refused to be a part of the expansion draft, I would have had a shot at winning a roster spot with the Spurs.  That probably would have been better for my NBA career.  It ultimately worked out, because going overseas helped me to look at life in a different way.  But my time in the NBA was a great experience."
~ ~ ~
There's an old adage that says when one door closes, another one opens, and for Tamar Slay, being waived by the Bobcats meant a brand new beginning, and opportunity to broaden his horizons.  Not that it would be easy, or come without adjustments.
"I ended up going to Europe because the money was too good to pass up," he says.  "But after the first week I called my agent and said, 'Get me out of here.'  I was homesick, so I focused on the negatives: I missed my family; it takes forever to get your Internet going; you don't have cable; the food doesn't taste the same.  Basically, I was closed minded, and didn't want to give it a chance.  It was everything – I wanted fast food, and my agent was telling me to give the pasta a try – but looking back, after spending nine years in Europe, I realize that I was in a great situation."
How long did it take him to acclimate?
.
"Going from the NBA to Europe was a huge adjustment," Slay says.  "They practiced us so hard.  I remember getting up and running two miles in the woods just to warm-up.  We would run for two hours every morning, then practice, take a two hour break, and then come back and practice again.  I was exhausted.  I wasn't eating right.  I lost fifteen pounds.  I wasn't happy.  And then I ended up with a stress fracture in my foot, so they released me.  And I was like, 'Yes!  I get to go home!'
"They gave me a nice buyout for my month-and-a-half in Spain, and just as I'm making plans to return to the States, my agent calls and says, 'I've got an offer for you in Jerusalem.'  I didn't want to go.  They're fighting over there all the time, and there's always the threat of bombs, but a good friend of mine – Roger Mason, who played in the NBA and who is my son's godfather – called me up and encouraged me to give it a chance, because he'd played in Israel and loved it.  He said, 'Slay, just come over here and check it out.  You will love it here, it's not what you think.'
"So I decided to go over there on a two-week tryout.  They took me to the hospital for my physical, and everywhere I looked, people were wearing burqas.  From there I went to practice, and the four Americans on the team invited me to dinner in Tel Aviv that evening.  Tel Aviv was like the States.  They had American restaurants, and everyone spoke English.  It ended up being the best year of my life as far as playing overseas.  Israel is an amazing place.  It's Americanized.  You've got to get used to going to the mall and seeing guards with the machine guns.  They search your car for bombs every time.  Every restaurant has an armed guard at the door.  There are metal detectors everywhere.  But it was a great place to live.  The weather was great."
Slay's time in Israel was brief, but he had little trouble finding work.
"My next stop was playing for a team in a small town near Sicily, Italy," he says.  "My career was on the line, because I didn't have a great year in Israel.  I worked hard that summer and focused entirely on basketball.  I led the league in scoring through the first twenty games, before getting hurt again, but I played well enough to earn a two-year contract with another Italian team.  The cultural adjustment was much easier.  I quickly learned that, when you're in line in a grocery store, someone might jump in front of you or bump you.  There's a lot more cigarette use in public places.  You've got to get used to the driving.  You've got to get used to the food, because everything tastes different – they don't use a lot of preservatives, which I learned to love.
"I also learned that the Italian clubs are awfully good at telling you one thing and doing another.  In the States, if your payday is the first and fifteenth, you get paid the first and fifteenth.  There were times over there that I went months without getting paid.  And then, if you missed practice, they were mad at you.  One time, we all decided to sit out because we hadn't been paid.  The club fined the players for missing practice, and yet they hadn't paid us for six months.  I lost a year of career earnings.  I sued them and won the lawsuit, and then they filed for bankruptcy.  So you have to deal with things like that."
~ ~ ~
After twelve years, Tamar Slay is retired from professional basketball.  His new focus is on helping kids develop their basketball skills and, more importantly, helping them understand how to overcome life's challenges.
Welcome to Tamar Slay Basketball.
.
"Tamar Slay Basketball is my new passion," he says proudly.  "This state badly needs more camps, clinics, after school programs and mentoring programs.  There are so many kids out there that don't have any guidance.  They don't understand that the world is so much bigger than West Virginia.  I was that kid, too.  I grew up in the Beckley area, and then I played my college ball at Marshall, and then suddenly the New Jersey Nets draft me and I'm ten minutes from New York City.  I was a frightened little kid.  Basketball expanded who I am as a person, and now I can go anywhere in the world and feel comfortable.  I want to help these kids understand that there's so much more out there, and that they can take advantage of opportunities if they're prepared and have the proper foundation."
Slay leveraged a unique NBA development program as a springboard for his new venture.  The program helps former NBA players transition from the hardwood to the boardroom, and Slay found it timely.
"It was eye-opening for me, just to see so many former players transitioning from basketball to the business world.  Junior Bridgeman, who played for the Bucks and the Bulls, now owns over 400 different franchises and is worth $600 million dollars." – Tamar Slay
Slay's business card is telling:  He lists himself as a life coach first, and then a trainer.
"You need to have a thick skin to overcome obstacles in life," Slay says.  "I was fortunate enough to figure things out on my own, because I didn't have a lot of positive role models.  I've been in these kids shoes.  I came home when the lights weren't on and there wasn't anything to eat.  I can relate because I've been there.  My message is that you can't use that as an excuse.
"I remember being named the MVP of a Huntington prep tournament.  I was on top of the world, and then I came home and opened the door, and I saw the candles lit.  I immediately knew that we didn't pay the light bill that month.  My brothers were angry, and they wanted to run out and drink a beer.  I remember going to my room and shutting the door, and then laying on my bed and staring at the ceiling, thinking, 'I have to change this.  My mother can't continue to live like this.  I need to break this cycle.'  In that moment I found the positive in the negative.  Instead of following the lead of my big brothers and saying, 'Hey, give me a drink of that beer, I'm mad, too', I was more focused on making myself better.   And I think that's an important message for the kids that I work with, especially the inner city kids that want to resort to violence as soon as anything goes wrong.  You have to have a thick skin, and find a way to take whatever it was that made you upset, or whatever it was that set you back, and use it as motivation.  There are other ways to take out that frustration instead of cussing someone out or fighting."
After playing basketball all his life, what is it like to be on the other side?  What was it like to have a whistle around his neck?
"The basketball development is exciting," he says quickly.  "I was just on the telephone with my partner in Charlotte, and we were talking about a kid that started with us three months ago.  He was really timid in the beginning; he wouldn't shoot the ball, and he wasn't aggressive at all.  At our Christmas clinic he was one of our best players.  He made every shot he took.  On one possession he grabbed a rebound, dribbled up the court and knocked down a jump shot.  When I see that kind of development it motivates me in a big way.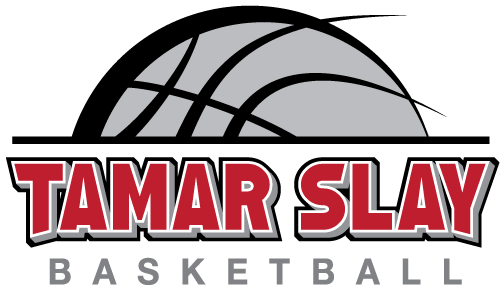 .
"More than anything, I really enjoy seeing these kids improve as human beings.  Speaking the correct way, being respectful, having good manners – those are the developmental things that make this rewarding for me.  I understand that there are situations where a kid's life is a little rougher than mine was, but I don't accept that as an excuse.  There is always a way out, and it doesn't have to be through basketball.  I tell these kids that they've got to find their passion.  I tell them to find something they would do for free.
In watching Slay interact with his kids, it's clear that he's found his calling.  There's an immediate connection that flows naturally between teacher and student.  And as soon as that rapport has been established, Slay wastes little time sharing his message.
"It's like that ESPN 30 For 30 episode about Randy Moss," Slay says, referring to Rand University.  "Moss escaped the streets, but there are so many others who don't.  Young kids are so easily influenced.  If a kid sees an ex-athlete hanging out on the corner drinking a beer, the kid might think it's cool and that it's okay to live like that.  I want to make other things cool.  Going to college and getting an education is cool.  Becoming a doctor or a lawyer is cool.  Becoming a drug dealer or a drug addict isn't cool – you go down that path and you're going to end up dead or in jail."
~ ~ ~
Tamar Slay has spent a lifetime embracing adversity and all its challenges, and he has grown stronger with every test.  He credits his mother for helping shape his remarkable character.
"She's amazing," Slay replies, pausing to gather himself.  "My mom is a super woman – I was fortunate enough to buy her a house, and now she has a daycare business that provides her with a steady income.  The children she cares for love her.  The other day a mother paid her a nice compliment on Facebook.  The lady wrote about taking her child to different daycare facilities, and how her child cried at every stop, and then she went on to say how her child loved my mother right away.  I tried to read that post to my own kids, and I broke down crying…and now here I am, getting emotional in front of you…
"My mother had her first child when she was fifteen years old.  She had her second at eighteen, and I think she was twenty when she had her third.  Imagine being twenty and raising three kids in a small, rural town like Scarbro, with its dirt roads and little in the way of opportunity.
"It wasn't an easy life, but we all turned out good.  I love my dad – he always taught us the right things, but he had his demons.  Thankfully, he was able to overcome those demons and now we have a great relationship." – Tamar Slay
"Like I said during my hall of fame speech, there aren't many fifteen year old mothers who have four boys who go on to be successful, especially when they come from a poor, rural part of West Virginia.  It usually doesn't happen, but none of us have been in jail and we're all decent human beings.  I believe God has been with our family, and that's why I feel like it's my duty to come back and help as many kids as I can.  There is always a way out, but you've just got to have that person who makes a difference.  For me it was my mother, for another kid it could be me.  All it takes is that one person to make a difference."
~ ~ ~
Now that Slay is back in West Virginia, he's reminded how special the people in his home state truly are.  They fondly remember his playing days as a member of the Marshall Thundering Herd.
.
"Now that I'm retired, I've had time to reflect," he says.  "It's humbling when people recognize me and stop to talk, and tell me that they enjoyed watching me play at Marshall.  Until now I haven't had time to think about it, because I've always been going to the next job.  It's gratifying to know that your efforts were appreciated.  As a performer, you want to show off.  You want to show your skills.  I think I did that for the most part.  I wanted to win, I wanted to play hard, and if the fans respected what I was doing, then I'm proud of the way I represented Marshall University.  Now that I'm retired from basketball, I'm working on finishing my degree at Marshall.  I'll be taking classes next semester."
~ ~ ~
Adversity.
Tamar Slay is no stranger to it, and he's long since learned to take those experiences that were so difficult in his life and use them for positive change.  It's only as we're set to wrap the interview that it hits me – we've danced all around the subject, but I've not asked him how he does it.
How does someone who's gone through so much in life succeed, when so many others are either dead, broke or addicted?
How come he's not that guy – you know the one, your former high school classmate who's flipping burgers and drinking beer and going on about what might have been?  If only.  If only.
What's is the secret to Tamar Slay's success?
"You've got to set goals for yourself," Slay says.  "You've got to write your goals down, and you've got to have perseverance to reach those goals.  It's never going to be easy, and it's never going to go the way you planned, but you can't give up the first time adversity comes.  I've faced adversity my whole life – there have been plenty of times when stuff didn't go the way I'd planned – and I still face adversity today.  You've gotta figure out a way to make it work.  That's the challenge of life."
http://www.fifteenminuteswith.com/wp-content/uploads/2015/01/the_tamar_slay_interview.png
400
600
Michael McClellan
http://www.fifteenminuteswith.com/wp-content/uploads/2016/08/FifteenMinutesWith_NewLogoPrototype.png
Michael McClellan
2015-02-28 18:12:32
2016-10-25 02:04:42
Tamar Slay - Amazing Grace