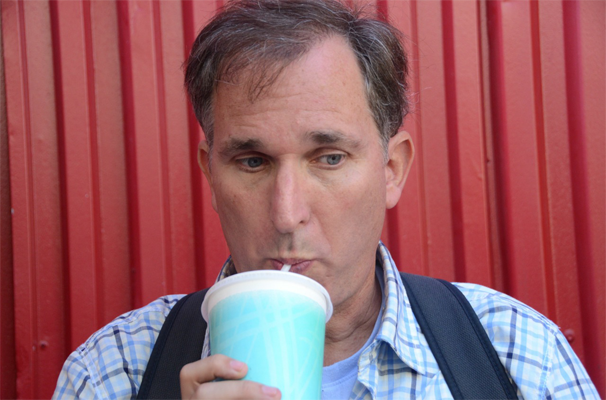 By:  Michael D. McClellan  |  Comedians are, above all else, outside the box thinkers, that special breed of entertainer who loves nothing more than studying people and situations and then unlocking the humor inside.  They rise up from all walks of life, some of them high school dropouts, others sporting PhDs, all of them pushed by the same invisible force to connect with an audience and get it to laugh.  And to say that comedy isn't rocket science is to offend those who do it best, because, to them, the art of the joke is every bit as hard to pull off as landing a rover on Mars.  Or as daunting as pursuing a career in quantum physics.  Yes, they know what it takes to hit that comedic G-spot – and trust them when they say it ain't easy.  Just ask comic Lewis Black, who argues that all comedians would "sell our souls, those of us who have one, to find a magic formula that creates the greatest joke ever told."
So, much like the metaphorical road to hell, the road to comedic success is paved with the failed dreams of countless aspiring stand-up wannabes, some of them actually funny enough to make a career out of telling jokes.  What separates the pro from the rest of us isn't necessarily talent, although that helps, but rather a special blend of perseverance, humility, determination and – perhaps most importantly – amnesia.  Why?  Because you can't make it in the joke biz if you can't handle rejection and criticism, both in supersized amounts.  The pro compartmentalizes these things.  The pro deals.  The pro picks himself up, dusts himself off and chases the next laugh.  All by forgetting.  It's what he does.  It's what makes the difference.
Enter Wayne Federman.  He of Federman and Out.  (More on that later.)  He of a successful career as a stand-up comic, actor, musician, and best-selling sports author.  He of lead-monologue-writer-for-Jimmy-Fallon fame.  Federman has forged the consummate pro's career by sticking to the game plan and never caving in, never letting up, and never doubting himself.
It's what he does.  It's what has made the difference.
"I was always a funny kid and acted in school plays," Federman says. 'But when I learned that stand-up was an actual career – making people laugh and getting paid for it – that sounded like the most incredible job, and life, imaginable."
Federman's story begins at NYU's acclaimed drama school, where his comedic mission was two-pronged:  To embark on a career in stand up, and to make himself into the strongest actor possible.  The self-professed comedy nerd had plenty of inspiration to draw from, but was there one entertainer that he looked up to more than any other?
"Not really," Federman says, "I'd have to say that I drew from an amalgam of people.  For modern stand up technique, it was probably Carlin, Seinfeld, and Shandling.  But some influences reach back even further, with comedians like Jack Benny and Milton Berle. Victor Borge as well.  Oh, and Telly Savalas. So no, it wasn't just one guy. "
.
"I'd have to say that I drew from an amalgam of people.  For modern stand up technique, it was probably

Carlin, Seinfeld, and Shandling

.  But some influences reach back even further, with comedians like Jack Benny and Milton Berle. Victor Borge as well." – Wayne Federman
Federman entered NYU's Tisch School of the Arts in 1977, at the age of 18, armed with little more than a dream.  It was a far cry from a childhood spent close to south Florida's pristine beaches.
"My very first day in New York City was the day that I moved into my cinder block room at NYU's Weinstein dormitory," Federman says.  "I didn't have much money so I would do this thing that I'm not too proud of called second acting. That's where I'd just sneak into the second act of a Broadway play. At intermission everyone would go outside to smoke or just get some air, and you could filter back in with the crowd and usually find an empty seat. The ushers didn't re-check tickets. That's what us broke young college kids would do. And that's how I got to see the end of several Broadway shows."
Federman's arrival in New York coincided with a tsunami of comedic energy in the city.  It was also a place artistically alive in other ways as well.  And for Federman, all of this creativity, coupled with real world rejection, provided the perfect complement to his formal education at NYU.
"There was a very big music scene going on at the time," Federman recalls.  "The disco epicenter was, of course, Studio 54, which had just opened, and there was also this insane punk rock infestation downtown. I went to CBGB's two times – I recall seeing the Ramones and The Dead Boys there. But my primary memory of New York City and why I was so thrilled to be there – other than being able to study with those legendary acting teachers from the Group Theatre – was the fact that two or three of the most famous comedy clubs in the country were right there in New York.
"I got to go and see stand-up at those clubs. That's where I wanted to be. So after college I started auditioning.  It was extremely hard to break in because stand-up comedy was exploding in the early 1980's.  And it took me several years just to become a regular at a club like that. A 'regular' meant that I might get to go on at the end of the night if people wanted to see some more comedy.  It was awfully difficult just to be able work for free in a showcase comedy club in New York at that time."
Persistence is a comic's calling card, and a young Federman had that in spades.  He kept working, and eventually began headlining those comedy clubs. He moved to LA in 1988 and was soon touring, performing on The Tonight Show, and taping his own comedy specials.
Federman's comedic talents translated seamlessly to television, where he found himself part of two critically acclaimed series – The Larry Sanders Show, known for its genius satire, and Curb Your Enthusiasm, equally well known for its genius improv.
"Those are my two favorite acting jobs in my career.  Being involved in The Larry Sanders Show was, needless to say, a huge thrill.  But also getting to play Larry's brother, Stan Sanders. That show was so influential and still casts a shadow over modern sit-coms like Curb, The Office, and 30 Rock.  So I was felt lucky to be a part of that thing.
.
"Being involved in The Larry Sanders Show was, needless to say, a huge thrill.  That show was so influential and still casts a shadow over modern sit-coms like

Curb, The Office, and 30 Rock

." – Wayne Federman
"I loved Curb Your Enthusiasm because I wrote every line I said.  Every word was improvised. Larry David was incredible with the latitude he allowed me.  He just laid out the basic scenario. Larry said, 'You're going to walk in, look at the living room, and then we'll head to the backyard where I'll show you a black wire, and you have to say that you're going to help get that wire down, but you also would love to meet Julia Louis-Dreyfus.' That was it. No script.
"The next time I appeared on Curb, I had to awkwardly hug Larry which caused my glasses to shatter. So I ask him to pay for new glasses.  I knew I would have to come up with a plausible reason as to why he should have to pay.  So I went up to Larry before the scene and said, 'You know, I'm thinking of approaching the situation like…', and Larry stopped me immediately.  He said, 'Don't say a word, I don't want to hear a word of what you're thinking about doing until we're actually taping.'  And that's the best way to improv.
Which begs the question: When it comes to comedy and acting, does he prefer one over the other?
"I like them both for different reasons," Federman says. "Creatively, there's really nothing close to stand up.  It's immensely satisfying and terrifying. You get to do it all.  But, for my ego, I love being in the movies.  And here's three reasons for that: I'm a huge movie buff from way back, films are my favorite form of entertainment, and I'm empty inside.
"As you know, I've been in a number of movies. Ok, I guess I'll name a few. I was in  40-Year-Old Virgin, Knocked Up, Step Brothers, Legally Blonde, Charlie's Angels Full Throttle… any of these ring a bell? If not, it's because I'm always in just one scene – and then I'm gone.  It's what I call the 'Federman and Out'.  But I'm still thrilled to be there.  To use a sports analogy, you see athletes who say it was a privilege to play with or against great players – like a Steve Carlton or Bill Russell or John Elway.  That's how I feel.  I feel very lucky to be in movies at all."
.
"I was in 

40-Year-Old Virgin, Knocked Up, Step Brothers, Legally Blonde, Charlie's Angels Full Throttle

… any of these ring a bell? If not, it's because I'm always in just one scene – and then I'm gone.  It's what I call the 'Federman and Out'." – Wayne Federman
While luck might play a part, it's Federman's unwavering commitment to his craft that has made the difference.  He has forged this rich tapestry of a career by pressing forward putting himself into position to snag an acting part or land a stand up gig.
"Sometimes I get work from my reputation," Federman says.  "But for the most part, I just audition like everyone else.  I just go in and try to get the role, and most of the time I fail.  Very often I hear, 'Wayne, we know who you are and we're familiar with your work, but we're not at all interested in hiring you. In fact we're going to hire this dude right over here.'  That has happened quite a bit – even to someone like me, Wayne Federman."
And does the rejection wear him down?
"You know, it's easy to get embittered. I see it all the time with other actors and comics and it's not attractive. I have the mindset that I'm grateful for anything that comes my way.  So I'm grateful for having the chance just to audition; and if I get rejected, I just take it. And move on.  Because there are lots of people who would kill to have have the chance to be in that room.  So I just stay humble and grateful, and I believe that has kept me in very good spirits. Plus I'm a longtime heroin addict."
Five years ago Federman reconnected with a young comedian he met back in the mid-1990's: Jimmy Fallon. Federman began touring with Fallon, who was about to launch his Late Night with Jimmy Fallon, and it wasn't long before Fallon recognized the writing potential in his friend.  It was then that he asked Federman to be the head monologue writer for his new show.
"Actually, when the tour started, Jimmy was my opening act," Federman recalls, "He loved my stand-up and thought I'd make a good writer and he asked me to come aboard.  I told him I'd try it for a year and see how it goes, because topical jokes are not my strength. I do more observational and musical material. But I'm so glad that I said yes because helping launch that show was a career highlight. Maybe I should write a book about it. Plus Jimmy and I still tour together. Of course, now I'm the opening act."
.
"Actually, when the tour started, Jimmy Fallon was my opening act.  We still tour together.  Of course, now I'm the opening act." – Wayne Federman
So, what was it like working with Fallon?  And who is funnier?
"Ok, it's not about who's funnier," Federman says, laughing. "Jimmy's way more talented than I will ever be. It's not even close, and I think I'm a pretty talented guy.  I can do stand up, act, write, play multiple musical instruments, and answer these interview questions.  But Jimmy, to use an archer analogy, has a ridiculous number of arrows in his quiver.  He can do character voices, sing, do dozens of spot-on impressions, tell jokes, dance, play guitar, rap, the guy do almost anything – effortlessly.  It's impressive. And he's also blessed with an extremely engaging personality plus a heightened sense of what's right for him. I feel that's one of his skills that often gets overlooked. The kid has great instincts."
Federman rolls with the punches as well as anyone in showbiz, which has played a huge role in a career that has thrived for more than thirty years.  But, like a comedic onion, there are many layers to Wayne Federman.  He plays the piano, the ukulele, drums, and guitar.  He has that acting degree from NYU's prestigious Tisch School for the Arts.  He's done animation.  He's acted in commercials for companies such as Wendy's, Ford, Samsung, Hertz, and Del Monte.  He's appeared in documentaries.  He's a frequent guest on comedy podcasts.
And, in a twist, this funny guy also happens to be something of an historian and a sports enthusiast, which led him to write the book Maravich in 2006.  The book immediately landed on the sports best-seller list, received critical acclaim, and is considered the definitive source for all things related to basketball legend 'Pistol' Pete Maravich.
"It's interesting," Federman says. "I was not a huge Pete Maravich fan growing up. I knew about him, but Dr. J (Julius Erving) was more the story at the time. But then, in 1987, Pete released a series of four basketball instructional videos.  So I bought them and was absolutely fascinated by them. They were riveting. Those VHS tapes really got me interested in him.
"So I started studying his career.  And of course he dies soon after that and that caught my attention because he was just forty years old.  And the more I learned about him the more fascinated I became. Everyone knew he was this legendary college scorer and showman but I learned he had this under-rated NBA career as well.  Did you know Pete Maravich is the last person to lead both the NCAA and NBA in scoring?
"Pete's life, I thought, was very Shakespearean.  Here's a guy who basically gave up his whole childhood to master basketball skills on a mind-blowing level.  And then, when he finally reaches the pinnacle of his profession – he finds he doesn't enjoy the NBA much at all.  In fact, playing basketball became torture for Pete. The very thing he'd dedicated his life to now haunted him.
"Marshall Terrill had started writing the book, contacted me because I'd amassed a pretty large library of Pete Maravich game tapes.  And because I'm a naturally great researcher, I knew some stuff about Pete that might help contribute something to the book. Marshall asked me to join the project so I gave him one condition: I wanted the Maravich family involved.
"There had already been a number of Maravich biographies but we were determined to have this book stand alone.  So we met with Pete's widow Jackie and their two sons, Jason and Joshua, and pitched the idea. Incredibly she liked us and gave the project her blessing and complete cooperation.
"Yeah, one minute it's just an idea and the next minute I'm inside Pete Maravich's house, looking at his personal diaries and scrapbooks.  Jackie was so incredibly wonderful – I will always be in her debt. To allow us to write that story, it was both an honor and a tremendous responsibility.  That's why it took almost five years to finish. Marshall and I wanted to tell the complete story. And it's not all flattering. But it remains a very detailed and accurate account of a singular American athlete. We were so proud when the New York Times called it the essential Maravich biography."
Flash-forward to the present.  Federman the movie buff is still working, still grinding, and still doing it all like the consummate pro.  He's also in the planning stages for the Third Annual Wayne Federman International Film Festival.
"Very excited about that," Federman says quickly.  "It's a film festival here in Los Angeles of classic films. I select five comedians and then they each select a film that they love or were inspired by. I interview each of them before we screen their selection and then afterwards we do a Q&A with the audience. It's a great time – if you can get a ticket.
.
"The Wayne Federman Internation Film Festival is a film festival of classic films.  It's a great time – if you can get a ticket." – Wayne Federman
"In the past, Sarah Silverman picked Crimes and Misdemeanors. Garry Shandling screened The King of Comedy.  Bill Burr selected The Dirty Dozen. Aziz Ansari choose Back To The Future. It combines two of my passions: movies and stand-up comedy."
What's next for Wayne Federman?
"Well, next year's film festival," he says, laughing.  "Sasha Baron Cohen is interested in being involved – so I'm excited about that. He's a hugely talented guy and there's a Monty Python film that he just loves, so hopefully it will work out and his schedule will allow him to participate.  If not, he's a jerk.
"I also write the Independent Spirit Awards which is broadcast on IFC. They present awards to the top independent films the night before the Academy Awards.
"And I'm working on a multi-CD career compilation project.  We're going to go back into the Federman archives and pull recordings of my stand-up material over the past thirty years.  So you can see my progression as a comedian, from my early days at the Comic Strip to the Tonight Show, Comedy Central, and concerts. I have no idea who would buy something like that. Certainly no one in my family."
Exciting stuff, and a fitting capstone to the first thirty years of a truly extraordinary comedic career.  And, perhaps, Federman's way of getting the last laugh on a profession littered with failed dreams of all those would-be comics.
The quintessential Federman and Out.
http://www.fifteenminuteswith.com/wp-content/uploads/2013/10/wayne-federman-featured-image.png
400
606
Michael McClellan
http://www.fifteenminuteswith.com/wp-content/uploads/2016/08/FifteenMinutesWith_NewLogoPrototype.png
Michael McClellan
2013-10-31 03:36:53
2016-10-25 01:54:35
Wayne Federman - Last Laugh