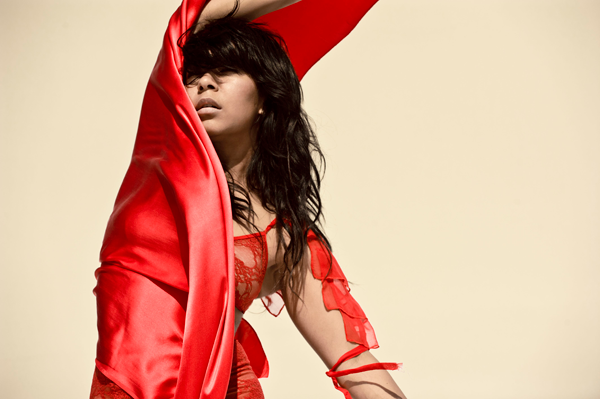 By:  Michael D. McClellan  |  It has been said that the world is but a canvas to our imagination, and that the art within it enables us to find ourselves and lose ourselves at the same time.  Galen Hooks has been losing herself for more than twenty years, first as a 7-year old junior dance champion on Star Search, then later as a dancer for Janet Jackson, and finally as a world-renowned choreographer to megastars such as Justin Bieber, Usher and Ne-Yo.  Her résumé is dotted with TV and film credits, Broadway assignments, as well as with her work on the groundbreaking web series LXD: The Legion of Extraordinary Dancers, but all of this hard-earned success only begins to tell the story of the Los Angeles native who takes chances and attacks her canvas with the boldest of brushstrokes.
Hooks, refreshingly, is as multilayered and as fascinating as she is talented.  She attended Penn State University, earning a Bachelor's Degree in Law, all the while touring with rap icon Snoop Dogg.  It was truly education on the road.
"While I was on the tour bus and touring with Snoop I would study," Hooks said in a recent interview with Dance Track Magazine.  "His friends would help me with my homework.  It was funny.  They for real had the legal talk with me and knew way more than I did.  That goes to show you how much the real world educates you.  They knew everything."
.
Spend any time at all with Galen Hooks and it's easy to sense the passion she has for her craft, and to understand how easy it is for that craft to love her back.  She has a magnetic personality, with a range and versatility that allows her to explore the nooks and crannies of dance in all of its forms.  It's a romance that that started at an early age.
.
"After our dance group won Star Search, my mom found an agent to represent me.  And being so close to Hollywood meant that my mom could also drive me to auditions, rehearsals, shows and sets."  – Galen Hooks
"I grew up in Southern California," Hooks says, "about forty-five minutes from Hollywood.  After our dance group won Star Search, my mom found an agent to represent me.  And being so close to Hollywood meant that my mom could also drive me to auditions, rehearsals, shows and sets.  She was the most supportive stage mom ever.  So from the time I was seven until I was sixteen, I worked as a dancer and an actress.  That really laid the foundation for what I wanted to do with my career."
While Hooks credits her parents for the support and inspiration that helped put her where she is today, she's also quick to recognize the opportunity provided by legendary ballerina / choreographer Marguerite Derricks.
"In my early teens, I started assisting Marguerite, who is a major film choreographer in LA," Hooks says, "which is a pretty young age to be an assistant choreographer.  I was fortunate to have training under her, and that opened the door and led me into the choreography realm."
Still, Hooks wasn't ready to let go of dance.  She's performed with more than 50 of the biggest names in the industry, sharing the stage with the likes of Janet Jackson, Britney Spears, Rihanna and Chris Brown.  Keeping that kind of company is heady stuff for most and unattainable fantasy for others, but Hooks isn't the type to be awestruck with the trappings of celebrity.  She has serious dancing chops, the kind that commands instant respect in the industry – and the smarts to leverage her outrageous talent into something even bigger.
"By the time I was twenty-one I decided I wanted to transition from dance to choreography," she says proudly.  "Most of my work as a dancer was with recording artists, and I've been able to continue those working relationships.  But as I've transitioned to choreography, I've also been able to move into other areas that interest me.  Now I also do a lot of television work, a lot of commercials, a lot of film.  It's been a rewarding move from dancer to choreographer."
Hooks clearly values the impact that Derricks – a former ballerina and the only choreographer to win three consecutive Emmys – has had on her career arc.  Which begs the question:  Does Hooks have a favorite style of dance?
"I actually really enjoy my versatility," she says.  "Most people have one specific style that they love.  But, for me, that was one reason I've been so successful as a dancer and as a choreographer – I can pretty much do literally any style that you throw at me.  But it's kind of a blessing and a curse at the same time, because I'm not the kind of dancer that focuses on any one thing.
"As a dancer, I love to tap.  As a choreographer, I know that there are so many other tappers that are better than me, so I would rather learn tap than choreograph it.  I love hip-hop, I love contemporary, I love jazz…it's unfortunate that jazz isn't as popular as it once was.  I can't remember the last time I've choreographed jazz or danced jazz.  I also enjoy ballet, break-dancing…I'm just all over the map when it comes to dance because I love it so much.  They're all different facets of who I am as an artist and they are meaningful in both of those realms."
.
"I'm just all over the map when it comes to dance because I love it so much.  They're all different facets of who I am as an artist and they are meaningful in both of those realms." – Galen Hooks
Being widely recognized in the entertainment industry as both a dancer and as a choreographer, coupled with her proximity to Hollywood, meansthat Hooks has been free to explore other facets of her craft.  Hooks has plenty of film and TV credits on her résumé, including GI Joe 2, 17 Again, Austin Powers 3, Bratz, Glee, So You Think You Can Dance, Dancing with the Stars, How To Rock, Harry's Law, Suburgatory, United States of Tara, and the 2009 MTV Video Music Awards' historical Michael Jackson tribute.  It's clear that she's driven to succeed, and the recognition has followed in lockstep; Galen received a Choreography Media Honor for her work with Fergie performing "Live and Let Die" on Movies Rock, as well as a World Dance Award for her choreography with the LXD.  Heady stuff, but Hooks isn't about the accolades.  For her it's all about dance.  Always has been.
"You know," she says, "since I was three I don't think a week's gone by that I haven't danced.  So dance has been my life and what I've always wanted to do.  It's who I am and what I've been about from the start.  Dance is how I've always wanted to express myself."
If being an artist means dragging your innermost feelings out, giving a piece of yourself, no matter in which art form, in which medium, then Hooks is in the perfectly suited to translate her gifts to across today's web-enabled world.  Whether this is her involvement with LXD, or her turn as Ne-Yo's love interest in the gorgeously produced and choreographed One in a Million video, Hooks isn't shy about expressing herself or displaying a range that most in her profession lack.  It's a gift that attracts some of biggest names in the biz; rattle off names like The Jonas Brothers, The Pussycat Dolls, Black Eyed Peas, Miley Cyrus and John Legend, and you begin to touch on some of the acts who have collaborated with Hooks in recent years.  How does she pull it off and make it look so easy in the process?
"Of course you have to offer something these individuals want," Hooks says.  "That's a given.  But beyond that it's about communication, the ability to relate, knowing your place in their universe.  They are stars no doubt, but they're also human beings who are concerned about their image and how it translates to the public.  You have to always keep that in mind when you work with them."
Which doesn't seem that far of a departure from the world of the elite, modern athlete.  Think LA and you can't help but think about the Los Angeles Lakers, as star-crossed a franchise as any in professional sports.  From Jerry West to Magic Johnson to Shaq to Kobe, the Lakers' history is loaded with mega-icons.  Is Hooks an NBA fan – and if so, is there a particular NBA star, past or present , that she would like to work with as a dancer / choreographer?
"Oh man," she says, laughing, "Jordan.  It would have to be Michael Jordan.  He had a grace to him – he was so melodic – I think he would take to dance really well, and I think he would be open to the concept of bridging that gap between basketball and dance, even more so than certain players whose style and mentality about the game are different.  So it would have to be Jordan."
So which NBA player – past or present – rate as one of her favorite from a performance standpoint?
"That's a hard question," Hooks says.  "I'm a big NBA fan, but I've been so busy the past couple of years that it has been hard to keep up.  My mentor Marguerite is a big basketball fan, and would always use basketball analogies with dance, especially during the three-peat era of the Lakers.
"This may be a weird way to answer your question, but I've always related to Robert Horry.  When you're a dancer you always feel pressure, and when you're in a team dance environment it's even more amplified.  You don't want to let the other dancers down.  During the time when Robert was playing I was a member of a dance company, and there are similarities between dance teams and NBA teams.  Every dancer has their rank, their place within the team, the same what there is a defined pecking order on NBA teams.  I related with Robert Horry because he always delivered – he wasn't super consistent, but he was a different player in the clutch.  So I really identified with him.  I knew that the other members on the dance team would look up to me to deliver when it matter most.  So I related to with him in that way.
.
"When you're a dancer you always feel pressure, and when you're in a team dance environment it's even more amplified.  You don't want to let the other dancers down." – Galen Hooks
"I also loved watching Derrick Fisher, because I admired his consistency and the way he was always so solid.  That, I felt, was like the equivalent to a dancer who isn't going to wobble out of a turn, and who has had so much training that you're not going to worry about them.  You feel safe knowing that the dancer is technically sound and will respond to the situation on the stage.  That's what I liked about Derrick."
All of this talk of dance and the NBA brings to mind another famous dancer / choreographer in Paula Abdul, who rose to stardom after being discovered by The Jacksons.  Abdul was a Laker Girl at the time; ironically, Hooks herself has a connection to an LA hoops dance team.
"I was a SparKid, which was the dance team for the WNBA Los Angeles Sparks," Hooks recounts.  "That was at some point during the first three years of the team's existence, so I was probably fifteen or sixteen at the time.  It was the same concept as the Laker Girls, except that we were kids.  We would do hip-hop routines, that sort of thing.  I did that for two years.  My sister was a Clipper Girl for a couple of years, and has been big in the sport team entertainment field, so I'm really familiar with that world – but as a choreographer, I really haven't worked much in that realm."
With the sports world being viewed more widely as entertainment today, more and more artists are crossing over from music to the NBA.  Justin Timberlake is a minority owner of the Memphis Grizzlies; Jay-Z recently sold his minority interest in the Brooklyn Nets to form Roc Nation, a sports management group.  While the genesis of this phenomenon can be traced back to the invention of the TV, there are points that stand out – like the 1990 music video Jam, starring to the biggest Michaels on the planet.  If Hooks could draw up her dream collaboration between NBA star and music icon, who would she choose to work with?
"It would have to be Kanye West and LeBron James," she says quickly.  "LeBron did the ESPY Award Show several years ago, and he was on stage singing and rapping, and he had all of these dancers around him.  I was one of them.  That was a really fun time to be a dancer, because it was so much fun for everyone involved.  So I think Kanye and LeBron would be a really awesome pairing."
Imagining Hooks' involvement with these two superstars is hardly a stretch, given her fearlessness in the face of such outsized hubris.  What does it take to build trust and maintain relationships with superstars such as Ne-Yo, Bieber and Usher?
"It's funny, but I just finished reading Phil Jackson's book Eleven Rings: The Soul of Success, and I noted so many parallels in the way that he had to deal with ego and personality, and the way that it relates that I have to deal with personalities.  He talks about how everyone is different, and how he had to deal with Jordan and Kobe differently to get the best out of them – even though they're both stars, they have different ways of functioning.
"There are parallels between the NBA and the music world, because the stars have so much riding on their name and their image, and they don't want to look bad.  So it's really important to build trust, because they need to know that they're same in your hands, and that what you tell them to do will not embarrass them.
"With recording artists like Bieber and Ne-Yo it's a lot easier than if you were working with actors, because actors have a whole other layer of insecurity because they're not dancers, so you have to build even more trust.  But it's really about figuring out the personality type of the person that you're dealing with, and figuring out the language that they speak in terms of dance.  The way basketball players view basketball drills differently, different recording artists view dance drills differently.  Some of them will be good at learning to count out the steps, some of them will be good with associating a move with a lyric.  So what I like to do is figure out what language they like to speak in terms of dance and cater to that, so that they feel 100% comfortable."
.
"With recording artists like Bieber and Ne-Yo it's a lot easier than if you were working with actors, because actors have a whole other layer of insecurity because they're not dancers, so you have to build even more trust." – Galen Hooks
From Hooks' standpoint, are there any other parallels between the world of the professional basketball player and the world of the professional dancer?
"It would have to be the physicality of both," she says quickly.  "I think the way that dancers train gets overlooked a lot.  The way their bodies take the beatings that they take.  It's very similar to the pounding that the NBA basketball player takes on a night-in, night-out basis, and because of that pounding a dancer's career is relatively short-lived.  You see NBA players today retiring in their late thirties and early forties, but dancers are usually done by their mid-thirties at the latest because their bodies are pretty much spent.  Fortunately for the NBA players, they get the top-notch medical care.  They get the best therapy, and their bodies are treated as a valuable asset of the team they play for.  As dancers we have to do all of that on our own.  We don't have access to those types of things when we get hurt onstage, dancing behind some of the biggest names in show business, it's rare that you get anyone at all to work on you.
"So the physicality of what dancers go through really parallels the NBA player.  The average person doesn't look at a dancer as an athlete, but they don't see what we go through to train, prepare and perform.  And they don't see the other side of it when our bodies are hurting, or when we're injured, and what it takes for us to recover and to get back onto the stage.  And maybe that's because the NBA is a sport and dance is considered an art form."
Which brings us full circle to Hooks and that big canvas otherwise known as the world.  What is next for the fearless artist who has already accomplished so much?
"I am working on a song and dance project that incorporates bluegrass inspired folk music that I've written over the years.  One of my best friends, Melinda Sullivan, is involved.  The project is titled Campfire Vaudeville.  I wrote the original bluegrass/folk music for it, as well as choreographed all of the dancing.  I also produced three short films for the project, and star in each.  Campfire Vaudeville will be released via social media through an original folk tale that I've written – you would follow @CampfireVaud on Twitter, Facebook and Instagram to experience the story.
"I'm also the Supervising Choreographer for the next season of XFactor, and choreographing on the ABC sitcom Suburgatory."
Proving yet again that Hooks is the ultimate crossover artist.  And that's great news for the rest of us, who can't wait for the next Galen Hooks masterstroke.
The following two tabs change content below.
A West Virginia native, Michael D. McClellan's celebrity interviews appear on his web site, FifteenMinutesWith.Com, and include Olympic heroes Mike Eruzione and Dan Jansen; Grammy winners Al Jarreau, Melissa Manchester, Keb Mo, and Big Daddy Kane; NFL Hall of Fame quarterback Jim Kelly; and NBA legends Magic Johnson, Julius Erving, and Kareem Abdul-Jabbar.
Latest posts by Michael McClellan (see all)
https://www.fifteenminuteswith.com/wp-content/uploads/2013/10/galen-hooks.png
399
600
Michael McClellan
https://www.fifteenminuteswith.com/wp-content/uploads/2016/08/FifteenMinutesWith_NewLogoPrototype.png
Michael McClellan
2013-10-11 02:16:01
2018-04-22 19:18:37
Galen Hooks - Crossover Artist