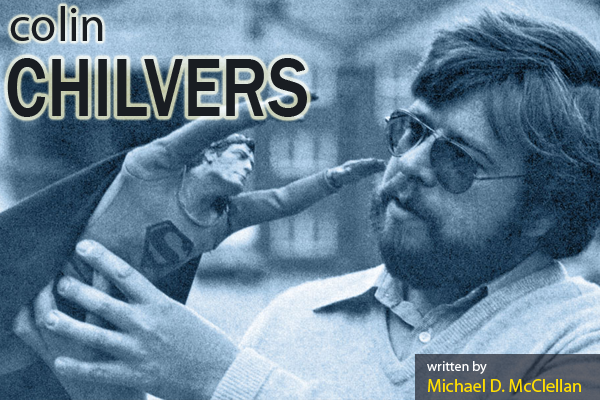 ---
Written By: Michael D. McClellan | Colin Chilvers knows a thing or two about special effects. Like the classic E.F. Hutton advertising campaign from the early '80s, when Chilvers speaks, people listen, and for good reason: The English-born film director won a Special Achievement Academy Award in Visual Effects for his work on the 1978 blockbuster Superman, helped visualize Michael Jackson's gravity-defying lean in the Smooth Criminal video, and has served as the special effects coordinator for films such as Marvel's X-Men, Harrison Ford's K-19: The Widowmaker, and Vin Diesel's The Pacifier. Not that Chilvers brings a boatload of hubris with him to the interview. Far from it. While the Oscar statue is usually in tow, it's more for the audience's enjoyment than the man who helped Christopher Reeve fly. Chilvers, it turns out, is about as chill and as humble as they come.
"When I broke into the business, working in special effects didn't carry the same weight that it carries today," Chilvers says with a chuckle. "You worked your 40 hours, and you went home at a decent hour. It was a regular job in the truest sense of the word."
Chilvers, who got his start in the late '60s, worked several movies as a special effects assistant before given the chance to supervise Inspector Clouseau, starring Academy Award-winner Alin Arkin. It was all the break Chilvers needed, launching him on a nearly 50-year odyssey through some of Hollywood's biggest blockbusters and adored cult classics.
"The buildup for Superman was tremendous," he says. "There was a great anticipation for this film, and it was a proud moment when it was released to the world. And who would have thought that a little film like The Rocky Horror Picture Show would still be going strong today?"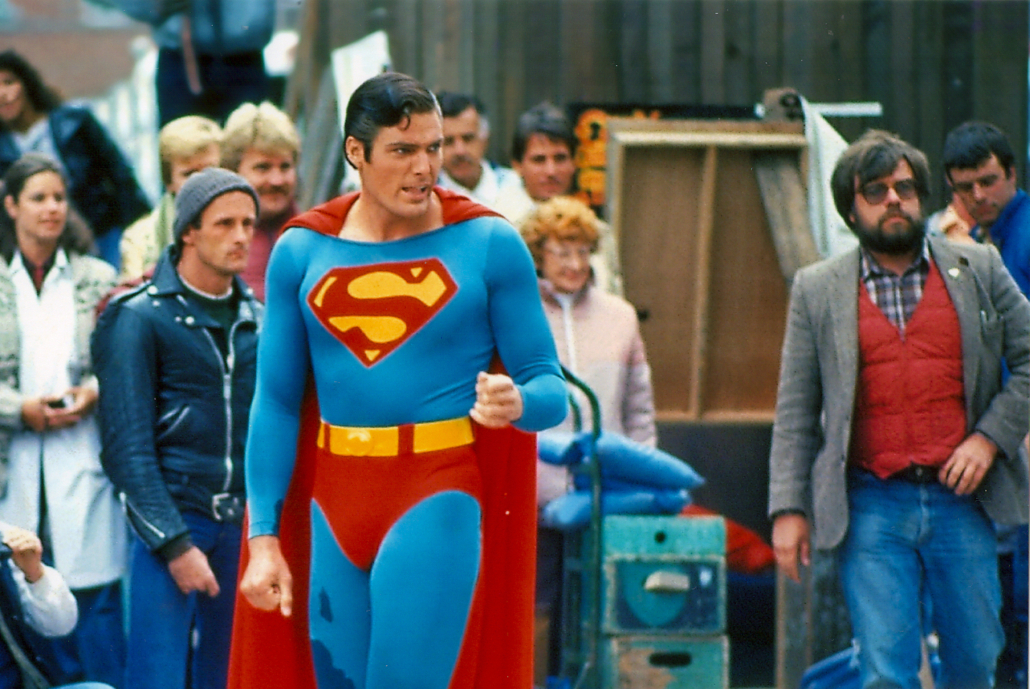 Born in London, Chilvers got his first real taste of the movie business during the filming of 2001: A Space Odyssey. It was here that he scored his first job, only to be fired days later because the production designer had promised the position to a relative. Nepotism, as it turns out, knows no bounds.
"I learned quickly that it pays to know someone," Chilvers says with a chuckle.
Despite getting canned, Chilvers soon found himself working special effects on The Battle of Britain, which in turn led to a number of other credits. And then came Clouseau. There was no looking back.
"It reached the point where I knew I could do something I loved for a living," he says. "The success of Inspector Clouseau opened a lot of doors, and made getting other special effects jobs much easier."
Those doors included a string of 1970s cult hits, including Tommy, Lisztomania, Rocky Horror and 200 Motels – all while rubbing shoulders with geniuses like Stanley Kubrick, or working with controversial filmmakers like the notorious Ken Russell. Through it all, Chilvers continued to build his resume and expand his network, ultimately landing the special effects job on Superman – and the challenge of a lifetime: Making Superman fly.
"It was a different era," says Chilvers. "You have to remember, the industry was decades away from the special effects that we have today. There were no computers, no CGI, no digital effects. Everything we did back then, we had to improvise. And the whole world was watching. Everyone wanted to go into the theatre and believe that Superman was really flying. We had to improvise. There were a lot of tricks. It was quite a challenge, but the result was something to be proud of."
Winning the Oscar for Superman led to more success in the 1980s – Superman II, Condorman, Superman III – but it was a slew of toy commercials, such as promotions for Spidey Alive and Starship Troopers, that brought Chilvers together with one of the greatest entertainers in the world.
"During the 1980s, there wasn't a bigger act than Michael Jackson," Chilvers says quickly. "Thriller had become the best-selling album of all time, and Michael had performed his iconic moonwalk on live TV. And then, after touring, he went to work on Bad. I was in the right place at the right time. It really helped that Michael and I hit it off immediately. I enjoyed working with him."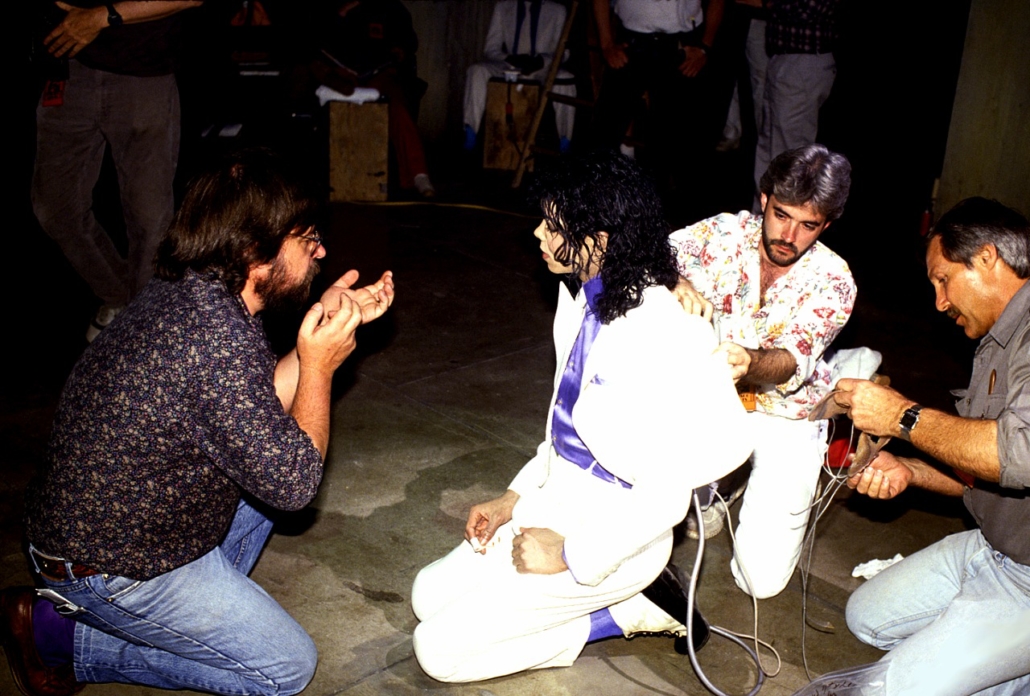 With the King of Pop dancing and Chilvers directing, the duo created Smooth Criminal, one of Jackson's most impressive works. The video, central to Jackson's Moonwalker film, is best known for that gravity-defying lean during the ending dance sequence. Everyone wanted to know the same thing: How did Michael do it?
The secret, it turns out, was the genius of Colin Chilvers.
"Piano wire gets all the credit," he says with a laugh. "It was the staple of many special effects during the '70s, and it worked perfectly in the Smooth Criminal video. Sometimes the best tricks aren't the newest. Sometimes you rely on the tried and true."
Chilvers would continue to work through the '90s and on into the new millennium, eventually helping four of his nephews – Chris, Ian, Paul, and Neil Corbould – launch special effects careers of their own. The foursome have worked an impressive list of Oscar-winning movies, including Gladiator, Saving Private Ryan, Batman Begins, Star Wars: The Force Awakens, and Gravity.
"My nephews have become very successful, and I'm very proud them," he says with a smile. "To see them succeed in a new age of special effects, to watch them work on some great movies and win Oscars of their own…those things mean more than winning the Academy Award."

How did you break into the movie business?
It was the classic Catch-22, because I was told that you had to be in the union to get a job, and that you had to have a job to get into the union. I finally cracked that one when I got a job as a trainee animation director with a with a company in Borehamwood, England. At the time, the office was right next to the MGM Studios' England headquarters, which happened to be where they were making 2001: A Space Odyssey.
---
How did being part of the union help?
Whenever a new movie was going to be made there, the union would release a new list detailing the available jobs. On this particular occasion, there was a job that came up on 2001. I had no idea what this movie was about, who was directing it, but that didn't matter. It was a job in the movies, and I wanted to get into the business. I applied and was interviewed by the producer, and when the interview was over he said, "You got the job. You start on Monday." It was a very exciting time for me, because I'd finally broken into the movie business, and when Monday rolled around I started my career as a junior in the art department.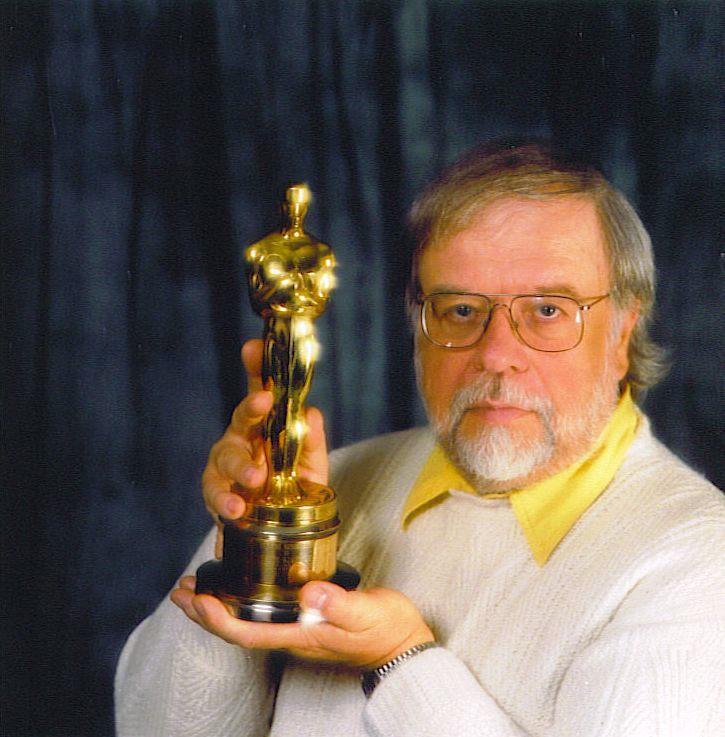 ---
You finally break into the business…and they immediately fire you?
When I showed up that first morning I met the production designer, who had a confused look on his face. He said, "Who are you?" and I proudly replied, "I'm your new assistant." He promptly left the room and, about ten minutes later, the production manager came in and said, "I'm sorry, but you are sacked."
The idea was that the job would go to a relative of the production designer, but the production designer happened to be on vacation when I interviewed, and the producer gave the job to me instead. When the production designer came back, he told them that my hiring shouldn't have happened, and I got sacked. As a member of the union they had to give me a two-weeks notice, so I was actually on that movie for two full weeks. Unfortunately, I didn't to get a credit.
---
Did you get a chance to meet Stanley Kubrick?
I met Stanley once during the two weeks I worked on 2001. I gave him a couple of ideas for one of the sets – if I hadn't have been sacked already, I'm sure I would have been sacked for talking to the great Stanley Kubrick like that [laughs]. Later on, I worked with Stanley during tests for Barry Lyndon in England. I actually got to be quite friendly with his daughter and husband through another friend, Steve Lanning, who was an assistant director on Superman.
---
The special effects world was quite different when you got your start in the late '60s.
When I started in the business, it was a job that I loved to do, but it was a job. It's only since movies like Star Wars and Superman that effects people have achieved celebrity status and developed their own following. It's interesting that people are so intrigued with the way that we did things. I get asked about it all the time, because I'm one of a rare breed in that I've lived through a digital revolution in special effects. When I started working in special effects we had no computers, or motion capture and all that. It was all in-camera, or done on optical print. It was a different world completely.
---
In 1971, you worked on Murphy's War, starring Peter O'Toole.
Peter O'Toole was a legendary actor, nominated eight times for the Academy Award for Best Actor. Working with him was a thrill. Murphy's War was set in Africa, but we actually filmed in a remote location in Venezuela called Pedernales, also known as Dos Rios, which was roughly 150 miles up the Orinoco River in the middle of the jungle. I remember a Spanish fort on one side of the river, and the kids who were selling the Spanish doubloons that they had found while scavenging the countryside.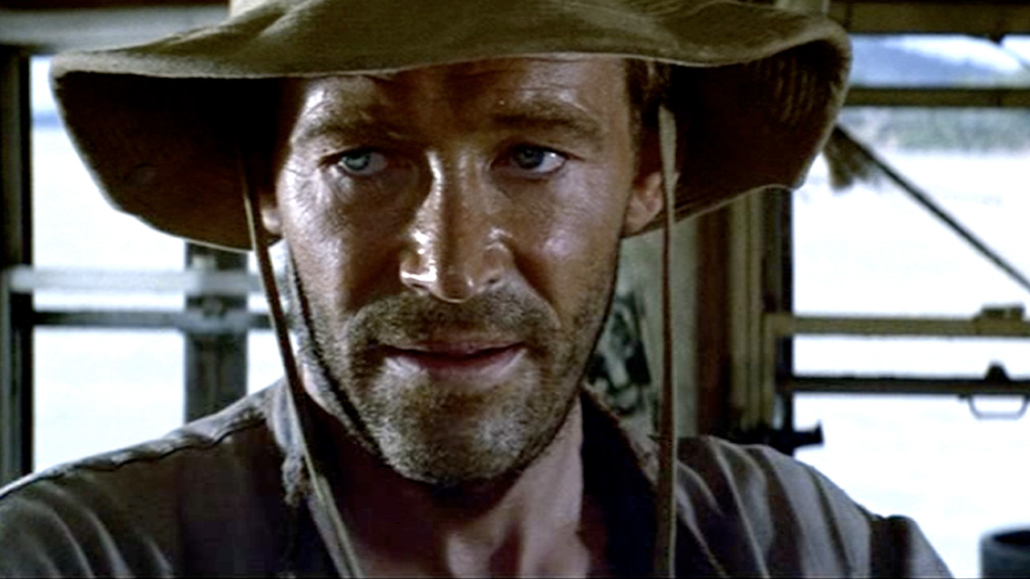 ---
It sounds dangerous!
The nearest town to us was an hour's flight. I was just a junior assistant at the time, and I remember being sent into town to buy supplies. I would fly into town on a four seat DC-3, load up, and fly back. There were other times when I would drive an hour-and-a-half through the jungle. Looking back now, those trips were dangerous – who knows what would have happened had I broken down, ran out of gas, or encountered bandits along the way. But in 1970, I was too young to even think about things like that. The whole trip was just a huge adventure for everybody.
---
What was it like filming in such a remote locale?
We worked with the local Indians during filming, which was interesting. They told us that we shouldn't feed them because their digestive systems weren't used to the kind of food that we ate. The movie company built a village by the side of the river, at a point where the river was two miles wide, and the natives actually lived there during filming. One of the things that we had to do in the movie was to burn the village down and blow it up. This led to confusion, because the natives had been allowed an amazing place to live for a time, and didn't understand why we had to destroy it.
---
Peter O'Toole's character is the sole survivor of the crew of a merchant ship, which had been sunk by a German U-boat.
We brought in a submarine that played the part of a German U-boat hiding in the Amazon River. For the role, she was modified by the addition of a cigarette deck and was painted with a 'dazzle' camouflage pattern. When filming was over, the submarine was actually sold the Venezuelan government.
Murphy's War was an amazing journey, because I hadn't been in the business for very long before being whisked off to a foreign land like Venezuela and spending four months in the jungle. We also spent four months filming in Malta, which was a British colony in the Mediterranean. Everyone spoke English and the wine was really cheap. It was a lovely place.
---
That same year, you also worked on the cult classic, 200 Motels, written and directed by Frank Zappa and Tony Palmer.
That was a weird movie, as it attempted to portray the craziness of life on the road as a rock musician. Frank Zappa played himself. Ringo Starr played a dwarf. Keith Moon, the late drummer for The Who, played a nun. I was young at the time and happy to be working. Getting a chance to interact with people like made it even better.
---
In 1975, you worked on Lisztomania. Tell me about the controversial director, Ken Russell.
Ken Russell was very talented. Some of his earlier films, which were focused on classical composers – Elgar, Delius, Tchaikovsky, Mahler, and Franz Liszt – were beautifully done. Ken was also quite a character, the kind who did whatever he wanted and didn't care what anyone said or thought.
---
There were more than a few who questioned Ken Russell's sanity.
During the filming of Lisztomania, even his wife at the time was quoted as saying that she thought he'd had gone crazy [laughs]. He would have these utterly berserk visions of what he wanted to do, and much of it was outlandish sexual imagery. There's a dance sequence in the movie involving The Who's Roger Daltrey, who was playing Franz Liszt. For that scene, we were asked to build a 7-foot penis that was supposedly Roger's. And if that weren't enough, Ken decided that he wanted three dancing girls sitting on it. It was a very interesting movie to say the least.
---
In 1975, you also worked on the rock musical Tommy.
I worked as a special effects supervisor on the film, which was a musical fantasy film based upon The Who's rock opera album Tommy. It was an uncredited job, but it was rich in the respect that I was able to work with some of the biggest names in music – people like Roger Daltrey, Tina Turner, Pete Townshend, Eric Clapton, and Elton John.
---
Another big break came that same year, when you were asked to work on The Rocky Horror Picture Show.
A good friend of mine had seen the stage production in London, and was wild about it. I thought it was going to be a pretty crazy movie when I read the script, and also a lot of fun for the audience, so I was excited to be involved with this film. I suppose nobody, not even the people who made the movie, realized how successful that it would go on to be.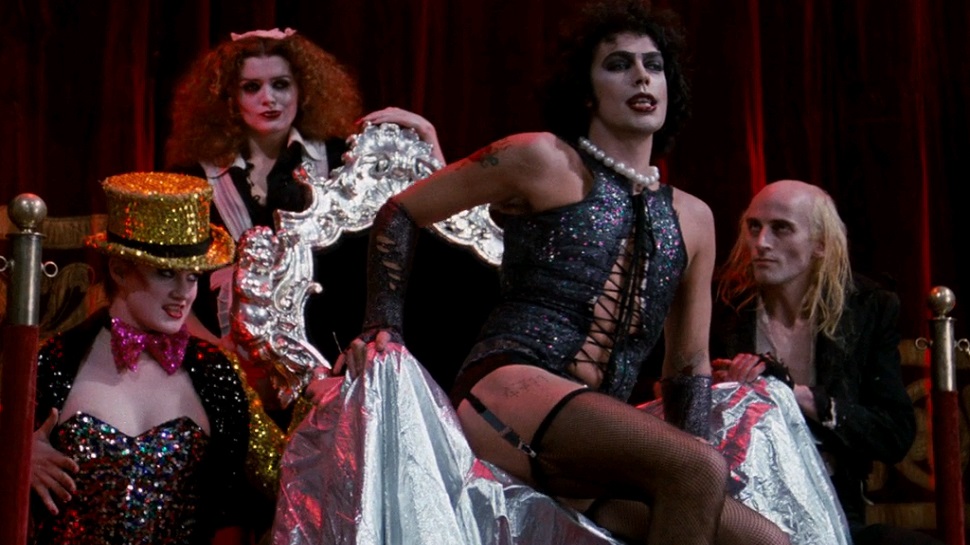 ---
Tell me about some of the special effects that you put into place for Rocky Horror.
Doing the rain scene at night was both memorable and interesting, because there was no water. The hotel was actually a country house that sat along the River Thames in Bray. It didn't have any water because it was derelict, so we had to put pumps into the River Thames to create the rain.
When the wheelchair gets pulled up the stairs, we actually had the wheelchair on wires. They didn't get rid of all of them during post-production, so you can still see some of the wires one the film if you look closely enough.
When Frank N. Furter walks out into the mist and jumps into the swimming pool, they had decided to paint the Sistine Chapel on the bottom of the pool and position a camera up in the ceiling of the stage. I suggested using dry ice as he walked out on the diving board so that you really wouldn't know where he was going. Then we used a big electric fan to blow away the ice for the big reveal. It was a nice moment in the film, because it was a good reveal.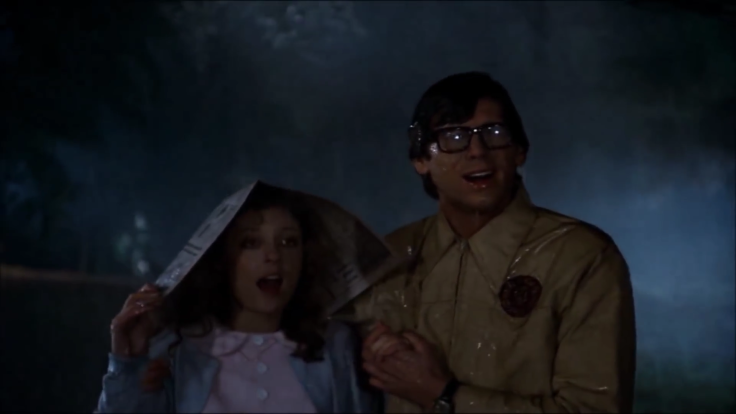 ---
Did you use real ice when Meatloaf smashes through the freezer?
No, we used cast wax instead. We made blocks of wax and stacked them up, and that's what he broke through.
---
Richard O'Brien wrote Rocky Horror. What was he like?
Richard was living as an unemployed actor in London during the early 1970s. He wrote most of what was originally titled The Rocky Horror Show during one winter just to occupy himself. I found him to be very professional. Jim Sharman was the director, and Richard didn't seem to interfere with Jim's direction – which I suppose he had every right to do if he wanted. It never came across as him being a force in that area.
---
What about the cast?
The whole cast had worked together before on the London stage show. They didn't need any rehearsals, other than rehearsing on location, because working on a stage was obviously much different than working on a film set. But they knew their parts so well, which made shooting pretty easy to do.
---
In 1978, you landed the job of a lifetime, working on the blockbuster movie Superman.
I have only fond memories of that experience. I actually made the permanent move from London to Canada in 1980, during the filming of Superman II. I came over for three weeks to shoot the Niagara Falls scene and met my wife, where she worked for the Niagara Parks Police. Three weeks turned into four decades. That blessing happened because of the Superman movies.
---
Please tell me about the late, great Christopher Reeve.
Chris was a great guy. I believe he was 23 when he first got the part to play Superman, and he was always in character while on set. Interestingly enough, he wasn't the first choice for the role, but they ended up coming back to him. It was the smartest move they could have made.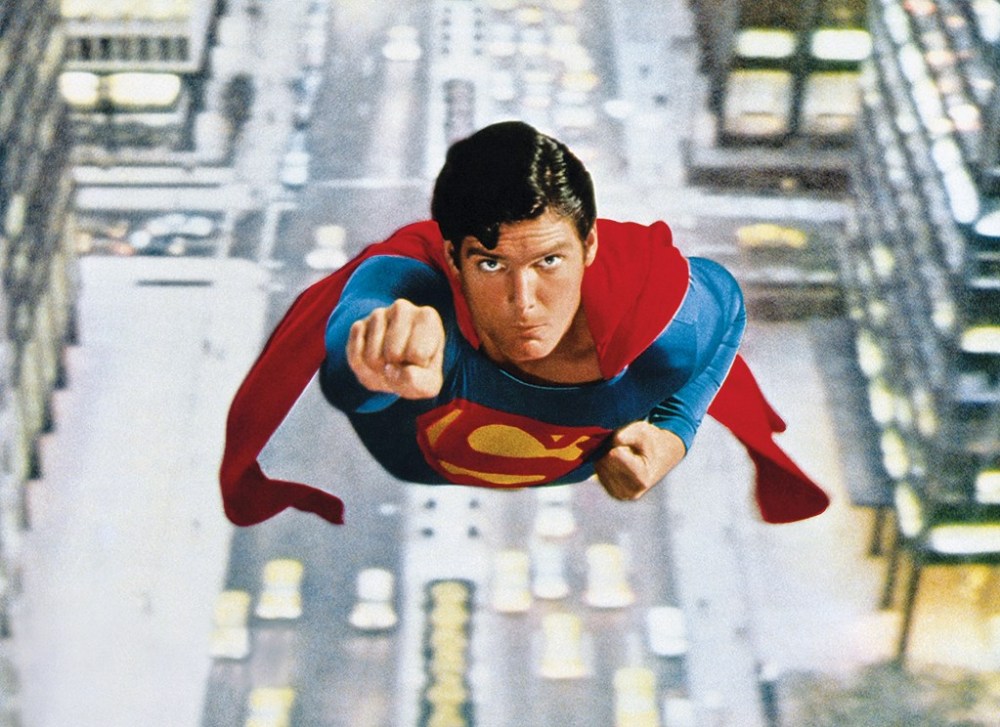 ---
Why did they originally pass on him for that role?
Chris was the perfect Clark Kent, there were no concerns about that. While he was 6'-4" and very athletic, they thought he was too skinny to play the Man of Steel. Chris went through an intense two-month training regimen that was supervised by former British weightlifting champion David Prowse, during which he switched to a protein-heavy diet. It worked, because he came back a different man. Once he got in that suit, he was Superman.
---
The biggest special effect in the movie – and the one that helped land you an Academy Award – was figuring out how to make Superman fly.
I remember watching the Superman TV series, and I had also gone to those Saturday morning matinees where they had superimposed Superman against a screen, and those scenes always looked terrible. So the challenge was to make it look like he could really fly.
---
Easier said than done?
We had some crazy ideas of what we thought would work – for example, we tried sticking a tube up the rear end of a Superman dummy and firing it off of a cannon – but none of those ideas worked well [laughs]. But all of the brainstorming finally paid off. Depending on the scene, we eventually had five different ways that we could make Superman fly. That meant putting Chris into various suits, depending on how we were going to fly him. It turned out very well, given the tools we had at the time.
---
Give me an example of one of those ways.
Today, with digital effects, when they put someone on a wire, they use heavy duty cord-gauge wire. We didn't have all of the digital tools that they have these days, and roller scoping the wires out of the scene was a very difficult process, so we had to try to put him on thin enough wires that couldn't be seen. It was difficult and it was dangerous, but Chris was great. I remember him being suspended 60-feet in the air on 16-gauge piano wire. He would say, "Whether I'm falling sixty feet or fifteen feet, it isn't going to make a lot of difference." Chris was amazing. We had the screen in the background, and a rig that we used to move around, which was very uncomfortable, but he never complained. He would do anything that we wanted him to do.
---
What was the deal with Superman's cape?
The cape was one of those things that presented a big problem. Every time we put Chris up on the wires and turned on the wind, the cape would wrap around the wires, which, of course, didn't look very heroic [laughs]. So, we had to devise a different way of making it look like Superman's cape was fluttering in the wind.
Les Bowie, who worked in special effects as a matte artist, came up with this idea of putting a motor on Chris's back. The motor had a bunch of sawed-off fishing rods connected to it, which the motor would move, and then we would cover it with the cape and put a bit of wind on it.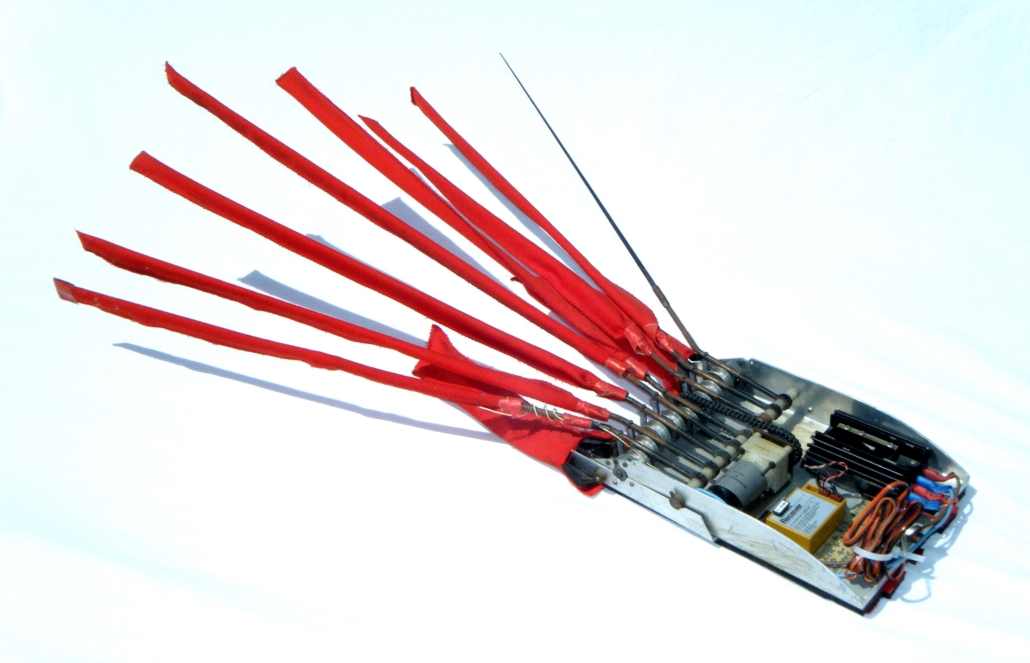 ---
Problem solved.
Twenty-five years after Superman I, my nephew was on the effects team for Superman Returns. He phoned me from Australia, where they were filming, and asked what we did to make the cape flutter. He was amazed at what we were able to accomplish without the aide of digital effects.
---
Tell me about Marlon Brando.
Unfortunately, we only had Marlon Brando on the set for 10 days. During that time he had a terrible cold, or the flu, so he wasn't at his best as far as that goes. It was quite a big deal. By that point in his career he was strictly doing cameo work, and he was paid a record $3.7 million and a healthy percentage of the gross profits for his cameo on Superman.
---
Did you get to see Brando act while he was on the Superman set?
Yes. The interesting about him was that he wouldn't – or didn't want to – learn his lines. Instead, he insisted on having cue cards positioned all over the place. A lot of actors use cue cards, but it surprised me that Marlon Brando would do that. There is the opening scene in Superman where they are sending the child off in a spaceship. You obviously don't see this in the finished movie, but instead of a baby in the spaceship, there is a cue card instead. During filming, every now and again he would sort of do a dramatic look up in the air, and he was actually looking at a cue card. It was like that during his entire time on set. He would tell the prop guys where to put the cue cards, and during filming there would be a few pregnant pauses, which allowed him to find where his cue cards were located. It was a technique that I didn't expect from someone like Marlon Brando, but who am I to judge? He was a legend.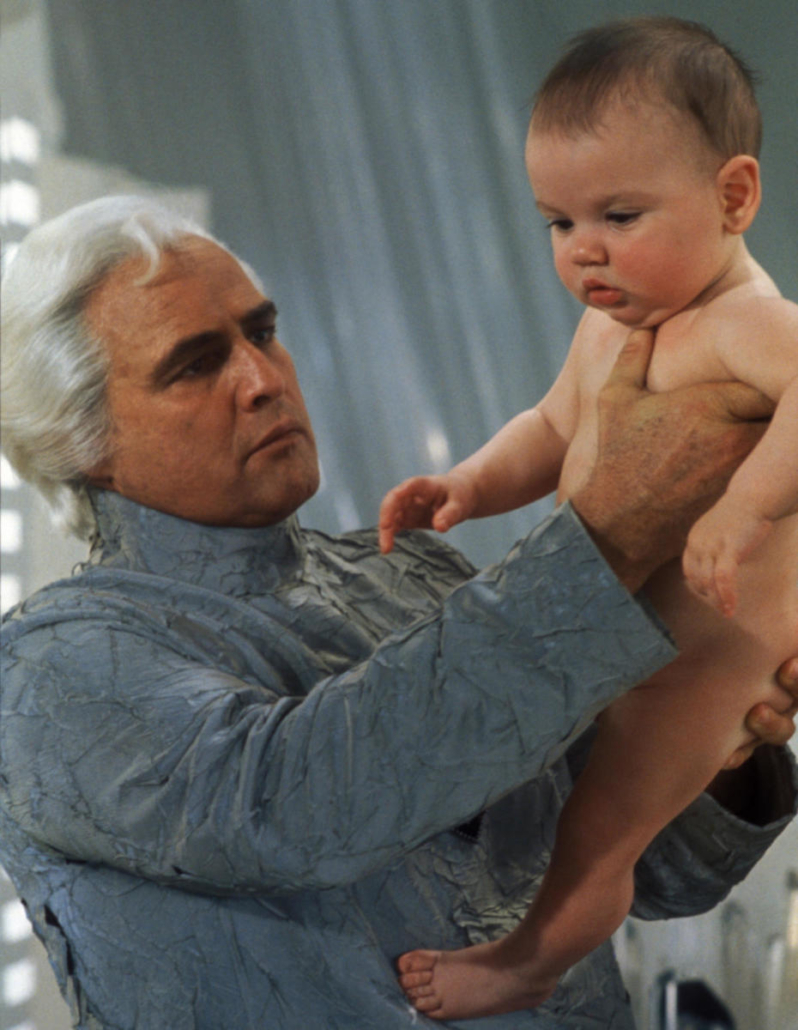 ---
What about Margot Kidder?
Margot was a sport. I remember the scene where we put Margot in a car and crushed her. In Superman II, we threw her in the river. She was willing to do whatever it took to get the job done [laughs].
---
What were some of the other challenges faced when filming Superman?
We were about six months into the production of Superman when the team's morale had hit a low point. The director, Richard Donner, got the editor to put together a 15-minute demo reel, which included the shot of Superman becoming Superman at the Fortress of Solitude, and him flying behind the camera. Richard showed that scene to the whole crew, and you suddenly felt that you were going to be part of something special. That was Richard Donner's genius. I remember that he had a sign posted in his office that read 'verisimilitude,' and he lived by that mantra. To Richard, he insisted that you must feel like what you're doing is real, and that's what we all tried to do.
I remember that Richard Donner had gotten a copy of Star Wars from George Lucas before the film came out, and he showed us that movie. It pumped everyone up, because it was the first time that special effects was a major focal point in a motion picture.
---
Star Wars changed everything.
Years earlier I had tried to get an English producer to do a movie on the character John Carter of Mars, and the idea was flatly rejected. They told me that movies like that were finished, and that no one wanted to watch science fiction. And then Star Wars came out, and suddenly special effects movies were all the rage.
---
You directed Michael Jackson's music video Smooth Criminal. The lighting and the costumes – not to mention the dancing – are as amazing today as when the video was first released. Congratulations on a masterpiece!
Thank you. I showed Michael a movie that I felt would fit the theme of the video, something called The Third Man. He loved the film-noir look that it had, so we used it as a blueprint and worked with the camera man to light the video in a similar way.
---
Is it true that Smooth Criminal is Michael Jackson's tribute to Fred Astaire?
Yes, in many respects. The dance piece was Michael's tribute to Fred Astaire, but it goes deeper than that. In the video, Michael wears a similar kind of costume that Fred had used in one of his movies, a film called The Band Wagon. You can compare photos and see what I'm talking about.
We also had the pleasure of having Fred Astaire's choreographer come on the set, gentleman named Hermes Pan. He worked on a bunch of films and TV shows with Astaire, including those 1930s musicals with Astaire and Ginger Rogers. He was a giant, having won both an Oscar and an Emmy for his dance direction, so it was a thrill to meet him. He visited the set while we were doing the song and dance piece, and said that Fred would have been very happy and proud of being copied by such a wonderful person.
---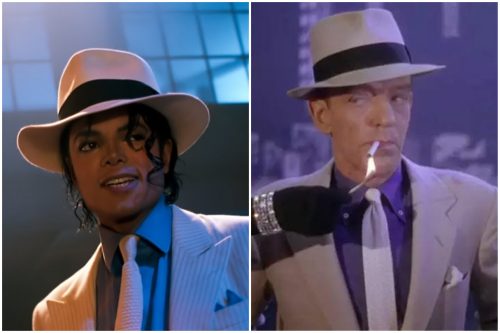 Michael Jackson's two most famous dance moves are the moonwalk from Billy Jean, and that gravity-defying lean in Smooth Criminal. How did you do it?
The inspiration behind Michael's gravity-defying lean actually came from my Superman days. It required a bit of ingenuity. We had Michael and the other dancers connected to piano wire, and fixed their feet to the ground so that they could do that famous lean. I fixed their heels to the ground with a slot, so that they were locked into it. If you look in the video, when they come back up from that lean, they kind of shuffle their feet back to unlock themselves from the support they had in the ground.
---
Michael Jackson seemed like a positive, loving person. What was the mood on the set?
We had 46 dancers, plus the choreographers, hair, make-up, and everything else. Every day at lunchtime we'd go and watch the dailies from the day before. The mood was always festive, and it always felt like there was a party going on in the screening room. Michael would be right there, and there was always a lot of noise and excitement when everyone saw how good the dance sequences looked. If Michael saw something he didn't like, he would say, "We can do better than that." He pushed everyone to deliver their very best.
---
Tell me about your work on Moonwalker.
Moonwalker was Michael's movie, and he was going to do exactly what he felt he needed to do to make it perfect. The producer, Dennis Jones, was coming in from outside the studio, and his concern was usually centered around the amount of time we were taking. He had a habit of walking towards me and looking at his watch. Jerry Kramer, who co-directed Moonwalker, always had the same thing to say: "Dennis, with Michael, you don't need a watch, you need a calendar." That's because Michael wanted it to be perfect, and he was in the unusual position where money wasn't an object. He was only concerned about perfecting his art, and that's the way he was. Not the usual way to make a Hollywood movie, that's for sure.
---
Special effects were changing around the time that Moonwalker was made.
We were using a lot of innovative techniques, especially for those days, because this was just before the real digital era kicked in. We were using motion capture, motion control – the robot was all motion controlled. We did a lot of mattes, and things like that. We built some beautiful sets. We actually shot in the same studio in Culver City, where they shot Gone with the Wind, which was kind of neat.
---
How did you land a job working with Michael Jackson, King of Pop?
Avi Arad, who was the founder of Marvel Studios, once told me that there is no such thing as luck, but in this case I felt lucky to be in the right place at the right time. I was shooting a commercial in Los Angeles, and I had an effects guy named Kevin Pike working it with me. Kevin had just finished shooting Back to the Future, and Michael really liked that movie, especially the DeLorean. Michael had spoken to Kevin about the effects that he wanted to do for a music video. Kevin asked him who was going to direct it, and Michael explained that all the big-name directors like Steven Spielberg were busy for the next two years. That's when Kevin suggested me to direct. He then came to me and asked if I would like to meet Michael Jackson. I looked at it as the ideal opportunity to get through the door, as it were.
---
Did the two of you hit it off?
Michael and I got along quite well during that initial meeting, and the next thing you know I'm flying back to Los Angeles. I remember checking in at the Château Marmont, and a very interested guy behind the front desk says, "Excuse me sir, there is a call for you. It's Michael Jackson." And it was! I was pleasantly surprised to learn that Michael had just called me to say, "Welcome aboard, let's get together tomorrow." We seemed to click from the very beginning.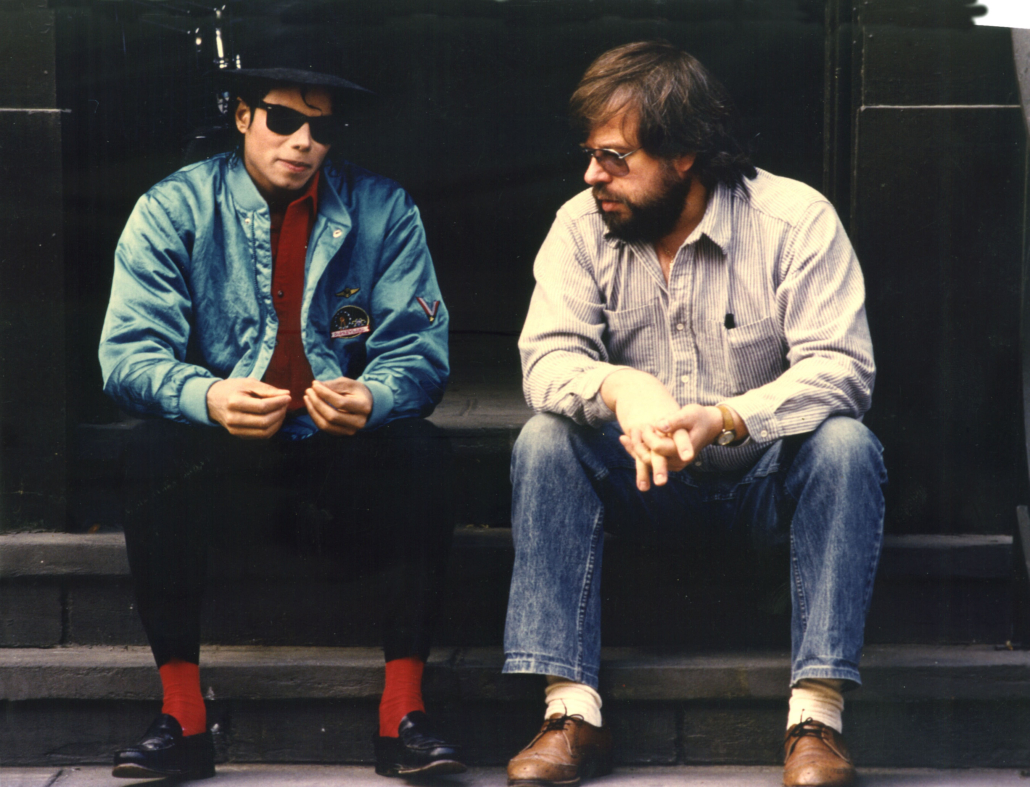 ---
Was Michael Jackson shy?
I got the sense that he wasn't as shy with me as he normally was with people that he met for the first time. We discussed various things that he wanted to do with the music video, as well as with the 42-minute Smooth Criminal sequence that was Moonwalker's centerpiece. Above all else, Michael made it clear that he wanted it to be a movie for kids. I had experience in this area – I had done a two-hour show about Pippi Longstocking for ABC, and I had done a lot of kid's toy commercials for Hot Wheels, Barbie, and things like that – , and he really liked that. He also liked the fact that I had gotten an Academy Award for special effects for Superman. What he wanted to do with Moonwalker involved a lot of special effects, so he thought it would be a good idea if I worked with him.
---
How long did you work with Michael Jackson on this project?
What started out as a music video grew into a 42-minute movie that took nearly two years to produce. It wasn't supposed to be that long – we shot for 18 weeks, which was a lot longer than I thought it would take – but Michael was working on the Bad album, and then he went on tour, and then they had to finish the album when he returned. So they put us all on hold for three months while he finished the album. Working with Michael on that project was a fun period of time in my life. We had Joe Pesci and Sean Lennon on set, and of course we had the dance piece in the middle of Smooth Criminal. I was able to come up with that famous lean, so everyone walked away happy.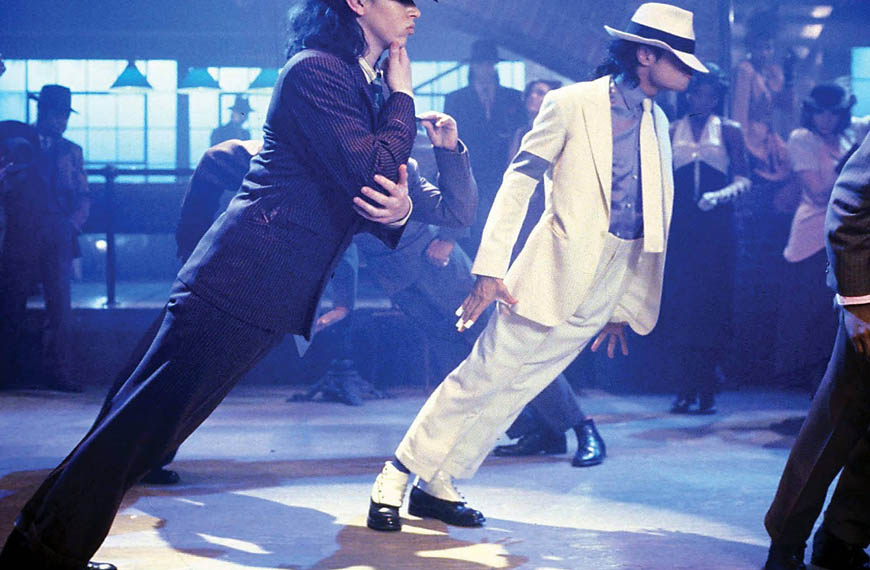 ---
Looking back now, what was it like working with the King of Pop?
That was a good period in my life that was very well enjoyed by me and my family, especially my wife. We had some very nice dinners with Michael, and sometimes Bubbles would join us. It was an interesting time to be around Michael, because he was so on top of the game at that point. He had just come up with Thriller, and was doing Bad, and we had everything we wanted. Working with Michael Jackson was a dream come true, and it was amazing in all ways.
---
Your nephews have worked on some of the biggest films ever made.
I have four Corbould nephews from England who are all working in special effects – Chris, Ian, Paul, and Neil. Two of them have won Academy Awards. Neil got his start with me on Superman, and has gone on to work on some of the biggest films, such as Gladiator, Saving Private Ryan, Rogue One: A Star Wars Story and Black Hawk Down. He's also done several of the James Bond films. He's been nominated for four Academy Awards, and has won two Oscars – one for his work on Gladiator, and another for Gravity.
Chris has worked on eleven James Bond films and counting since the early 1980s. He's also worked extensively on the Batman films – Batman Begins, The Dark Knight, The Dark Knight Rises – and has an Oscar for Inception, as well as nominations for four other films, including Star Wars: The Force Awakens and Star Wars: The Last Jedi.
Paul has two Academy Award nominations, both for Best Visual Effects in the movies Guardians of the Galaxy and Doctor Strange. Ian has worked with his brothers on many of these films as either a special effects technician or special effects supervisor. The four of them are sort of the top-notch crew in England at the moment, and a good way to segue toward what I'm leaving behind, as I'm not in the movies anymore. The fact that they've all followed in my footsteps is my legacy to the movie business.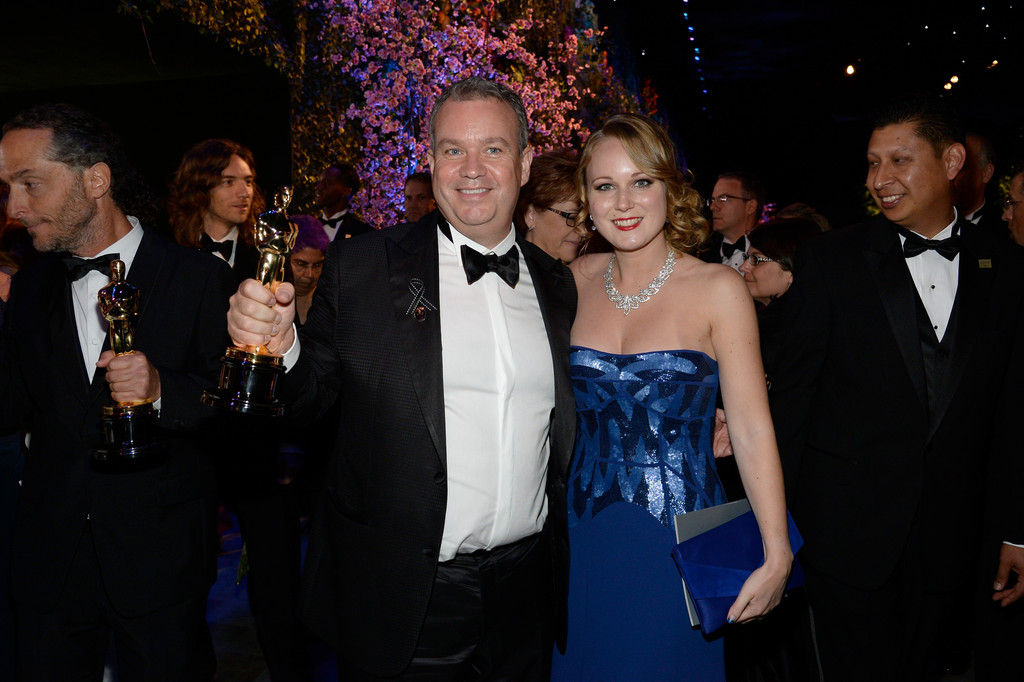 ---
Special effects has changed a lot since your time working on Inspector Clouseau.
There have been some incredible advances thanks to the Digital Revolution. But then again, a lot of things haven't changed. For instance, on the movie Gravity, Neil had to make Sandra Bullock fly on a wire – actually, he used a bunch of wires so that he had complete access to all of her movements. There was no other way of doing it because you still can't make an actor act as a digital image. It ended up being a pretty amazing effect.
---
What is one of your proudest moments as a special effects artist?
That would probably be during the first Superman movie, when we were playing around and trying to make a vortex. I actually put together a rig that created a perfect miniature twister that was about six or eight feet high. That was my most proud moment, strangely enough, because it required a high degree of problem-solving. The ability to problem solve is still a big part of special effects today, except that they have a lot more tools to work with in the digital world.
---
Any regrets?
My agent once came to me and asked if I would be interested in working on this weird movie about the Nazis finding the Ark of the Covenant. I passed on it and, of course, Raiders of the Lost Ark ended up winning an Academy Award and becoming one of the most iconic movies ever [laughs].
---
Now that you've retired, how do you reflect on your career?
I've enjoyed my career. Now and again I'm asked about movies that I don't even remember doing, like Saturn 3. Those experiences are all part of the journey, just like going to Venezuela for those four months to shoot Murphy's War. You look back on something like that and can't help but wonder how you survived.
When I was leaving for art school at 16, who would have thought? I come from a working class family in London, and suddenly I was thrown into this sort of business, going to the exotic places and doing things that you would never have thought possible. It's just incredible when you think about it. You can get a bit immune to it in the end, but thinking back on it now, it has been a pretty amazing life.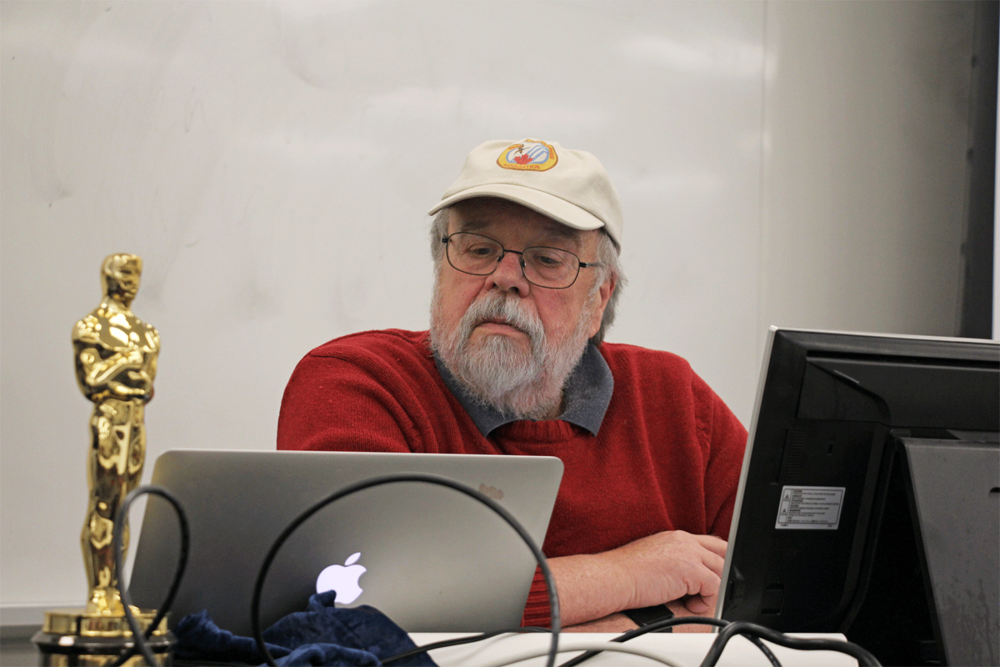 ---
Last question: If you could offer a piece of life advice to others, what would that be? The headmaster of my primary school once said to me, "Son, you're going to work a third of your life, enjoy it." And I can certainly say that I've enjoyed that third of my life because it was such an amazing journey. My advice would be to pursue what you are most passionate about, because you only get one chance to do this thing called life.
The following two tabs change content below.
A West Virginia native, Michael D. McClellan's celebrity interviews appear on his web site, FifteenMinutesWith.Com, and include Olympic heroes Mike Eruzione and Dan Jansen; Grammy winners Al Jarreau, Melissa Manchester, Keb Mo, and Big Daddy Kane; NFL Hall of Fame quarterback Jim Kelly; and NBA legends Magic Johnson, Julius Erving, and Kareem Abdul-Jabbar.
Latest posts by Michael McClellan (see all)
https://www.fifteenminuteswith.com/wp-content/uploads/2019/05/the_colin_chilvers_interview2.png
400
600
Michael McClellan
https://www.fifteenminuteswith.com/wp-content/uploads/2016/08/FifteenMinutesWith_NewLogoPrototype.png
Michael McClellan
2019-05-19 04:24:38
2019-05-27 02:56:39
Colin Chilvers - Movie Magic