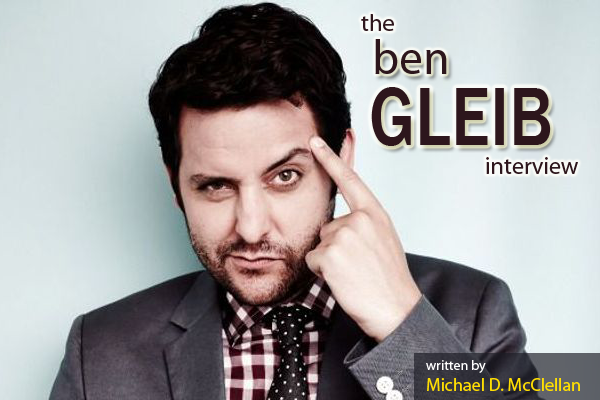 Written By: Michael D. McClellan | Ben Gleib is running for president. Seriously. The stand-up comic who scored his own Showtime special, Ben Gleib: Neurotic Gangster, has announced his very serious intentions to seek the 2020 Democratic nomination for President of the United States. The celebrity candidate may be best known for hosting Idiotest on Game Show Network, throwing back drinks with Hoda Kotb and former host Kathie Lee Gifford on the fourth hour of Today or, if you're a fan from way back, serving as a regular panelist on Chelsea Lately. But Ben Gleib is all business when it comes to his run for the country's top office.
"I'm running because the nation I grew up loving is in jeopardy," Gleib says, without even a hint of a punchline forthcoming. "The values that we stand for are now being challenged. I'm driven by my desire to see the people I perform for have easier lives."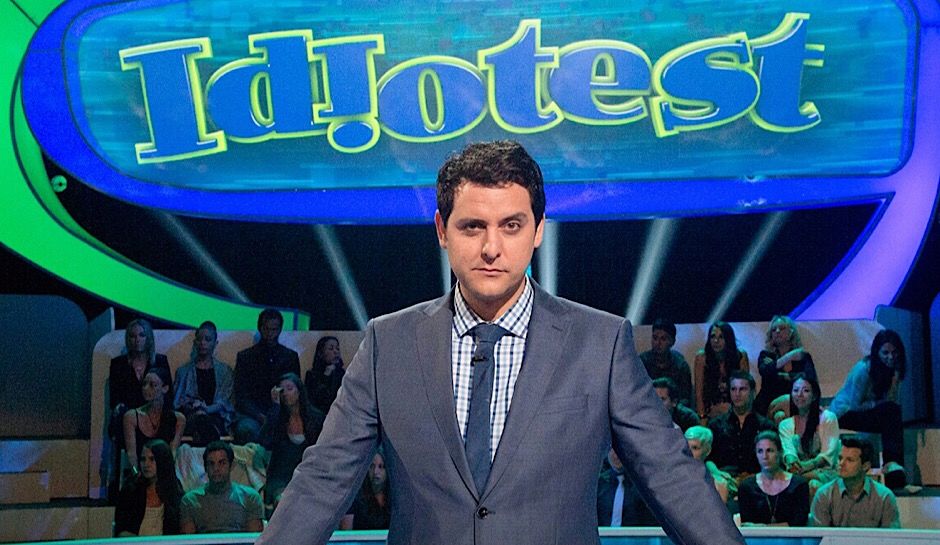 Recognized by TBS as one of the "funniest comedians working today," Gleib possesses the indefatigable quality of a presidential candidate. He has toured sold-out arenas all over North America with both Chelsea Handler and Dane Cook, headlined comedy clubs around the globe since 2007, and performed on an array of television shows including The Late Late Show, The Arsenio Hall Show, Last Comic Standing, and Last Call with Carson Daly. He's a regular political contributor for The Huffington Post. An accomplished voice-over actor, Gleib has starred in Kevin Smith's Jay and Silent Bob's Super Groovy Cartoon Movie, provided the voice of Marshall the Sloth in Ice Age: Continental Drift, and voiced Dali in The Book of Life starring Channing Tatum. His wildly popular podcast, Last Week on Earth with Ben Gleib, includes a steady stream of celebrity guests like Bryan Cranston, Meghan McCain, Bob Odenkirk, Sam Donaldson, Moby, Blake Griffin, Adam Devine, General Wesley Clark, political pundits, standup comedians, and…wait for it…his parents.
"They are always there for me, even when I run out of guests."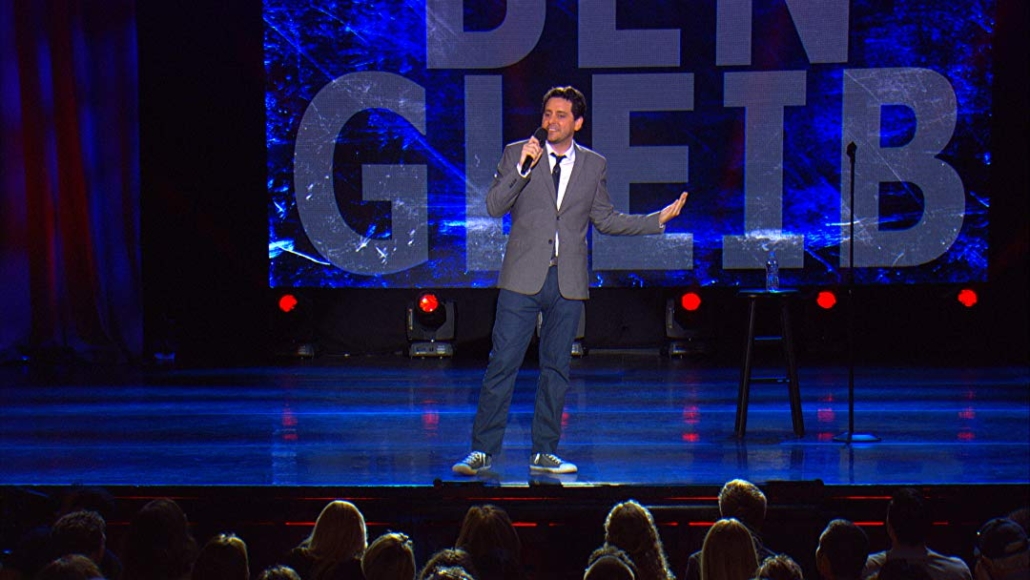 On the radio, Gleib is a regular on the hugely popular shows The Bob and Tom Show, Kevin and Bean, The Jason Ellis Show and Sirius XM's You Up? With Nikki Glaser. He's been guest co-anchor for ABC News Digital, a frequent on-air contributor on CNN, and an NPR Golden Mic Award-winner for his work on Patt Morrison's Comedy Congress. With such a dizzying schedule, how does this comedian/actor/ commentator/podcaster/game show host spend his spare time?
Try producing and co-hosting The Telethon for America, announcing his presidential bid, and campaigning nonstop on massive amounts of caffeine.
"People frequently ask me for the one thing I wish someone had told me before I decided to run for office," Gleib says. "The answer is simple: How little sleep I get. I'm already someone who stays up very late and works long hours, but this is a non-stop, around-the-clock mission, often requiring 18–22 hour work days. Luckily, I love it, and operate well on no sleep."
Fortunately for the rest of us, Gleib was able to slow down – and stay awake – long enough for this interview.

You're running for president. Of the United States. Is this real, or an elaborate hoax?
The first question people ask me is, "Are you for real?" People think that this must be a publicity stunt because I'm a comedian. Nothing could be further from the truth. When you hear me talk for two minutes, it's very clear how serious I am about this.
---
Are we ready for a comedian in the White House?
I think people misremember the impact that comedy has on our national discourse. People need to remind themselves of the fact that we turn to comedians these days more than we turn to news anchors for our news. Why? Because we trust them more. So we should start doing the exact same thing with our politicians. Our leaders are known for lying, and being self-interested only. Comedians are known for keeping it real, and calling out hypocrisy. That's what we need now more than ever. And that's what I will bring to our government, and what I will bring to the White House.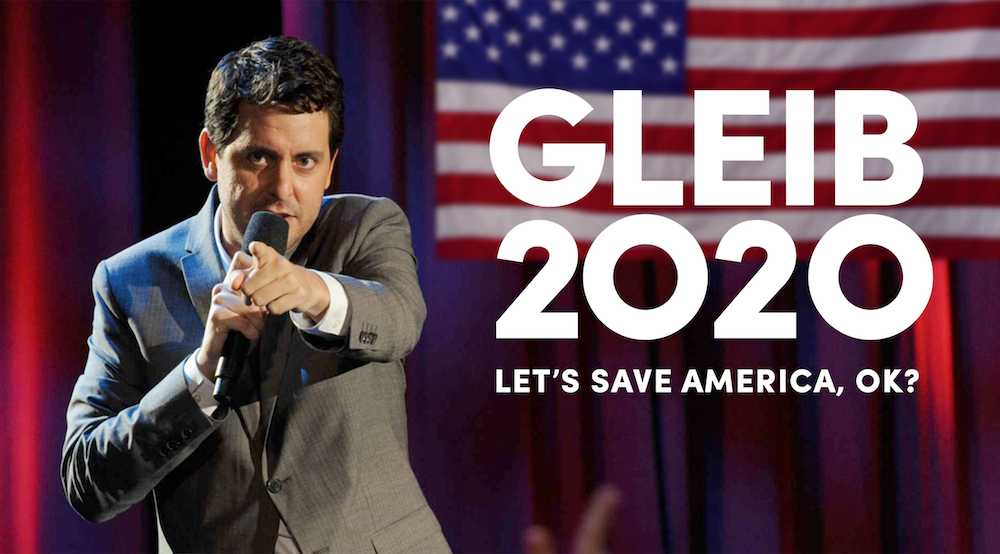 ---
What's behind your decision to go from the Hollywood Improv stage to the podium?
Two things: First, watching our democracy get eroded daily by forces that don't want ordinary people to have a voice. These forces want to tilt the balance of power and money increasingly in favor of the ultra-rich. The second is Donald Trump. I feel he's an existential crisis in our country, and we have to do all that we can to stop him. I'm not convinced that cautious, career politicians have the skills to do that. It did not work in 2016, and I don't think our country can survive four more years of Donald Trump in the White House. So, I had the thought that a comedian might be exactly what we need to beat the greatest heckler in American political history. That's what comedians do best, they take down hecklers.
---
How does "President Elect Ben Gleib" sound to you?
It sounds pretty good, man. To be able to represent this country that has given me so much, and that I love so much, would definitely be the most insane honor possible. It would be a beautiful moment, mostly because we would be putting our country back on the right track.
---
Let's talk about the issues. Do you think we've reached the tipping point with the environment? Is it too late to save the planet?
I don't think it's too late, but I do think it's the most dire issue of our time. We literally have one Earth that we can live on. Everybody keeps saying that we've got to colonize Mars to save our species. I don't know if you are aware of this fact, but we cannot breathe on Mars. No, we have to save our planet now.
---
The political right doesn't seem to have the same sense of urgency.
The way I like to frame the discussion with conservatives is like this: One of your core principle beliefs is to be prudent. Your whole philosophy is based on protecting what we currently have, the most important being Earth. You have no place to live, or shoot your guns, or enjoy all of the freedoms that you enjoy if you don't have clean air to breathe or clean water to drink. I challenge conservatives by asking them if they are tough enough to make some hard decisions. This is the fight of our lives. Let's step up. We must move toward the principles of the Green New Deal, where we get off of fossil fuels as soon as humanly possible. We need to reduce our meat consumption, and we need to try our best to get rid of single use plastics.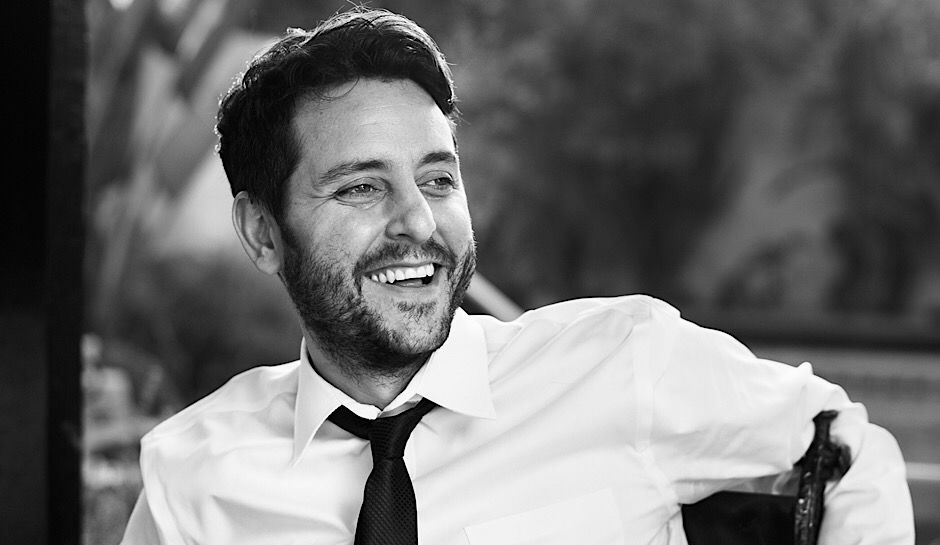 ---
What's your take on climate change?
The United Nations climate report, and the consensus of planet scientists says that we have 12 years to reverse course. That window is going to disappear quickly if we keep denying it, and if we keep voting people into our government like Jim Inhofe, who brought a snowball to the Senate floor to disprove climate change. That kind of ignorance must be voted the hell out of office.
---
On your website, you talk about not letting the robots take over, and fighting to protect American jobs from the onslaught of automation.
I think it's a scary prospect that we as a nation are not even discussing or debating whether to allow entire industries, let alone public-facing industries, to be run by robots. I personally value the human workforce. Aside from the novelty of having a burger made by a robot, which might be fun to have in one or two spots, to actually get rid of human beings being our servers, being our retail employees, being our truck drivers…I just don't think it's the right path to take. I'm not comfortable having a society where human work becomes obsolete. I think we should discuss whether we want that. If we don't, under my administration we would give large tax incentives to companies that maintain a vast majority of their output being generated by human labor. And, in the instances where jobs do have to go to robots due to the large advances in productivity that they would bring, then we would make sure to let employees participate in that, so that they still have the dignity and the benefit of participating in the work produced by the robot that might take their job. And, when their job goes away, we make sure that it's the highest priority to help them land on their feet and help them find another job, and not just let their job automate them away.
---
While we're on the political front, take me back to the 2018 mid-term elections. Where did the idea for The Telethon for America come from?
I was disappointed in our tragically low voter turnout in this country. The only way we can express our voice in our democracy is by voting. We have to use our voice. I wanted to do my part to help turn that around, especially with all of the incredibly important midterm elections that we just had. So, I decided that my goal was to try to help our country create an historic voter turnout in those midterms.
The idea came to me about seven weeks before the elections, which was in incredibly tight window of time. It normally takes six months to a year to produce a TV show of that magnitude, and requires budgets far bigger than the almost nothing that we had to work with – in fact, we actually had nothing at the time, not a penny.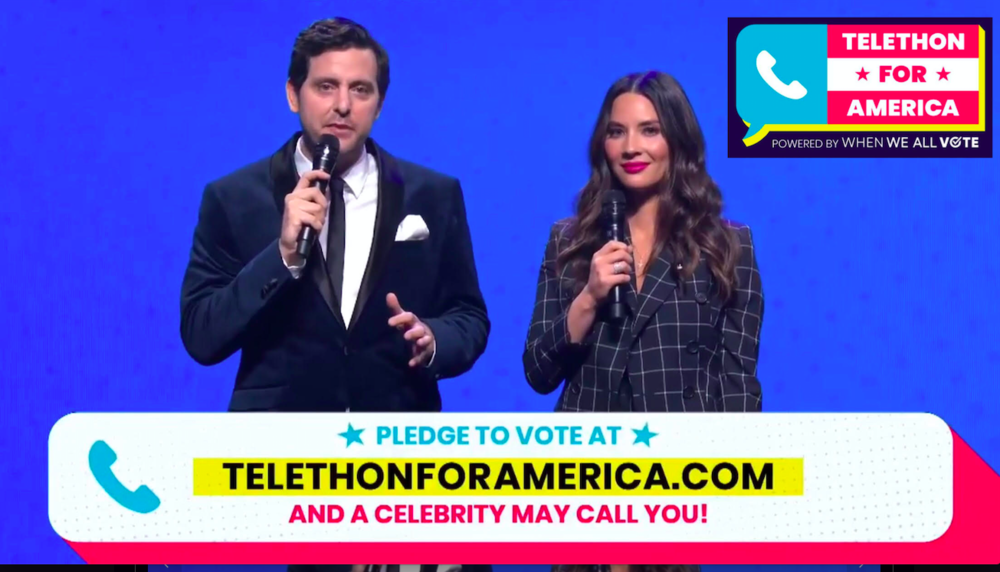 ---
How were you able to pull together The Telethon for America with very little time and no money?
It was all about trying to get people on board, so I started making calls and talking about the importance of the first telethon ever conducted with the goal of raising zero dollars. My friend and media strategist Rick Sorkin agreed first. Then I pitched the idea to Hannah Linkenhoker, who is a Senior Political Strategist at ICM Partners, and her firm wanted to be a part of it. Then a friend connected me with Michelle Obama's When We All Vote, and they partnered with us. From there we started making partnerships with other places like Comedy Central and Funny or Die. Ellen DeGeneres jumped in, and she ended up carrying it on her YouTube channel. Chelsea Handler – my old friend from Chelsea Lately – helped a great deal. I had texted her about the idea at the very beginning but didn't hear back, and then, all of a sudden, she replied and was like, "Are you still planning on doing this telethon?" She was an enormous help.
---
You wore many hats for the telethon – creator executive producer, head writer, and co-host. Where did you get the chutzpah to take all of this on?
It goes back to a pilot for a talk show hosted by Kevin Smith. The guests were Seth Rogan, Arden Myrin, and myself. Kevin and I skipped the entire wrap party and shared a joint together, and he asked me to tell him my life story. I explained that I'd spent many years producing and writing my own shows, and I had been a panelist on other people shows, and he said to me, "Well, what are you doing being a panelist on my show? You are a production guy like me. You should be doing your own thing." That's the thought that helped me take the bull by the horns and do things like The Telethon for America and The Last Week on Earth.
---
You recruited a Who's Who of A-List Hollywood actors to answer the phones.
A lot of that was Chelsea Handler. She helped us get some of our biggest names, like Charlize Theron, Jane Fonda, and Debra Messing. And then I got all of these different, amazing people that I know to participate, people like Judd Apatow, Amy Schumer, and Kevin Smith. In a bit of a coup, Olivia Munn co-hosted with me.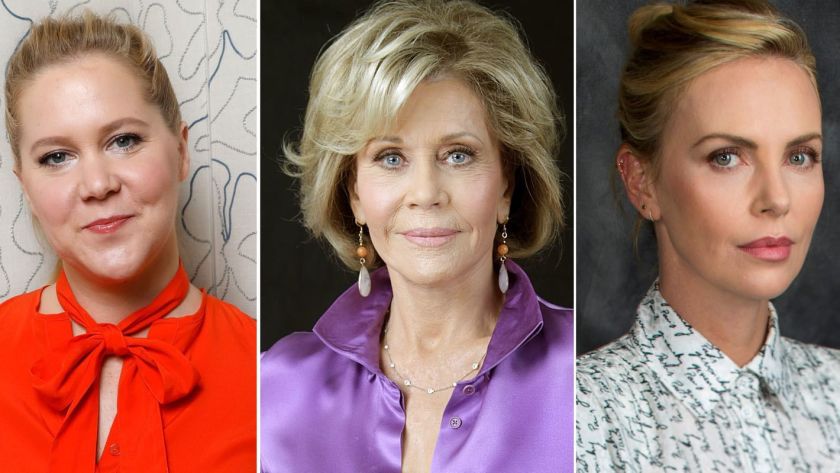 ---
That says a lot about the state of politics in this country.
I think it was such an important cause, and people care about this country so much, that we were able to get all of these amazing people to come and participate. Comedians, actors, movie stars…the response was overwhelming. We had almost one million people tune in and pledge to vote, and to form voting squads to exponentially increase the reach of those that this broadcast reached. The next day, to whatever part we played in that, America ended up having its best midterm voter turnout since 1914, and a record ever among youth. The Telethon for America is the thing that I'm most proud of doing in my entire life.
---
Last talk about Last Week on Earth with Ben Gleib. Love the podcast.
Thank you. The idea for a weekly, topical news podcast came to me because I wanted to do a show that hooked people who never really cared about the news or politics. I wanted to make it funny, dirty, and edgy, and hopefully make it appealing to people who found traditional news boring or over their head. I mentioned it to [friend and comedian] Joe Rogan. He said, "Are you sure you want to do that, buddy? It's going to be an enormous amount of work. This is one creative endeavor you can't bank." He was right. I took on an enormous amount of work, and I've been trying to do it as consistently as I can, sometimes successfully, and sometimes not, over the last eight years.
---
Did Last Week on Earth come together as quickly as The Telethon for America?
It was a gradual thing. Kevin invited me to be a guest on his own podcast, and then he asked me to co-host with him. Then he asked me if I wanted my own show on his network. I told him my idea for the show and he said, "Oh my God, The Last Week on Earth is a brilliant title. It's more brilliant than Hollywood Babylon. You've got to do it. I'll help you launch the show." And he did. It debuted at the No. 9 spot in all of iTunes comedy. I've been off and running ever since.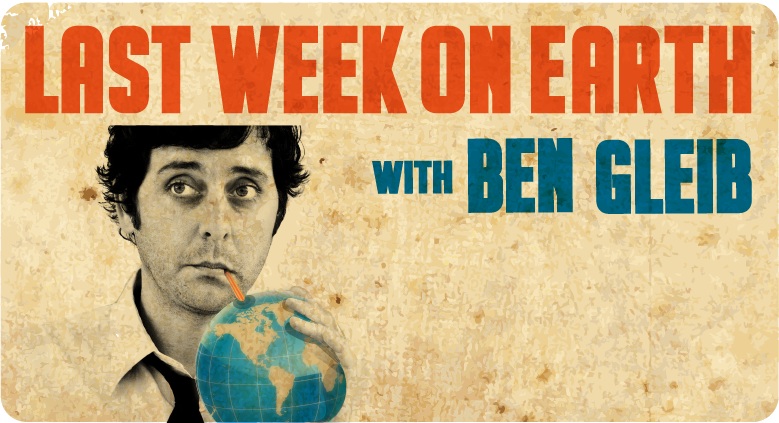 ---
Comedian/actor Wayne Federman has been a guest on your podcast. He's a friend of mine, and was my second interview on FifteenMinutesWith.
I love Wayne. He's one of the great people in this business. He made a hilarious cameo appearance in Judd Apatow's video for the telethon. Wayne is one of the loveliest people in comedy, and such a heartfelt dude. He loves basketball. I used to organize a weekly basketball game for comedians, and Wayne always showed up in his Chuck Taylors, which hasn't been used as a basketball shoes in about 300 years. But he still had a great jump shot that he was able to pull off. And little known fact – Wayne also loves to swim. He always shows up at my birthday party, and he's one of the few who actually jumps in the pool.
---
Magic Johnson has also appeared on FifteenMinutesWith. Wayne tells me that you have a story?
Growing up in L.A., Magic Johnson was my hero. I met him when I was a young boy at an event and got a photo of him – that was a huge thrill. And then, many years later, I ended up getting to play basketball with Magic, which was one of the most insane moments of my life. It was at the Sports Club/LA, which is a luxury health club in Los Angeles, and he was there one morning in the gym named after him. I ended up waiting for three games, and then I got to go in and play against Magic Johnson. Magic Johnson! I'm not physically guarding him, but at one point I set a screen that he couldn't get around, and my guy hit a three-pointer. That felt pretty good. And then, at another point, Magic got a rebound and tried to make a cross-court pass, but I reached out and got my hand on the ball. And then, on another play, Magic was the first one down court and I was the first one back on defense. I tried to stop him from driving into the hoop and he just knocked me on my butt [laughs].
After all of that came the most insane moment of my athletic life: Magic turned under the guy guarding him to make a move to the basket. I see Magic coming from down low, and I'm right under the basket. With all of my muster, I jumped as hard as I could and I blocked Magic's shot so hard that the ball flew out of bounds! I couldn't believe what had just happened – I felt on top of the world – and then Magic Johnson calls a foul. I said, "BS, that is not a foul, I got all ball!" So now I'm arguing with my sports hero over him calling a bullshit foul. I'm calling him out on it, telling him that that was a load of crap, and Magic just lets me go on and get it out of my system. Then he smiles and says, "Son, son, son, it was already a foul. Your guy fouled me, I called foul, you didn't hear me, and you smacked my ball when I was just messing around. The play was dead." We both had a big laugh over that.
---
Wayne says that you've met some of your other NBA heroes.
I ended up on an airplane seated next to Kareem. I left him alone for the whole flight, and when the flight landed I had a chance to say something to him. The movie Airplane is one of the great comedies, and Kareem of course played the co-pilot in the movie. I leaned over and said to him, "I'm pretty relieved to see that you weren't flying the plane." And without blinking, he says, "Brother, the only thing I fly on is the 405 [laughs]."
Another true story: I'm a basketball fan growing up, and Chris Webber is one of the all-time greats. I travel to New York for an appearance on the Today Show, and I'm staying at the same hotel as Charles Barkley and Chris Webber. They are both at the bar hanging out. I go up to Charles Barkley, and I tell him that he's so funny on Inside the NBA that he should be a comedian. And looks at me without smiling, and he says, "I would never do that, I don't want to work that hard." His timing and delivery were perfect. I laughed for days.
I then go over to Chris Webber, and his eyes get wide. Hey says, "Oh my God, it's the guy from Idiotest! I love you, man. Can I get a photo with you?" He's one of my favorite basketball players, and he takes a photo and tweets it out to all of his followers, and then he asks for my number and tells me he's going to keep in touch! For an NBA fan, that's a pretty insane moment.
---
Speaking of Idiotest, what was the transition to game show host like?
I didn't have to prepare for it too much. I'm a fan of TV, and I grew up on game shows. Plus, Game Show Network was very supportive of me being me. They kept saying, "Don't cut your hair, don't change who you are." I got to improvise every episode. I got to be me, to be playful and make fun of people. The hardest part was just shooting all the episodes very rapidly and wrapping my head around learning all the tests every day.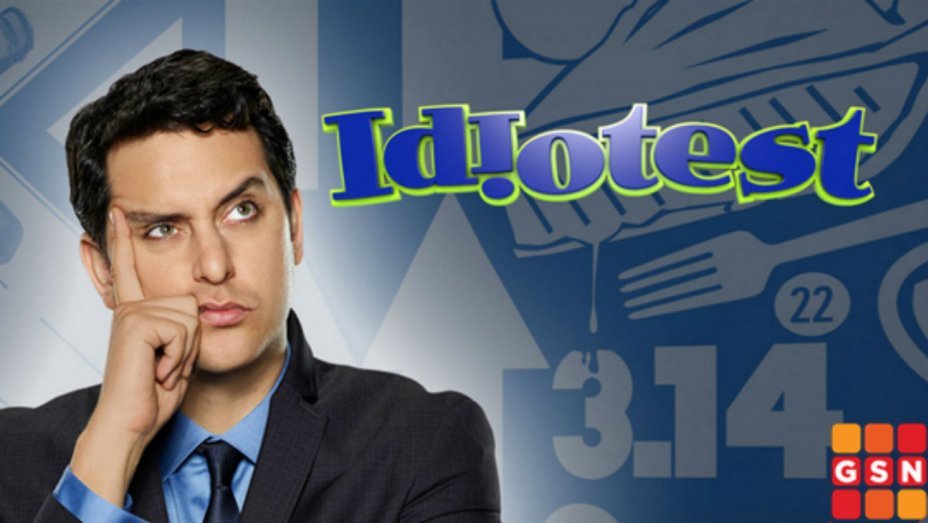 ---
Let's go back to the beginning. How old were you when you knew you wanted to do comedy?
Ever since I was five or six years old I knew that I was going to grow up to become a comedian. I just felt some weird kinship with the comics that I would see on television, and I've always viewed the world in a skewed, weird, funny way.
---
Were you the class clown?
Not really. I would do sketches as a young kid, videos for my school projects, things like that. I really wanted to do school plays all the way through high school, but I had a severe speech problem – it was a stutter, but also combined with a dysfluency where I couldn't make sounds come out of my vocal cords. Oftentimes I couldn't even say hello to a friend passing me in the hallway, so that kind of ruled out school plays. But I had such a desire to communicate and entertain that I wasn't going to let it derail my dream of being a comedian.
---
How did you get your start in comedy?
There was an opening for a radio show during my senior year of high school. I went to the station and auditioned, and I had some of my funny friends co-host with me. I figured radio would be good, because if I hit a block in my speech they could just jump in and fill the gap, and the home audience would not know that I was unable to speak at the moment. It worked out so well that the station offered me the show. I did that through the end of my senior year. The college I went to had a TV station, so I started doing it on camera.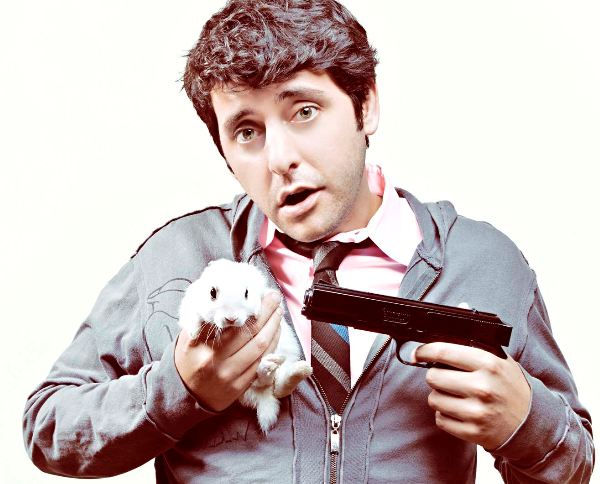 ---
Did you stutter on camera?
People were able to see me hit speech blocks and stutter on the air, so it was embarrassing, but I wanted to do it so badly that I was willing to deal with the humiliation just to get my comedy out to people. I slowly learned to conquer my speech problem, and the show ended up becoming such a big thing on campus that I started booking Hollywood guests. I ended up getting Carmen Electra my senior year. We had 3,000 students in the crowd, and the Marines brought me into my show on a tank. I was actually sponsored and paid money to do that, which still blows my mind to this day. It's one of the great thrills of my life.
---
Tell me about the transition from college TV show to standup comedian.
It turned out that I graduated with the manager of one of my Hollywood guests, who became my manager as well. So right out of the gate I was represented by the manager of people like Tom Green, Jimmy Kimmel, and Adam Corolla. That was a big head start. From there I began pursuing the business of acting, hosting, and standup comedy.
---
Did you do improv?
I was actually doing improv before I got deep into standup. I got my start with an improv troupe at a place called the Empty Stage. Kristen Wiig was in that troupe with me. She was brilliant. It was so cool to be able to perform in the same troupe as her, and then later see what she became.
---
Why the switch from improv to standup?
I began pursuing standup because it seemed more suited to my skill set. I have a unique speaking voice, and I was able to use it without having to take suggestions from the audience. And I could speak my own mind. Standup was the right decision. After two-and-a-half years of standup I was asked to perform on the Late Late Show on CBS. From there, it just all kind of spiraled. I opened for Dane Cook on his arena tour, which meant we were performing in NBA and NHL arenas all over North America. I ended up being a regular panelist on Chelsea Handler's show for seven years, and she frequently invited me to open for her in arenas and in enormous theaters. All of that from a boy who wasn't able to talk in the hallways at school. That is something that I will always be proud of.
---
And then comes your Showtime comedy special, Ben Gleib – Neurotic Gangster.
A comedian's first special is always an incredibly special thing, because it's the culmination of your entire career up until that point, boiled down into one hour. Neurotic Gangster is now available on Amazon Prime, so people are still watching it. First Neurotic Gangster, and then getting my own game show, Idiotest. It's just been amazing to see my dreams come true.
My best friend Jason thinks that I have some very unique ability to manifest my visions and make them come true almost exactly as I picture them. To whatever degree that is true, I hope that I am now able to do that with the country, because there's nothing more that I love than this country. I want to help turn our country towards the future, and to reject some of the darkness that has been unleashed recently. If my comedy and my passion can help set us on a better course, then nothing would make me happier.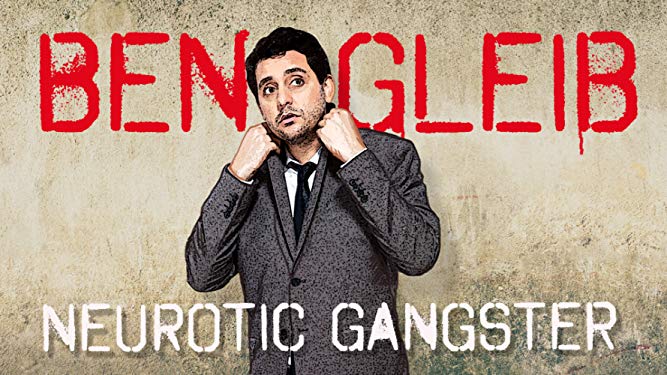 ---
How did Neurotic Gangster come together?
By the time I was offered that Showtime special I already had about three hours of material. I needed to figure out how to cull that down into one hour. And, as often seems to be the case in my life and career, I don't always get as much time to pull these things off as most people do. Normally a comic knows they have a special taping coming at least six months in advance, and they have plenty of time to prepare. I was given the opportunity and had just under three weeks to pull it together.
All of this was going on just as Idiotest premiered on the Game Show Network, and as Chelsea Lately ended. I had already planned a five-day Burning Man vacation to decompress from this great whirlwind phase of my life, and I decided to go even though the Showtime clock was ticking. When I returned to L.A., I ran the 80 minute set five times in four days. Then I went to the Lobero Theatre in Santa Barbara and did the shoot.
---
Did you film multiple shows?
No, I only had one shot to get it right. Normally, a comedian gets two attempts to record their hour. Luckily, I had the best set of my life, and that's what you see on that show.
---
How did you decide on the material for Neurotic Gangster?
Your first special is usually a best-of from your career. I brought back some old jokes that I hadn't done in a long time. Then, when the special actually came out a few months later, I decided that I was going to retire all of that material.
---
How come?
Because I want to be one of the greats. There are plenty comedians that tell the same jokes forever, but they don't become the best comedians to ever live. If you want to be known as one of the best and the most prolific, you must follow through and write new jokes. So the moment that special aired, I never told those jokes again.
---
You have a well-deserved reputation as a workaholic.
I'm very lucky that I have always had a huge amount of energy. I'm so passionate about what I do that it is very rare that I ever fall asleep at a normal hour. If I'm actually focused on something, I can stay up indefinitely. When I'm working on a project, I'm very comfortable not sleeping. I can work for 25 hours straight, sleep for three hours, and then work for another 18 hours. With The Telethon for America I barely slept those three-and-a-half weeks leading up to the event, and then I still managed to host it.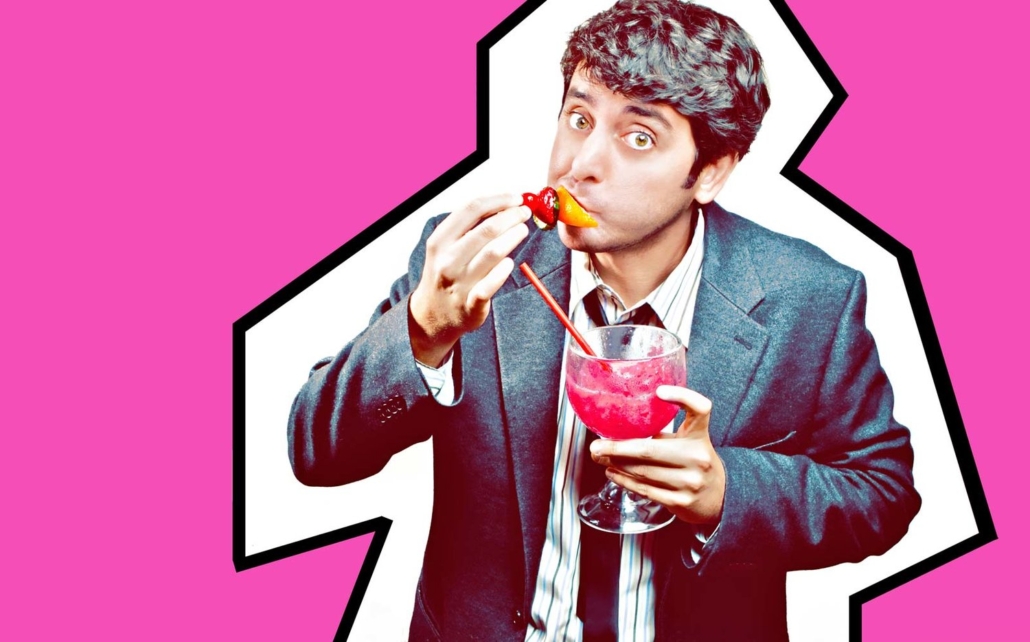 ---
That energy reserve will serve you well if elected president.
Running for president is something entirely different. I've always worked hard, but I've never done something before where I've had to burn the candle at both ends with no end in sight. It's quite a challenge. Every day there are major things that I have not yet been able to find the time to take on – important emails that I haven't been able to read or respond to, for example. I'm constantly trying to get out from behind the eight ball. I now understand why presidents go completely gray during their first term. I am 41, and just three months ago I barely had a gray hair in my head. Now all of the sudden I'm going gray. That's just a few months into campaigning, so I can't imagine what happens once you're actually in the White House.
---
Something tells me that you're okay with a few gray hairs.
The thing that keeps me going is the fact that so many people have been inspired by this campaign. I constant get messages from people telling me that they believe in what I am saying. They want me to become their president. They feel that they need someone like me to help turn the ship around. It's so humbling and moving that, if I have to sacrifice a little bit of my health or sleep in the process, then I'm more than happy to do that.
---
Tell me how your role in Ice Age: Continental Drift came about.
Getting to do voice-overs and cartoons has been one of the great surprises of my career. Growing up I loved cartoons, like most children do, but I never had a goal of being in them myself. Then, after one of my standup shows, Maureen Rose of the Osbrink Agency came up to me and said she loved my voice. She said she could see me working in cartoons, and offered to represent me. It has been a wonderful business relationship. Suddenly, I'm in these huge movies that entertain so many millions of people and children around the world, movies like Ice Age and The Book of Life. It has been a real treat for me to be able to do that. And, as an added benefit, it turns out that voice-overs pay pretty decently in terms of residual checks. Getting those residual checks on a consistent basis makes it a little bit easier to succeed in this crazy business.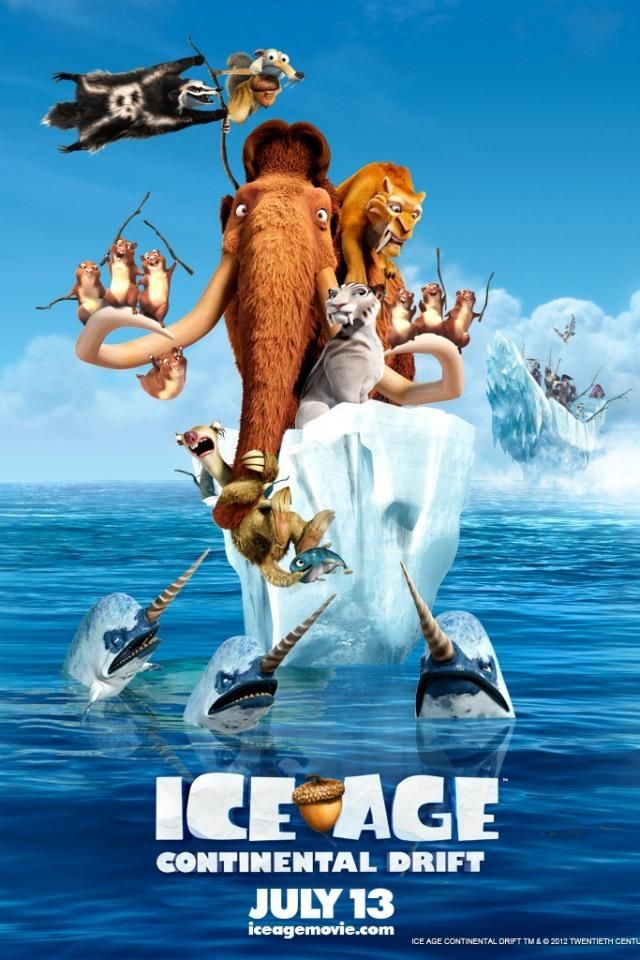 ---
You've mentioned being a frequent guest on Chelsea Lately, and you appeared on the last episode. What do you miss most about the show?
It was the time of my life doing Chelsea Lately for the last seven years. I miss the privilege of going on international television and introducing my comedy to the world. It was so immediate and unscripted and raw, and it's such a rare thing to have. Chelsea [Handler] has the fastest wit on TV; she's such a raw, honest and unforgiving person. It was a lot of fun to spar with her. And to take my fair share of abuse, which kept me humble.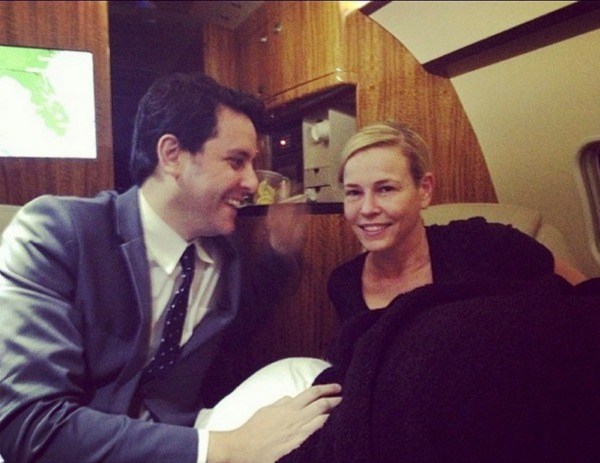 ---
Next to last question – If you had one piece of advice to give to aspiring comedians, what would that be?
The advice that I would give to any up-and-coming stand-up comedian is this: You should not do it unless you have to. You can have a hobby of making people laugh – you can do it online, you can do it on a YouTube channel – but if you're going to try to become a standup comedian, you should only do it if there is something in your soul that you cannot avoid, and you are willing to work harder than you could ever possibly imagine to make it happen.
You need to go into it with eyes wide open, knowing that becoming a comedian will not be handed to you. It is an absolute grind. You will work for years with no pay, and then when you get the pay, the pay will be horrible. You'll think it's a joke, or you'll think you're on some kind of prank show – especially when you see that check. And then you'll work many more years as a host or a feature act, making very little money. Only then, if you are lucky, will you become a part of one of the most exclusive clubs in the industry, and become a headliner comedian. Even then, you're still not going to get paid great most of the time…unless you become one of the top ten comedians on earth. If you're willing to do all of that just because you love being able to bring your weird thoughts onto a stage and give people a break from the madness of their days, then you have passed the seriousness test that I think qualifies you to give it a go as a career.
---
Last question – Is there anything you want to share with the voters? If there is anybody reading this who likes what I have to say, and agrees that we need an outside voice to challenge Donald Trump, then I ask you to go to Gleib2020.com and donate whatever you can afford. We want to keep this campaign moving and challenge the powers that be in a very needed way.
The following two tabs change content below.
A West Virginia native, Michael D. McClellan's celebrity interviews appear on his web site, FifteenMinutesWith.Com, and include Olympic heroes Mike Eruzione and Dan Jansen; Grammy winners Al Jarreau, Melissa Manchester, Keb Mo, and Big Daddy Kane; NFL Hall of Fame quarterback Jim Kelly; and NBA legends Magic Johnson, Julius Erving, and Kareem Abdul-Jabbar.
Latest posts by Michael McClellan (see all)
https://www.fifteenminuteswith.com/wp-content/uploads/2019/08/the_ben_gleib_interview.png
400
600
Michael McClellan
https://www.fifteenminuteswith.com/wp-content/uploads/2016/08/FifteenMinutesWith_NewLogoPrototype.png
Michael McClellan
2019-08-19 01:05:46
2019-09-02 01:10:31
Ben Gleib - Comic-in-Chief