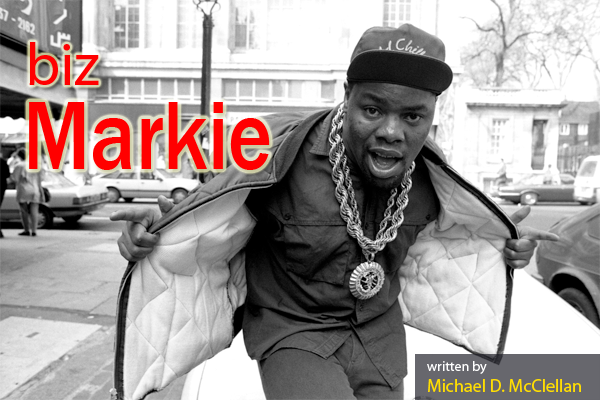 ---
Written By: Michael D. McClellan | Back in 1989, when Biz Markie belted out the line "Ohhhhh baaabbbbbyyyy youuuuu!…got what I neeeeeeed," the former Juice Crew funnyman crossed over, barging into the mainstream like that crazy uncle who shows up unexpectedly at the family reunion, his gap-toothed smile instantly relatable even if the gold chains, four-finger rings and cocked brim baseball caps spoke to a hip-hop culture most at the time didn't understand. The clowning – we turned on MTV, and there was Biz singing the chorus of Just a Friend dressed as Mozart in 18th-century clothing – made it easy to let our guard down and let him in, the same way millions of kids would do when he uncorked "Biz's Beat of the Day" on the Nick Jr. hit show, Yo Gabba Gabba!, a generation later. Biz was one of us – a little on the hefty side, happy-go-lucky, the perfect goofball to skateboard with on a lazy Saturday afternoon.
For Biz, the commercial and mainstream success of Just a Friend introduced the world to an artist whose recording career had been steadily building since the mid-'80s. His 1988 debut album, Goin' Off, featured odes about going to the mall, dances that seemed impossible, and the joys of picking boogers. He was part of the hip-hop collective Juice Crew, assembled by producer Marley Marl (on Ty Williams' Cold Chillin' label), and anchored by the group's core that included the larger-than-life spectacle that was Big Daddy Kane, the slippery tongued Masta Ace, and the profanely prickly Roxanne Shante. And his hit, Vapors, stormed Yo! MTV Raps to become one of the show's most requested songs.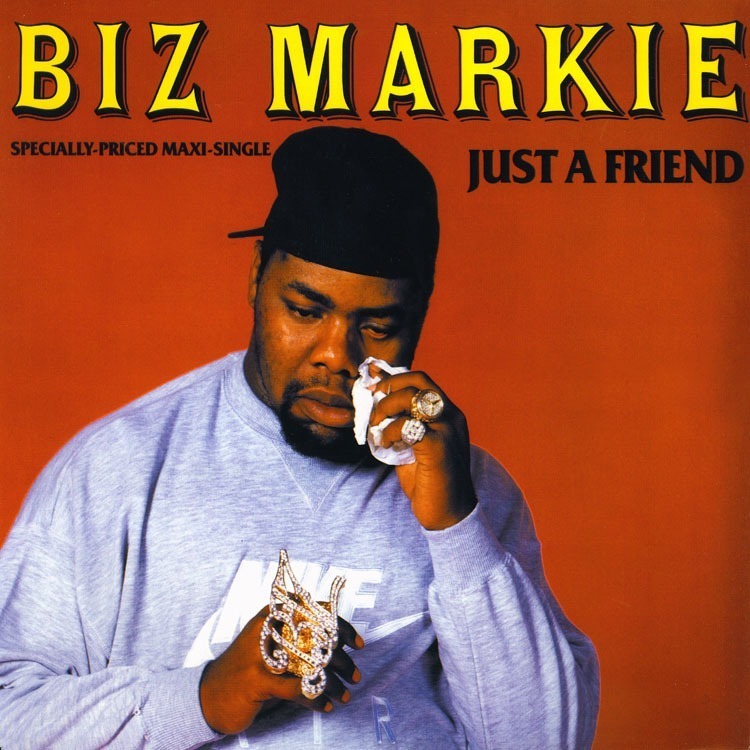 A year later came the release of his second album, The Biz Never Sleeps. The cover comically portrays the rapper as a mad scientist mixing chemicals as if he's in search of the perfect formula. With the possible exception of Will Smith, Biz Markie's comedic persona carved out unique niche in the late-'80s rap scene, just in time for Just a Friend to take off. The song peaked at #9 on the Billboard charts, becoming a one-hit wonder with an off-key chorus that everyone loved to sing, the accompanying video eventually earning Biz the nickname "The Clown Prince of Hip-Hop." The album proved almost as successful as the single, peaking at #66 on the Billboard 200 and #9 on the Top R&B/Hip-Hop Albums, respectively, on its way to certified gold status. For the Harlem-born funnyman, life at the end of the '80s was good indeed. Trouble, it turns out, was just around the corner.
~ ~ ~
When Biz Markie's third album, I Need a Haircut, dropped on August 27, 1991, the music industry was on a legal collision course over copyright infringement, with his single Alone Again soon at its epicenter. Musically, Alone Again samples several bars of the familiar piano riff from Gilbert O'Sullivan's 1972 hit, Alone Again (Naturally), and Biz sings part of O'Sullivan's hook for his own chorus. On the surface, Alone Again seemed to follow a very similar template to Just a Friend, which also riffed off a piano loop and song hook borrowed from singer-songwriter Freddie Scott. Behind the scenes though, a storm began to brew.
"Samples," Markie says with a laugh. "It was all about the samples."
When sampling technology and practices became hip-hop's musical blueprint in the late 1980s, the business and legal rules were a gray area. Since the techniques created digital copies of source material, copyright holders could argue that unauthorized sampling violated their intellectual property. Those doing the sampling could argue they were repurposing fragments of recorded music to create something entirely new. Up until 1991, disputes around whose argument carried more weight tended to be settled outside of court.
This is where Biz comes back in.
In 1991, O'Sullivan sued Markie over the Alone Again sample. The case came hot on the heels of a $1.7 million settlement between members of '60s rock group The Turtles and the rap group De La Soul, stemming from a few seconds of a Turtles' song sampled by De La. With the O'Sullivan/Markie case, one complication was that Markie and Warner Bros. initially tried to clear the sample through O'Sullivan, but when O'Sullivan declined to do so, the label released the song anyway. This set up the eventual legal showdown which, unlike the previous cases, didn't get settled out-of-court but instead ended up being decided by judge Kevin Duffy in a far-reaching decision for future sampling practices.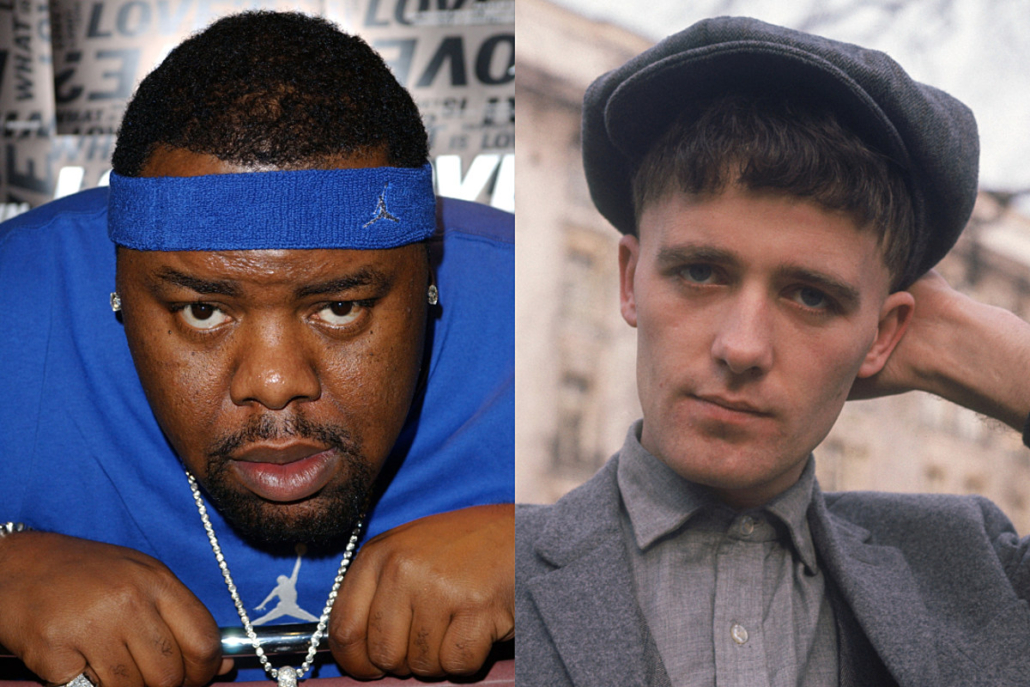 Duffy found Biz guilty of infringing on O'Sullivan's copyright, ordered the rapper to pay $250,000 in damages, barred Warner Bros. from continuing to sell either the single or album and, most astoundingly, referred the matter to criminal court on the grounds that Markie was liable for theft. That Markie was never charged is only the footnote in the bigger story. Duffy's decision permanently altered the landscape for sampling, not so much curtailing it – sampling is still rampant today – but changing the creative and business practices around it.
For Biz, his response to all this drama came two years later with All Samples Cleared!, a tongue-in-cheek swipe at the historic legal hot water he'd just navigated. The cover art finds Markie playing both judge and defendant, restaging the Duffy courtroom with a smirk. On the LP version of the album, the samples are prominently, properly included on the back cover liner notes. There are no sideways shots at either O'Sullivan or Duffy on the tracks, no "fuck you" lyrics aimed at either man. But then again, going hardcore wouldn't have been the Biz Markie way.
"Had to keep it real," he says of making his point with the cover art. "My way of laughing at the whole legal brouhaha and then moving on down the road."
~ ~ ~
The Biz has stayed plenty busy in the intervening years since. There were television appearances on In Living Color and a 1996 freestyle rap commercial on MTV2. Tight with the Beastie Boys, Biz also made guest appearances on Check Your Head (1992), Ill Communication (1994), Hello Nasty (1998), and their four-star anthology The Sounds of Science (1999).
"We had a great relationship," he says of the influential Rock and Roll Hall of Fame hip-hop group. "If they called me to do something, I was down. We never planned stuff out. We would just hang out and if stuff happened, it happened."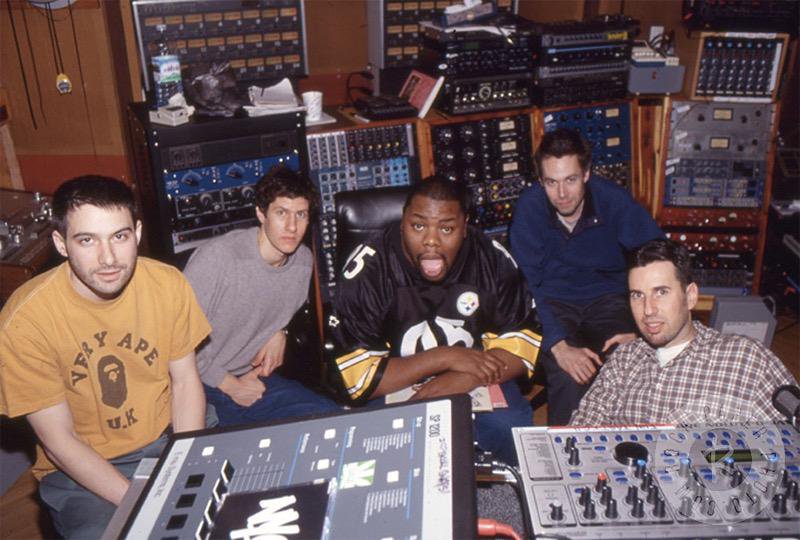 In 1996, Markie appeared on the Red Hot Organization's compilation CD, America is Dying Slowly, alongside Wu-Tang Clan, Coolio, and Fat Joe, among others. The CD, meant to raise awareness of the AIDS epidemic among African-American men, was heralded as a masterpiece by The Source magazine.
In 1997, Markie appeared on the Rolling Stones' song Anybody Seen My Baby? on their album Bridges to Babylon. In 2002, Markie appeared in Men in Black II, with Will Smith and Tommy Lee Jones, playing an alien parody of himself, whose native language sounded exactly like beatboxing. A year later he released his fifth studio album, Weekend Warrior, with tracks featuring P. Diddy and DJ Jazzy Jeff. In 2004, his song Vapors appeared on the soundtrack of Rockstar's popular video game Grand Theft Auto: San Andreas. In 2005, Biz detoured from his recording duties to appear on the first season of the television show Celebrity Fit Club, losing more weight than anybody else in the competition.
Since then, he's had the beatboxing segment on Yo Gabba Gabba!, opened for Chris Rock's No Apologies tour, deejay-ed all over the world, and continued to appear on a stream of television programming, including Spongebob Squarepants, Empire, and Black-ish.
His legal troubles long since forgotten, it turns out that it's Biz Markie who has had the last laugh.

Who inspired you?
My father is one of my musical influences. He played saxophone with Johnny Coltrane. My first exposure to hip-hop was listening to groups like the Cold Crush Brothers, Grandmaster Flash and the Furious Five, and the 'L' Brothers. The 'L' Brothers was the first cassette that I ever owned.
---
When did you know you wanted to make music for a living?
I knew that I wanted to do music since eighth grade. As soon as I heard that 'L' Brothers cassette I knew that that's what I wanted to do. I've got brothers and sisters who are doctors and lawyers and cops, but I didn't want to do that.
---
What was your family's reaction?
I got put out the house! My mom put me out the house because I chose this path, and she told me not to don't come back until I was a success. I would never do it any differently. Hip-hop or die. I can't really think about anything else. I'm self-made, I didn't follow anybody, and I did it myself. My way. My rap. That's why I always thank the fans, because the fans are the ones that said, "Yo! We like you this way! We don't like you like that one. You're not like a Rakim or a KRS-1. Be yourself, bring that comedic side out!"
---
How did you get into music?
I got my start by beat boxing when I was in my teenage years. I put on a show…I would dance, rap, do everything to keep it popping. I learned a lot from Marley Marl as far as how the studio works. I just watched everybody and tried to do the opposite of what a lot of people were doing. I learned from the whole industry. I learned from teaching myself.
I learned the most about hip-hop from the streets of New York. I still follow the rap scene because I'm a DJ, and I've been doing this for 27 years. I DJ all over the world. I've got a tour going on right now called "Decades Collide – '80s versus '90s." It's a battle between two local bands from wherever I go. They get onstage and perform, then I get on, then they get on one last time, and I close it out. It's a Live Nation tour. It's an adrenaline shot!
---
Fans love your comedic side. Do you have a favorite comedian?
Before he passed away, one of my biggest influences was Benny Hill. I met him when I went to London. He said, "Yo, you're funny like I am!" And I was like, "Yo, yes I am!"
---
How did your comedic persona come about?
My pops played every instrument, but mostly the saxophone. For me, hip-hop was different. In hip-hop, you could be whatever you wanted to be. If you know me, you know that my style is different from anybody else's style. That's how I could fit into so many other different groups. Whether I'm rocking with the Beastie Boys, or Juice Crew, I fit everywhere because my joint was happy. Being comedic comes natural. Somebody could be the straight man, more serious, and I'm coming across with a positive vibe, so my stuff was different. You saw Two and a Half Men right? Charlie is the funny man, and Allen is the straight man. Or The Odd Couple? Felix is the straight man, and Oscar is the funny man. I'm the funny man, I'm more kid oriented.
---
Speaking of kids, how did you get involved with Yo Gabba Gabba!?
Christian [Jacobs] and Scott [Schultz] were the creators and directors of the show. They were friends of mine. They wanted me to do "Dancey Dance" but my back was hurtin' and I didn't feel like doing it, so I made up "Biz's Beat of the Day" on the spot. That was in the pilot, and the response was overwhelming. The rest is history.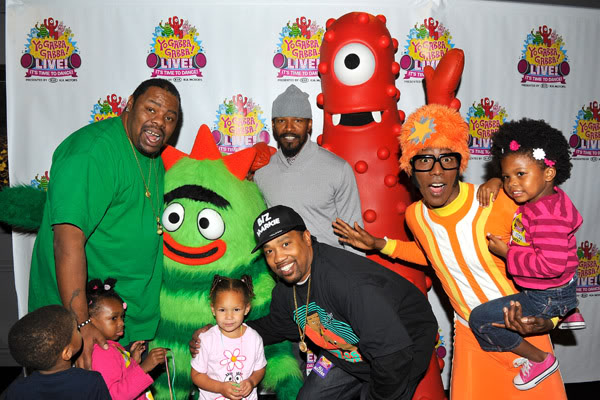 ---
What's your favorite thing about working with kids?
Just the pure excitement, and the fact that they aren't self-conscious. They're not doing stuff 'cause it's cool, they're just doing something 'cause they like it. That's what I like about kids.
---
Let's switch gears. Is it true you that you met the legendary Big Daddy Kane at a battle?
Yeah, I met Kane in Brooklyn and we rapped against each other. I heard about him around the 'hood, so I wanted to take him down. I put out the challenge, and he finally came looking for me.
---
Who won?
Yo, I did [laughs]. He didn't expect me to come at him with funny shit. Kane's style was hard and serious, but it didn't work against my style of rap. So we got down after we met and battled – back then I used to get into all kinds of parties and stuff, so he eventually rolled with me. We're still tight to this day.
---
You and Big Daddy Kane joined the hip-hop collective Juice Crew.
There will never be another Juice Crew. Ever. But I'd say that the closest thing to Juice Crew would have to be Wu-Tang. I mean, like us, they had different rhyme styles, personalities and they all rhymed about different things.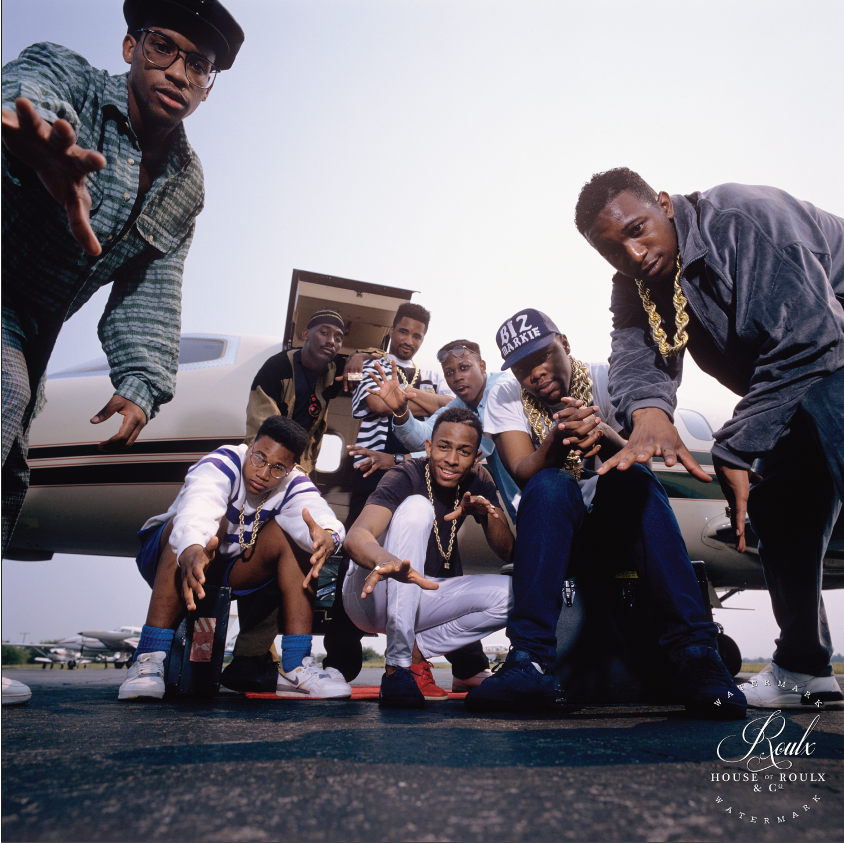 ---
Let's talk about your albums. Tell me about Goin' Off.
Goin' Off – This one was my first, so it's the one that means the most. I was just happy to make an album.
---
One of the most success songs on the album is Vapors. What's it about?
Vapors is like, you get a whiff of my success. Before I was successful, you ain't paid me the time of day. Soon as I got hot, you get a whiff of my success. So you get the vapors.
---
Your next album was The Biz Never Sleeps.
I had something to prove with my second album. This is the one that had the song Just a Friend on it.
---
Just a Friend was a monster hit!
Nobody liked that record. People thought it was whack. Even my peers were telling me not to do it, that it was garbage, but they didn't hear what I heard. I'm like, "Okay, I hear you, but I still believe in it." Even my record company dissed it, but all of a sudden it popped. It was a different story then. They looked at me, like, "Yeah!" All of a sudden they believed in it, but I knew that I was the only one there from the beginning. That's why I do things my way, and not anybody else's way. You've got to believe in yourself.
---
How'd your life change when Just A Friend blew up?
Not much changed. I just became really, really popular overnight and got more money. But otherwise I was the same and not much changed. I'm always the same dude no matter what.
---
Is it true that you actually weren't going to sing the hook on Just A Friend?
Yeah, I was tryin' to get my man (Juice Crew singer TJ) Swan but he said he was doing his album. Then I tried to get Al B Sure, and I tried to get Keith Sweat. They were both too busy doing their own stuff, so I said I'll do it. The rest is history!
---
Tell me about I Need a Haircut.
That's the album that I got sued over [laughs].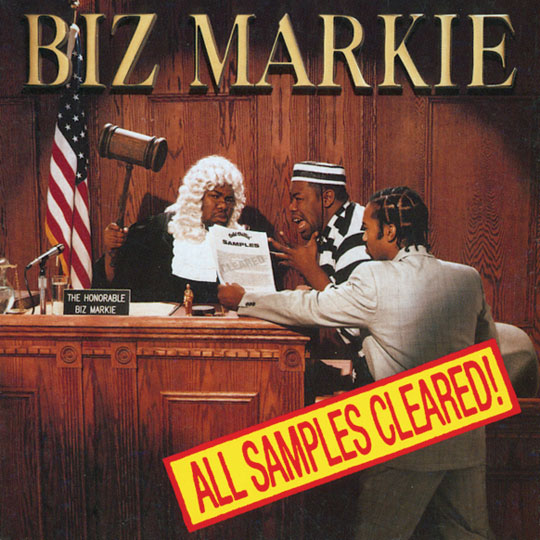 ---
Where were you when you found out about the whole court case over your sample usage?
I was driving in my car and they told me about it. Good thing is, I never even had to go to court! It was the record company's thing.
---
Were you concerned that it might hurt your career?
No. I actually didn't think it affected things much. I felt real talented then, and now too, so I would've just jumped into something else. I'm a survivor. Whatever I do, I'll always provide and survive.
---
The case affected hip-hop as a whole. Did you think it would be that monumental?
I didn't know then that it'd be that important. I just thought it was another court case. Sorta like if you got pulled over and got a traffic ticket or something [laughs]. I don't even really think about it. I know it was important, but I have to only think about the future. I did that during the case and I still do that now.
---
You've released five albums, four of them on Cold Chillin' Records. What was your main contribution to establishing Cold Chillin'?
Besides me being me, I was like a talent finder. I like to believe in people, so I put Kane on. I was always a team player and that's probably my main contribution to Cold Chillin'.
---
Let's talk basketball for a moment. You've performed at halftime of several NBA games.
I was born in Harlem. I grew up in Colonial Projects, right across the street from Rucker Park. I don't know if you've ever heard of the Rucker before, but when I was young I got a chance to see dudes like Dr. J., Earl 'The Goat' Manigault, and Kareem Abdul-Jabbar, so the NBA was always in my blood.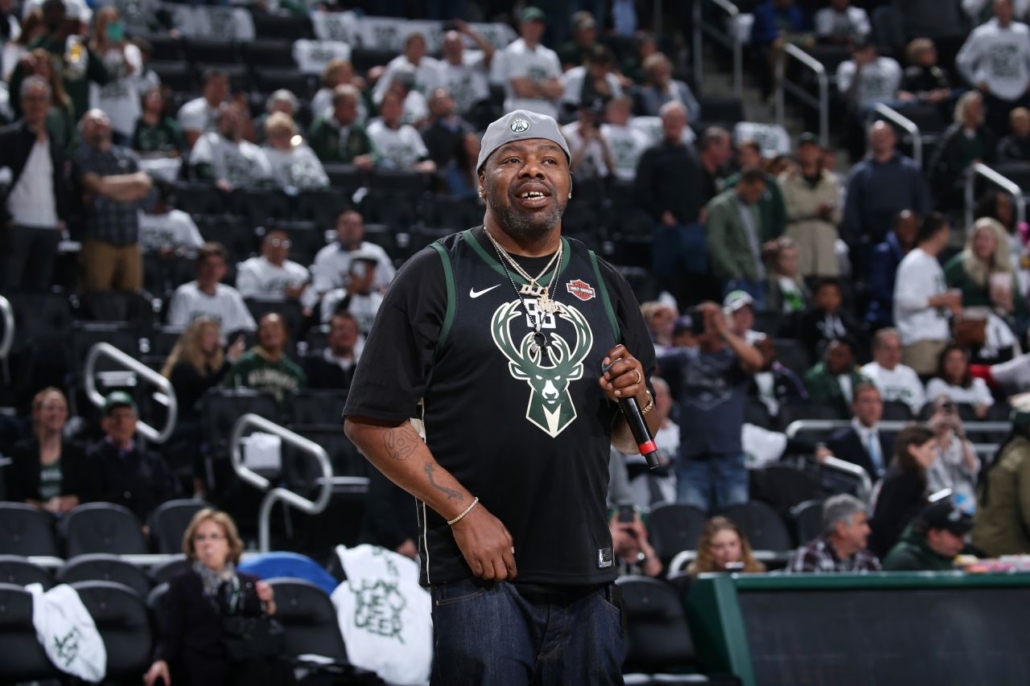 ---
Favorite NBA team?
I followed the Knicks growing up, but Kareem was from around my projects, so that's how I became a Lakers fan. The Lakers-Celtics in the '80s was a rivalry! That was my era! Larry Bird was the thorn in the Lakers' side. The whole Bird-Magic thing turned out to be one of the greatest rivalries of all time, because they could both do everything. And that whole rivalry started in college, you know what I mean? Michigan State. Indiana State. Both of those guys were incredible.
---
You're a very successful DJ. Any favorite stories jump out?
I was on tour with Will Smith – I took Jazzy Jeff's spot for a little while – and we were DJin' in London. The Queen and other royals was in the audience and they were dancin' off disco. Another time I did an Oscar party – Seinfeld, Kramer, and a whole bunch of them guys was there at the Grammy party. Wild times, bro!
---
Will Smith is another rapper with a comedic side.
Yeah, me and Will came out kinda at the same time. It's just that Will did his way of rap and I did my way of rap. I was experimenting with rhyme styles at the time, and my subjects were different.
---
Your rendition of Elton John's classic Benny and the Jets was recorded with the Beastie Boys. Tell me about that.
The way that came is me and the Beastie Boys and the Boo-Yaa T.R.I.B.E. was all playing basketball at the Beastie Boys studio. After we got done playing, one of their boys, [Money] Mark, got on the piano and they just started playing rock songs. And I was singing every rock song, songs like Jeremiah was a Bullfrog, and they were buggin' out. When they broke down Bennie and the Jets, and I just sang it.
---
You appeared on the TV show Celebrity Fit Club and set the record with a 140 pound weight loss. How was the experience of being on a reality show?
It was weird! But only because I didn't know any of the other celebrities on there. We were a bunch of strangers, really. I mean, I had seen them all on TV before. But I had to get to know them. We were honestly like a big family once we got to know each other.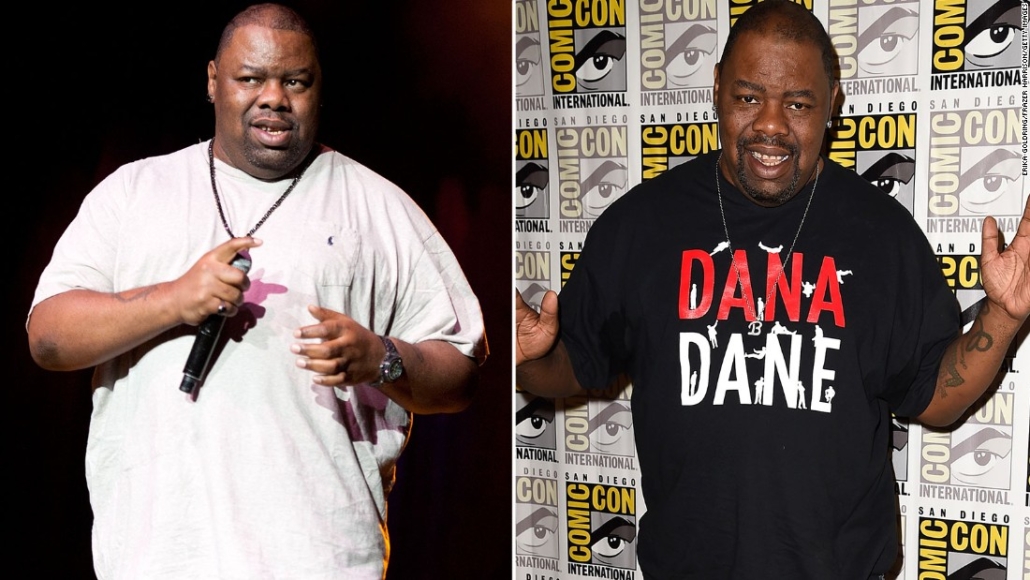 ---
You are connected to an eclectic group of acts, including The Flaming Lips.
Yeah, Flaming Lips is my boys. They're my peoples. We did two tracks. Wayne [Coyne] is super-duper creative and he's just a fun guy.
---
When you look back on your career, do you think you were a highly influential character?
Yeah. I think the way I did things were influential 'cause it's still reflected in people today. You know, the way people rap and have their pants sagging, whatever. Many little things man. Maybe I didn't invent these things, but I popularized it in many ways. I popularized a lot of things.
---
How do you see your place in pop culture?
I don't look at myself as just part of hip-hop. I look at myself as being sorta important at different times. I was always popular at school and that sorta carried over to my career. When I make a record, I don't just make it for one purpose, I do it for many different reasons. I don't think I'll be remembered for just one thing, ya know?
---
If you had one piece of life advice for others, what would that be?
Be yourself. Find yourself by yourself. When you look back, you don't want to regret copying someone, and not being authentic. Stay true to yourself. That's why I always do my stuff different. I want to be remembered for me.
https://www.fifteenminuteswith.com/wp-content/uploads/2019/05/the_biz_markie_interview.png
400
600
Michael McClellan
https://www.fifteenminuteswith.com/wp-content/uploads/2016/08/FifteenMinutesWith_NewLogoPrototype.png
Michael McClellan
2019-05-27 01:23:45
2019-06-21 17:36:07
Biz Markie - Just a Friend