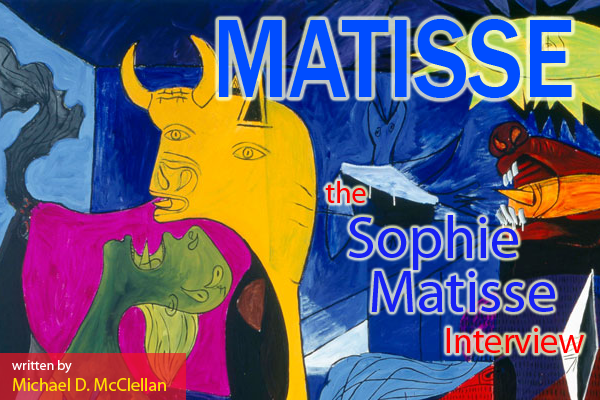 ---
By:  Michael D. McClellan | If her last name grabs hold of you, it's because Sophie Matisse is the great-granddaughter of Henri Matisse, widely regarded as the greatest colorist of the twentieth century and rivaled only by Pablo Picasso in the importance of his innovations.  Matisse's Fauvism turned convention on its head, the short-lived movement a precursor of Abstract Expressionism and much of modern art.  Many of his works, which include The Dance, Music, Blue Nude II, The Snail, and The Red Studio, are considered masterpieces.  His final project, the Chapelle du Rosaire de Vence, is considered one of the most important religious structures of the twentieth century.
Against this backdrop stands the audacious, restless mind of Sophie Matisse, a risk-taker unafraid to embrace the family name.  Born in 1965 and raised in Cambridge, Sophie studied at the Massachusetts Collage of Art and Design in Boston before moving to Paris to attend L'Ecole des Beaux-Arts, the same institution where her great-grandfather studied decades earlier.  Sophie later moved to New York City, where she gained notoriety for Be Back in 5 Minutes, the 1999 series in which she recreated famous old master paintings while erasing the figures.  Four years later, in response the World Trade Center attacks in 2001, Sophie felt moved to reiterate the message of Picasso's monochromatic Guernica by fusing it with Matisse's bold palette.  Whereas Picasso's painting is made entirely in black, white and grays (he relied upon photographs of innocent victims that he had seen in the newspapers), Sophie Matisse's rendition of the subject is in shocking color, as if Matisse had taken the liberty of "colorizing" Picasso's masterpiece.
In 2004, Sophie began a new series entitled, Zebra Stripe Paintings, once again borrowing historically significant images from art history – only this time, weaving them with her own abstract imagery through patterns of zebra stripes.
Sophie released Ribbons in 2008, a series in which she divides the surface into brightly colored interlocking shapes and introduces enlarged details from her smaller gouache paintings done years earlier.  The same year, she collaborated with Killian Hennessy, heir to the Hennessy lineage of cognac makers, providing artwork for a line of fragrances.  In 2009, Sophie painted eight chess sets of her own design as part of her exhibition, The Art of the Game.
In 2010, Sophie also participated in the New York installment of an international campaign produced by the non-profit group, Sing For Hope. The project called for sixty pianos to be placed in specific public locations in and around certain chosen cities.   Sophie painted four donated pianos. Her work was later displayed in the lobby of Avery Fisher Hall and Lincoln Center promenade before being donated to a small music school in Afghanistan and to the New York Presbyterian Hospital's Pediatric Department.
Currently, Sophie is working on a new series of small, intimate gouache works on paper in which she continues to explore the nature of life's continuously evolving perceptions. Using her own imagery coupled often with iconic commercial and luxury brand logos, words and numbers, one's attention is consistently refocused and reconfigured through the interaction of these varying vocabularies that the artist has layer out for us too, to explore.
Your grandfather was Pierre Matisse, the great American art dealer who never attempted to capitalize on the Matisse name.  Please tell me a little about Pierre.
Sophie Matisse:  I was born with a great advantage as I was also born an artist.  Pierre saw that in me.  ​Growing up, we made occasional family pilgrimages to go visit with Pierre, either in New York or in the South of France during the summer.  These visits were not always so easy​ going​ though; in fact, they were a bit stressful as Pierre was not ​the ​greatest ​conversationalist, especially during our tender​ ​childhood years.  However, he did the best he knew how but as the years drifted​, so did our conversations.
Did Pierre share many stories about Henri Matisse?
Sophie Matisse:  ​We rarely spoke of his father, Henri Matisse.  Pierre seemed more interested in what we were doing in our spare time.  Progressively, he became more interested in my artistic endeavors.  When I was attending L'Ecole des Beaux-Arts in Paris, he gave me carte blanche at the famous Lefebvre-Foinet, an art supply store in Paris – the same address Henri Matisse used to go for his art supplies.
Was Pierre critical of your art?
Sophie Matisse:  I remember when Pierre and I used to meet at his hotel when he came through Paris on his way to St. Jean Cap Ferrat, where he used to spend his summers.  He wanted to see what I was working on, so I used to bring him my sketch books.  I'll never forget how the ​quiet and anonymous ​hotel room quickly​ ​filled with a suffocating silence as he studied my drawings – were they that good or bad to merit such muteness?!  ​After what felt like years, ​he ​would graciously resume with a 'C'est tout?', which was French for 'That's all?'  Blank faced, I ​would ​stumble out various ​polite ​excuses ​while ​implying that I had a whole array of other projects going on in the atelier.  Okay, perhaps I was lying, but I had too!  Other times, when ​I​ brought him ​more books, all filled with drawings, he would comment on how ​I​ was spending too much ​money ​at the art store!  So, the few and far between encouraging comments were deeply treasured and never expected or taken for granted.
Your father is sculptor Paul Matisse, a Harvard graduate and inventor of the Kalliroscope, a device which transforms electrical current into art.
Sophie Matisse:  Ever since I can remember, my father has always had a machine shop.  He's always been deeply dedicated to learning how things work and how to fix them when they don't.  He is the most curious person I know!  This left me with a very open mind as to what was possible for me.  And I feel that this is, in part, why I had zero hesitation when essentially replicating very meticulously painted works for my first series, Be Back in 5 Minutes in the late 90's. He gave me a beautiful gift; a robust and healthy example of what is possible. Priceless.
Henri Matisse regarded his work at Chapelle du Rosaire de Vence as his masterpiece, not an insignificant statement considering some of the other works he produced.  Have you ever been there?
Sophie Matisse:  La Chapelle du Rosaire is indeed a very magical place!  It feels as though he left a part of his soul there, which he did!  The light that filters in is extraordinary, flooding the space with an invisible medicinal essence.  Every time I've stepped foot in this little chapel, I feel as though I've stepped foot into a secret parallel world from my past.  A world that existed before my time, but is part of who I am.  A truly sacred place where much is felt and little is said.
Your art has an undeniably hip vibe – a hint of Jean Michel Basquiat, a dash of Andy Warhol, with a bit of Banksy thrown in for good measure – creating a style that is uniquely your own.  You've got to be a risk taker to pull that off.
Sophie Matisse:  Yeah, I love Banksy's work!  I never thought of myself as a big or even little risk taker, but now that you've mentioned it, I can see why you think that.  A Vedic astrologer once told me that I had something in my chart that suggests that I do not like to be governed or told what to do by anyone.  Freedom, in self expression, relationships, friendships, in life in general has always been the most important element for me.  To be free, one must take risks.
Your series Back in 5 Minutes blows me away – we're talking genius, humor, a wink and a middle finger all rolled into one.  Henri Matisse's goldfish bowl – goldfishless.  The Mona Lisa, AWOL.  Dig deeper, and there is more going on than sight gags…addition by subtraction, if you will.  What inspired you to produce this series?
Sophie Matisse:  One late night, I was sitting with my husband, Alain, in our New York studio.  I was flipping through a book about all the different versions of the Mona Lisa by many different artists.  By the time I was through with the book, I was so tired and had had enough of Mona disfigurations, especially right before going to sleep!  I thought, if I were her, I would just leave!  We joked about it and then after a still moment, he said, '…you could paint that…'  I thought it was worth a try just to see what would happen. Sure enough, while working on that first painting, I began to dream of other paintings that I loved and would love to recreate without the figures.  It was funny and refreshing for me.  I could satisfy my desire to paint while escaping – momentarily – a lot of the repetitive comparisons that come with being a painter with that last name.  People are often so busy trying to identify which painting it is that they forget all about the Matisse connection!
It sounds liberating.
Sophie Matisse:  I chose any painting I wanted, because I felt that anything was possible!  I was completely free.  By removing the figures it was as though, in a way, I was creating more room for myself – I too, could squeeze into art history somehow.  There was also this tremendous satisfaction I felt by essentially 'copying' these great masters and leaving my invisible mark, so to speak.  The idea of copying anything was utterly taboo in my family, as we had the whole world copying to various degrees Matisse's work.  So, breaking that rule felt immensely liberating!  I even pushed it a bit further by painting Matisse's Goldfish.  Surely, I'm going to get shit for this, or so I thought, but much to my surprise, I got none – at least none that I'm aware of, anyway!
You've made no secret that you suffer from dyslexia.  Please tell me how you've flipped the script on this disorder, and how art has played a big part in overcoming the challenges it presents.
Sophie Matisse:  Yes, growing up with this learning disability has definitely played a role in what I decide to make.  Sometimes seeing things in their reverse has been interesting if not actually helpful.  But the short answer would be that the kind of mistakes that usually trip me up in reading, writing or mathematics tend to go unseen in my paintings and drawings.  I actually love writing too, but drawing and painting seem to come more naturally, or more often anyway.
Pop culture question – Who are some of the musicians who inspire you, and what are you listening to on your media player of choice?
Sophie Matisse:  I listen to many different artists today.  Anything from classical to vintage Tunisian songs to Fat Freddy's Drop.  There is so much out there to love!
Guernica is regarded by many as one of the greatest pieces of modern art ever produced, a statement unlike any other by an artist unlike any other.  You've re-imagined it, with the aesthetically discordant styles of Picasso and Matisse fused in a single image.  Tell me a little your inspiration behind this brilliant work.
Sophie Matisse:  My version of Picasso's Guernica was inspired by the events of September 11th, 2001.  It was never my intention to fuse Matisse and Picasso to any capacity.  Picasso never would've done his painting in color and Matisse never would've made a painting about war.  My inspiration for the kind of colors I used came from how I see television colors – bright and brash.  And even though the colors I ended up using all came from natural sources, the effect feels to me, more artificial – similar to how I felt about the times we were living in lower Manhattan, and about the kind of information we were being fed at the time.  The paint I used was actually exactly what I was imagining and hoping to find to make the painting, and by pure chance, I came from a paint store here in New York called Guerra Paint & Pigment.  How weird is that!
You mentioned September 11, 2001.  Take me back.
Sophie Matisse:  I remember after 911, I was very scared that somehow life as I knew it would never be the same and that making art was something I might not ever do again.  That may sound pretty extreme, but it just goes to show how unstable I was at that time.  For a short time post 911, at the end of each day, I was always a bit surprised and relieved that we had lived another day.  Obviously, it was a difficult time and I was always convinced that we were all on the verge of getting attacked again and that I wouldn't be so lucky to survive it this time.
How did 911 influence you as an artist?
Sophie Matisse:  My father wasn't a huge fan of Picasso and I naturally followed his lead, even though I admired some of Picasso's work.  In those first years after 911, I began to rethink my attitudes in general including the ones I had for Picasso, as I began to see pictures of his Guernica appearing in the news.  Colin Powell gave a speech at the UN in favor of going to war in front of a covered tapestry of Picasso's Guernica.  Three guesses why it was covered!  I finally decided to recreate this painting in very bright and powerful colors – this, as a "Matisse."  It was risky, but totally worth it.  People often think, since it's very colorful that I painted it to look as though Matisse had done it, but that couldn't be further from the truth!  My colors looked nothing like Matisse's.  It's not just because it was "colorful" that it looks like Matisse colors.
Picasso and Matisse had a rivalry all their own.
Sophie Matisse:  Well, that rivalry wasn't really discussed much in my family.  We didn't even talk a lot about Matisse, and Picasso was like some foreign element that came from some other planet – certainly not ours – and this was made clear whenever the topic came up.  It was only much later that I began to take a closer look into their relationship.  They had their own closed circuit ties and all the fuss about the rivalry perhaps existed to some extent, but more importantly there was a tremendous respect they shared towards each other, and I think that's more interesting to think about when contemplating their art.
Zebra Stripes – It takes balls to pull something like this off, and you do so brilliantly, displaying a remarkable ability to fuse highly diverse images in an aesthetically compatible format.
Sophie Matisse:  The patterns you see in a zebra hide reminded me of a labyrinth or a mystical maze.  There are certain very simple things I love to just look at and contemplate.  The sky is my big favorite these days, the way natural light fills a room, shadows through trees, river water, all kinds of things.  So, the black and white aspect got me thinking about opposites or what I perceive as opposites.  Mixing my imagery with another artist's was interesting for this reason.  I've always felt like a bit of an outsider in the art world. Where do I fit in with a name like mine?  Splicing up known imagery and somehow fitting them back together with my own was an interesting exercise!"
Please tell me a little about your step-grandfather, Marcel Duchamp, a giant in his own right, and someone who, along with Picasso and Matisse, helped push modern art to new heights.
Sophie Matisse:  Marcel always had a truly wonderful and accepting presence in our family growing up.  He was, for me anyway, like the anti-Matisse.  Even though they ultimately shared a ferocious appetite for artistic freedom, they certainly expressed it in vastly different ways.
When I was little, Matisse had a heavy and formal presence.  All the pictures of him were in black and white, either formal portraits or informal family snapshots, but they all were of a stiff looking man that basically came across as kind of scary.  And all the photos of Marcel, on the other hand, were much softer, but it was also how my father spoke of Marcel that left such a deep impression on me.  I think, for my father, Marcel was a man who lived his life in a very simple way and was very unimposing in our family and his friends around him.  He lived a freedom and that was the name of his game.  Yet, Matisse was indeed pretty much the polar opposite.  He was my father's grandfather and of a very different generation obviously.  The old French family ways of doing things were rigid and unforgiving.  There was only one way to do things and you better get it right the first time!  Marcel was French too, of course, but was of his own school.  Both these men were introduced to me by my father's recounting of them and various family stories.  Marcel was a fresh lovely breeze to hear about in comparison to Henri and it was this that came across to me very clearly.
Ribbons and It's Time – Please share with me some of the things going on in your life at the time of working on these collections.
Sophie Matisse:  The succession of the Ribbon and then the It's Time series was a very interesting phenomenal coincidence!  At that time, I wanted to weed out the old imagery in my work and start using more canvas real-estate for my own abstract work.  This lead me to fitting the any old art references onto a single ribbon splashed across the canvas as if in flight or blowing away.  I liked this because it was somehow lighter and seemed coherent with my desire to not always be so locked up in the old historical imagery.  Also, the slivers that I chose were very intentional and I totally loved the transformative quality it took on.  For instance, since the ribbons gave such a such a tiny glimpse of the historical reference, it totally changes the thought process that we would normally have for that painting when we see it in its entirety.  Once I noticed this, I began to choose other imagery from magazines, such as, perfume ads, fashion pictures and even a candy wrapper.  If you take a glance at Smok'n, for instance, you'll see a plain vertical strip revealing a young woman's face.  The reference for that face is actually from a portrait painting by Jean-Auguste Dominique Ingres, Portrait of Madame Ingres, which depicts his second wife, Delphine Ramel.  My version suggests a young seductive lady…but when you see the original…wow, what a difference!  But I think that's important, to be able to see and understand people by being able to use different filters.
Congrats on your work with Killian – I love what you've done with the hand-painted bottles!
Sophie Matisse:  Thank you!  Yes, the bottles, or "flacons" as we became used to referring to them as, were magical.  I hand painted 50 bottles, each with its own unique design.  I painted them at one of the most difficult times of my life.  My husband at the time, Alain Jacquet, had just been diagnosed with esophageal cancer and unbeknownst to us, had only a few months left to live.  I never allowed myself to feel anything other than optimism, praying this could help pull us through, and it certainly did pull us through, but not in the way I had expected.  In retrospect, maybe it was this kind of energy that came through in the bottles – the designs were raw and real and people went crazy for them.
The hand painted chess sets and pianos…something tells me that Henri Matisse would be pleased.  Did you have fun on these projects?
Sophie Matisse:  Oh yes!  I was a very happy camper painting all the pianos for Sing For Hope.  That was great!  I love painting big objects and will go back to that in some capacity one day soon, I hope.  The chess boards too…they were great fun!  In fact, I'm just finishing up three different chess sets for Purling London who sells artist's luxury chess sets in London, they sell them at Harrods.
Let's talk about putting yourself out there – what's it like to have a collection on exhibit?  Do you get nervous?  Is there any angst over what an art critic might write about something that is so deeply personal to you?
Sophie Matisse:  I'd really prefer to say that I don't get nervous before a show or that it doesn't matter what critics say, but in the real world, I'm not so sure that position is super common.  Of course, it's important what people say, it's a conversation after all!  Some critics are super slanted, we all know that, but there is such things as intelligent and insightful criticism too – which I really appreciate.
What are some of your favorite things to do for fun?
Sophie Matisse:  What do I do for fun?  Well, aside from painting, I love learning to write and speak Arabic because I really, really, really love it!  I love writing it!  Also, learning a new language is fun.  Plus, my beautiful husband, Amar, is Tunisian, so of course I'm not only in love with him, but also his language.  And I like solving chess problems and playing Backgammon and looking at the sky!   And I love being with animals too…maybe I'll stop while I'm ahead…I love a lot of things, even just breathing!
Where do you like to hang when you're in France?
Sophie Matisse:  Paris is a very beautiful place to be, the older parts I prefer. Also the South of France is a great destination!
Last question – If you have piece of life advice to pass on to others, what would that be?
Sophie Matisse:  Advice?  See the world around and within you, and always comment from your heart.
http://www.fifteenminuteswith.com/wp-content/uploads/2018/01/the_sophie_matisse_interview.png
400
600
Michael McClellan
http://www.fifteenminuteswith.com/wp-content/uploads/2016/08/FifteenMinutesWith_NewLogoPrototype.png
Michael McClellan
2018-01-24 21:52:59
2018-01-29 03:25:04
Sophie Matisse - Name Brand