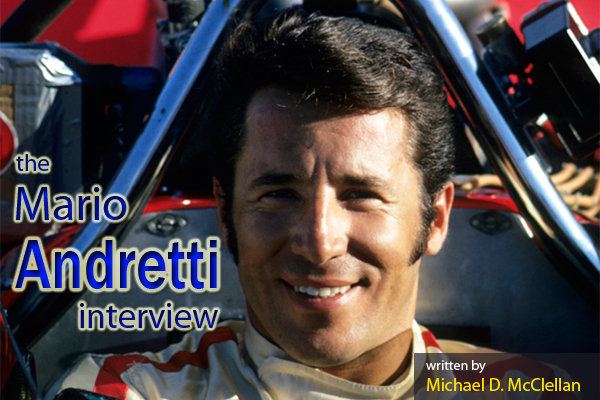 Written By: Michael D. McClellan | Picasso once said that where others have seen what is and asked why, Picasso himself saw what could be and asked why not. He backed up this bold proclamation by ripping apart conventional art and giving us the jaw-dropping Les Demoiselles d'Avignon. Gone were the whimsical figures and haunting landscapes of his Rose Period, replaced instead with ugly, angular women rising from jagged fragments of shattered glass. Rather than painting to imitate nature, Picasso abandoned 600 years of artistic refinement to produce his signature masterpiece, emerging with what is considered the rupture moment between the art of the past and the art of the future. As it turns out, Picasso was just getting started. He soon took a (figurative) sledgehammer to centuries of pictorial art and introduced the world to Cubism, said to be the most momentous innovation in art since the development of perspective. The stream of masterpieces that flowed through Picasso during his lifetime – works that include Le Rêve, The Weeping Woman, and Guernica – validated his genius and secured his place among the greatest artists to ever live.
Which brings us to Mario Andretti. There have been racing legends before Andretti, trailblazers like Alberto Ascari and Stirling Moss who helped legitimize Formula One racing during its infancy, and there have been stars who have come after Andretti, charismatic drivers like Lewis Hamilton who have elevated the sport into a different stratosphere. In between is a prolific, groundbreaking body of work by a man whose name, like Picasso's, is deeply ingrained in popular culture. If something goes awry, it's said to have gone a bit 'Picasso.' If you 'Drive it like Andretti,' you're the unquestioned alpha at whatever it is that you do. Jay-Z Jay compares his own fame to that of the prolific painter and sculptor, rapping, "What's it gonna take/For me to go/For y'all to see/I'm the modern day Pablo/Picasso baby." A Tribe Called Quest raps, "See, lyrically I'm Mario Andretti on the MOMO/Ludicrously speedy, or infectious with the slow-mo/Heard me in the eighties, J.B.'s on 'The Promo.'"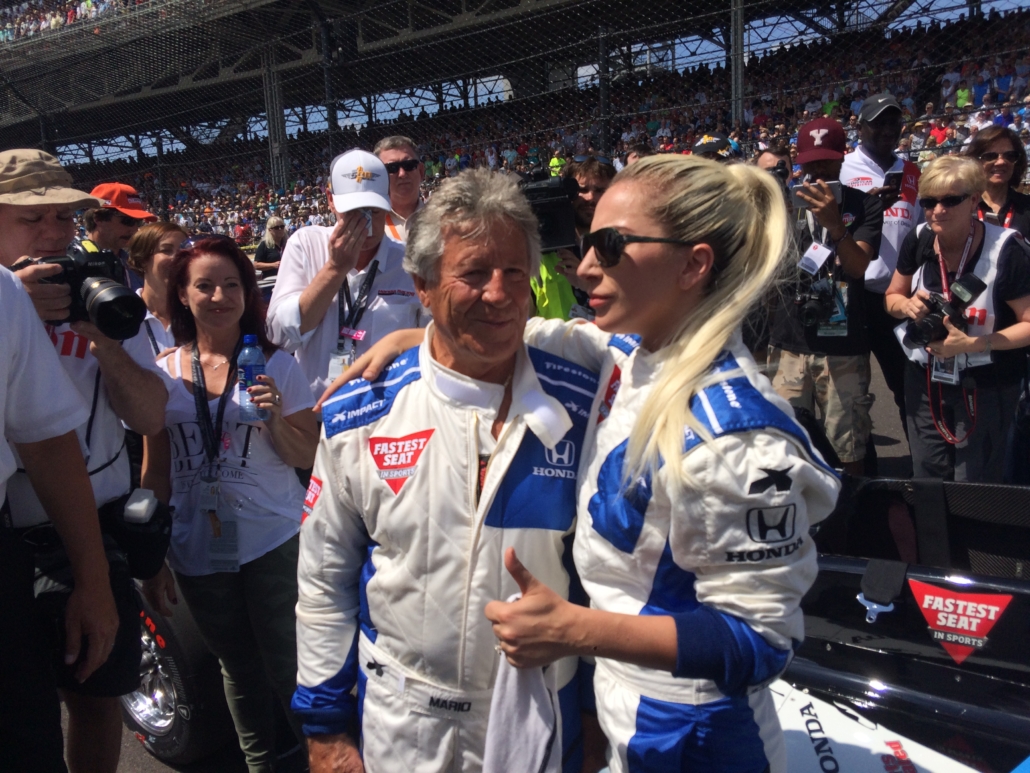 ---
You can't counterfeit that kind of street cred. It's a binary proposition, ones or zeros, on or off. Some of us have it. Some of us don't. And while there's no magic formula, the ingredients include crazy amounts of God-given talent, a tireless work ethic, a magnetic personality, boundless drive, utter fearlessness, and insatiable curiosity. Check those boxes, mix with good fortune, and you might have an infinitesimal shot at someday being the next Mozart, the next Michael Jackson, the next Tiger Woods.
Maybe.
Which brings us back to Mario Andretti. Andretti's place in our lexicon is long since secure, but his journey from the Italian hillside village of Montona to auto racing's summit is anything but a straight line affair. There are plenty of detours and pit stops along the way, anxious moments when the dream seems an unobtainable figment of his imagination. Who could blame him if doubt creeped in? Formula One boasted sophisticated cars driven by men like Ascari and Moss on famous tracks like Monza. The Andretti's lived in a village on a hill. There were no automobiles to speak of in Montona, only horses and buggies and bicycles. And then the war came, and with it hardline communism. A converted monastery in Lucca provided a safe haven, but it did little to propel the dream. Who reaches racing's summit after fleeing to a refugee camp with only the belongings that can be carried and the clothes on your back? Who has time to dream in a place where bed sheets are all that separate the living spaces of complete strangers, and where there is no running water in your space…only water that you would go and get and carry in?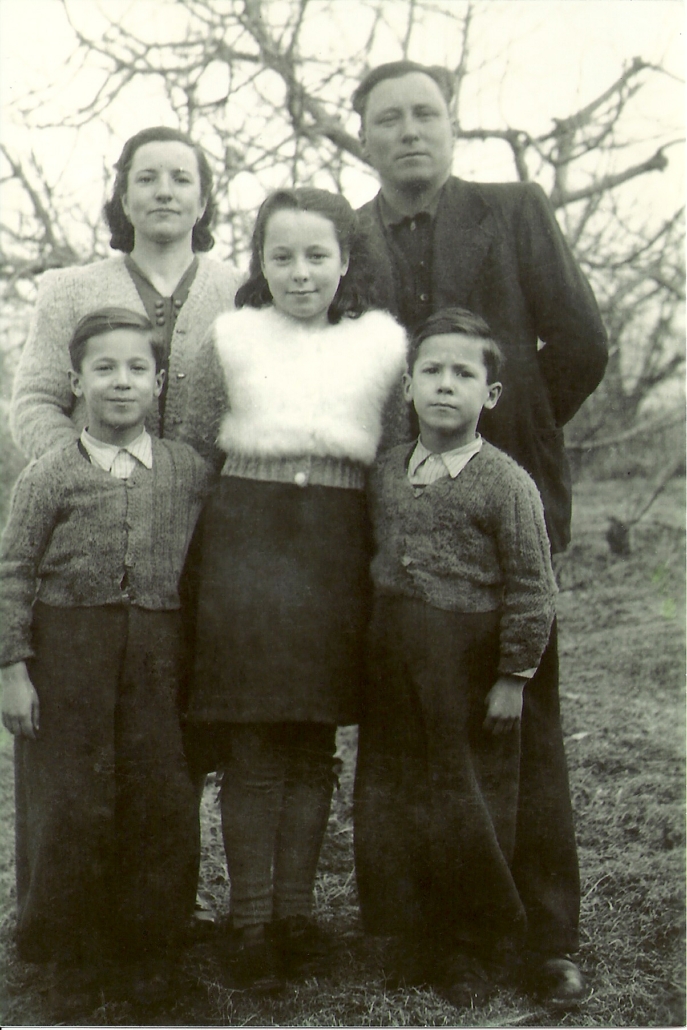 ---
Still, Andretti dreamed. He and his twin brother, Aldo, had careened recklessly down that steep Montona hillside in a four-wheeled cart constructed by a neighbor who was a carpenter, terrorizing the old ladies unlucky enough to be in the wrong place at the wrong time. Then, in Lucca, the brothers befriended the owners of a small parking garage on the edge of town, where they were eventually given the responsibility of parking cars.
They were twelve at the time.
As close as brothers could be, Mario and Aldo were equally consumed by the same dream, holding steadfast to the belief that one day the racing gods would reward them for their faithfulness and make them race car drivers. Then, in 1954, the two guys who owned the parking garage took them to Monza, where they got their first real taste of Formula One, and where they got to see their hero, Ascari, in his red Ferrari 625. Ascari was a revelation. While the sight of their driver battling in the corners thrilled the brothers to no end, the gulf between watching the Italian Grand Prix and racing in it seemed as vast as the distance between the Earth and the Sun. That distance only seemed greater a year later, when their father, Alvise Andretti, announced that he was emigrating his family to the United States. Little did anyone realize it then, but that move would provide young Mario with his missing ingredient.
Good fortune was about to play its part.
~ ~ ~
In 1955, the Andrettis arrived in Nazareth, Pennsylvania, with just $125 to their name. It had taken three full years for Alvise to obtain the necessary visas to make the move, a requirement of which was gainful employment. Alvise's brother-in-law, who had lived in the United States for many years, lined up a factory job in Pennsylvania's Lehigh Valley, and by June the family had started their new lives in America.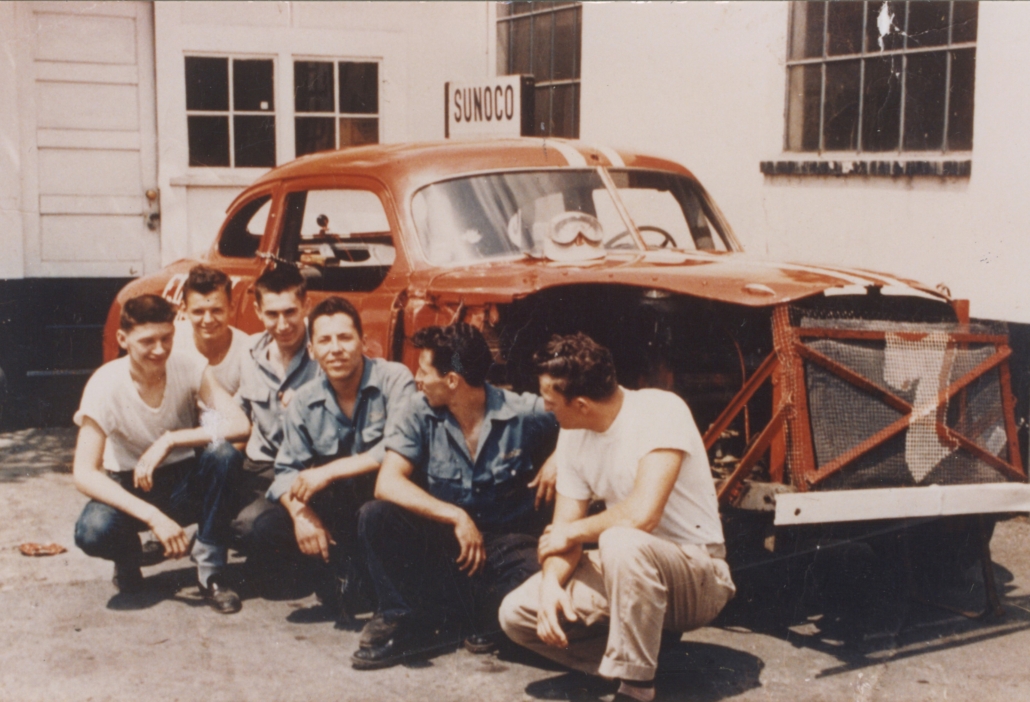 ---
The Andrettis were visiting the brother-in-law a few days later when lights from a nearby fairground flooded the night sky. Soon the roar of engines could be heard. The brothers ran the mile-and-a-half to the fairground, watching slack-jawed through the fence as brutish-looking modifieds chewed their way around the dirt oval. In many ways the spectacle seemed prehistoric, even for the times, but to the brothers it was a scene straight from heaven. They were only 15 at the time – a full six years away from the legal driving age – but that didn't matter one bit. Like everything else in Mario Andretti's world, he was about to stomp hard on the accelerator and go full throttle toward the dream.
~ ~ ~
After two years of careful planning, Mario and Aldo had assembled a team of high school classmates, taken out a loan, purchased a car, and then set out to make that car as competitive as it could be on that half-mile dirt track in Nazareth. By the age of 19, that car – a 1948 Hudson Hornet Sportsman – was ready to race. Problem was, the brothers were two years too young to drive.
For Mario, the way around this problem was simple: Lies and forgery.
Boyish in looks and smallish of stature, the brothers concocted an elaborate, bullshit backstory that included racing Formula Junior in Italy. A couple of fake driver's licenses later, and they were suddenly street legal. Sure, eyebrows were raised, but how do you fact check a story like that from Nazareth, circa 1959?
Just like that, Mario and Aldo were cleared to race.
Nothing would ever be the same again.
~ ~ ~
They took turns racing the Hudson. A coin flip determined that Aldo got to drive first and he went out and won his race. Mario, not to be outdone, won in his debut a week later. The celebrations stayed between them, because their father didn't have a clue as to what was going on.
He'd tan their hides if he did.
~ ~ ~
Everything was going according to plan until a vicious crash at Hatfield Speedway left Aldo in a coma and a priest reading him his last rites. It's the kind of thing you can't keep secret. As Mario remembers it, Alvise, who spoke very little English, let the palm of his hand communicate with Mario's backside. Miraculously, Aldo emerged from the coma with his cognition intact, and by then Mario was already at work on a replacement car.
~ ~ ~
Mario at full throttle?
It goes something like this: Mario registered 21 modified stock car wins in 46 races in 1960 and 1961, his reputation growing with each victory. Soon he found himself moving from stock cars to midgets to sprint cars and back again. In 1964, he made his Champ Car open wheel debut on April 19, 1964 at the New Jersey State Fairgrounds in Trenton, New Jersey. Andretti finished eleventh in the USAC National Championship that season.
In 1965, Mario ran his first Indianapolis 500. He qualified fourth and finished third, winning Rookie of the Year, and in the pit lane he met Colin Chapman, the founder of Lotus Cars. A conversation ensued, during which Andretti explained to Chapman that his sights were set on Formula One. Chapman promised him a car as soon as he was ready. That season Andretti beat A.J. Foyt to become the youngest-ever national champion at age 25. He repeated as national champion in '66, winning 8 of 15 events. By then he was racing anything and everything, on any surface anywhere, and under any conditions. In total, Andretti drove 14 different cars in 51 races in 1966, taking 14 victories in four of them. He ran in NASCAR and Can-Am, too, while still pursuing a full Champ Car schedule and racing midgets on dirt if he had a free weekend.
In 1967, Andretti finished second overall at the end of the IndyCar season, but he made his biggest noise by winning the biggest NASCAR race of all, the Daytona 500. The win was lauded by everyone except NASCAR purists, who couldn't comprehend how an open wheel driver could take the top prize in their sport. Andretti was named Driver of the Year.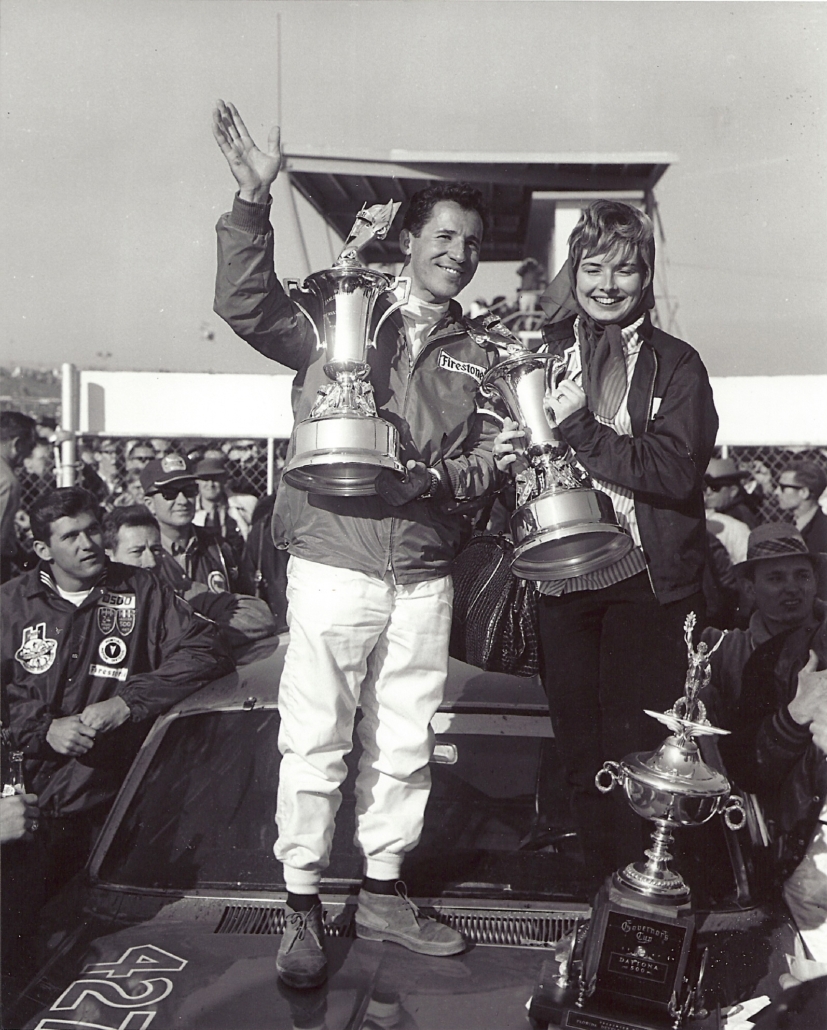 ---
"Those guys didn't like an open-wheeler coming down and beating them," Andretti says with a laugh. "The next day, the newspaper headline said: 'All of Dixie Mourns Andretti Victory.'"
In 1968, three years after their meeting at Indy, Andretti made that call to Chapman. He tested the Lotus 49 at Monza, where 14 years before he'd pressed his nose to the fence to cheer on Ascari. As unthinkable as it might sound, Andretti took the pole position in his debut at the 1968 United States Grand Prix at Watkins Glen.
A year later, in 1969, Andretti won his third national championship in a season that included the crown jewel of IndyCar – the Indianapolis 500. This win didn't come easily. Andretti crashed car owner Andy Granatelli's new four-wheel-drive Lotus in practice, forcing co-chief mechanics Clint Brawner and Jim McGee to hastily prepare an old Hawk chassis. Andretti qualified it in the middle of the front row. This win was especially satisfying considering Mario's spate of bad luck at Indy, a run that had some calling it the "Andretti Curse." In '66, he'd placed his car on pole, only to blow a cylinder after a few laps; in '67, a slipping clutch doomed his chances; in '68, it was engine failure that sent him packing. On this day, there was no curse. Andretti led 116 of the 200 laps, beating runner-up Dan Gurney to the finish line by 2:13:03. After the race was over, Granatelli planted a now-famous kiss on Andretti's cheek.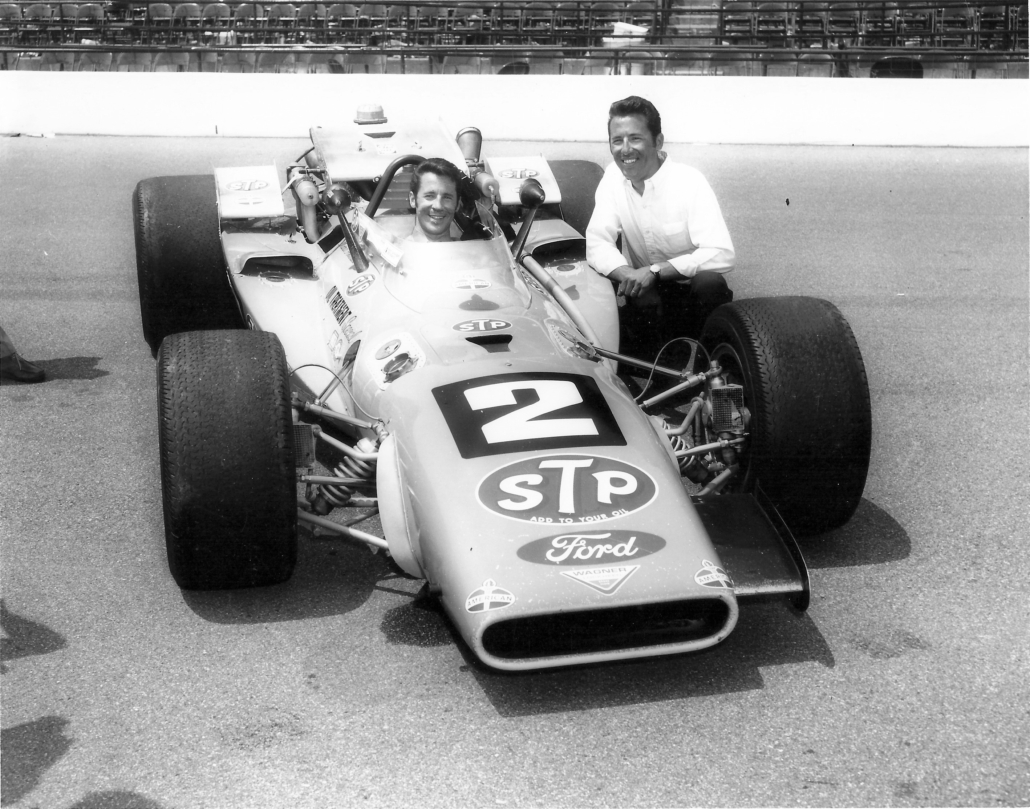 ---
"It was a happy moment," Andretti says. "I remember that big kiss from Andy Granatelli. I can still smell the garlic [laughs]. I knew how much it meant to Andy, because he only cared about Indianapolis. It was everything to him. To be able to do it for him after all the glitches was very special."
As the 1970s rolled around, Andretti continued a mind-boggled racing schedule that included grand prix, USAC dirt races, and endurance sports car races. He drove a Ford GT40 at the 24 Hours of Le Mans. He won the 12 Hours of Sebring three times in six years. In 1974 he was named the United States Auto Club National Dirt Track Champion. In 1975 he plunged into Formula One full-time; three years later he won 6 grand prix events on his way to the 1978 Formula One World Championship. In becoming the first (and still only) driver to ever win the Daytona 500, the Indianapolis 500, and a Formula One Championship, Andretti was honored with his second Driver of the Year Award.
In 1984, Andretti won his fourth national championship and was again named Driver of the Year Award, making him the only driver to win that prestigious award in three different decades.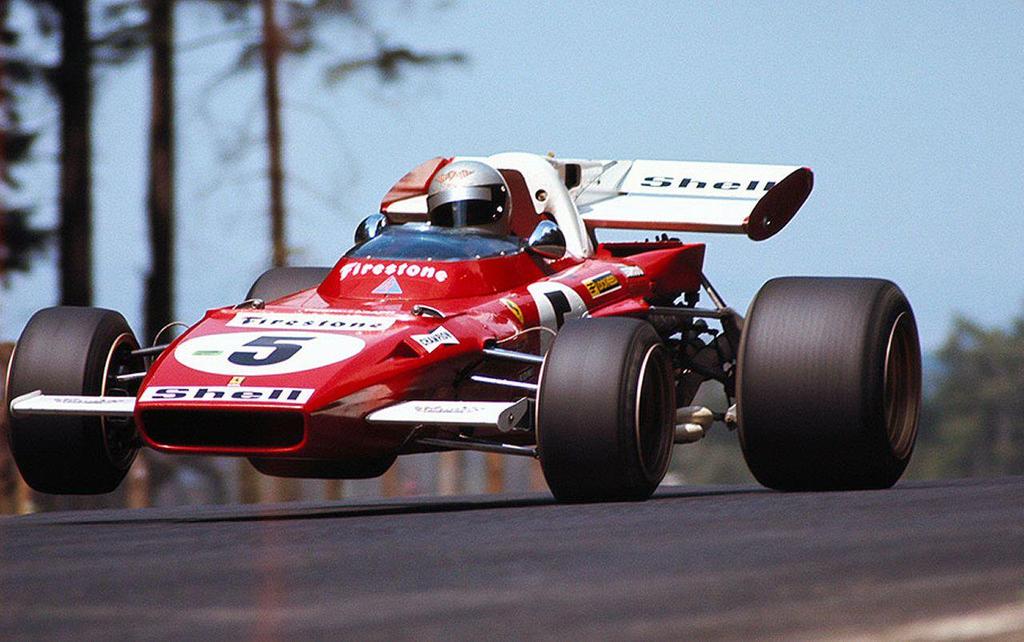 ---
In 1991, Andretti, at 51, finished seventh in the Indy car standings, while his son Michael won the championship. Andretti also competed that season against his other son, Jeff, and a nephew, John (Aldo's son), making it the first time four family members raced together in the same series.
The last of Andretti's record 407 Indy car races was in September 1994. His 52 Indy car victories are second to A.J. Foyt's 67, and his 67 pole positions remain No. 1 on the all-time list. He is enshrined in 24 Halls of Fame – including the International Motorsports Hall of Fame, the Automotive Hall of Fame and the Indianapolis Motor Speedway Hall of Fame. He has received hundreds of awards and recognition. Among the most prestigious, he was named Driver of the Century by the Associated Press (tied with A.J. Foyt), he was knighted by his native Italy in 2006, and in 2008 the Library of Congress in Washington DC added him to its Living Legends list. And on the lighter side, but undoubtedly affirmation of his charisma and popularity, he was in the first Pixar Cars movie voicing himself and GQ Magazine named him one of "The 25 Coolest Athletes of All Time" (Feb. 2011).
~ ~ ~
More than anyone before or since, Picasso reinvented art. He was the master of a new, modern movement, swinging a wrecking ball through centuries of tradition and destroying the hackneyed clichés of representative art. He would try anything, no matter how outrageous, in his quest for innovation. He lived into his nineties, and worked as if to defy death. His later pieces were of mixed quality, as the baton of shocking, revolutionary art had been passed to others who, across the Atlantic, were busily splattering paint and printing soup cans. Not that it mattered. By then, Picasso's place in history had been secured.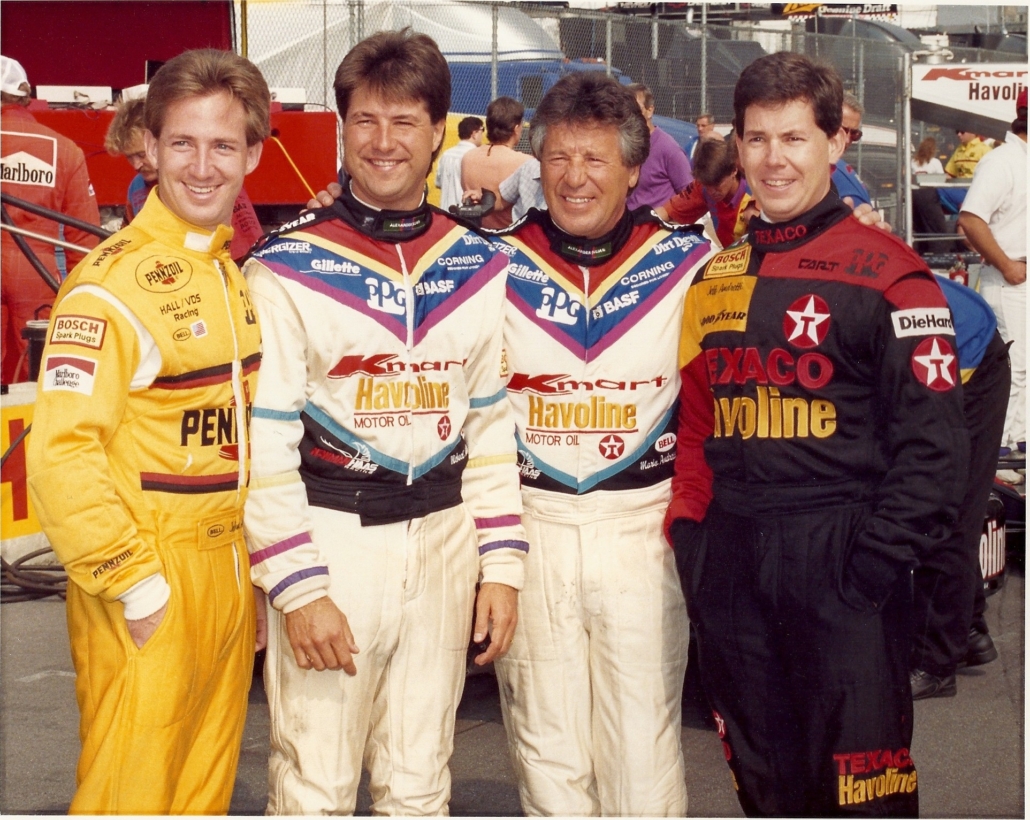 ---
Times change, and Mario Andretti too has passed the baton. The spotlight and adoration now goes to a new generation of drivers, brand names like Lewis Hamilton and Daniel Ricciardo, who generate more money in one year than Andretti did over the course of his entire career. There is no jealousy. How can there be? The dream, which seemed so unobtainable as that child in a refugee camp, has been realized many times over. He's traveled the world. Paul Newman became one of his closest friends. Everyone from Jay Leno to Lady Gaga have climbed into a two-seat racing car with him, and his name is mentioned in lyrics by artists as varied as Amy Grant, Alan Jackson, the Beastie Boys, and Ice Cube.
"I have no complaints," he says with a smile. "I never gave up on my dream, and I never settled. I never had a Plan B."
Even in old age, Picasso kept living life to the fullest. He enjoyed his fame and his wealth, buying a vast fourteenth century chateau in in the hills of Uzès, France. Andretti never left Nazareth, but his 22,000-square-foot home is filled with glass trophy cases featuring decades of racing prizes and memorabilia, including items celebrating that 1978 Formula One championship. In 1996, two years after he retired from racing, Andretti bought a 53-acre vineyard and winery in the far north part of Napa. It's but one in a myriad of other business interests in the Andretti portfolio, but it runs deeper than that. The vineyard connects Andretti with his childhood in Montona, where his dad managed several farms, mostly wheat fields for bread and grapes for wine, before the war changed everything.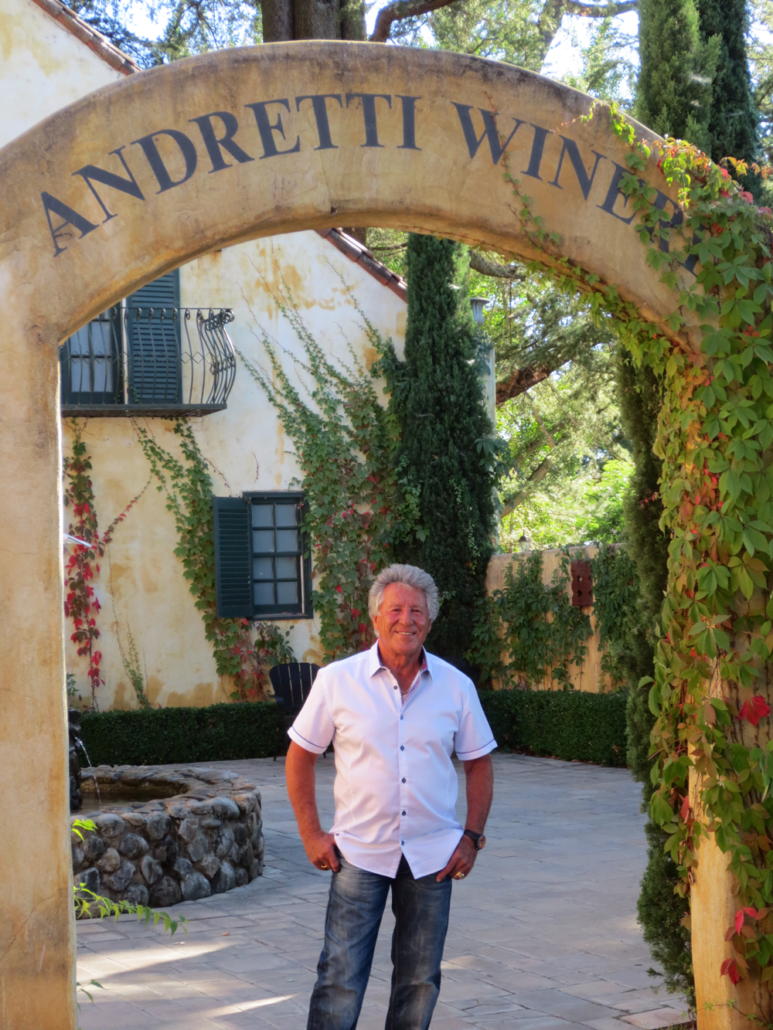 ---
"My one thing I regret more than anything is that my dad didn't get to see the Andretti Winery in Napa Valley," Andretti says. "Managing a vineyard is what he knew and loved; his life back in Italy managing farms, including a vineyard. That's what his life was all about before the war. I think he would have felt somewhat satisfied had he lived long enough to see the Andretti Winery. He lost his livelihood to Communism, maybe he would have felt that we won it all back. Seeing the Andretti name on a vineyard in Napa Valley would have given him a sense of pride, he'd finally have the appreciation of something he understood."
When Picasso died, he left behind an estate of 43,000 works, which is easily the largest recorded output of any artist ever. Mario Andretti, like Picasso, worked prolifically, his instrument of choice a steering wheel instead of a paintbrush, his medium a track instead of a canvas. Picasso's genius illuminated the twentieth century like a comet. The same can be said of Mario Andretti, who is far and away the most versatile driver the world has ever seen.

Please take me back to your childhood in Montona, Italy.
I spent the first 15 years of my life in Italy, the first seven years in Montona. My twin brother and I were born in Montona, Italy in 1940. It was shortly after the start of World War II. Montona was a medieval town on a hill in the Italian countryside. To get to the highest point, you need to climb 1,052 steps, the longest stairway in the world. It's about 35 miles from the city of Trieste, inland from the Adriatic Sea. Montona was a typical mid-evil village, with very narrow cobblestone streets. We loved it there and my father owned and operated several farms, mostly wheat fields and grapes. We played freely and happily on the cobblestone streets, amid ancient churches and a bell tower. But the town was forever changed by the end of World War II. Montona, located on the Istrian peninsula, was ceded to Yugoslavia as part of the post-war political settlement, leaving us trapped inside a Communist country. Those years were certainly anything but normal by any standard, but as kids we knew nothing else. We had started school in Montona and did all of the normal things that you do at that age, including doing the chores and playing outside with the other children who were around at the time. When the war was over, there were a lot of uncertainty and there was a sense that something dramatic was happening. But did we understand Communism? No. As kids you just roll along.
---
Did most of your extended family live in Montona?
Yes, everyone. My grandparents owned a small hotel by the train station in Montona. There was a very famous restaurant in their hotel, and my grandmother was an incredible chef and very well known. There was no refrigeration, so she would have to go to the butcher two or three times a day to get fresh meat for whatever she might be serving. Because Montona is positioned on a hill, I think it was two kilometers down the hill and back up just to get to the butcher. I remember my mother and my grandmother making these trips up and down the hill every day. When we left Montona for Lucca, my grandparents went with us.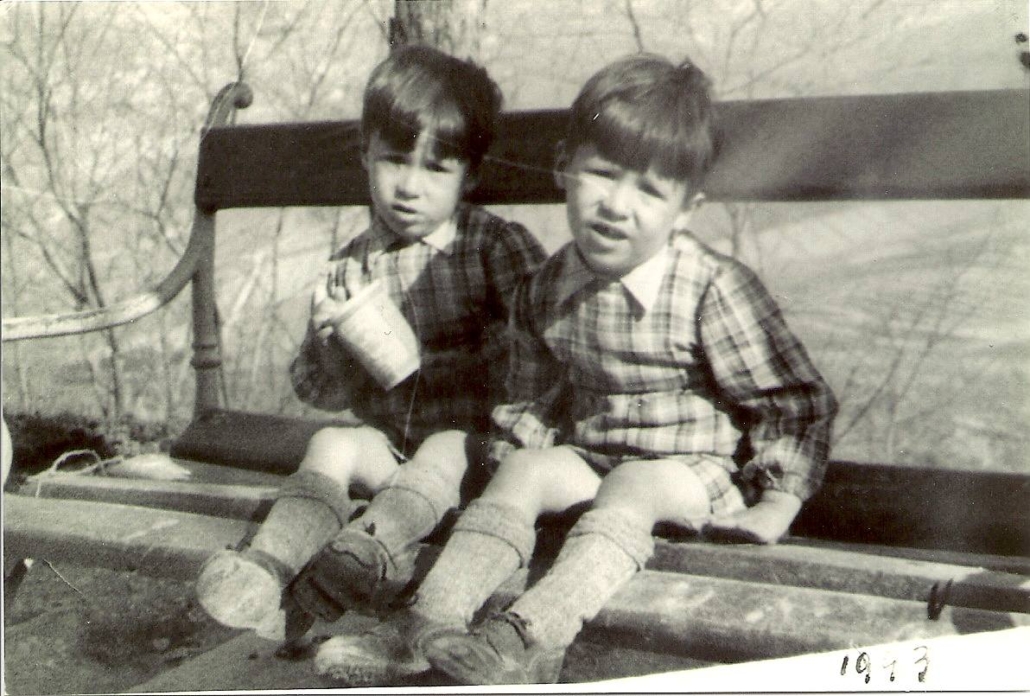 ---
Is it true that you and your brother terrorized the neighborhood in a small cart at the tender age of six?
That's very true [laughs]. There was a local carpenter who lived next door to us in Montona, and he built us a little flatbed cart on wheels. We called it a buggy, but it was like wagon with no sides. Just flat. There was a pretty steep hill above us, then a level plain in front of our house, followed by a sharp turn, and then the hill continued on down. It was all cobblestone and bumpy. And only about six feet wide. Aldo and I could both fit on the cart and we'd take turns steering down the hill, crashing into walls. We used to scare the little old ladies coming up the hill, and they would get so mad that they complained to my dad's Uncle, who was a priest in Montona. He was my great-uncle and we called him "Uncle Priest." So the old ladies would go to the house where the priests lived and complain that we were reckless on the cart. My great uncle would defend us. That's when the concept of speed started to be ingrained in us. Why did we want to be daring at such a young age? I cannot explain that to myself, but I always say that I was born with a steering wheel in my hand. I think it was meant for me to be a race driver.
---
In what ways were you effected by World War II?
We lost our home, our farms, my dad lost his livelihood. World War II had begun right around the time I was born, and when it ended our town Montona fell under Communist rule. We stayed for a few years hoping things would work out, but we eventually left Montona as refugees when my brother and I were seven years old. Our first stop was a central dispersement camp in Udine. About a week later, we were dispatched to a refugee camp.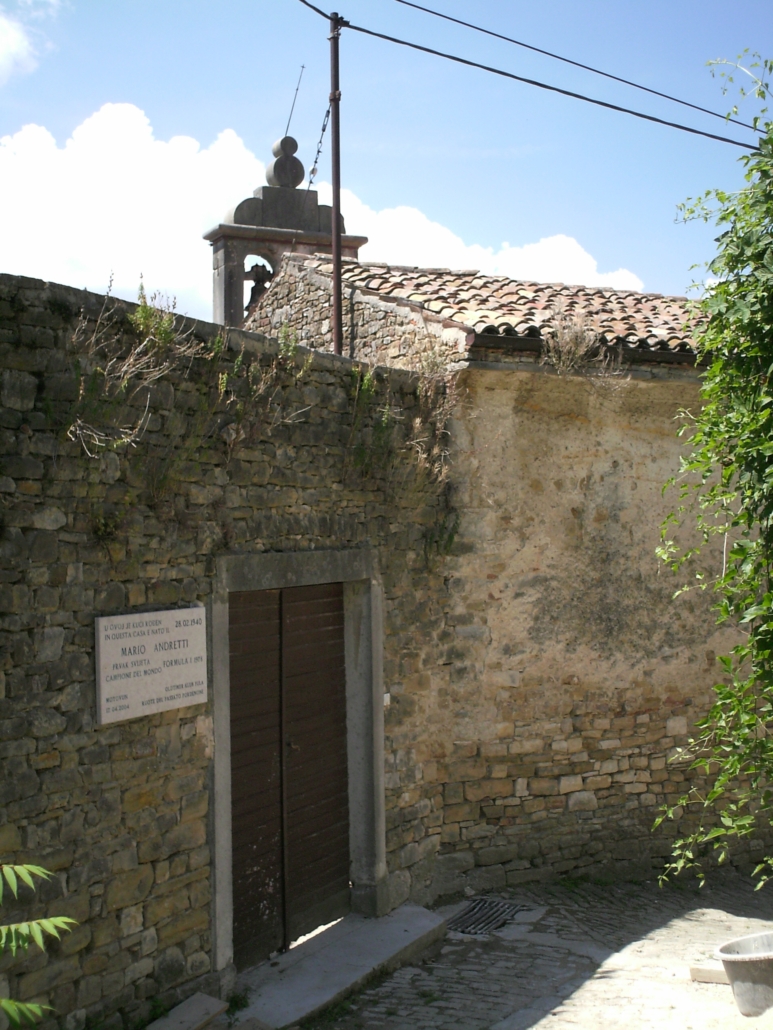 Our parents had a difficult decision to make once territory in Italy became occupied by Yugoslavia, which was three years after the war ended. The borders were realigned at that time, and we were suddenly trapped in the region of Istria, which was handed over to Marshal Tito and the hardline communists of Yugoslavia. Everything changed dramatically under that regime for Italians living in this region. There were some very dangerous areas if you were of Italian descent, areas where the Yugoslav Partisans carried out "foibe massacres," which literally refers to mass killings by which the corpses were thrown into foibas, or deep, natural sinkholes. For everyone else, you succumbed to what the rules were. In the case of my dad, the family owned vast parcels of land on which he had seven tenants. Before Tito, he was the administrator of that land. Then, all of a sudden, it all belonged to the state, so if he had decided to stay he would have been working for the state. That's because all of that land became the government's property and he owned nothing. That is what hardline communism is all about.
---
How many Italians fled the region following the war?
I think some 85% of the Italian inhabitants of that region left. There was a decision to be made. It was straightforward: You were allowed to leave with only the belongings you could carry, or stay. Some left for America. Others to Australia or Canada. Wherever you thought there was your best bet. And some people stayed. If you left, there was a non-binding pact that was made between the Italian and the Yugoslav governments. It said that the inhabitants who were part of the Istrian exodus would be compensated for what they left behind at a price that was agreed among them. There were promises of payments to be made. So we left thinking we'd be paid for the belongings and property we left behind. It never happened. With respect to our family, I think there was only one initial payment made while we were still in the refugee camp. That was it. So basically, my parents had to start a life all over again in America with nothing.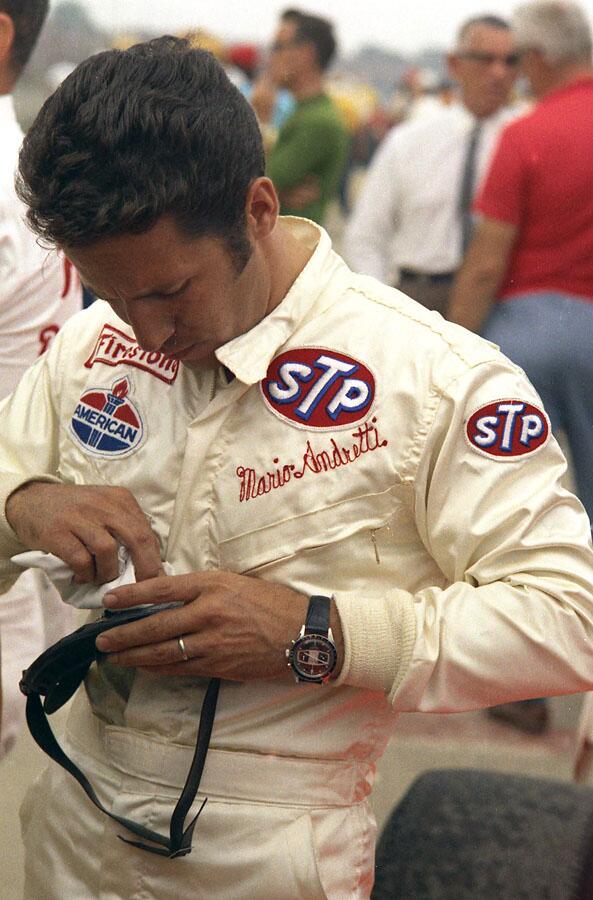 ---
What are some of the things you remember about life in the refugee camp?
We were refugees for 7½ years, from 1947 until 1955, in the Italian city of Lucca, one of the regions of Tuscany. The refugee camp was an old monastery that had become a college, and we spent the first three years in a converted classroom with several families. Everyone hung blankets to separate their quarters. Eventually my dad's uncle (the priest), pulled some strings and they moved us to two classrooms as our quarters, which was then occupied by our grandparents and us. You had to make do with the very basics, but we were always clean and dressed properly, and never hungry and never cold. That is a credit to my parents for keeping us all happy with very little, and doing their best to make sure that family was as comfortable as possible. Even though we were living in the refugee camp, I thought Lucca was nice. There was a school and an opera house, a church. As kids, you only know what you're exposed to and I knew of no place else. And living in a refugee camp doesn't mean you go hungry or that you're cold. You just exist. I still went to school and my dad worked odd jobs.
One of my favorite places as a child was Viareggio, a beautiful resort on the Tuscan coast – basically at the beginning of the Italian Riviera. We could bicycle there – all the way to Pisa. Another one of my fondest memories was the sports car race called the Mille Miglia, a thousand mile race. One of the segments ran through the Abetone pass, near Florence. Once a year, my brother and I would watch from the side of the road. It was magical to us and that's about the time we fell in love with auto racing. We'd go back home (to the refugee camp) and pretend for days and weeks that we were race drivers. As kids you can be pacified with your imagination.
---
Let's talk cars. What inspired you to drive?
It was while we were in Italy that I was developing a love of cars and racing. Aldo and I, for some odd reason, became enamored with cars right from a very young age in Montona. My dad didn't own a car – only a bicycle. The only car that existed in our town of about 400 inhabitants was the one owned by the town doctor. I remember Aldo and I seeing a 1946 Ford that somehow made its way through the city shortly after the war. Everyone thought that that was really something. To us, it was unbelievable, inspiring and jaw-dropping. When we moved to Lucca, there was a parking garage right next to the entry of the refugee camp where we were staying. We started hanging around at the parking garage, looking at all the cars, and we ended up befriending the owners – two guys named Sergio and Beppe. They liked us. And then, at the age of 12, we started parking cars for them. We learned to drive in that parking garage.
---
Were you aware of Formula One as a child?
In those days, motor racing was more popular than any other sport in Italy. And the world champion at the time was Alberto Ascari – my idol. I was very aware. Back then, Alpha Romeo, Ferrari and Maserati were involved, and you had the golden years of drivers such as Alberto Ascari, Juan Manuel Fangio, and Stirling Moss. These drivers were just incredible individuals and protagonists during that era. My brother and I were at the impressionable age at the time, and we both became enamored with the sport.
In 1954, the two guys who owned the parking garage invited Aldo and me to go to Monza with them to watch the Italian Grand Prix. It was unbelievable. I watched my idol, Alberto Ascari, driving his Ferrari and fighting with the Mercedes. Ascari was fighting hard and raising dust in every corner. There was just something about Ascari's spirit, something that just captured me.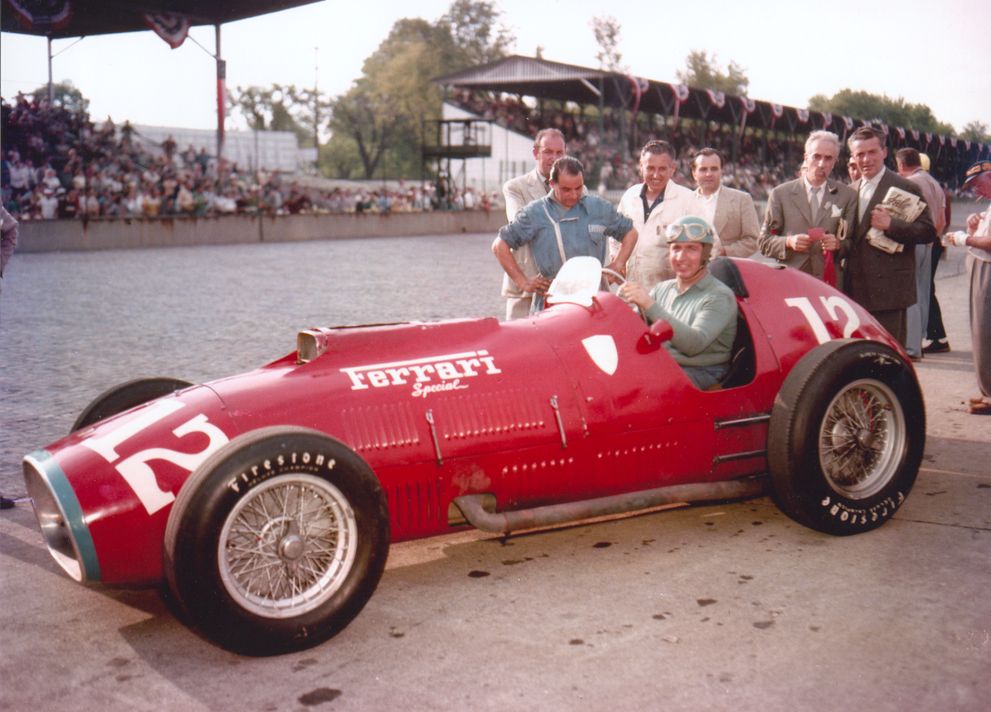 ---
Did you ever get to meet Alberto Ascari?
I never met Alberto Ascari. Sadly, he was killed a year after Aldo and I saw our first race at Monza. Alberto Ascari was killed in 1955, about a month before we arrived in America. In 1992 he was inducted into the International Motorsports Hall of Fame posthumously. I had the honor of presenting him for induction, and presenting the induction medal to his son, Antonio. It was an honor for me beyond anything I could ever imagine because Alberto Ascari was my absolute idol and the inspiration for wanting to become a race car driver.
---
Did watching that Italian Grand Prix in 1954 seal the deal? Is that when you decided to become a race car driver?
Yes, that day at Monza is when my dream began. The die was cast that day. Not only did I want to be a race driver….. I wanted to be Alberto Ascari. And it truly was as impossible as anything that you could think of at the time. Two kids in a refugee camp dreaming of being world champions.
---
How did you end up immigrating to the United States?
We kept correspondence with an uncle on my mother's side, who had immigrated to America in 1909. At one point, he suggested to my dad, "Well, if things don't get better, why don't you think about coming to America? I will do whatever I need to do to guarantee that you have a job and a place to stay in order to obtain visas." My dad applied for visas in 1952, and three years later our visas were granted. Suddenly it was decision time. We had been in the refugee camp seven-and-a-half years. For me and Aldo, that was age 7 to age 15. We had almost forgotten about the visas. Then my dad gave us the news, "We are going to America." Trying to make it seem less monumental, he told us we'd go for five years, and maybe come back. That's how he broke the news to us. Done. In 1955, we immigrated to America. It took 11 days on the Italian ocean liner Conte Biancamano. We arrived into New York Harbor on June 15, 1955. We didn't speak English and had $125 to our name.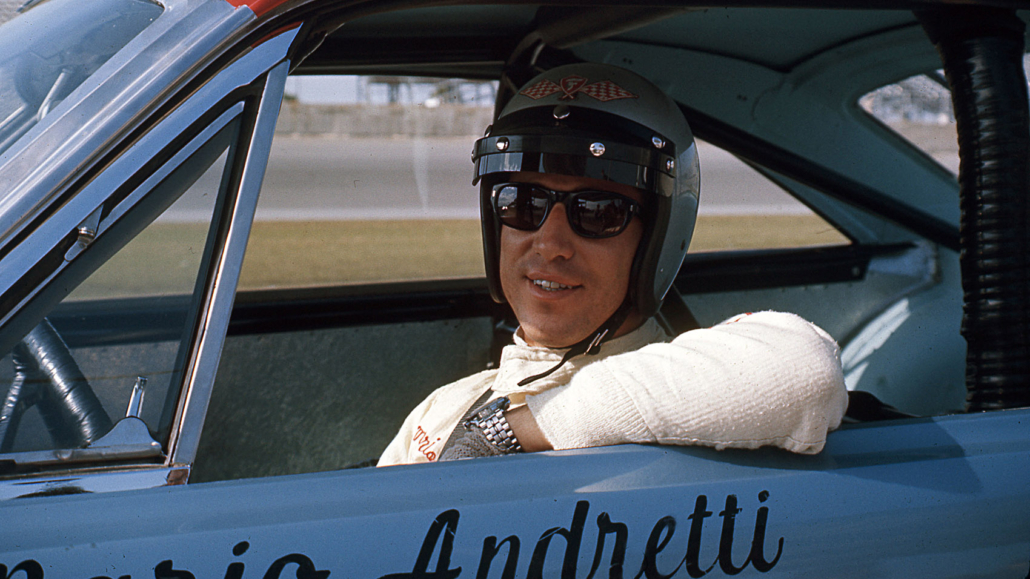 ---
Were you already thinking about racing cars in America?
As kids in the Italian refugee camp, we followed the sport as closely as we could and we continued to dream about racing cars. We didn't know much of what was going on in the United States, or what the racing scene was like, but we did know that there was some racing in America because of a film that Aldo and I saw in 1951. It was called To Please a Lady, starring Clark Gable and Barbara Stanwyck. It portrayed Clark Gable as a race car driver in Indianapolis. So, we knew that there was racing and we had heard of Indianapolis, but at the same time, when we learned we were leaving Italy, we thought, "There goes our dream. Or, even worse, our life is over."
---
Call it karma, but I've read where your uncle lived about a mile from a racetrack.
We arrived in America on Wednesday, June 15, 1955 and were settled in Nazareth, Pennsylvania by Thursday. Little did we know at the time, but the local racing season was in full swing. Races that were happening at the local level in Nazareth were held on Sunday night, at what was called the Northampton County Agricultural Fairgrounds. It was later known as the Nazareth Speedway. So anyway, we were at our uncle's house, which was only about a mile-and-a-half from the fairgrounds, and we were lounging around on a Sunday evening. We looked outside, and we could we see bright lights off in the distance, and then, all of a sudden, there was this huge roar of engines. Aldo and I just looked at each other – we couldn't believe it – and we immediately followed the noise, which led us to the fairgrounds.
---
That track changed your life.
I remember peeking through the gate there, and we could see these brutish-looking modified stock cars. They were making all of this racket, but it wasn't racket to us. It was music to our ears. Aldo and I looked at each other in amazement. These were not the sophisticated Formula One cars we had seen in Italy. But this type of racing looked doable. In that instant, we were on a mission.
We started planning on the same night that we saw those stock cars for the first time. Two years later, at age 17, we assembled a team with four other buddies and started building our first car. I always say that we had one geek in the group. That was very important. You have to have that guy who knows everything, and he steered us in the right direction. His name was Charlie Mitch. Never to be forgotten.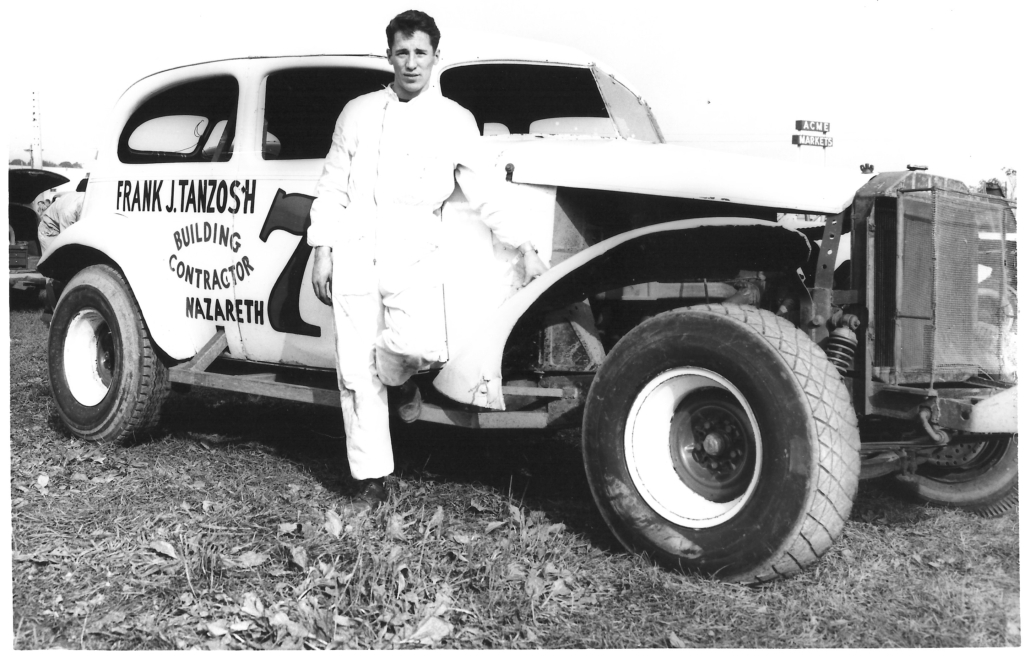 ---
Your first car is now legendary in racing circles. Please tell me about it.
When we started building our car we didn't follow the standard blueprint, so to speak. We went with something different, based on what Charlie Mitch suggested. It was actually a very, very intelligent strategy on his part. He said, "Mario, Aldo, you can't just go out there and build something similar to what they are running, and then hope to beat them. You've got to do something different." So Charlie reached out beyond the local level and into the national level, which was NASCAR at the time. He learned that the cars that were actually winning a lot of the short track races were the Hudsons. Ironically, the Hudson factory had officially withdrawn from NASCAR around that time, so there was a lot of information and parts available, and our focus became to accumulate as much of that as possible. We begged, borrowed, and went to the junk yard every day looking for parts. We even borrowed $500 from the local bank, and used the money to pay for information from one of the prominent teams. In fact, the team was dissolving, so we bought information from them and that was very key to our success. What we ultimately built was something different. It was a 1948 Hudson Hornet Sportsman, and it had a lot of muscle.
---
The dream was starting to become reality.
The dream is what drove it all. Pure passion. Manic pursuit of our dream to be race drivers. I remember so vividly when it seemed so unobtainable. Things started falling into place just two days after we arrived in America. In the blink of an eye we had a plan. We were still going to school and all of that sort of thing, but we were already thinking way ahead. We were also very motivated; when we started building the Hudson, it looked like it would be four years before we could race it – at least legally – but the car was finished in two years' time. We figured, "Well, we are not going to wait." We were two years too young to be able to legally drive, because in those days, to drive professionally, you had to be 21. That's when we decided to fudge are birth dates on our driver's licenses, so that we could start driving at age 19.
---
How do you go about getting fake driver's licenses in 1959?
We befriended the local editor of the Nazareth newspaper, Les Young. He did a good job on our licenses, changing our birth dates to make it so that we could drive. Back then there were no computers, so we got away with it. The fact that it worked was surprising, because we looked very young. We didn't look 21. And we were small of stature to boot. The local race organizers said, "Well, what background do you have?" And we lied….. saying that we used to race Formula Junior in Italy. Here again, there was no way to double-check us. We fibbed our way in. We had one car and two drivers. Aldo won a coin toss between us and got the first drive, and low and behold, he wins the very first qualifying heat with that car. I couldn't believe my eyes. Then he turned around and won the feature. As I said, at that point we owed $500 to the local bank, and in that first race we won something like $150. Which was amazing. That's how it all began.
---
A couple of fake IDs, and suddenly you're trading paint on a dirt track – now that is determination!
You know how we got away with a lot of this? We figured we need to look like race drivers. In those days, at the local level especially, nobody really had specific uniforms, but in Italy they had racing uniforms. So, when we showed up at the fairgrounds to race, we each wore a Salas Sports uniform that we got from the two guys who owned the parking garage in Italy…a white one, and a blue one…I wore the white, and Aldo wore the blue. We looked so damned professional and nobody questioned whether we were eligible to race or not. We were determined to do anything that we needed to do to be able to look the part. Then Aldo goes out and wins the race. I just couldn't believe it!
One problem with fudging our driver's licenses – once I reached the age of 21, I didn't want to be 23, so I had to figure out a way to get back to my proper age. Needless to say, I had to start backtracking. You know what is interesting? Some of the stories we made up are still going around as fact. You read some of these old-timer journalists that cover our sport, and when they reminisce, they write that Mario and Aldo used to race Formula Junior in Italy, which is total baloney.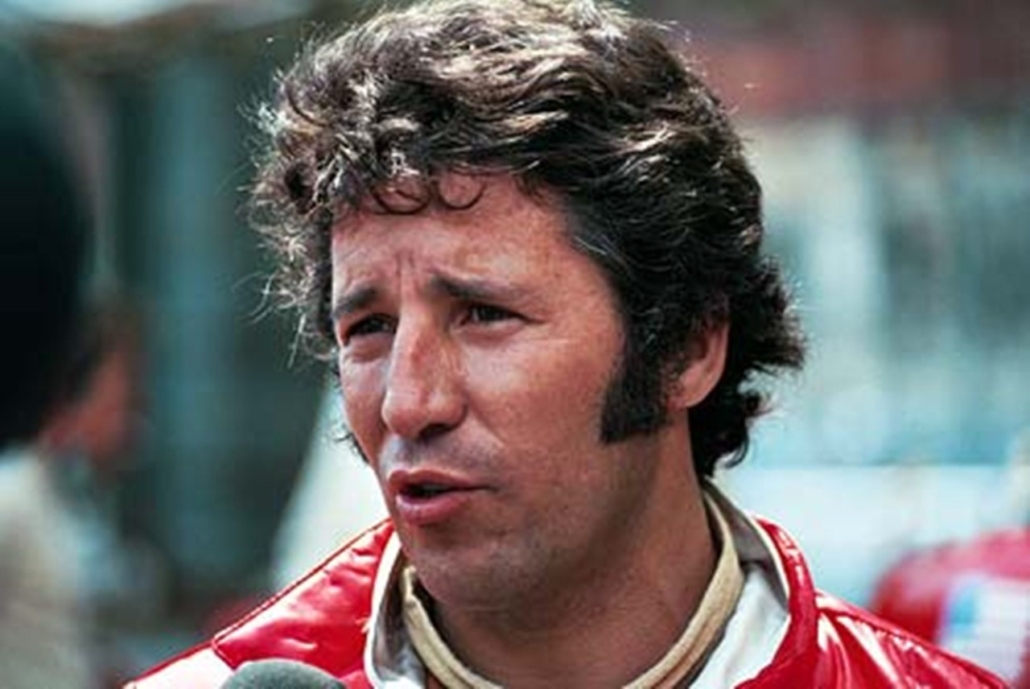 ---
Aldo won his first race. How did your first race go?
Talk about pressure! Of course I had to win the following weekend, which happened. We were winning races, but we were also crashing, and doing all of the normal things associated with the sport. That's okay, it's all part of the game. That's how it all started for us, and it couldn't have been any better. I still remember all of this so vividly.
---
Did your parents know that their underage sons were racing cars?
That was the other battle. We didn't dare tell my dad what we were doing because anytime you mentioned racing he would stop us cold. He knew that kids could be crazy and that they could get into all sorts of things, but racing was something he didn't want us involved in. He thought it was too dangerous. Naturally, we didn't dare tell him what we were planning, and for good reason. Once we started racing we didn't even tell my mother…but you know moms. They have that sense. Although she somehow knew what was going on, she was of a different mentality and was more accepting. Part of it had to do with our Uncle Bruno, who was her brother. He was one of these daredevil types. So, my mom was caught in the middle and she decided to turn a blind eye. The problem was that we were doing some winning at the local level. At work, my dad's boss would come up to him and say things like, "Hey Gigi, your kids are really, really doing well," but my dad had no idea what the hell he was saying. He thought he was getting accolades for his own work or something like that, so he would smile proudly. Of course he had been in America for four years, but still spoke very little English, so that's probably why he didn't catch on. Thankfully for us, he was still in the dark.
---
You each had two wins in your first four races, and then came the race that changed everything. Please tell me what happened at Hatfield Speedway.
It was the very last race of the season, an invitational that was held in Hatfield, Pennsylvania. To qualify, you had to be in the top three in points on tracks within a 150 mile radius. Both Aldo and I qualified, even though we would alternate racing every other weekend. Since we were pretty successful up to that point we entered our car, which was the Sportsman. This was a modified race, and even though our car was not a modified, it was still fast enough for a third of a mile track.
I got to ride in another modified from Allentown, so I was already qualified for the 100 lapper. Aldo was in the qualifying heat. He was running second, which, had he finished in that position, he would have been qualified for the feature. I was wanting him to hold his position and finish just like that, but he was trying to beat the track champion, a guy by the name of Freddie Adams. With about two laps to go, Aldo hooked a guardrail. The car went end-over-end-over-end. He suffered a fractured skull as a result of the crash. He was given his last rites that night at the local hospital. That's how my dad found out that we were racing.

---
What were the next days and weeks like?
Aldo was in a coma for a long time before he came around. About 85 days. Our car was crashed, so I was already building a new car for next year. This was while he was still in the hospital. One of the doctors said, "When you talk to your brother, he probably hears you. He's not responding, but just talk to him about things that would stimulate him." I kept saying, "Hey, Aldo, you may have had this crash, but we are already building a new car." So I would visit and tell him all about this car, and our plans for the following year [laughs].
---
Is it safe to assume that your dad was upset that you'd been secretly racing when Aldo got hurt?
Of course! My dad beat the crap out of me for doing what we were doing without him knowing. When Aldo finally came to, it took him a while to start talking. His first words to me were, "I'm glad you had to be the one to face the old man." [Laughs.]
---
Aldo eventually recovers. How long was it before he was behind the wheel again?
Aldo did have to take a sabbatical. He didn't race the whole following year. I think my dad felt vindicated, and he probably thought that we had learned our lesson about the dangers associated with racing. The worst thing was that my dad found out that we were racing again. If he had a better command of the English language, I think he would've disowned us [laughs].
These were precarious times in our house. As I said, my poor mother was caught in the middle. She was on our side, which was obvious even though she tried to appear neutral, so this created tension. Later on my dad realized that he couldn't fight his kids because they were hellbent on pursuing this dream, so he eventually started to soften up. He would ask Aldo, "Hey, how's Mario doing?" And then he would ask me the same thing, "Hey, how's Aldo doing?" And then, of course, he became a great fan and supporter of ours.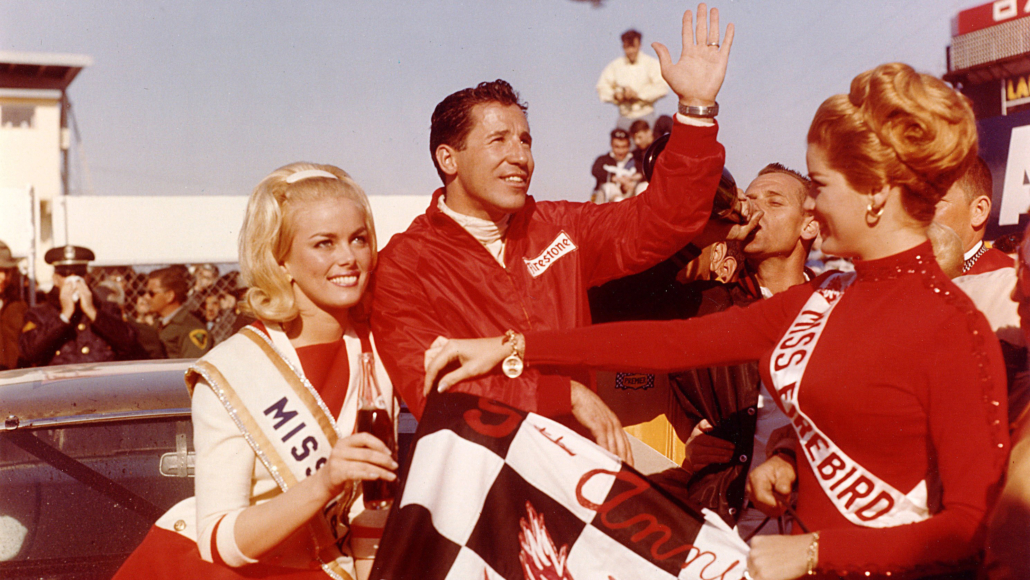 ---
Your racing world expanded greatly – and rapidly – during the early 1960s. Please take me back to those formative years.
Because I loved driving so much, I was looking at all of the different disciplines in our sport at the top level. The one thing that I wanted to do immediately was to get out of stock cars and get into single seaters, which was more of the purest form of the sport. Racing in open wheel, single seaters was how I got into midgets and sprint cars, which was part of the ladder system to get into the top level of Indy car racing. It was me going from steppingstone to steppingstone. As soon as you start winning in one category, you want to progress and go to the next level. It's just like going to school, where you want to progress and go to the next grade. You don't want to repeat the same level. You don't want to repeat the same grade. You've got to move on. And that's what happened with me. As soon as I started winning in whatever category I was in, I wanted to go to the next level, then the next level, and then the next. The progression continued for me until 1964, when I got my first chance to compete at the top level of Indy cars.
---
As you said, your ultimate goal was open-wheel racing. You quickly made a name for yourself in IndyCar, but you didn't stop there.
1965 was really a pivotal year for my career. I won my first championship car race at the Hoosier Grand Prix, which was on a road course at Indianapolis Raceway Park. I finished third at the Indianapolis 500, was named Rookie of the Year, and won the series championship at age 25, becoming the youngest season-ending national champion in history at that time. That was my very first full year in IndyCar. Then I backed it up with another championship in 1966. During the next couple of years, 1966 and 1967, I got a little more into sports cars and other disciplines. In '66 I raced in the 24 Hours of Le Mans. I raced sports cars and stock cars. And then, lo and behold, in 1967 I won the biggest stock car race of them all – the Daytona 500 – which was another launching pad for my career.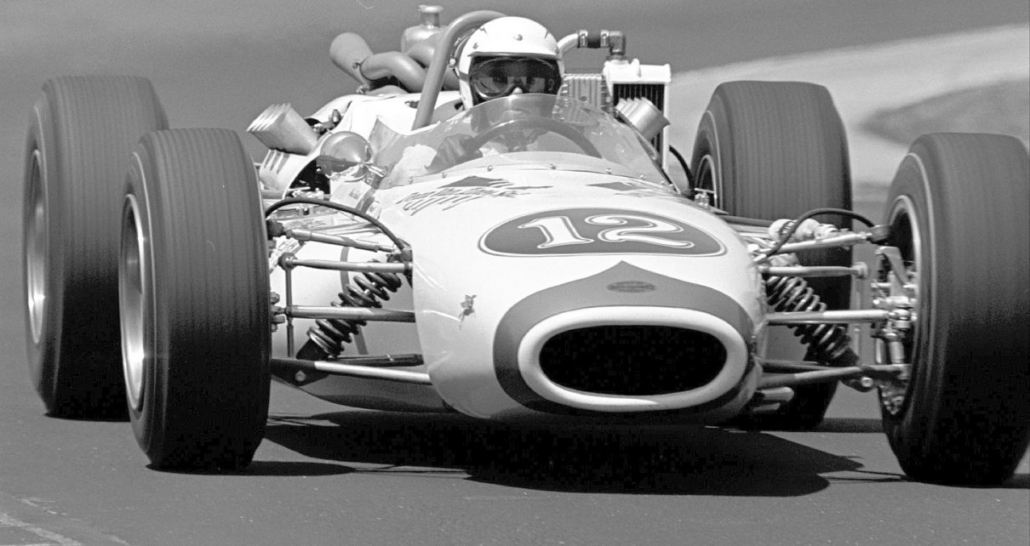 ---
You also had your eye on Formula One.
By 1965, things were starting to happen that would fulfill my dream to get into Formula One. In 65, the winner of the Indianapolis 500 was Jim Clark with Lotus. I was third in that race and named Rookie of the Year. Rookie of the Year is a big deal at Indy. At the banquet it is the most coveted award after the winner. So, the whole month of May I tried to befriend Jimmy and [Lotus founder] Colin Chapman, and as we were saying our goodbyes at the end of the banquet I said, "Colin, someday I would like to do Formula One." Colin looked at me and said, "Mario, when you think you are ready, you call me and I will have a car for you." I mean…oh my God, I thought I couldn't believe my ears in that moment. In 1968, I felt that it was the time. I called Colin and I said, "Colin, I would like to do the last two races of the season, the Italian Grand Prix and the U.S. Grand Prix." He said, "Alright, I will have a car for you."
---
What was it like slipping behind the wheel of a Formula One car for the first time?
My first acquaintance with the car – a Lotus 49, designed by Colin Chapman and Maurice Phillippe in 1967 – was in Monza, in Italy. It was a test day, and I immediately felt right at home because I had been winning road races in Indy cars. So at Monza, I was the quickest in that test vis-à-vis Ferrari.
---
You were set to race in the 1968 Italian Grand Prix, but then…
It's a long story here, but I was in the running for the season championship in the States. I'd finished second to A.J. Foyt in 1967, barely missing out on the championship in the last laps of the last race in Riverside, California. I was in the running again in 1968, and the Monza race fell on the same weekend as a USAC championship race held in Indianapolis, the famous Hoosier Hundred. Well, this race was happening on a Saturday. So I only had the Friday to qualify for the Italian Grand Prix, then fly back to the United States on Saturday to race in the Hoosier Hundred, and then fly back to Italy on Sunday to race in the Grand Prix. It turns out that there was a 24-hour rule regarding international events – basically it forbade drivers from racing in two major events within a 24 hour period – but I had an understanding with the organizers, and also with the Automobile Club of Italy, and they were going to waive that rule. So I qualified for the Grand Prix on Friday, and then I flew back to the States and I raced in the Hoosier Hundred, where I finished second to A.J. Foyt, and then I flew back to Italy the next day. I arrived there on time, only to find that a last-minute protest had been filed. My car was literally on the starting grid with all of the other drivers, but they would not allow me to start. We think it was Ferrari that protested. It was very disappointing, but sometimes those types of games are played between teams.
---
That bit of gamesmanship only delayed your Formula One debut.
My very first start was the U.S. Grand Prix at Watkins Glen two weeks later. I put the car on pole against Jackie Stewart, and that was actually my debut in Formula One. Things were just happening to go my way, quite honestly. I still had to put up a great fight for it, but so many things were just going in the right direction. I've always felt so blessed that, throughout my career, I've been able to pretty much pursue my most ambitious dreams and come away with some good results. Winning the pole in my first Formula One race is an example of that.
---
You've mentioned winning the Daytona 500 in 1967. Please take me back.
I had developed a great relationship with Ford from the beginning to my rookie year at Indianapolis. They had introduced a new overhead cam engine, so we were armed with that. I won two consecutive championships with Ford, and in 1967 I expressed my desire to do some stock car racing. Actually, it was not my first experience – I had raced stock cars for Smokey Yunick the year before, without very much luck. But in 1967 I think I was with the right team. We had some early difficulties but we overcame all of that and on race day I was competitive from the get-go.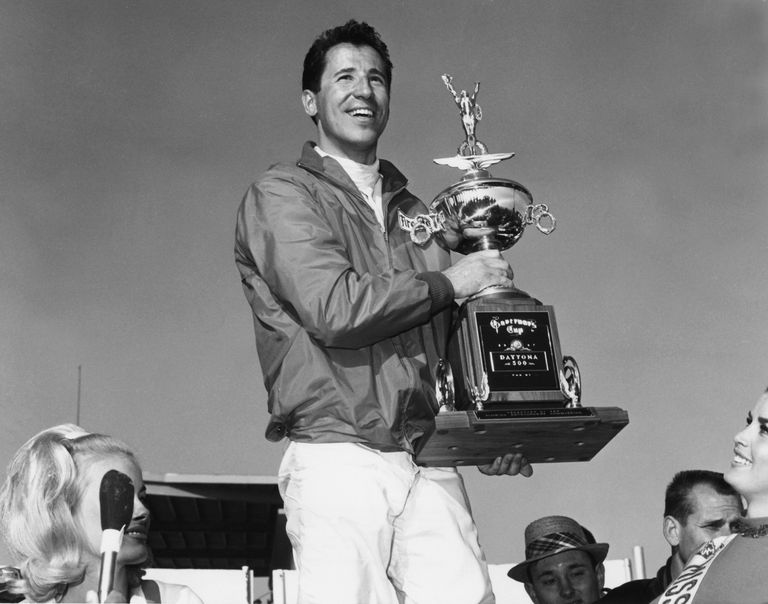 ---
You led that race 112 of the 200 laps, and you were dominating the field. And then you pit, as does your teammate, Freddie Lorenzen. That's when things get interesting. Your own team, Holman Moody, seems determined to sabotage you from winning the Daytona 500.
When we came in for the final pit, I was leading and Freddie was behind me. They kept me up on the jacks and they let Freddie go. He was just about at Turn 1 before they let me go. I was so pissed, as you can imagine. I drove like I was qualifying because I was so upset, and before you know it I had caught and passed him. We were lapping Tiny Lund going into the back straightaway, and Freddie was right behind me. I couldn't shake him. All of a sudden, Tiny motioned me to go by on the outside. He went to the center of the track on the back straightaway, and I went right up to him and I dove to the inside to startle things. Freddie backed off because I don't think he expected that. I pulled away from him at that point, and when I looked back he was pretty small. He never caught me.
---
That win in the Daytona 500 surprised a lot of people.
I'm sure not everyone was happy with it, including Ford; they wanted Lorenzen to win, not me, because it was a one-off race for me. But I felt like it could have been my day, and I fought hard, and it became my day. To win the biggest race but yet it's not your specialty, it holds a lot more value. And here again, it did wonders for my career. Suddenly, if I wanted to go to any of the other disciplines, I would have the opportunity to be with a top team.
---
People might not always think about racing being a team sport, but teams are critical in Formula One, NASCAR, and IndyCar.
I look back on what made me successful and I asked myself why, and it's because I was surrounded by the best people in the business. You shouldn't profess to know what you don't know. If you want to achieve something that is obviously ambitious, surround yourself with people who can help you achieve something that you could not possibly do alone. Motor racing is a very complex sport. It's not like tennis, where all you need is a racket. This is racing. For me, it was important to work with the absolute experts in their own areas – the best engineers, the best mechanics, and all of that. As a race car driver, you cannot perform miracles on your own. Being part of a driven, knowledgeable team gave me the opportunity to win because they were providing me with winning equipment. These were lessons learned early on that I carried with me through my racing career and right into my various business ventures today.
---
You won nine races in 1969, including the Indianapolis 500 and the season championship. Did you feel like you could win IndyCar's biggest event so early in your career?
I felt right at home at the Indianapolis 500 from the get-go. I finished third in the Brawner Hawk during my rookie year in 1965, and in '66 I won the pole. In 1967 I won the pole again, and I felt confident in '68 even though I failed to finish the race. So, going into the race in 1969, I felt as if I had a good chance to win.
---
Take me back to the 1969 Indianapolis 500. You had a crash that changed everything.
We arrived there with state-of-the-art equipment. We had the Lotus 64, which was four-wheel drive and a derivative of the turbine cars, with a very advanced type of chassis. In practice I went very fast and was breaking some records. Two days before qualifying, the right-rear wheel hub sheared off, and I had a huge crash in Turn 4. There was fire and everything else. I was lucky to escape with just some burns on my face. Graham Hill and Jochen Rindt, who were racing for Team Lotus at this time, were also driving the four-wheel drive Lotuses, and these cars were withdrawn after my crash. So we also had to withdraw our spare car, also a Lotus, leaving me with a car that we never intended to race.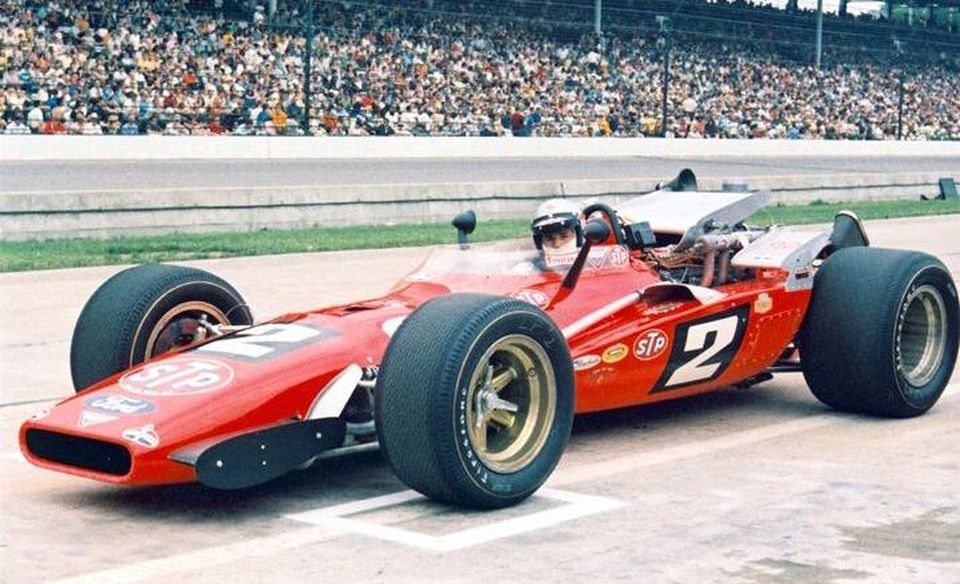 ---
The Brawner Hawk.
The Brawner Hawk! All of this happened on a Thursday, so I only had Friday and Saturday morning practice to get that one up to speed. And then, in qualifying, I was somehow able to put the Brawner Hawk in the middle of the front row. So, here again we were very fortunate that we were able to do that. And then, in the race, I had a lot of overheating problems and one tire that wouldn't come off during my pit stops so we were only changing 3 tires and one tire ran the entire 500 miles…. but still, I was always up in the top three, and I led for more than half of the race. Ultimately, the damn thing just hung together. It turned out to be my magic car. I remember in the post-race tear down when we pulled the transmission apart. It seemed like everything just crumbled out of the case – the gears were all black and blue and had obviously gotten very hot. But, thank the Lord, it held together long enough to win the race.
---
You became an Indy 500 legend with that win.
1969 turned out to be my only victory there, but I always felt competitive at Indy. In 1981 I actually won that race, but there was a very big political aspect to it. Still, I am third in all-time in laps led there, and led more laps than all but one of the four-time winners. So, even though victory has eluded us a few times, the Indy 500 has been great for the Andrettis. I say us because my son Michael was also very competitive there. He dominated Indy on his way to becoming one of the most successful drivers in the history of American open-wheel car racing, but he never won the Indy 500. And Michael's son – my grandson Marco – is now an IndyCar driver. He also has come close, but hasn't won the 500.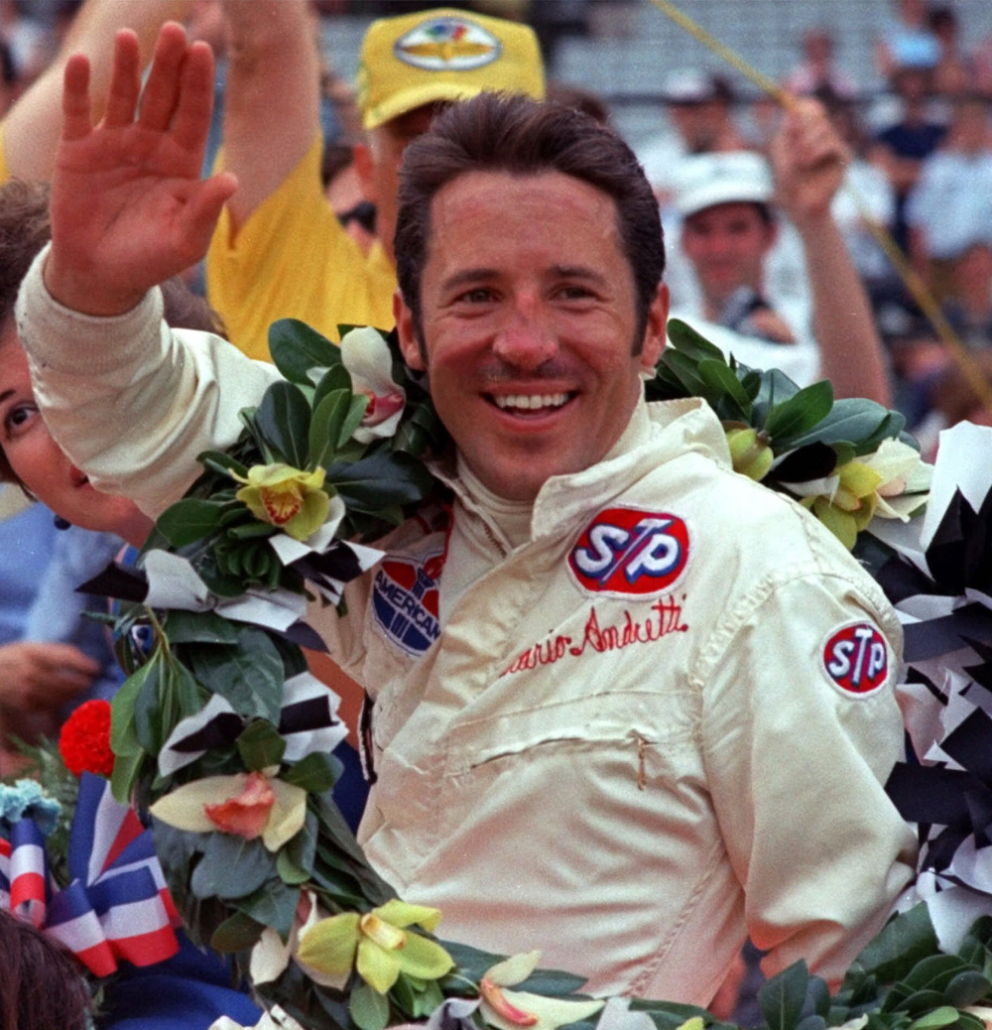 ---
What do you think of when you hear the name "A.J. Foyt."
A.J. Foyt was five years my senior, so he was obviously very established by the time that I came up through the ranks. He was certainly the yardstick. Any race that you were hoping to win, you had to go through A.J. Foyt at one time or another.
---
Let's talk rivalries.
I think I've matured over the years when it comes to rivalries. Today I'm able to see how healthy rivalries can be, which wasn't necessarily how I looked at it at the time. Rivalries elevate your game. There is always going to be somebody who is better than you, and that makes you work harder. It gives you every incentive to say, "You know what? Somehow, I've got to raise my level. I've got to do something better." And when you have an opportunity to reflect, you say, "Thank goodness I had those rivalries and those challenges."
And A.J. Foyt was not the only one. There were others through the decades that you had to deal with. The first pole that I got in Formula One – who did I beat? The guy that was the yardstick: Jackie Stewart. My very first race that I won in South Africa, who finished second? Jackie Stewart. The second race, at the Questor Grand Prix, who finished second to me? Jackie Stewart. As you look back through time, those are the things that mean something, and that's where you put value on the achievement. When you are somehow able to succeed with your main rival finishing second to you, it gives you all of the encouragement that you need. You suddenly have the confidence to feel like you belong on this stage.
---
Your Formula One career really took off when you started driving for Lotus.
I joined Team Lotus on a full-time basis at the right time. Colin Chapman was such a genius, and he was somehow able to be 100% dedicated to the sport without being distracted by his other business interests. For example, he had an automobile company and a boat company at the same time that he was involved in Formula One. I experienced great success racing on his team. In fact, if it hadn't had been for so many engine and reliability failures in '77, I would have won the Grand Prix Championship that year as well.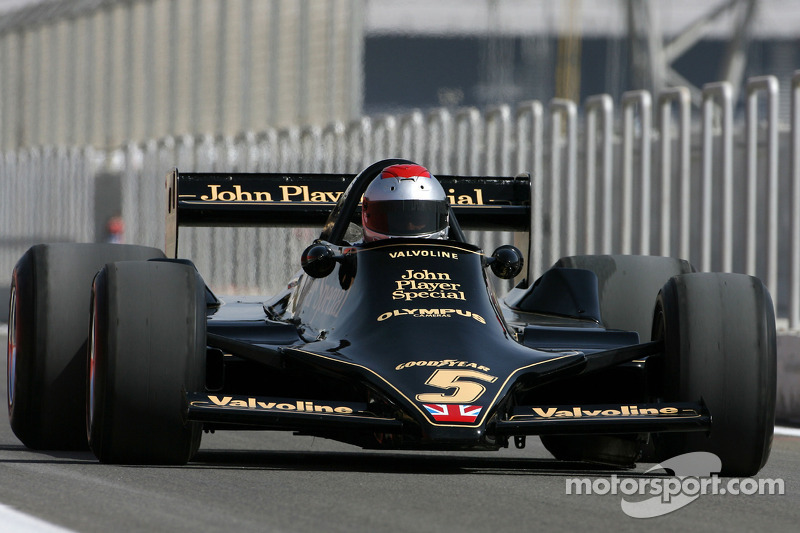 ---
You won four Grand Prix events that year, including in Monza where it all began.
As a Formula One driver, one of the highlights that year was representing the United States and winning the '77 U.S. Grand Prix West at Long Beach. And then, to be able to turn around and win the Italian Grand Prix later that year, in my home country, was something that I had never thought would be possible. So can you imagine the satisfaction that I derived from that accomplishment? Winning in Monza where it all began for me as far as the ultimate dream, and then winning in the States, where we had immigrated to start a new life.
---
You clinched your first and only Formula One Championship at the'78 Italian Grand Prix. Please tell me about this crowning achievement.
It was a great season. We battled through a lot of issues, including some engine problems, but nevertheless I was able to overcome some obstacles to win that championship. I finished first six times that season, including the season opener in Argentina in the Lotus 78. Then, we switched to the Lotus 79 and won in Belgium, Spain, France, Germany, and the Netherlands. And on top of that, to clinch the points championship in Monza, that couldn't have been a sweeter moment.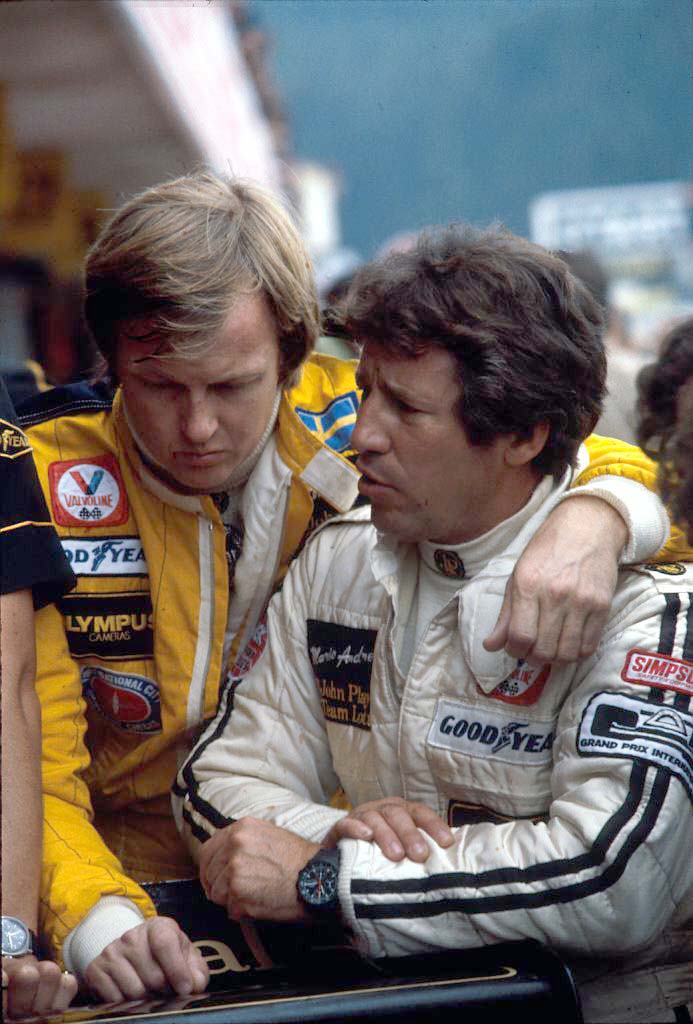 ---
That series-clinching win in Monza was overshadowed by the devastating loss of friend and teammate Ronnie Peterson.
That day is forever bittersweet. It's 1978 at the Italian Grand Prix in Monza……this race had huge significance for two reasons: First, I was back in my native Italy, in the exact place where the dream began for me. On the track where my brother and I had watched our first race with the two guys from the parking garage. But I wasn't a spectator this time. I was sitting in the cockpit. I really had come full circle. This race was also going to determine the Formula One World Champion. It would either be me – or my teammate and best friend Ronnie Peterson. At the start of the race, there was a horrific crash and Ronnie plowed through the guardrail. His car erupted in flames. I won the World Championship that day…Ronnie Peterson died. It should have been the happiest day of my life. My lifelong dream – that had begun when my brother and I were 14 years old and were spectators at Monza – was now complete. I was World Champion. But my best friend and teammate was dead. The combination of triumph and tragedy was unbearable.
Our sport can be so rewarding, and so cruel at the same time. But, that's the way it is. When you decide that this is your sport, you have to deal with all of it. If you're going to be part of it, you have to take the good with the bad. As much satisfaction as I derived from this business, there were just as many moments that were difficult to live with. And it started with Aldo's accident at the very beginning.
The grief of losing a close friend like Ronnie never leaves you. Things are never the same. Because you can never clearly say to yourself, "Now, I can finally celebrate and forget about the other…because you can't." So, it just stays with you forever. As much as you try to rejoice, there's always that 'but' in the back of your mind. "Yes, but…" There's always that 'but.'
---
How do you overcome something like that and get back to racing at the highest levels?
You have to realize that some things are just out of your control. Some people wonder how those that suffer misfortune continue? When is something so devastating that you fold up? Quitting and walking away from your business is an option. But what you have to realize is that some circumstances are out of your control. Maybe the equipment fails you. Or it's something else. Like it or not, you are going to have some good days and some bad days. You can't be too overconfident when things are going well. At the same time, you can't be overcome by setback, or heartbreak or tragedy. You have to manage both. Focus on what's next. Success takes the appropriate response. So does heartbreak. Don't let a setback be the final word. Some stretches of our lives are just going to be more difficult than others. There were many trying moments after that, and many times it was hard to keep the energy going, but that's what you have to do if you are going to succeed. You need that energy to be able to exist, and exist in a way that you are able to perform at the top level.
---
You are one of 13 drivers who have won two of the three legs of the Triple Crown of Motorsport. For a competitor like you, what does it mean to be in such exclusive company?
It means a great deal, but I also look at it this way; as far as winning Indy, Daytona, and Formula One, nobody else has done that. That's what I cling to. Dan Gurney won some IndyCar races, and he won Motor Trend at Riverside, and he won Formula One. The Triple Crown can be determined in many different ways, but my Triple Crown is winning Indy, Daytona, and the Formula One World Championship. That is still all my own. Nobody has done that, and we will just have to wait and see if someone can match it. Nevertheless, I am very proud of that part of my career.
---
Where did you meet your friend, the late Paul Newman?
I met Paul Newman in 1967 at a Can-Am race in Bridgehampton, Long Island, where I was driving for Ford. At the time I didn't have a specific commercial sponsor on my car, and then, on race day, there is a big Paul Newman insignia on the front of my car. I was surprised and somewhat intimidated, because all of a sudden, Paul Newman shows up with his wife, Joanne. I think, "Oh my goodness, I guess he expects me to win today!" And on top of that, my car was not a very good one [laughs]. Nevertheless, that's how I first met him. The very next year he was filming a movie in Indianapolis called Winning. It's here that he's introduced to racing, and then before you know, he arms himself with a national SCCA license and he starts racing. He completes in SCCA professional and amateur events, wins four national championships, and becomes a team owner in the Can-Am series. In 1983, I was the one who brought Paul Newman and Carl Haas together to form a new IndyCar team, which I joined. Over the years we would run into each other, usually at events held around a race. Once he became the team owner, that was a relationship that was made in heaven.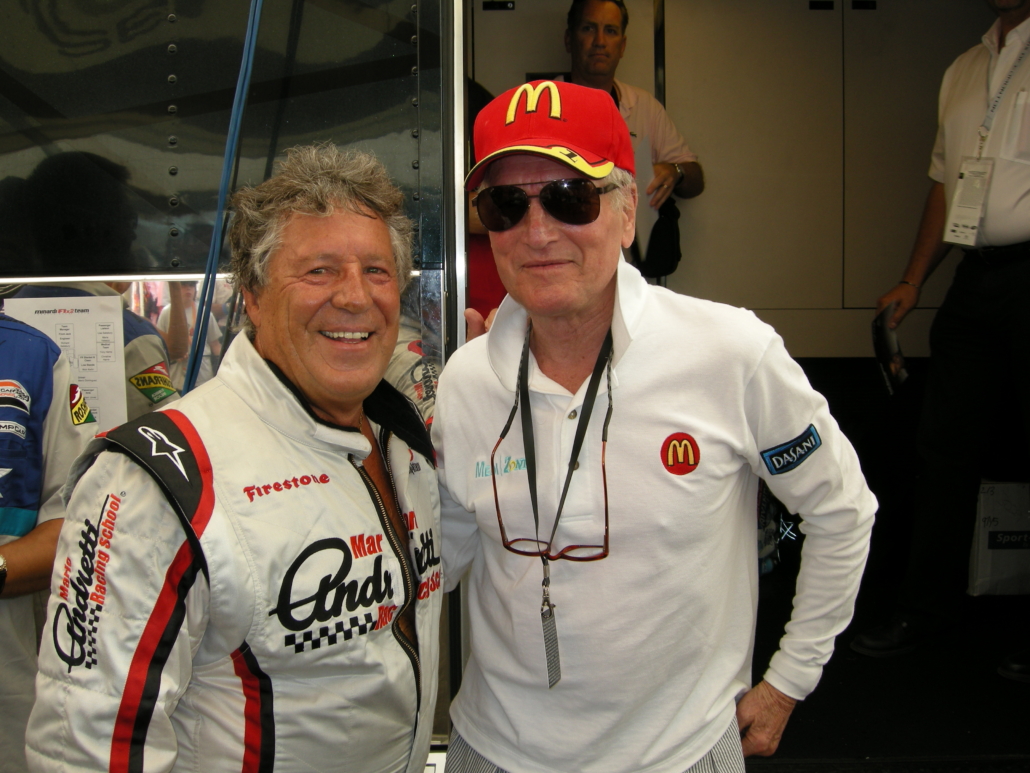 ---
From what I understand, Paul Newman ended up becoming one of your closest friends.
Quite honestly, he became one of the most precious friends that I had in my life. I drove for 12 seasons for the Newman/Haas team. We had some great success, and won 18 IndyCar races after I came out of Formula One with them. So again, it was just precious times. There are so many things that I remember with such a great fondness about Paul, things outside of track. What an individual he was, one of the true people who made and left a mark in your life for many reasons. And there was something about this man that, not just because of his prominence, and his superstar status, made him so special. You just had to really know him intimately to appreciate what he was all about. I was one of the fortunate ones to have had that opportunity.
---
You've been named Driver of the Year in three different decades.
It certainly wasn't a goal. It wasn't something I was aiming for. It just happened. There are a lot of things that factor into my longevity, including luck. The awards are the fruit of the labor, of working as hard as you can toward accomplishing your goals. Then, to be recognized in that fashion…you can call it the icing on the cake. That's how I look at those things.
---
You are a legend and a pop culture phenomenon. Your name appears in song lyrics by Ice Cube, Alan Jackson, The Beastie Boys, Amy Grant, Gwen Stefani, A Tribe Called Quest, and Charlie Daniels to name a few.
Again, it's just one of those things that either happens. And when it does, it is extremely flattering. That's the only way I can put it. Just like when you are invited to be inducted into a Hall of Fame. You have to pinch yourself. It's that type of thing.
---
You drove Lady Gaga around the track at the Indianapolis 500.
Lady Gaga was an absolute delight. An amazing wonderful soul. She was so genuinely kind, so incredibly nice. I led the field at the start of the Indy 500 in the two-seat IndyCar and she was my passenger. She was soaking it all in that day, and the fans loved her. It was really enjoyable and epic to have her as a part of that day; it was actually the 100th anniversary of the running of the Indianapolis 500. Having her in the seat behind me…really a treat for me.
---
Who has more cars, you or Jay Leno?
That would be Jay Leno. Big time [laughs].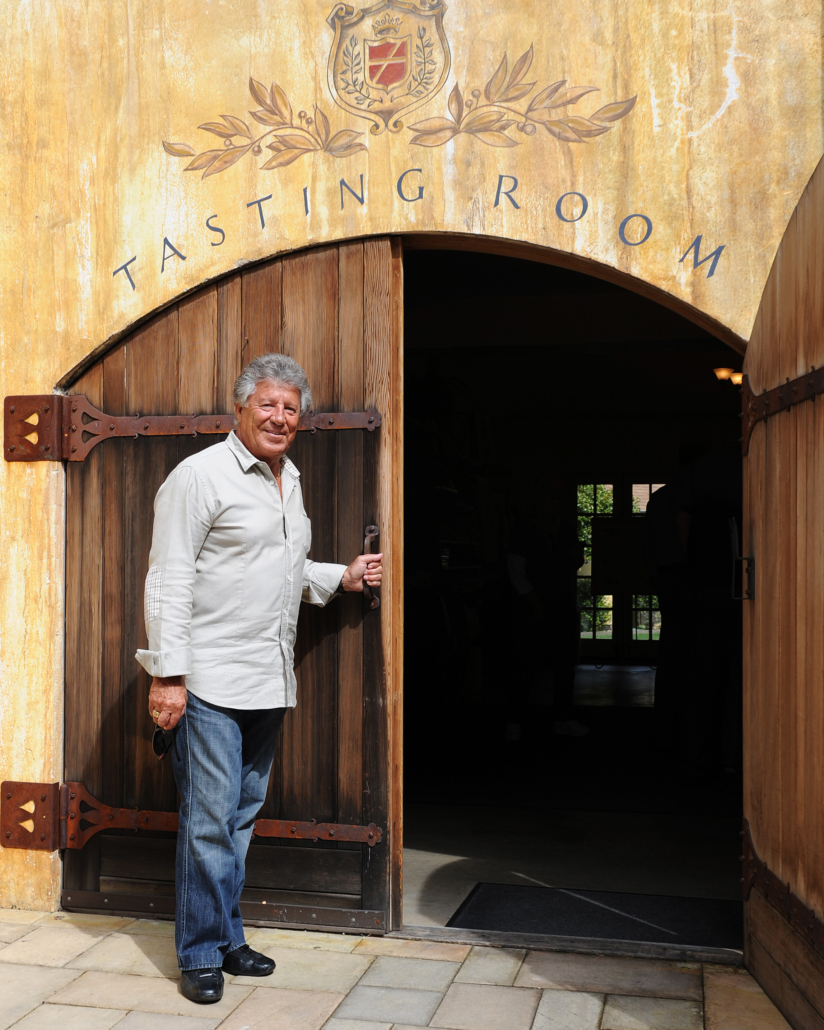 ---
Please tell me about your Napa Valley winery.
The winery was not really a product of a specific plan. But during the last year of my racing career in 1994, called my Arrivederci Tour, an agency came up with an idea to have a commemorative label on a bottle of wine. It was done with the Louis Martini Winery. It sold very well and I enjoyed having it. One thing led to another, and the next thing you know, we bought a vineyard and have been in this business for 22 years now. I'm very proud of the Andretti Winery. It has been an enjoyable project.
---
Final Question: You've achieved great success in your life. If you had only one piece of life advice to offer someone, what would that be?
There are plenty of clichés out there, but the one thing that suits me is very simple: Follow your dreams and work hard. Vision is only one percent. The other 99 percent is hard work.
https://www.fifteenminuteswith.com/wp-content/uploads/2019/12/the_mario_andretti_interview.png
400
600
Michael McClellan
https://www.fifteenminuteswith.com/wp-content/uploads/2016/08/FifteenMinutesWith_NewLogoPrototype.png
Michael McClellan
2020-02-04 14:23:26
2020-02-17 22:37:29
Mario Andretti – Full Throttle