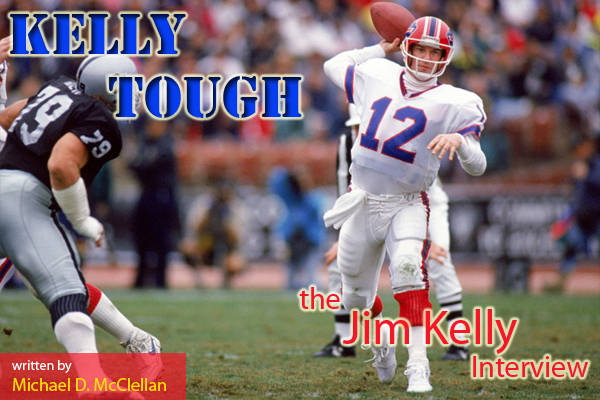 By:  Michael D. McClellan  |  The story ends a world apart from where it begins, so let's address the Super Bowl-sized elephant in the room:  Jim Kelly wants no part of Buffalo.  Too damn cold.  Too damn small.  The Bills are a fringe franchise based in economically-depressed Western New York, a region that hardly seems a premiere destination for a marquee quarterback with a linebacker's mentality and trace amounts of Hollywood coursing through his veins.  The team produces exactly one true superstar since its inaugural AFL season in 1960, and  those O.J. Simpson-led Bills, which played its games in crumbling War Memorial Stadium before escaping to Rich Stadium in 1973, range from plain awful to barely relevant.  Buffalo makes the playoffs one time before injuries rob The Juice of his speed and prompt a trade to San Francisco, where Simpson plays one last season on bad knees and retires.  There is a brief uptick in the early 80s with a pair of playoff appearances under head coach Chuck Knox, but the team sags again, and rumors of franchise relocation begin to swirl.  So, ahead of the 1983 NFL Draft, the University of Miami star makes it clear through his agent that Buffalo, which possesses two first round picks, can do everyone a favor by choosing someone else.
The Bills select Notre Dame tight end Tony Hunter with its first pick, Number 12 overall, and then ignore Kelly's warnings and call his name two picks later.  Publicly, Kelly says all of the right things.  Privately, he's devastated.  He watches John Elway go Number 1 and then threaten to play pro baseball for the New York Yankees rather than sign with the Baltimore Colts, who blink and trade him to the Denver Broncos a week later.  Kelly is no dummy.  He knows that playing in Buffalo is even worse than playing in Baltimore, but he doesn't have a potential baseball career to wield as leverage.  And because the Bills own his draft rights, it's Buffalo or bust if he wants to become an NFL star.
.
Just as he's coming to grips with the reality of suiting up for a dreadful team in a dreadful city, the Bills gift-wrap an escape plan that even Kelly himself has a hard time believing.
"You can't make this stuff up," Kelly says today of the embarrassing gaffe that allows him to bolt to the USFL, an upstart league competing directly with the NFL for unsigned talent.  "I didn't want to play in Buffalo, so when I was drafted by the Bills I had tears in my eyes.  The next thing you know, I'm on the phone with Bruce, talking about the possibility of playing in the USFL."
"I didn't want to play in Buffalo, so when I was drafted by the Bills I had tears in my eyes.  The next thing you know, I'm on the phone with Bruce, talking about the possibility of playing in the USFL." – Jim Kelly
That Kelly would flee Buffalo is a gut punch to the city, the team, and its fans; that the Bills would drive the getaway car is almost too much to bear.  The story goes like this:  Kelly is visiting the Bills' headquarters to take part in contract negotiations when a team secretary fields a call from Bruce Allen, the general manager of the rival United States Football League's Chicago Blitz.  Allen explains that he desperately needs to speak to Kelly's agent.  It's urgent.  Can't wait.  The secretary unwittingly puts him through, and Allen wastes little time making his pitch:  Tell your client to play QB in the USFL, and not only will he make more money than he can in the NFL, he can play for any team you like.  The choice of cities is his.
That's all it takes for Kelly to break off negotiations with the Bills and sign with the USFL's Houston Gamblers, where he can play in the comfort of the climate-controlled Houston Astrodome.  Facing reporters following the signing, an upbeat Kelly is cruelly blunt in assessing his decision:  "Would you rather be in Houston or Buffalo?"
.
There are plenty of pissed off people in Western New York, but the backlash is relatively tame by today's standards.  There isn't the hate and vitriol associated with the modern day decisions made by title-hungry NBA stars LeBron James and Kevin Durant, but there are no smartphones to propagate Kelly's decision in real time, and no social media to fan the flames of discontent.
Little does anyone realize that this is only a detour, a temporary separation that will only serve to galvanize the bond between star and city.
Turns out Jim Kelly and Buffalo are meant for each other after all.
It just takes a while for Kelly to fall in love.
~  ~  ~
Fast forward.
It's easy to get hung up on those four Super Bowl losses, to fixate on all of the pain and torment that goes with failing in front of billions.  Wide right.  Thurman Thomas losing his helmet moments before Buffalo's first possession of Super Bowl XVI.  Getting blown out one year, and then getting rolled in the second half a year later by the same team, road kill on the way to fulfilling an inglorious destiny.  Anybody can poke fun at this Shakespearian run of futility and tell you how bad you suck.  It's easy to sit there and critique the losses when your legacy isn't on the line, when the only skin in the game is the twenty bucks you've forked over for the pizza, when you have neither the talent nor the smarts to play one of the most complex, physically demanding sports in the world.  Instead of appreciating the immense achievement of your team reaching the Super Bowl, you sit on your couch and curse the TV, the profanity-laced tirade fueled by all the beer you've consumed on this Super Bowl Sunday, an average of three cans per hour since the moment you opened your eyes and pulled your favorite Bills jersey over your sizeable gut, the very act of which leaves you struggling to catch your breath.  Insults flow like water pouring over Niagara Falls:  Choke artists.  Laughingstocks.  Bums.  Losers.  It all comes spewing out in disgust, as you disavow the very team that had just come through so dramatically for you in the AFC Championship Game.
It's easy to discount the Herculean feat achieved by those Jim Kelly-led Buffalo Bills.  We ridicule them for climbing the mountain four consecutive years only to come up one game short, and yet we say nothing about the one-and-done Super Bowl teams that get beaten and then disappear, never to be heard from again.  Who remembers the 2002 Oakland Raiders, the team pole-axed by the Tampa Bay Buccaneers in Super Bowl XXXVII?  That Raiders team quickly lost its mojo, going 4-12 the next season before spending a decade wallowing in the muck.  Ask anyone who has played in the National Football League how hard it is to grind through a 16 game season and then win in the playoffs, where the intensity goes up exponentially and the pressure is amplified by some unquantifiable factor.  The lucky ones will tell you how difficult it is to pull off once, but for some reason we diss the Bills, even though those Buffalo teams were 58-19 over that four year span.  They won big with home field during the playoffs, and they manufactured narrow escapes as wildcard underdogs, grinding out postseason games in hostile, ear-splitting environments like Pittsburgh and Denver.  In 1990, they dismantled the Oakland Raiders, 51-3, to reach their first Super Bowl; two years later, trailing the Houston Oilers 35-3, they completed the biggest comeback in NFL playoff history, winning 41-38 in overtime to keep its championship hopes alive.
.
It's easy to forget that no other team has ever gone to four consecutive Super Bowls.  Miami went to three in a row in the early 1970s, winning two, but that's before the league adds two more games to the regular season schedule, and before it expands from 26 to 28 teams.  Pittsburgh would go to four Super Bowls in six seasons, winning all four, and San Francisco would later win five Lombardi Trophies over a thirteen season span.  No one argues this greatness, nor should they; but in terms of sheer grit and resilience, these Buffalo Bills teams bounced back from crushing defeat not once, not twice, but three times.
"We never gave up," Kelly says proudly.  "When we lost that first Super Bowl to the Giants, we could have gone into the next season in a funk.  But we came back and played even better.  Resilience is the hallmark of those teams.  We kept battling."
"We never gave up.  When we lost that first Super Bowl to the Giants, we could have gone into the next season in a funk.  But we came back and played even better.  Resilience is the hallmark of those teams.  We kept battling."- Jim Kelly
It's easy to forget how beautifully crafted these Bills teams were, constructed by General Manager Bill Polian to win on all three sides of the ball, its roster dotted with future hall of fame players like Kelly, Thurman Thomas, Andre Reed, James Lofton, and Bruce Smith.  And perhaps therein lies the rub; the Bills defense, while good, will never be confused with Pittsburgh's Steel Curtain or Dallas' Doomsday Defense.  It features Smith alongside a solid group of defenders, but it can't stand up to the Cowboys' mammoth offensive line and Emmitt Smith's relentless pounding in Super Bowls XXVII and XXVIII.  Nor can it keep Bill Parcells' ground game from chewing up huge swaths of clock in that first Super Bowl appearance, relegating Kelly and that vaunted K-Gun offense to spectators for much of the game.
Kelly, for his part, will have none of it.  He'll tell you that those Buffalo Bills teams were as close as any NFL team ever assembled, and that they won and lost as a unit.  No excuses.  He'll point to the bond that has endured far longer than the disappointment and humiliation of failing famously, and he'll proudly tell you about a brotherhood that has helped him overcome the death of his young son and two bouts with cancer.
Turns out that those losses, however big they seem to us at the time, are never going to define these Buffalo Bills, especially Jim Kelly.  The moments that matter aren't the ones with billions watching, but the ones when you're wiped out from the 35 grueling radiation treatments for squamous cell carcinoma, along with three ravenous chemotherapy treatments to fight the cancer that has taken hold of your upper jaw, cheekbone and nasal cavity.
.
Kelly knows.
Arguably the toughest quarterback to ever play football, he has been to hell and back and understands what's really important, things he refers to as the four Fs – faith, family, friends, and fans.  Losing four Super Bowls is a bitter pill to swallow, and Kelly is the first person to tell you how much it hurts, but it's nothing compared to undergoing surgery to remove your jaw and most of your teeth.  It's in those moments when true character is revealed, when something called 'Kelly Tough' becomes more than a corny catchphrase uttered at corporate speaking engagements and charity golf events.
Turns out those bitter defeats are more footnote than focal point, more detour than destination, more line item than legacy.
Turns out Jim Kelly's story is far bigger than the game of football.
~  ~  ~
Fast forward.
Kelly's 11-year NFL career is in the rearview mirror, and his future stretches out in front of him like a sheet of ice on Lake Erie in January.  He has a beautiful wife, and the first of two beautiful daughters.  Canton and its Pro Football Hall of Fame beckon in the near future.  There is no shortage of business opportunities, there's plenty of money in the bank, and he'll never again have to pay for dinner in Western New York.  Even better, Jill is pregnant with their second child, and on Valentine's Day 1997 she gives birth to Hunter James Kelly, the baby boy that Jim's been dreaming about.
Pause.
If those Super Bowl losses prove anything, it's that storybook endings are often just that – works of fiction, unicorns nestled snugly in the pages of a children's fantasy.  Kelly yearns for a son.  And while God blesses him with the birth of that son on his 37th birthday, Hunter is born with something called Krabbe disease, a genetic disorder that affects the central and peripheral nervous systems.  Cruelly, those affected by Krabbe typically appear healthy until onset, and Hunter seemingly enters the world as healthy as any other baby born on this day.
.
"Four months into his life, we had no idea that there was anything wrong with our son," Kelly says.  "But by then we could tell.  That began the battle.  We never knew what it was, not until Hunter was tested.  So that's the focus of our foundation, Hunter's Hope.  We want to make sure that states test for the maximum amount of treatable diseases possible.  When Hunter was born, the State of New York was only testing for 11 treatable diseases – today, we are closing in on fifty.  But there is still so much work to do.  So many states are still testing for 20 or fewer diseases, while others are testing for sixty.  The goal of Hunter's Hope Foundation is for all states to test for as many treatable diseases as possible."
Hunter's diagnosis changes everything.
"I dreamed about coaching my son in football," Kelly says. "Hunter would wear No. 12, and his cousin Chad [Kelly] would wear 83 [Andre Reed's number].  That's the way it was supposed to play out.  The script was written."
Krabbe disease flips the script.  Exceedingly rare, Krabbe is so obscure that, until recently, many medical journals failed to even list it among childhood disorders.  Most victims never see their first birthday; at one point, only one child had ever reached the age of four.  For Jim and Jill, the news is devastating.  But in truly Kelly fashion, they pour their energy into caring for their son, who, in turn, shows plenty of the fighting spirit that his father makes famous.
"I can't think of a tougher person, or a more determined fighter, than Hunter," Kelly says.  "The doctors were very open about his illness.  They said the probability of him living past that first year was extremely low.  But Hunter, more than any of us, was 'Kelly Tough'.  He was going to defy the odds, and that's exactly what he did.  One year became two.  Two became three.  Soon he was eight, nearly twice as old as the oldest child to live through this disease.  He kept fighting.  He kept proving everyone wrong."
"The doctors were very open about his illness.  They said the probability of him living past that first year was extremely low.  But Hunter, more than any of us, was 'Kelly Tough'.  He was going to defy the odds, and that's exactly what he did.  One year became two.  Two became three.  Soon he was eight, nearly twice as old as the oldest child to live through this disease.  He kept fighting.  He kept proving everyone wrong." – Jim Kelly
That the Kellys are able to provide round-the-clock care and constant nurturing helps, but Hunter more than does his part, fighting through the setbacks, the life-threatening complications from pneumonia, and the deteriorating neurological condition that ultimately claims his life.
"Hunter defied the odds, about 10-fold," Kelly says proudly.  "He was my little soldier, my million-to-one lottery ticket.  He put so many big smiles on my face, there's not enough paper to write about it.
"I've been asked about my battle with cancer, and it pales in comparison to what my son went through.  He was much tougher than I could ever imagine.  I believe we'll be together again, that what he went through wasn't the end, but the beginning.  I want to live many years more, but if that's not God's plan, it means I'll get to see Hunter sooner than expected."
~  ~  ~
Fast forward.
On August 5, 2005, Hunter Kelly dies of complications from Krabbe disease.  His death is a shattering blow, one that affects Jim Kelly deeply, the first – and biggest – in a series of personal setbacks:  There's the plane crash in the Bering Sea.  There's a hernia to deal with.  There are scattered operations to offset years of NFL punishment.  There is the cancer that nearly claims his life.
Today, Kelly can't feel the skin on the left half of his face.  He says his lip feels like it's constantly on fire.  The pain is always there in varying degrees, omnipotent, impossible to escape.
"There have been times when I've wondered, 'Why me?'" he says, "but that goes away quickly.  Who wants to hear about your problems?  I'd rather focus on trying to make someone else's day brighter."
Kelly is originally diagnosed with oral cancer in June, 2013.  He immediately undergoes surgery at Erie County Medical Center to remove his jaw.  Three weeks later he is fitted with the prosthetic jaw and false teeth.  His doctors tell him the procedure has eradicated the cancer.  Turns out they're wrong; several short months later, Kelly begins to suffer from horrible headaches, and the pain is unlike anything he's ever experienced.
"Pain has been part of my life," he says. "I don't complain about it much, but I should have known something was wrong because the headaches were so bad.  When you grow up in a house with six boys you can't show your pain, because if you do, they'll just dish out more of the same."
~  ~  ~
Rewind.
East Brady is a quiet river town, 65 miles northeast of Pittsburgh.  Jim Kelly's father works in the steel mills as a machinist.  He comes home for lunch around the same time Jim comes home from school, and the two of them throw the football in the backyard.  When he isn't passing with his father, a young Jim Kelly is throwing footballs through a tire, or working on his punting and kicking.  The passion pays off; Kelly becomes a schoolboy legend long before he is inducted into the Pro Football Hall of Fame, throwing for nearly 4,000 yards and 44 touchdowns during his career at East Brady High School.  He also stars on the basketball team, leading his team to the state semifinals with an average of 23 points and 20 rebounds per game.  The three-sport standout later joins Johnny Unitas, George Blanda, Joe Namath, Joe Montana and Dan Marino as part of the area's legendary NFL quarterbacks.
"I am so proud to be from East Brady," says Kelly of the town situated on the Allegheny River.  "For a small-town country boy to make it, and to be able to share all I've accomplished with my hometown buds and my high school coach, it's been a dream come true."
The Kelly boys are a close knit group, rambunctious, and always trying to out-do the other.
"What stands out the most is growing up in a family with six boys," he says with a laugh.  "All six of us played football, but we pretty much played all of the sports – football, basketball, baseball.  And in our small community of about 800, we were always competing with everyone.  It didn't matter if it was a game of Wiffle ball at the park, or pitching nickels against the curb, or playing tackle football in the backyard.  We were blessed to have a lot of kids in my hometown that liked to compete.  It was a competitive environment, and we all wanted to win."
Kelly wears No. 12 on his football uniform at East Brady.  He doesn't wear it for Namath, who led the New York Jets to an upset of the Baltimore Colts during Super Bowl III when Jim Kelly is only 8 years old.  Instead, he wears it in honor of four-time Super Bowl-winning quarterback Terry Bradshaw of the Pittsburgh Steelers.
"When I was young, I wanted to be Terry Bradshaw," Kelly says quickly.  "I came from a small school.  I had 25 guys on my football team, and there were only sixty kids in my graduating class.  Terry Bradshaw was my idol – in our town, we were all Steelers fans.  I really wasn't aware of Western Pennsylvania's quarterback legacy at that point.  I don't think Dan Marino was aware, either – we were in the same draft class – and I'm not even sure that Joe Namath would've thought anything about it.  As I got older, and I was able to look back at all of the great quarterbacks that came from Western Pennsylvania, I certainly became aware.  It's great to be part of that legacy."
Kelly is named all-state as a senior.  East Brady, which consolidated with another school more than twenty years ago, retires his number.
"I considered myself a football player," Kelly says of his time at East Brady.  "I played quarterback, but I was also the punter and the kicker.  I played linebacker, too.  My senior year I ended up playing safety because my coach knew how much I loved to hit.  He didn't want me in the middle of everything, so I think he tried to protect me by switching me to safety.  I didn't understand it at the time, but looking back now I can see that he had my future in mind, and he saw the potential that I had to play quarterback."
"I considered myself a football player.  I played quarterback, but I was also the punter and the kicker.  I played linebacker, too.  My senior year I ended up playing safety because my coach knew how much I loved to hit.  He didn't want me in the middle of everything, so I think he tried to protect me by switching me to safety.  I didn't understand it at the time, but looking back now I can see that he had my future in mind, and he saw the potential that I had to play quarterback." – Jim Kelly
Kelly remains close to his high school coach, Terry Henry.
"Being able to surround myself with good, quality people was so important to my success," Kelly says.  "Terry Henry is still my best friend today.  I've taken him to 28 of the last thirty Super Bowls with my five brothers, which is pretty cool.  East Brady was just a great place to grow up and play football.  Everybody in that town, I'd say 85 percent of the people in the town were at our games, so it was exciting.  When we played some of our rivals, it was three deep on the sidelines at times."
East Brady will always be home.  Kelly makes it back once a year, and the town serves as a constant reminder of his roots – and the source of 'Kelly Tough'.
.
"I think it's the work ethic that our parents instilled in us," says Kelly of what made the difference in reaching the NFL.  "The mentality was I wanted to be the best, not just in football or basketball, but I wanted to make my mom and dad proud, and make my brothers proud.  Back then, dealing with pain and injury was a big part of that.  'Kelly Tough' at that point in my life meant being physically strong, being able to bounce back from injury, being able to bounce back from something that someone else might not.  But later, when I developed cancer, I realized that 'Kelly Tough' is more than just the physical part.  There's the mental part.  Being mentally tough is probably just as important, if not more important."
Kelly, like a lot of high school players in Western Pennsylvania, dreams of playing his college football for legendary coach Joe Paterno.  He wants to be a Nittany Lion.  But, like hoisting a Super Bowl trophy, a future in Happy Valley isn't in the cards.
"I went to Coach Paterno's football camp during the summers before my junior and senior years of high school," Kelly says.  "I had my heart set on playing at Penn State.  But then Coach Paterno called me, and he told me that he'd already signed two all-state quarterbacks, and that he didn't have a spot for me on the team as a quarterback.  He did offer me a full ride as a linebacker.  I appreciated the scholarship offer, but I wanted to go somewhere and play quarterback. That's how I ended up going to the University of Miami."
Lou Saban – ironically, the former head coach of the Buffalo Bills – is the Hurricanes' head coach, and he's in need of quarterback.  He convinces Kelly that UM is the program for him, and Kelly finds himself attracted not only by the coach's pitch, but by the warm weather and big city life.
.
Kelly:  "It started out great.  Coach Saban said that they were incorporating a pro-style offense, which would play to my strengths and help to prepare me for the NFL, but, unfortunately, Saban changed his mind and decided to run the veer.  They had Ottis Anderson in the backfield, who would later end up being named MVP of Super Bowl XXV, which was our loss to the New York Giants.  The veer suited his strengths.  I wasn't an option quarterback, as everybody knows, so my college career got off to a rocky start.  I began to doubt whether I'd made the right choice.  I was blessed when Howard Schnellenberger became the head coach during my redshirt freshman year, and former NFL quarterback Earl Morrall volunteered to be the team's quarterback coach.  They installed the pro-style offense that Saban had promised, and that changed everything for me.  So, all of those great things that could have happened, ended up happening after all."
Kelly's arrival begins a run of quarterback greats at Miami, where he passes for a career 5,228 yards from 1979-'82.  Bernie Kosar follows him a year later, winning Miami's first national championship in 1983, fulfilling Schnellenberger's ambitious 5-year plan.
"It was a great ride with Coach Schnellenberger," Kelly says.  "That first season I was mostly on the bench, until we played Penn State in the eighth game.  It was on the road, Penn State was nationally ranked, and they were huge favorites.  Coach Schnellenberger approaches me right after pregame warm-ups and tells me that he needs to talk to me.  He pulls me aside and says, 'I feel that you deserve this opportunity to start, so you're starting today.'  I was stunned.  All I could do was look at him and go, 'What?'  And then I immediately went into the bathroom and threw up [laughs].  I was in there for 15-to-20 minutes, because I was so nervous.  Coach still jokes about it today.  Whenever he's asked about it, he'll tell you exactly what was running through his mind:  'What in the hell is wrong with this kid?'  That was how I got my first college start.  We wind up beating them 26-10, which was considered a big upset.  And it didn't get any easier from three – I went on to start against Alabama, Notre Dame, and Florida.  Welcome to big time NCAA football!"
For the record, Kelly completes 18 of his 31 attempts for 278 yards and three touchdowns in that 26-10 victory, a game in which the Nittany Lions are 40-point favorites.  It puts the Hurricanes and its hot young quarterback on the map.
And just when it looks like Kelly is about to take the college game by storm, adversity strikes.
"I entered my senior season on a high," Kelly says.  "I'm a preseason nominee for the Heisman Trophy, along with guys like John Elway, Dan Marino, and Herschel Walker.  But then, in the third game of the season, I blow out my shoulder.  It was a severe separation, and the doctors told me that I would never play football again.  I remember coming out of surgery, and the doctor saying that he hoped I'd been studying in school.  When I asked why, he told me that my shoulder was so bad that they had to insert three metal rods in my right arm, and that it was unlikely that I'd ever get my range of motion back.  It was devastating news, but I didn't dwell on the negative for long.  I relied on the 'Kelly Tough' that I learned from my father and my brothers, and I was determined to never give up, no matter what.  I knew the doctor was looking out for my best interest, and he didn't want me to get my hopes up, but I didn't want anybody telling me that I couldn't do something, not if I was determined to put my heart, my soul, and my willpower into the rehabilitation.  I knew that if I trusted it, anything was possible.  And that's what I did.  I worked extremely hard to rehab my shoulder and prove to everybody that I could still throw.  That's how I ended up being drafted by the Buffalo Bills with the fourteenth pick in the first round of the '83 NFL Draft."
~  ~  ~
Fast forward.
Buffalo's starting quarterback, Joe Ferguson, is at the tail end of his career, and the struggling Bills desperately need a quarterback for the future.  The '83 NFL Draft is loaded with them, headlined by guys named Elway and Marino.  With an offer of $2.1 million over four years on the table – a substantial offer for that era, even for a small market team like the Bills – a reluctant Jim Kelly finds himself in Buffalo, finalizing contract language with his inner circle.
And then, The Call.
"I was absolutely blown away by what Bruce had to say," Kelly recalls.  "The Bills were offering me very good money, and I'd resigned myself to playing on a bad team in a bad weather city.  But he is telling me all of this stuff, and it was impossible not to change direction."
The fledgling USFL is so desperate to sign stars like Kelly that Allen – the son of former NFL head coach George Allen – agrees to give up his rights to Kelly, allowing him to choose his team.
"At the time, it really wasn't a hard decision to make," he says, then adding, "but thankfully it was a temporary detour and not a final destination.  I eventually ended up in Buffalo, at the right time, and I think that it worked out for everyone involved.  My heart and soul is right here in this city.  With this team.  It just took some time for things to work out.  Thankfully, it did."
It doesn't seem that way at the time.  Kelly, in team president Patrick McGroder's office when the call comes, is ready to sign the most lucrative rookie contract in franchise history to that point.
The Call changed all of that.
"I would have been foolish not to listen," Kelly says with a smile. "To be honest, I was very, very, very close to signing with the Buffalo Bills.  Then the call comes in, and Bruce says to my agent, 'Tell Jim, do not sign anything; we've got a deal he cannot refuse.'  I'm often asked who the secretary was that put Bruce through to us, but I don't know who it was, to be honest with you.  To this day it's a mystery to me.  I do know that there were a lot of people who were really ticked off."
"I was very, very, very close to signing with the Buffalo Bills.  Then the call comes in, and Bruce says to my agent, 'Tell Jim, do not sign anything; we've got a deal he cannot refuse.'  I'm often asked who the secretary was that put Bruce through to us, but I don't know who it was, to be honest with you.  To this day it's a mystery to me.  I do know that there were a lot of people who were really ticked off." – Jim Kelly
The choice of cities alone is enough to get Kelly's attention:  Warm weather Florida cities like Tampa Bay and Jacksonville look especially inviting, given Kelly's time spent at the University of Miami.  Houston is another intriguing destination, even though that franchise won't start playing until the 1984 season – which means sitting out the 1983 campaign.  Kelly has his answer after meeting with Gamblers owner Jerry Argovitz – in the form of a deal for $3.5 million over five years, with $1 million in guaranteed money up front.
Contract negotiations with the Bills, on hold since The Call, are suddenly a mute point.
Jim Kelly is taking his talents to Space City.
~  ~  ~
Decades before his mud-slinging, accusation-flinging, insult-bringing presidential campaign, a young Donald Trump is trying to shake the high holy shit out of professional football.  He's just 37 years old – a wildly successful businessman with a prickly personality, flyaway sandy hair, and a trophy first wife named Ivana.  He's just built a 68-story glass tower in the middle of Manhattan and, to make sure people notice, he puts his name on it.  In bronze.  He soon opens his first Atlantic City casino, slapping his name on that, too.  He's all ego all the time, even back then, with an insatiable appetite for winning, regardless the cost.
.
So, in 1983 he buys a professional football team, joining a confederacy of other rich rogues who've just completed their first season of something called the United States Football League.  Their audacious business plan:  Compete with the NFL – the sport's one true, grim superpower, whom USFL owners mock as the No Fun League – but not directly against it.  The twelve-team USFL plays its games in the spring, encourages excessive end zone celebrations (the NFL penalizes them), and allows both replay challenges and two-point conversions after touchdowns (the NFL doesn't permit either at this point).  Games are televised on ABC, and also on an upstart cable channel called ESPN.
Trump's new team, the New Jersey Generals (purchased from J. Walter Duncan, an Oklahoma oil tycoon), has the league's biggest and most bankable player on its roster – Heisman Trophy-winning running back Herschel Walker – but it largely underperforms in its first season under Duncan's watch.  In Trump's first year, the Generals' record jumps from 6-12 to 14-4, before New Jersey is knocked out in the first round of the playoffs.  Walker, in the midst of a three-year, $5 million contract, is soon joined by Trump signees Brian Sipe (the 1980 NFL MVP) and Heisman Trophy winner Doug Flutie.  Trump even goes after New York Giants All-pro linebacker Lawrence Taylor, signing him to a futures contract and forcing the Giants to up the ante to retain his services.
Meanwhile, second year quarterback Dan Marino is busy tearing up the National Football League.  In 1984 Marino puts together a season for the ages, leading the Miami Dolphins to the AFC championship and becoming the first passer to top 5,000 yards in one season, a feat not equaled for nearly a quarter century.  Marino also throws a record 48 touchdown passes season, setting a record that will stand for twenty years, until a guy named Peyton Manning breaks it.
Kelly is doing big things, too.  In his first professional season, he guides the expansion Houston Gamblers to first place in their division with a 13-5 record, capturing both the USFL's Rookie of the Year and MVP awards.  He also completes 370 passes for 5,219 yards, the highest yardage total in pro football history until 2011, while also throwing 44 touchdowns.  Both are USFL records that are never broken.
"Going to the USFL for two years was a decision that didn't sit well with people in Buffalo," Kelly concedes, "but I think it ended up better preparing me to play in the NFL.  Playing for the Houston Gamblers is probably where I learned to really throw the football, as far as reading defenses is concerned.  I didn't really have a long career in college because I didn't start until so late in my freshman year, and then blowing out my shoulder early in my senior year.  So, I really only played about two-and-a-half in college.  Those two years in the USFL, throwing the ball 40 to 50 times a game, that definitely prepared me for Buffalo."
While Kelly is busy slinging the ball around in Houston, the Bills are busy being…well…horrible.  The team posts back-to-back 2-14 seasons following The Call, while trotting out a forgettable procession of passers, including the aging Ferguson, followed by guys like Joe Dufek, Matt Kofler, Vince Ferragamo and Bruce Mathison.  As fun as Kelly and the Gamblers are to watch, Buffalo's collection of QBs are equally hard on the eyes; together they combined for 6,583 yards passing yards, to go along with 27 touchdowns and 61 interceptions over that forgettable two-year span.
"I kept up with the Bills during this period," Kelly says.  "They were bad, no question about it.  I rooted for them to turn it around and become a championship-caliber team, but I just didn't think that I'd be able to play a part in it."
Kelly might never have been involved at all, had it not been for a series of fortunate events that deliver the Bills from its nuclear winter.  First, the Bills own the top pick in the 1985 NFL Draft.  They used it on Virginia Tech defensive end Bruce Smith, who, during his career with the Bills, is elected to 11 Pro Bowls, nine NFL All-Pro Teams, and two NFL All-Decade Teams (1980s and 1990s).  In Smith, the team has its defensive anchor.  Wide receiver Andre Reed, who becomes Kelly's favorite target and joins him in the hall of fame, is added in the fourth round.
.
Then, in the fall of '85, Trump happens.
"Donald wanted the USFL to compete directly against the NFL," Kelly says with a laugh.  "So he started making a lot of noise about how our league should play its games in the fall, at the same time the NFL was playing its games.  There were a lot of opinions about that, but Donald kept pushing the other owners to go for it.  He had a clear vision for how the league would topple the NFL.  It turned out to be the other way around."
"Donald wanted the USFL to compete directly against the NFL.  So he started making a lot of noise about how our league should play its games in the fall, at the same time the NFL was playing its games.  There were a lot of opinions about that, but Donald kept pushing the other owners to go for it.  He had a clear vision for how the league would topple the NFL.  It turned out to be the other way around." – Jim Kelly
The USFL, already on shaky ground and bleeding red ink to the tune of $200 million, finds itself going all in when Trump out-debates and out-maneuvers the other owners, who vote 12-2 to move to a fall schedule.  They also proceed with a $1.7 billion anti-trust lawsuit against the NFL, claiming that it has monopolistic a chokehold on national TV rights.  It's high risk, with huge upside potential; the owners hope the suit voids the NFL's rich TV contracts, or forces a merger, or provides a game-changing payday that puts the league on equal footing with the NFL.
So instead of playing football in the spring of 1986, the USFL lands in U.S. District Court in Manhattan.  When a judge rules in favor of the USFL at trial, but awards the league just $1 in damages – a figure that is immediately increased to $3, because damages in anti-trust cases are tripled – the league has no other choice but to fold.  And just like that, the players under contract with USFL teams – including Jim Kelly – are suddenly looking for work.
"We all saw it coming, but there wasn't anything we could do about it," he says.  "The whole league went down the drain when that ruling came out."
Per NFL rules, the Bills retain Kelly's negotiating rights.  He still isn't thrilled with the idea of playing in a cold weather city, but at this point he knows that it's Buffalo or bust.  He isn't exactly sure what kind of reception awaits him in Western New York, but he knows that the Bills organization is eager to start talking contract.
.
"It was amazing," Kelly says.  "Here I am, coming back to the team that I'd left standing at the altar, not really knowing how people were going to accept me, and unsure as to how this whole thing was going to work out.  They had Bruce Smith, they had Andre Reed – both thanks to Bill Polian, who is one of the greatest general managers ever, but the team was still a long way from competing for a championship.  There was an energy here, that much I did know.  They were excited because they did need a winner here, and they needed to start somewhere."
Polian, who has already spent two seasons with the Bills' organization, is promoted to GM in '86.  He immediately goes to work on a deal for Kelly's services, which, at $8 million over five years, is then the richest contract in NFL history.  If Kelly has any trepidation over his return to the city he'd spurned, all of that is put to rest on August 18, 1986, when Kelly is shuttled into Buffalo on owner Ralph Wilson's private jet.  Hordes of fans and reporters greet him at the airport.  His limo ride to the downtown Hilton is an event unto itself, as fans line the overpasses to cheer and wave homemade banners.  Cars pull over and honk their horns as the escorted motorcade drove past.
"It was a day I'll never forget," Kelly says, smiling.  "I didn't know what to expect – I'd made those comments publicly about not wanting to play here, about not wanting to be a Buffalo Bill, and I'd walked out on the team and headed off to the USFL.  But it was incredible.  I never thought I'd get that kind of reception – the crowd at the airport, coming down the thruway with all of the banners, and the people lined up on the overpasses waving at me as we drove by…it was very clear that the fans here loved their team, and that they were starving for a winner."
With Smith, Reed and Kelly onboard, the pieces are slowly starting to coalesce.  Linebacker Darryl Talley, an '83 pick out of West Virginia, is starting to blossom.  Center Kent Hull joins Kelly from the USFL, and the pair will play 11 seasons together, a span in which Hull starts 169 of 170 games and becomes a three-time Pro Bowl selection.  Tackle Will Wolford, a 1986 first-round pick, becomes a key contributor.  Then, nine games into the 1986 season, Polian fires head coach Hank Bullough and replaces him with Marv Levy.
"That first season was rough, because we didn't win a lot of games," Kelly recalls.  "We were 2-7 when Hank was fired, and we finished the season 4-12.  But one of the brightest moments in Buffalo Bills history is when Bill Polian named Marv Levy head coach.  Bill was putting the pieces together on the field, and doing a masterful job in bringing in the players that we needed to build that championship-caliber, and then hiring Marv was the icing on the cake.  Marv was the perfect coach to lead us."
Polian continues bringing in talent.  Linebacker Shane Conlan and cornerback Nate Odomes are drafted in 1987.  Steve Tasker – who is signed the same week that Levy is hired – begins to carve out an All-Pro identity on special teams.  Linebacker Cornelius Bennett is obtained from the Colts in a blockbuster trade that also includes Los Angeles Rams running back Eric Dickerson, and Bills running back Greg Bell.
"We were getting better," says Kelly.  "We won seven games, and we were in the playoff hunt until late in the season.  Everyone could feel it, from ownership at the top, to right on down to the field.  We knew were going to make some noise in '88."
The biggest noise comes on draft day.  The Bills don't have a first round pick in the 1988 NFL Draft, but Polian is able to nab future hall of fame running back Thurman Thomas midway through the second round.
.
"Thurman was a home run," Kelly says quickly.  "The knee injury he suffered in college is what caused his draft stock to drop, and teams were afraid to pull the trigger on him in the first round.  Otherwise, he would have been a sure-fire first round pick.  So when he fell to us, Bill Polian didn't let him get away."
Polian selects Thomas for a very good reason; the Bills need a feature running back, a ball carrier who can grind out tough yards and keep the chains moving.  When Polian drafts Ronnie Harmon in '86, it's with the intention of him taking on that role.  But Harmon's talent doesn't translate into that of an every down back, and Polian's search continues.
"Thurman Thomas was our go-to guy, someone who could get those tough yards between the tackles, who could bounce outside, who could catch the ball out of the backfield.  He was Mr. Versatility.  He's also someone I consider one of my closest friends, someone who has been there for me through a lot of rough times, including my battle with cancer.  That's what made those Bills teams so special.  We were professionals but we were like family in so many ways, and we developed friendships that will last a lifetime."
"Thurman Thomas was our go-to guy, someone who could get those tough yards between the tackles, who could bounce outside, who could catch the ball out of the backfield.  He was Mr. Versatility.  I consider him one of my closest friends, someone who has been there for me through a lot of rough times, including my battle with cancer.  That's what made those Bills teams so special.  We were professionals but we were like family in so many ways, and we developed friendships that will last a lifetime." – Jim Kelly
Thomas lands in Polian's lap because of that knee injury, which scares off teams until the Bills can select him with the 40th pick overall.  With Kelly under center and Thomas in the backfield, Buffalo finishes 12-4, winning the first of the six AFC East titles and advancing to the AFC Championship Game, where they lose in Cincinnati, 21-10.
"We were disappointed to lose that game, obviously," he says, "but we knew we had something special going on with this team."
Buffalo's momentum and team chemistry nearly unravel the following season, when offensive lineman Howard Ballard whiffs on a defender and Kelly is knocked out of a Week 5 game in Indianapolis.  The next day, Kelly publicly rips Ballard, creating a storm of controversy that dogs the Bills for the rest of the season.
The press has a field day.  Both the New York Times and the LA Times seize on the turmoil, and just like that, the Bickering Bills are born.  Kelly & Co. are good enough to win the AFC East despite the public infighting, although the distractions play a big part in their 9-7 regular season record.  They are then knocked out of the playoffs by the Cleveland Browns.  The game is a 34-30  shootout, and it sets the tone for the next season.
"Ted had the plan that day," Kelly says with a smile.
.
Ted is offensive coordinator Ted Marchibroda, who unveils a dangerous no-huddle offense against the Browns.  Kelly thrives in it, throwing for 404 yards while largely calling his own plays, and Cleveland struggles to keep up with the tempo.  If Ronnie Harmon doesn't drop an easy, go-ahead touchdown pass in the waning seconds, the Bills win that game.  Instead, they return to Buffalo convinced that they've found their identity.
Buffalo wins nine of its first 11 games to start the 1990 regular season, finishing with a 13-3 record and home field advantage throughout the playoffs.  The offense racks up 44 points in a first round win over bitter rival Miami, and then goes off for 51 points against Oakland in the AFC Championship Game.  Kelly's stat line in those two playoff games:  A crisp 639 yards and five touchdown passes.  And just like that, the Buffalo Bills are Super Bowl bound.
"There were only sixty kids in my graduating class at East Brady," Kelly says.  "There were 28 players on my football team.  To be able to make it to the NFL, and to be able to perform like that in the playoffs, it was an incredible experience.  I couldn't believe it.  We were going to play in Super Bowl XXV.  I was the quarterback of the Buffalo Bills, going up against the New York Giants, and all of those dreams that I had as a little boy in my backyard were coming true."
~  ~  ~
Fast forward.
Jim Kelly's career is over.  It's August 3, 2002, and the crowning moment in a storybook football career has arrived.  He's in Canton, and he's about to be inducted into the Pro Football Hall of Fame.  Marv Levy is right there beside him, his presenter on this day, and it's easy to see that Kelly's love for his former coach is as strong as the water raging over Niagara Falls.  It's also easy to understand why; Levy was as much a father figure to his players as coach, an even-keeled, thoughtful man with a degree in English history from Harvard University and a down home, folksy manner that endeared him to his players.  He was firm but fair, loving in many ways, humble in victory and gracious in defeat – never more so than in the moments following those four bitter Super Bowl defeats.
.
"Marv is the greatest teacher I've ever been around," Bill Polian says in the days leading up to his own induction ceremony, of which Levy will also be the presenter. "And I dare say he's on par with [former UCLA basketball coach] John Wooden in terms of how he gets his message across and how he does it.  I don't think there's ever been a better one that I've ever met or heard of.  His grasp of the game and how he wants the team to play is communicated clearly, concisely and inspirationally."
Kelly could have chosen anyone to present him, and there are plenty of options – his father, his high school coach, Howard Schnellenberger – but Levy is the only person he truly considers.  When Levy steps to the podium, the sea of Bills fans who've made the trek to Canton roar.
"You know, in order to win in the NFL you've got to have ability and sometimes you gotta have some luck, too," Levy says, addressing the sun-drenched crowd. "Well, Jim Kelly had ability and much more.  I was the one who had the luck because from the very first day I became coach of the Buffalo Bills I was keenly aware of what a special player, and what a special person Jim Kelly was. How lucky can a guy get?"
Kelly's acceptance speech is from the heart, and filled with the appreciation of a man who has never forgotten where he came from.  He thanks his family, his childhood friends, his coaches, Bills owner Ralph Wilson, Bill Polian, and his Bills teammates.  It's then that he turns his attention to those sitting in the front row – his wife, Jill, their young daughters Erin and Camryn, and their five year-old son, Hunter.
.
"Since the day I was selected, I prayed to God that my son would be here with me today," Kelly says. "God has granted me that blessing.  It has been written throughout my career that toughness is my trademark.  Well, the toughest person I've ever met in my life is my hero, my soldier, my son, Hunter.  I love you, buddy.  Thank you, Canton, thank you Buffalo and God bless."
~  ~  ~
Rewind.
It's 1991, and Buffalo's most eligible bachelor is not only one of the most recognizable athletes on the planet, he's also a major playboy, his huge house in the affluent Hillsboro neighborhood of Orchard Park often filled with loud music, inebriated partiers, and an assortment of beautiful women.  Jill Waggoner is one of those beauties on this night, and barely 21 when a friend scores an invite to Kelly's crib.  She catches the quarterback's eyes immediately.  There's clearly a spark between them, and while they spend plenty of time talking on this night, Jill cautiously rejects his advances.  She also leaves without giving him a phone number, forcing Kelly to start chasing leads.  Kelly is undeterred; eventually, he finds out where she works, and soon they start dating.
.
If it seems like something straight out of a fairy tale – the handsome prince marries the beautiful maiden, and they live happily ever after – then you've come to the wrong place.  Jim and Jill do marry after a long courtship, with Jill giving birth to Erin Marie Kelly in early '95.  The marriage takes place a year later.  They are young and on top of the world, but struggling in ways that gave Jill pause.  She later recounts their problems in a book, Without a Word, with Jim's lack of attention being one warning sign, and the discovery of some disturbing mementos from his wild, bachelor days being another.  He is hardly home that first year, between the football, fishing, hunting, golf, and speaking engagements, which only ratchets up the tension.
With this as a backdrop, Jill becomes pregnant again.  Hunter is born on Jim's 37th birthday – February 14, 1997.  Four months later, the words 'Krabbe disease' are soon etched in both of their minds.
.
Despite the devastating news, the Kellys do what the Kellys do best – they turn 'Kelly Tough' into a way of caring for their young son.
Hunter's illness is draining on many levels, and the strain of always having to be there for him chips away at the marriage.  It doesn't get any easier when Camryn is born two years later, but it's during this time that Jill gives her life to Christ.  It prove to be a pivotal decision, one that not only rescues their relationship, but sustains them through the tough times ahead – none darker than Friday, August 5th, 2005, when Hunter dies from respiratory failure.
"It was the worst day of my life.  I was met by a couple doctors at the hospital who said 'We're sorry, your son is gone,'" Kelly recalls.  "It was devastating.  And although I didn't have the opportunity to say 'bye' to him, but I got to spend many minutes with him, after, by myself, talking to him.  Jill and I didn't say much to each other on the way home, and that's when our relationship really hit rock bottom.  Jill sought God.  I went further away."
In 2009, with the weight of the world on his shoulders, Jim Kelly finally comes clean.  He confesses to his wife that he's not been faithful to her during their marriage, and he also turns over his life to Christ.
"I was empty.  I was living a lie.  I wanted to be the father I always should have been, one who could walk through my front door and my girls could look at their daddy with respect," he says.  "I knew I was losing a lot of that and as a father, you need to accept that responsibility for your kids.  And I wanted to make sure that I will see Hunter again, hopefully later than sooner; I was losing all that.  I was losing a woman who took care of my son, raising two kids, and I knew I needed to change my life, and thank God I did."
~  ~  ~
Rewind.
The Bills enter Super Bowl XXV red hot, and yeah, history shows that the unstoppable, no-huddle, K-Gun offense – named after Kelly, no less – was stopped cold, bottled up by a New York Giants defense and its bold, young defensive coordinator, a guy named Bill Belichick.  It won't be the last time we hear from Belichick, or the last time he tastes Super Bowl glory – just ask a guy named Tom Brady.  The Persian Gulf War is about to go full effect, Whitney Houston kills it with her goose bump rendition of the National Anthem, and Jim Kelly's lifelong dream is suddenly, improbably coming true.
"I was the quarterback with two minutes to go, leading my team down the field in the Super Bowl," Kelly says with a smile.  His voice trails off, and then:  "As we all know, we did not win.  But I played in the biggest game on the biggest stage.  I got to battle with my teammates.  I got to play for a coach I love.  I  got to put it all on the line for the people of Buffalo.  It was special to be able to compete, to struggle, to try to put your team in a position to win.  Those are the things that take me all the way back to East Brady, and I wouldn't have been in that game if I hadn't been from there.  That's what made it all possible – the work ethic that my father instilled in me, and the impact made on me by my high school football coach."
Kelly and the Buffalo offense, which romps over Oakland in the AFC Championship Game, finds itself throttled at every turn, unable to sustain drives, unable to control the tempo – and yet, improbably, they somehow find themselves in position to win the game.
Trailing 20-19 late in the fourth quarter, the Bills force a Giants punt, and take possession of the football at their own 10 with 2:16 left to play.  Thurman Thomas breaks off a big 22-yard run on third-and-1, and Kelly, not known as a runner, scrambles three times for 18 yards.  With no timeouts left, Thomas rips off an 11-yard run to the Giants 29.  The Bills hustle to the line of scrimmage, where Kelly spikes the ball, stopping the clock with eight seconds remaining.
We all know what happens next.
Scott Norwood.
Wide right.
.
People rag on Norwood for missing that kick, but they have no idea what it's like to kick a football 47 yards and hope it splits the uprights, much less trying to do so with a Super Bowl championship on the line and the whole goddamn world watching.  How many times do professional golfers – the best in the world at their chosen profession – stand over those dreaded four foot putts, only to watch their balls rim out?  This isn't a four foot putt.  This is a 47-yard field goal attempt with a Lombardi Trophy on the line.  Today, people forget that Norwood was an excellent kicker.  But Norwood isn't a robot, and, with Kelly and his Bills teammates holding hands on the sidelines, he tries his level best to win the game and make the dreams of everyone in Western New York come true.
"We lost as a team, it wasn't on Scott.  It hurt to lose that game, just as it did to lose the next three Super Bowls, but I choose to think about my 11 years in a Buffalo Bills uniform," Kelly says, reflecting on his hall of fame career.  "I don't think about four games.  If you want to sit in your rocking chair when you get old and spend all of your time thinking about what could have been, then you're crazy.  I think about the great things that happened, the friends I had and the fun times I had.  I was just happy to do what we did."
~  ~  ~
Fast forward.
Marv Levy addresses his team, knowing that his words will have far-reaching implications.  The world does not stop with the loss.  There will be another season to be played, and they are too talented and to resilient to give up.
Levy's words – mourn the loss, and then pick yourselves up and compete – resonate.  The Bills go 13-3 for the second season in a row, crushing the Chiefs 34-17 in the Divisional Playoffs, and then winning a 10-7 gut check over John Elway and the Denver Broncos.  And just like that, the Bills are heading back to the Super Bowl.
Unfortunately, Joe Gibbs' Washington Redskins come to play, and it looks as if the Bills do not.  Thomas, who had been so scintillating during the regular season, winning both the Offensive Player of the Year and Most Valuable Player awards, misses the first series because he can't find his helmet.  It sets the tone.  Kelly throws four interceptions, and the Bills lose 37-24, in a game that isn't nearly as close as the final score indicates.
.
For Kelly, the loss is painful in more ways than one.  Concussed, he finishes the game 28-of-58 passing for 275 yards, with two touchdowns (both of which come in the fourth quarter) and those four picks.  He still has no recollection of that entire fourth quarter, and, in a scary admission, says that he even went to the wrong hotel after the game.
"Maybe I should have gotten smacked upside the head earlier in the game," he says with a laugh.  "I probably would have played better, because I think I threw two touchdowns with the concussion.  I'm like almost every other player who reaches the NFL.  If a concussion takes 10, 15 years off my life, it is what it is.  I played the game because I loved it.  I knew that there were consequences, probably at the end, probably not as much as I know about it now, but I tell you what, I wouldn't change one thing.  I loved the game of football.  It's brought me what I have today."
~  ~  ~
Repeat.
Another trip to the postseason, another Super Bowl loss – this time to Troy Aikman, Emmitt Smith, Michael Irvin, et. al., in a 52-17 blowout most notable for Don Beebe's rundown of Leon Lett, preventing a fumble return for a touchdown.  The Cowboy offensive line is massive, and Dallas can't be stopped.
Cruelly, the game starts on a positive note for the Bills, until Kelly throws an interception and loses a fumble, both of which lead to Dallas touchdowns.  Then, in the second quarter, Kelly is knocked from the game with a knee injury, and the game goes downhill from there.  The nine Buffalo turnovers are a Super Bowl record.  Time, it seems, has caught up with these resilient Bills.
~  ~  ~
Repeat.
The Bills are back.
Improbably.  Unprecedentedly.
Yes, the Bills are back in the Super Bowl.  But so is Dallas.
The fourth and final trip is a rematch with the Cowboys, and the Bills play a courageous and gritty first half before the wheels fall off, with Thomas fumbling twice and Kelly throwing a costly interception.  The 30-13 loss is the last stand for these Bills on the big stage, but a battered and bruised Kelly refuses concede defeat.
"It's frustrating, it really is," he says during the post-game interview.  "The Cowboys have a hell of a defense.  Take your hats off to them.  I have a few years left. Don't count me out yet.  We weren't the better team today.  Our goal is the same.  We'll do it until we get it right."
~  ~  ~
Fast forward.
Ralph Wilson, the Buffalo Bills' beloved owner, passes away on March 25, 2014.  He's 95 at the time of his death, and the loss is felt throughout Western New York.  Players and coaches from all eras of Bills football are filled with sadness.  The loss is especially tough on Kelly, who had grown close to the Wilson family through the years.
"Ralph Wilson was an owner that we all loved," Kelly says.  "He would talk to us; he would come down to the sidelines during practice and talk to us like he was our father.  He would question us on different things not related to football, things about our lives and things that were going one in our lives.  He really cared about the players that played for him.  He was a very smart, bright individual.  He was so loyal to the people around him – his coaches, his players, and teams' fans.  He had one of those open-door policies.  If you ever needed to talk to him, or if you ever felt you needed to say something, he was right there.  I loved the man dearly.  I love the whole family.  As a matter of fact, I was just with Mrs. Wilson two days ago – we were in Cancun, Mexico, celebrating Thurman Thomas's fiftieth birthday.  Ralph was special.  He was like a father to be honest with you, and I will always think of him like that.  My dad always received a Christmas card from him, and he always received a big chocolate football at Christmas time.  Ralph was one of those guys that was just like us, and we just loved him to death."
It's ironic that these Bickering Bills grow close through all of the heartache on the field, forging relationships to last a lifetime.
"There's no doubt that during our playing days we were as close to family as you could possibly get," Kelly says without hesitation.  "There was nobody out there that had guys that won and lost and took it hard, but also partied hard.  We had fun.  We enjoyed ourselves.  People always say, 'Oh, you had too much fun,' but when you win, you have fun.  Yeah, we didn't win at the end, but we knew when we hit the field, whether it was practice or a game, that we were 100% mentally prepared and we were ready to play.  You win some, you lose some, and unfortunately we didn't win any at the end of the year, but with those guys, I always had confidence that they were going to come to the game ready to play – and not one time did they ever surprise me and not show up ready to play.
.
"We have the type of guys that, away from the football field, have remained very close.  As a matter of fact, several of us ex-players and our wives went to Napa Valley before the Super Bowl, and we had a great time together.  My golf tournament is coming up in June, and I'd say about 15 or 20 of them are going to be there.  No matter what the situation is, we are very, very close – guys like Bruce Smith, Thurman Thomas, Andre Reed, Darrell Talley, Cornelius Bennett, Steve Tasker, Will Woolford, Chris Moore.  I could go on and on, because we are like one, big, happy family.  And when we get together it's not all serious – and in that way it feels like times have never changed.  I will put it this way; if you cannot take a joke, if you cannot get picked on every once in a while, you don't need to get around us, because we love to mess with each other."
~  ~  ~
Rewind.
Kelly is on a 2000 bear hunting trip in Alaska – he loves to hunt almost as much as he loves playing football – when the single-prop plane he is flying in goes down in the Bering Sea.  The plane loses engine power shortly after departing the beach at Cold Bay, where Kelly and his brother Pat are hunting bears. Upside down, he kicks out the window out and swims for shore in 39-degree water, and then thaws himself with a Bunsen burner.
"We lost total power of the plane, and that's when the pilot turned to me and said, 'Jim, brace yourself, we're going down,'" Kelly says, describing how the pilot, Jerry Jacques, put the plane down in the tidal zone, damaging the propeller.  "I pretty much saw everything flash in front of me…I thought I was a goner."
Kelly survives, but comes back from the ordeal 23 pounds lighter.
~  ~  ~
Pause.
Kelly, on his relationship with God:  "I know that I'm ten times the man I ever was before – a lot better husband, a lot better father, and a lot better person," he says.  "When I decided to become a Christian and decided to change my life and quit screwing up, it was like, 'Wow, why didn't I do this before?'  There was no hiding anything from that point on.  I just felt so much better, not only about myself, but my future, and my family.  It was an awesome transformation, and it didn't take me long to realize that God had been the answer all along.  I just needed to give myself over to him."
~  ~  ~
Fast forward.
Four agonizing months have passed since that day when Kelly received the last of those 35 radiation treatments.  The cancer on this day – thank God – is nowhere to be found.  Only the light remains.
"I've been through a lot in my life," he concedes, "and it's been a rollercoaster ride.  People think that just because you're famous athlete, or that because you're a hall of famer, that you're immune to what life throws at ordinary people.  They put you on a pedestal, but the thing is, we are just like everybody else.  We all go through tough times.  It's what you do about it that's what counts.  It's the attitude that you have that counts.  When I was in the hospital, I learned a valuable lesson that I like to share with others, and that is to always surround yourself with good, quality people.  For me, that is my family – my beautiful wife, my two daughters, my five brothers, my friends.  Not one time did they ever walk into my hospital room with a frown on their faces.  They walked in with an attitude that changed my life – by their presence, by what they said and how they acted when they were around me.  For everyone out there that has problems – whether it's the elderly, or whether it's your own kids, or whether it's your parents or grandparents – my advice is to ask a simple question:  'What can I do to make someone's day better?'  It doesn't have to be a big thing.  What you say to them, the attitude that you have around them, those little things make all of the difference in the world."
.
Kelly pauses, as if changing the play at the line of scrimmage.
"A positive mental attitude is such a strong weapon when battling your problems.  A couple of things along those lines:  People approach me daily and tell me what an inspiration I have been to them, but in all honesty, it's the other way around.  When I was at my absolute worst, it was the thoughts and prayers of those I didn't even know that made a difference – all of the cards, the well wishes, the phone calls, the emails…it all motivated me to continue to fight.  It also changed the way I think, and I came up with a phrase so that I can share it with others:  'Make a difference today for someone who is fighting for their tomorrow.
"People also ask me for my philosophy on life, and I tell them that I live by the four Fs:  My faith is number one.  Family is number two.  My friends are number three, and my fans are number four.  Those are the things that I always hold close to my heart.  I became a different person when I gave my life to Christ, and my faith has carried me through some of the darkest days of my life.  The camaraderie that I have with my friends, the ability to keep everything light, just to laugh and joke with them, you can't overstate how much of a difference that makes.  And the fans, I can't put into words what they mean – all of the letters, complete strangers offering me their love and support, it just blows me away.
"Looking back now, it all just makes sense and I understand why the good Lord put me in this position.  I struggled through those four Super Bowl losses.  I went through neck surgery, and then back surgery.  I lost my son to a horrible illness.  I survived cancer twice.  But God has a plan, and I realized that through my son, Hunter, I can make a difference.
"Looking back now, it all just makes sense and I understand why the good Lord put me in this position.  I struggled through those four Super Bowl losses.  I went through neck surgery, and then back surgery.  I lost my son to a horrible illness.  I survived cancer twice.  But God has a plan, and I realized that through my son, Hunter, I can make a difference." – Jim Kelly
"With Hunter's Hope, we're focusing on making sure that the states test for the maximum amount of treatable diseases.  Thousands of babies die every single year in this country because they are born in the wrong state.  Don't take this the wrong way; I totally understand why we send billions of dollars overseas to other countries, but why don't we save some of that money for something that's such a no brainer right here in our own country?  Let's give our own kids a chance right here, in the United States of America, to be able to dream, and set goals, and be able to raise families like I was able to do."
~  ~  ~
Replay.
August 2, 2014.
Jim Kelly is back in Canton, this time to celebrate the induction of his favorite receiver, Andre Reed. Through the years, sixty-seven of the 663 passes that Reed caught from Kelly were touchdowns, but it's today's pass that means more than all of the others combined; at the conclusion of Reed's hall of fame acceptance speech, his quarterback, the greatest and most beloved Buffalo Bill of them all, joins him on stage, and connects one last time as the overflow crowd – Bills fans, mostly – erupt with delight.
.
"I was known for my toughness going across the middle, making that catch, breaking tackles, but the toughest individual I've ever met in my life is Jim Kelly, No. 12," Reed says.  "You're the reason why I'm standing here today. Every time I looked into your eyes in the huddle, I knew we could get it done, I knew we had a chance to win.  Leadership beyond reasonable doubt, and those around you gravitated toward your leadership and what you said.  You taught us not to quit.  You know what we used to say, 12 plus 83 always equals six."
That Kelly can even make the trip to Canton is a miracle – his battle with cancer has left him ravaged, and 51 pounds lighter than at the start of radiation and chemo.  Like Reed, he is dressed in his gold hall of fame jacket.  Reed turns his back to the crowd at the podium, and catches that final pass before sharing a long, emotional hug.  Kelly's promise – to be there for Reed's induction – is fulfilled.  It's almost more than the former star receiver can bear.
"When I saw him today, I almost broke down and cried," Reed remarks a day earlier, after the annual hall of fame luncheon.  "This man has been through so much in his life, he's had to battle in so many different things, the toughest individual I've ever seen, and he was upbeat, smiling.  Three months ago we didn't even know if he was going to be here in Canton.  My heart beat a bit faster when I saw him because of all that."
For Kelly, being back in Canton, this time free from the clutches of cancer, is pure catharsis.
"How do I find the words to say anything about you?" Reed asks during his acceptance speech.  "Your belief in me that I could get the job done anytime will resonate with me for the rest of my life.  Jim, you have endured a lot in your life, the loss of a son, and most recently your battle with cancer.  You're an inspiration to all those you touch.  I'm honored to call you my teammate, my friend, and my family member, and now a fellow Hall of Famer.  I love you, man."
"I love you too," Kelly says, tearfully.
Four Super Bowl losses?
Wide right?
There are far more important things in life.
~  ~  ~
"The Pro football Hall of Fame is something that I never dreamt about," Kelly says, reflecting on his own induction.  "I always looked up to guys like Roger Staubach, Terry Bradshaw, Bart Starr, Bob Griese, Gale Sayers, Dick Butkus, and Merlin Olson.  These are guys that I put on a pedestal, and I never thought that I would turn out to be one of them.  For me, the day that I was inducted was one of the greatest moments in my life.  From the moment I learned that I had been selected, I prayed every single night that if it was God's blessing, that Hunter would be there with me on the day that I was inducted.  My prayers were answered.  He was there for me, and it's just one of the most awesome feelings that I've ever had.  He never ran out on the football field, or heard the cheers of 80,000 football fans, but I'll tell you what – I know that he's up there in heaven, and he's hearing the cheers from thousands of thousands of families who have been impacted positively through the Hunter's Hope Foundation.  He knows that their babies are getting a chance to dream like his daddy was able to dream as a little boy, because of what he went through and the difference that we are making through our foundation. I know I'm going to see him again one day, and when I do, I'm going to give him a hug and throw him a pass and do all of the things we couldn't do while he was living here, on this earth."
~  ~  ~
Regardless of what happens next, Jim Kelly is ready for the next chapter of his life to play out.  He's asked daily about those Super Bowl defeats, something that he knows he'll never be able to shake, a legacy that's become his own personal scarlet letter.  Deep down it still hurts, but he knows there are far more important things to worry about.
Life is fragile.  The cancer could return tomorrow.
"Even though we went to those for super Bowls and lost, it was the resiliency that we had, the never-say-die attitude that we brought to the game each and every year," he says.  "Yeah, we didn't win, but I'll tell you what, the more that time passes, and the more we are removed from those football games, the more love I have for what we went through as a team.  We kept fighting and we had fun winning, and even though we didn't win at the end, we never gave up.  We came back the following year, worked harder than we ever have, and we kept doing it.  Unfortunately, it just wasn't in our cards to win.  So what?  We were men.  We went out there and gave it our all, and we weren't afraid to put it on the line with the whole world watching.  I'm just damned proud that I was a Buffalo Bill."
http://www.fifteenminuteswith.com/wp-content/uploads/2016/11/the_jim_kelly_interview.png
400
600
Michael McClellan
http://www.fifteenminuteswith.com/wp-content/uploads/2016/08/FifteenMinutesWith_NewLogoPrototype.png
Michael McClellan
2016-11-06 21:13:30
2017-03-19 18:00:56
Jim Kelly - Kelly Tough