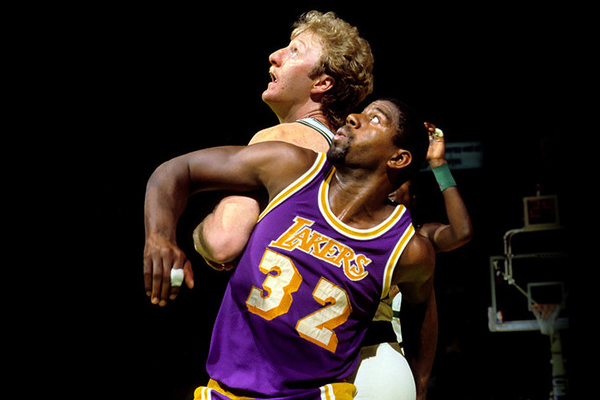 By:  Michael D. McClellan  |  He flashes that trademark smile, 10,000 megawatts of impossibly perfect teeth and unabashed charisma, and in that instant I find myself completely disarmed, unable to hate on Magic Johnson, he of the baby skyhook, the player most responsible for vanquishing my Boston Celtics twice on the NBA's biggest stage.  Yes, Magic Johnson has always been the enemy, the Showtime ringleader with the fancy no-look passes and the five NBA championships and the effervescent persona so well-suited to the glitz and glamour that is the City of Angels.  But standing in front of him now, his eyes locked on me like I'm the only person in the world that matters, I am confronted with a most uncomfortable realization:  I'm going to like Magic Johnson.
"Michael," he says, extending his hand and pulling me in for a hug.  "Welcome to the team."
I can't help but smile ruefully at the irony of it all.  I'm in Las Vegas, embedded in the 'Bill Russell and His Legendary Friends Fantasy Basketball Camp', here to write about Russell, the greatest winner in the history of professional sports.  If there is a Mt. Rushmore for sports legends, Russell's face is on it, alongside Babe Ruth, Muhammad Ali and Michael Phelps.  We're talking two NCAA championships, Olympic gold, 11 NBA titles in thirteen seasons with the Boston Celtics, the last two of those as player-coach.  Player-coach!
The camp is a once-in-a-lifetime experience for everyone involved.  We are in the presence of basketball royalty.  Charles Barkley is here.  Julius Erving.  Clyde Drexler.  John Havlicek.  Kareem Abdul-Jabbar.  Jerry West.  Sam Jones.
And, of course, Magic.  Sworn enemy of the Galactic Alliance.  Crusher of Celtics title dreams everywhere.
As fate would have it, I've been drafted by Magic to play on his team for the next three days.  Not drafted by Larry Bird.  Not by Havlicek or Jones or Russell himself.  By Magic-effing-Johnson.  We shake hands and, disarmed or not, I decide to do what any green-blooded Boston Celtics fan would do in the same situation.
I demand a trade.
Magic laughs long and hard.  He plays along.  He huddles up with Russell, who looks over his shoulder from a distance and cackles.
"Okay, Michael," Magic says, laughing as he returns from his power summit with Russell.  "You've been traded – to Kareem's team!"
Russell cackles even louder.  Magic slaps Kareem's hand and does a little dance.  Everyone cracks up.  And just like that, Magic and I form an improbable bond – and lay the groundwork for a running joke – that stays with us through the rest of the camp.
~ ~ ~
Earvin "Magic" Johnson was born on August 14, 1959, in Lansing, Michigan, and his story is as widely known and as well-documented as any in the history of professional sports.  That's what happens when you win a state high school championship and continue winning at every level along the way, and when you do so with a cult of personality that transforms you into a global media darling.
Magic opens up about his winning ways during the fantasy camp, and quickly points out that his childhood idol, Bill Russell, provided the blueprint for his own basketball career.  The first part of his comment catches me by surprise – and I ask a question I didn't see coming:  One of the greatest Lakers ever started out rooting for one of the greatest Celtics ever?
"We're talking about Bill Russell," Magic elaborates during a break in the action.  He nods and smiles at the living legend standing at his side.  "Bill Russell came into the NBA and changed the game.  He was an incredible force on defense, a great shot blocker, a player who could make a huge difference in the outcome without scoring a lot of points.  He'd block a shot to an open teammate and trigger the fastbreak.  He'd race down the court and clean up missed shots.  He made everyone around him better.  He was something the league had never seen before."
In many ways, Magic himself revolutionized the game.  He was a 6'9" point guard with unparalleled court vision, a player who could not only play multiple positions, but could play them with devastating efficiency.  Legendary is his performance in Game 6 of the 1980 NBA Finals against Philadelphia; with Kareem sidelined with an ankle injury, head coach Paul Westhead decided to start the game with Magic at center.  Johnson responded by producing a 42-point, 15-rebound, 7-assist, 3-steal effort that sealed an NBA Championship and catapulted Magic to superstardom.  That performance is still considered one of the greatest performances in NBA Finals history.
"We wanted to win for the Big Fella," he says, pointing across the court to Abdul-Jabbar, who is busy helping the campers with post drills.  "We knew he wanted to be there for Game 6. We knew he would be ready to go if there was a Game 7.  But we wanted to close it out in Philly and not have to worry about a winner-take-all."
As good as Magic was, what captured the imagination of millions wasn't just his outlandish basketball skills or his effervescent personality.  There was something else going on, something that made even the most casual basketball fan want to tune in.
"Oh man," Magic says.  He smiles and shakes his head.  "Russell had Wilt to compare himself against.  The guy I had my eye on played for the Celtics, just like Russell.  He wore number 33.  He was a pretty special player."
.
"Russell had Wilt to compare himself against.  The guy I had my eye on played for the Celtics, just like Russell.  He wore number 33.  He was a pretty special player." – Magic Johnson
Rivalries are the ultimate driving force in sports, both for the athletes as well as the fans.  It was no different for Magic, who found himself obsessed with a certain Hick from French Lick, a hardwood virtuoso who  wielded his own unique brand of basketball sorcery.
Larry Bird was the perfect counterpoint to the glitzy showman lighting it up in L.A.  Bird was blue collar.  Country.  He didn't speak all that much.  He was something of a loner.  Shy.  Intensely private.  Hated giving interviews.  And yet despite of all that – or better yet, because of all that – the two men became instantly and indelibly linked, becoming the ultimate measuring sticks against which the other would be judged.
"Larry Bird," he says.  "Oh man, we made history together.  "The first time I saw Larry we were playing in an amateur summer tournament in Kentucky.  I'd heard about him, but that was the first time I got to see him play basketball, and that's when I knew he was something special.  So I went back home afterwards and told everybody to watch out, that this Larry Bird cat was for real.
"I think that was the first time in both our lives that we actually sat on the bench, and I don't think either of us liked it very much [laughs].  But because we had to sit and watch the starters during the games, we were motivated.  We made a point to take it out on the starters in the practices.  We beat them every day."
I can hear the love in Magic's heart for his close friend and former rival, but early on the relationship between the two superstars was anything but friendly.  Publicly, Bird wanted no part of Magic, and Magic was clearly suspicious of Bird.  Privately, there was a huge amount of unspoken respect on the part of both Magic and Bird for how the other played the game.
"In the beginning I wanted to be Larry's friend," Magic says, "but Larry didn't want any part of that [laughs].  So I said to myself, 'Okay, if that's how it's going to be, then I'm not going to be down with you.'  So I started disliking him too.  I didn't want anything to do with him after that."
Still, the R-word was always there for both players.
Magic:  "The reason you hate the other guy is because he's so good, and you do respect him.  And you know that he can kick your butt at any point.  So you're always working hard to get that edge, to stay ahead, to keep him from kicking your butt.  With Larry, I truly respected him because of what he could do with a basketball.  And I admired the way he got his teammates involved and made them better.  He kept me up.  There were many sleepless nights, because I knew if we made too many mistakes, the Celtics and Larry Bird could – and would – beat us.  So there was a lot of respect when it came to Larry Bird."
.
"There were many sleepless nights, because I knew if we made too many mistakes, the Celtics and Larry Bird could – and would – beat us.  So there was a lot of respect when it came to Larry Bird." – Magic Johnson
The rivalry only grew when Magic enrolled at Michigan State, and Larry landed at tiny, obscure Indiana State after walking away from basketball giant Indiana University.  The two men led their teams to the 1979 NCAA Final Four, meeting for the championship.  Neither spoke to the other.  Magic's team dominated, winning by ten and cutting down the nets.
"There was no need to speak at that point," Magic says, referring to the highest rated championship game in NCAA history.  "We both wanted the same thing.  We were both focused on winning that championship, and that's all either of us cared about.  We weren't there to make friends."
Flash-forward to the pros.  Magic's rookie season ends with that incredible Game 6 against Philly.  Bird takes a Celtics team that finished 29-53 a season earlier and transforms it into 61-21 powerhouse, winning NBA Rookie-of-the-Year honors along the way.  The NBA, teetering on the verge of irrelevance, capitalizes on the Bird-Magic phenomenon to draw in a new generation of fans.  Ratings are up.  Ticket sales surge league wide.  Regular season matchups between the Celtics and Lakers, always an attraction, become must-see TV.
Bird's Celtics win an NBA Championship a year later.  Magic's Lakers capture another crown a year after that, beating the Sixers in the '82 Finals.  By 1984 the league was a marketing dream, propelled into the different stratosphere by the league's best two players.  And, like something straight out of a Shakespearean drama, the Celtics and the Lakers were about to renew acquaintances on the game's biggest stage.
And at the center of it all stood the game's two biggest stars.
The 1984 NBA Finals became the most-watched championship in league history.  How intense was that rivalry when the Celtics and Lakers met in the 1984 NBA Finals?
"That series grabbed the entire nation," Magic says quickly.  "Everybody was talking about it.  Everybody.  The Lakers and the Celtics.  The Celtics and the Lakers.  It was so intense, so intense.  And it was the craziest in Boston and L.A.  The baggage guys at Logan Airport would tell us how Larry and the Celtics were going to kill us – you have to remember, we didn't have a private planes back then.  So we had to wait on our bags like everyone else, and we'd be in the airport taking all of this abuse.  And it was the same way in L.A.  Our fans gave it to the Celtics in their own way.  Everybody was into it.
"That series had everything.  Future Hall of Fame players like Kareem battling Robert Parish.  Or James Worthy going against Kevin McHale.  No matter where you looked you were captivated by this series.  You had quiet KC Jones on the bench coaching the Celtics.  Pat Riley working the sidelines in his Armani suits for the Lakers.  Role players like Greg Kite coming off the bench and becoming a hero.  Great bench players like Michael Cooper.  You were captivated by great basketball.  Or maybe you watched just to see two teams go at each other so hard that they left nothing in the locker room.  That's why I play those tapes over and over again. Because you're watching beautiful basketball."
While Bird and the Celtics came out on top, winning in seven games, Magic and the Lakers would even the score a year later, beating Boston and returning to the top of the NBA's pecking order.  And then, on September 12, 1985, the improbable happened:  Bird and Magic, both pitchmen for Converse, agreed to shoot a commercial together in Bird's backyard of West Baden.
"Everything changed when we did that Converse commercial together," Magic says.  "We did it in French Lick, Indiana, which was his hometown.  We got to know each other away from the basketball court.  He took me up to his house, and his mother made me lunch.  It was just a great time for us, because we started talking about everything but basketball, and that helped us to know each other as men.  Suddenly it wasn't Magic and Larry battling each other head to head.  And it made it easier for us to become friends."
.
"Larry took me up to his house, and his mother made me lunch.  It was just a great time for us, because we started talking about everything but basketball, and that helped us to know each other as men.  Suddenly it wasn't Magic and Larry battling each other head to head. –  Magic Johnson
The superstars found that they had much more in common than either could have guessed, and a friendship developed that has only grown closer through the years.  The bond is so strong now that they consider one another family.  But even after breaking down walls, this new dynamic didn't stop them from trying to kill the other on the basketball court.
"Nothing drove me more than kicking Larry's butt," Magic says.  "And Larry would tell you the same thing – for him it was all about beating me and beating the Lakers.  So we pushed each other.  I think Michael Jordan missed out on some of that, because Larry and I were on our way down when Michael and the Bulls were peaking.  And Michael didn't really have a rival to push him the way that Larry and I pushed each other.  He didn't have anybody to worry about or to be scared of, because Michael and the Bulls were just so much better than everybody else.  So it was a blessing for the Lakers and the Celtics, and for Larry and I as players.  Larry pushed me to be great, and I think I pushed him to be great."
Just how competitive were they?
"We were on opposite sides of the country, but we always knew what the other one was doing.  I'm talking about every game, every day, every score.  After a Celtics game I'd look to see what he scored, how many rebounds he got, how many assists he dished out.  That's what it was like.  The person you measured yourself against was Larry Bird.  And I made sure he wouldn't get too far out in front of me when it came to anything and everything – whether it was wins, titles, or personal stats.  I had to keep him in sight.  I mean, if he went out and got a triple-double, I had to go out and get a high triple-double.  If he went out and had a big rebounding game, maybe 20 rebounds, then I had to go out and try to get 20 assists.  That's just the way it was with me – and I'm sure it was the same with him."
There would be two more titles for Magic, back-to-back following the 1986-87 and 1987-88 campaigns, as well as three NBA MVP Awards, but the world shook on its axis on November 7, 1991, when Magic held a press conference to announce that he was HIV positive.
"It was a different world back then," he says.  "I had the HIV virus, not full-blown AIDS, and I was determined to do everything in my power to change the perception that people had about the disease and those who contracted it."
Has the disease changed his outlook on life?
"I don't think my outlook on life has changed, because I'm a positive person by nature.  I definitely cherish my wife Cookie and my kids.  I know how blessed I am because a lot of people have died since I was diagnosed, and I'm still healthy.  I thank God that I'm able to still help people and be a positive influence for people living with HIV/AIDS."
.
"I know how blessed I am because a lot of people have died since I was diagnosed, and I'm still healthy.  I thank God that I'm able to still help people and be a positive influence for people living with HIV/AIDS." – Magic Johnson
While Magic retired from the NBA following that press conference, he returned to play in the 1992 NBA All-Star Game.  Emotions were mixed – by players and fans alike, who wondered whether an infected player could spread the disease during competition.  For Magic, there never was a question of whether he would play.
"Just playing in that game was an unbelievable feeling.  The fans voted me in, and Tim Hardaway allowed me to start in his place.  Commissioner David Stern allowed me to play.  It was just an amazing moment for me, and I thank all those people and fans who supported me.
"When the game actually started, there were so many question marks about how I would play, what would happen in terms of how the players would play against me.  The game was great, and I was playing well. Right at the end, I hit three 3-pointers in a row.  With a little time left on the clock at the end of the game, all the players came on the court to hug me and high-five me.  That was the greatest moment of my life because I felt that I belonged again.  I was finally back with my NBA family.  It was therapy for me after having to deal with the news that I had contracted HIV.  It helped me to go on to do great things in the future."
One of those things included playing on the original Dream Team with friend and nemesis Larry Bird.
"Winning five championships for the Lakers are definitely highlight moments of my career," he says.  "The national championship for Michigan State, my championship in high school, those are great accomplishments.  Being named league MVP three times, and NBA Finals MVP three times are great honors.  But the No. 1 thing for me would be winning the gold medal with the Dream Team.  To be able to win a gold medal for my country, and to do it with players like Larry, Michael and all of the other greats, it was just the biggest thrill of my life.  Man, you just can't describe what those emotions are like."
~ ~ ~
These days, Magic seems to be everywhere.  He's become one of the most successful businessmen in the country, heading Magic Johnson Enterprises, a company that has a net worth north of $700 million.  And he's now part of the ownership group that recently purchased one of Major League Baseball's most recognizable – and valuable – brands:  The Los Angeles Dodgers.
"It's such a wonderful moment in time for me to be able to say that I'm the owner of the Los Angeles Dodgers.  Teams like the Dodgers don't go up for sale too often.  The fact that Jackie Robinson was the first African-American to play in the major leagues, and to do so for the Dodgers, makes it even bigger for me."
~ ~ ~
It's the end of a grueling day at the Bill Russell Fantasy Camp.  It started with stretching, was followed by warm-ups, then topped off with drills, drills and more drills:  Rebounding with Charles Barkley.  Drives to the basket with Dr. J.  Free throws with Sam Jones.  Dribbling drills with Jerry West.  Jump shots with Clyde Drexler and Ann Myers Drysdale.
I'm working my butt off at Kareem's station.  It's all about post play, establishing position, getting your shot off down low.  I'm sweating, breathing hard, and loving every minute of it.  The next three days will be all about playing actual games against the other campers, so I'm doing my best to soak up tutelage from the NBA's greatest.
Kareem passes me the basketball and tells me to back him down in the paint.  He's guarding me, bumping me a little, daring me to shoot.  Kareem is 7'2".  I'm 6'0" on my tip-toes.  So I do what the Big Fella himself would do in that situation – I plant my left leg and squeeze off a skyhook.  The ball sails over Kareem's outstretched arm.
It also sails over the basket.
Air ball.
"Michael!" the voice calls to me from across the court.  I recognize it immediately.  Magic comes trotting over, those pearly whites blinding me.  "That's not how you do it – you've got to have touch.  The hook is a touch shot.  Like this…"
He grabs a basketball, backs down an imaginary defender and lofts the ball into the air.  It drops cleanly through the net.
"Oh man," he says, grinning, "that's just like the shot that beat Larry and the Celtics in '87!"
And just like that, Magic rips the scab off an old wound – except this time I don't feel the pain.  I can only laugh along with him as we clasp hands, friends for a day, my impression of Earvin "Magic" Johnson forever changed.
The following two tabs change content below.
A West Virginia native, Michael D. McClellan's celebrity interviews appear on his web site, FifteenMinutesWith.Com, and include Olympic heroes Mike Eruzione and Dan Jansen; Grammy winners Al Jarreau, Melissa Manchester, Keb Mo, and Big Daddy Kane; NFL Hall of Fame quarterback Jim Kelly; and NBA legends Magic Johnson, Julius Erving, and Kareem Abdul-Jabbar.
Latest posts by Michael McClellan (see all)
https://www.fifteenminuteswith.com/wp-content/uploads/2013/11/magicjohnson600x400.png
400
600
Michael McClellan
https://www.fifteenminuteswith.com/wp-content/uploads/2016/08/FifteenMinutesWith_NewLogoPrototype.png
Michael McClellan
2013-11-17 22:16:23
2018-04-22 19:18:17
Magic Johnson - Magic Touch