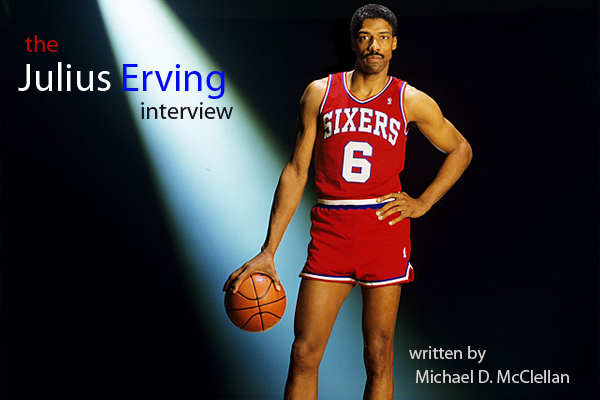 By:  Michael D. McClellan | I stand at half court, dribbling the basketball, my heart pounding hard in my chest, one of the greatest players in NBA history standing his ground between me and the rim.  He's wearing blue warm-up pants and a white Converse T-shirt, his iconic Afro long since downsized to keep pace with his current status as one of the game's elder statesman.  I try my best not to appear nervous or awestruck, but what hardcore NBA fan wouldn't be a smidge overwhelmed by the moment?  I tell myself to relax.  I remind myself to soak it all in, to savor the experience and file every detail away for a lifetime of telling and retelling.  Can you blame me?  How many times in your life do you get to do something as wickedly cool as this?
The Doctor!
The voice in my head squeals these words like a teenaged girl who's just lucked into backstage passes at a Taylor Swift concert.
I'm at Bill Russell's fantasy camp!  About to go up against Dr. J!
Sweat drips from the end of my nose.  It's been a grueling day filled with stretching and running, games and drills, and now we're moving from station to station, each conducted by a member of the NBA's 50th Anniversary All-Time Team.  Everywhere I look, there's a veritable who's-who of basketball royalty making three dozen campers' dreams come true: Magic Johnson explains assists in one corner of the gym, Jerry West talks dribbling in another, Charles Barkley preaches rebounding on an adjacent court, while Kareem Abdul-Jabbar unlocks the secret of his skyhook a few feet away.  And now, here I am, yo-yoing the basketball, grinning like the Cheshire Cat, prepping to go one-on-one against the coolest dude to ever lace up a pair of Chuck Taylors.
"Ready when you are," Julius Erving says, and the velvety smoothness of his voice is all the jump start I need.  He smiles.  "Let's see what you've got."
I dribble straight at him, juking right, then left, then right again, and somewhere between all of the fakes and spins I find myself transported back in time, attacking the Doctor in his prime, 18,000 Philadelphia 76ers fans at full throat, a trip to the NBA Finals hanging in the balance…
~ ~ ~
Julius Erving may have emerged from the pre-ESPN, pre-Jordan, pre-Internet, pre-everything primordial ooze of 1970s ABA basketball – the league best known for its signature red, white and blue basketball – but a combination of soulful flair and breathtaking athleticism helped transform Dr. J into a global, pop culture icon. No small feat considering the absence of Twitter, Facebook, Instagram and all the other social media engines that connect our world today.  Yes, Erving's talent was that immense, his cult of personality that bloody riveting.  There were players before him who could levitate, all-time greats like Oscar Robertson and Elgin Baylor, but Erving was the first to do it in a way that seemed, in a word, otherworldly.  His game was all about the art of flight, with gravity-defying trips to the basket often punctuated by emphatic, one-handed dunks.  The very act transcended sport itself, crossing over into art.  Erving was Jackson Pollock, the ball his brush, the court his canvas.
But like most great artists, recognition was initially hard to come by.  It's impossible to imagine a college basketball player alive today who could average 26 points and 20 rebounds over two seasons and live in relative obscurity, but that was Erving's existence in the late '60s at the University of Massachusetts.  Back then he was still Julius Erving, a talented-but-unheralded college basketball player, and the 'Doctor' monikor had yet to take flight.  His decision to sign with the Virginia Squires of the fledgling ABA following his junior season at UMass?  It barely raised eyebrows.
.
"When I was a freshman in high school I was maybe 5'9″, 5'10"," Erving says.  "As a sophomore, I was 5'11", and lucky to be closing in on 6′. As I junior I was 6'1″, and when I graduated high school I was 6'3″.  So I wasn't a physical specimen along the lines of a Wilt Chamberlain or a LeBron James, and I didn't have the acclaim that came along with those types of gifts.  It was a gradual progression for me."
This isn't to say that Erving's early exploits flew entirely under the basketball radar.  Far from it. His game generated an electric buzz where it mattered most – on the streets of Harlem, and within the confines of its legendary Rucker Park.  It was here, at The Ruck, that Erving's game crisscrossed the worlds of art and athletics, firing the imaginations of the hundreds who would crowd into the playground temple once graced by the likes of Wilt Chamberlain and Connie Hawkins, and the hundreds more who clamoured to watch from the surrounding rooftops, overpasses and trees (yes, trees) just to get a glimpse of this brother-from-another who could, for a breathless moment at least, escape the most fundamental law of physics.
"I was free to express myself on the court," Erving says, "and I always tried to push the envelope during those games.  It didn't hurt that I could out-jump and out-levitate virtually everyone out there, which influenced how I played.  If I could hang in the air and wait for my opponent to come down before dunking on him, why not?  If I could throw it down on two guys at once, that's what I was going to do.  That was the atmosphere that you played in there.  It demanded your best, and it challenged you creatively.  There's not another basketball venue like Rucker Park."
.
And it was here that a young Julius Erving found himself awash in nicknames, with everything from "The Claw" to "Black Moses" showered upon him from the park's PA system.   When nothing appealed to Erving's taste, he decided to go with something of his own.
"I have a lifelong friend whose name is Leon Saunders," Erving says.  "I started calling him 'professor' when we were young, and he started call me the 'doctor'. It was a fun thing between us, and it just stuck.  From then on, those were the nicknames we had for each other.
"I have a lifelong friend whose name is Leon Saunders.  I started calling him 'professor' when we were young, and he started call me the 'doctor'. It was a fun thing between us, and it just stuck.  From then on, those were the nicknames we had for each other." – Julius Erving
"Little did I know then that it would become such a big part of my basketball persona.  They tried to call me 'Little Hawk', and I had to tell the announcer that I didn't want that nickname.  That was Connie Hawkins' nickname.  But Rucker Park was like that – if you stepped onto the court and did something special, they had to call you something flashy.  So I went over to the announcer and said if you're going to call me anything, go with 'The Doctor'. And that's how it started."
The Ruck, in many ways, has always placed a premium on style, often at the expense of substance.  Erving was the rare exception, equal parts fundamental basketball player and crowd-pleasing entertainer, a thrill ride in high tops who could dare to be taken seriously, regardless of the venue.
"Playing in those summer tournaments at Rucker Park was unlike anything I'd done before," Erving says.  "You quickly learned that two points was actually worth more than two points.  I like to tell the story that two points might have been worth a dinner back then, or maybe a date.  Whatever the case, it was definitely worth more than two points [laughs]. And showmanship was celebrated in a big way. I didn't have that mindset before, but I quickly learned that the fans came to see a show.  It was a street version of the NBA All-Star Game in a lot of respects.  Yeah, they were vested in terms of who won or lost the game, but to a large extent it was about who came out and put on a show.  That's what I tried to do."
Erving did that and more.  He was an order-of-magnitude baller whose Harlem dunk-fests not only dropped jaws, they forged a near mythic figure through stories that needed precious little embellishment.
"I developed my own style of play, and I was able to showcase it at Rucker Park," Erving recalls.  "It really mirrored the playground style that was on display during those games.  It was loose.  Freelance.  Spontaneous.  And that's what I brought with me to the ABA."
"I developed my own style of play, and I was able to showcase it at Rucker Park.  It really mirrored the playground style that was on display during those games.  It was loose.  Freelance.  Spontaneous.  And that's what I brought with me to the ABA." – Julius Erving
Ah yes, the American Basketball Association. The outlaw league with the psychedelic red, white and blue basketball, radical fan base and the ahead-of-its-time three-point shot and slam dunk contest. That league.  Formed in 1967, the ABA brought a flair to the pro game that the established NBA sorely lacked, in large part by throwing stupid money at eye-catching talent like George "Iceman" Gervin, David Thompson, Charlie Scott, Moses Malone and Artis Gilmore, and then turning them loose in an offensive-friendly environment.  The strategy instantly legitimized the fledgling league and gave fans a reason to care, but it wasn't until Erving's arrival that the NBA began to truly take notice.
"That was the most fun I had playing basketball," Erving says, reflecting on his sensational ABA career.  "Between the ages of 21 and 26 I was genuinely empowered with this God-given ability to do anything I wanted to do on a basketball court, and anything I'd ever dreamed about doing.  So, signing to play for the Virginia Squires was the best decision for me, basketball-wise.  I never second guessed myself, and I never looked back.  It's a very big part of who I am."
.
Free to explore, Erving transformed the hardwood of the ABA into his own personal Rucker Park.  He soared.  He rocked the rim.  And in the process, he became the most recognizable and most marketable asset in a league struggling to sell out arenas in cities like Pittsburgh, Memphis, Minneapolis and San Diego.  It was the same at every stop; Erving's presence on the court put butts in seats, while his high-wire act routinely brought the crowds to their feet.
Which begs the question: Outside of maybe peanut butter and jelly, has anything ever gone together better than Julius Erving and the slam dunk?
"I would say that dunking remains an art form, and the fans still love it," Erving says.  "But it probably doesn't have the shock value that it had when I did it back in the Slam Dunk contest in 1976.  Today, players are jumping over cars and dunking.  It has been pushed to the limit.  But back then, there was something about the dunk that surprised people.  Startled them almost.
"I would say that dunking remains an art form, and the fans still love it.  But it probably doesn't have the shock value that it had when I did it back in the Slam Dunk contest in 1976.  Today, players are jumping over cars and dunking.  It has been pushed to the limit.  But back then, there was something about the dunk that surprised people.  Startled them almost." – Julius Erving
"And I used to do that a lot – startle people – when I held those clinics for Converse. I would always finish the clinics with a dunk show. Think about it; you spend the day going through passing drills, rebounding drills, shooting drills, and the kids are bored by the time you reach the end of the day.  That's when I'd give them a dunk show.  It was a lot of fun seeing their expressions. I'd give them a little bit of everything – the cradle, two hands backwards, whatever came to mind. Sometimes I'd give them dunks from out of bounds.  But no matter what, I'd always wrap the shows with the run in from half court. I'd get to the foul line, and then I would just soar.  I would throw it down and head straight for the locker room. That was the show closer [laughs]."
As Erving speaks, I'm reminded of that famous foul line flush during the '76 ABA Slam Dunk Contest. It remains an iconic moment in sports, as memorable as Roger Bannister breaking the four-minute mile, or as breathtaking as a Michael Phelps world record swim.  Where does it rank among Erving's personal collection of all-time dunks?
"Oh, it's definitely up there," he replies quickly.  And then:  "There was a dunk against Elvin Hayes when he played for the Washington Bullets.  We were chest-to-chest. Every time I see him it comes up, and then we laugh and have a good time with it.  That was a long time ago but I think he's still a little upset over that dunk, because nobody dunked on the Big E.  But that's exactly what happened!  I remember we both went up strong.  He had both hands up, so he was basically a wall of muscle.  He knew he had me.  I just hung in the air and waited on him to slide down a little bit, and that's when I threw it in. It shocked him, but it didn't shock me.  That dunk ranks up there as one of the best of my career."
.
In his five ABA seasons, Erving won three scoring titles, three Most Valuable Player Awards and two league championships, but, more importantly, he became the face of the rival league, the player that everything and everyone else revolved around.  As a rookie, Erving dunked on the Kentucky Colonels' 7′-2″ Artis Gilmore and 6′-9″ Dan Issel, giving him the confidence to challenge anyone at the rim.  It was posterizing in its purest sense, decades before the term ever existed.
"I suppose you could call it that," he says with a chuckle.  "I remember dunking so hard that I fell flat on my back. I had to do it.  It was my way of convincing myself that I could play with anybody in this league."
Erving averaged 27.3 points per game as a rookie, and finished second to Gilmore for the ABA Rookie of the Year Award.  In the playoffs, he averaged a gaudy 33.3 points per game.  Suddenly, the basketball world was starting to take notice:  The NBA's Milwaukee Bucks drafted him, and Erving himself flirted with jumping to the Atlanta Hawks, playing a series of exhibition games with Atlanta and it's own superstar,  'Pistol' Pete Maravich.
"I considered Pete to be a good friend, and I think the feeling was mutual," Erving says of the late basketball wizard.  "We went through training camp together that year, after I decided to try and make a move to the NBA.  We were different in a lot of ways – for example, we took very different routes to the NBA.  Pete was coached by his father in college, and he was a national star known for his fancy passes and high-scoring performances.  He was a three-time All-American at LSU.  He went directly to the NBA.  I didn't have anywhere close to his level of notoriety.  But we were also a lot alike; we were both known for our showmanship, although in distinctly different ways – Pete's game was made famous by what he could do on the court, whereas I was known for my ability to attack through the air.  We both considered ourselves students of the game, and we appreciated the contributions of the players that came before us – the Wilt Chamberlains, the Bill Russells, and the Jerry Wests of the basketball world.  And we both worked hard to improve our games.
"We used to stay after practice and play one-on-one, which shouldn't really surprise anyone who knew Pete Maravich, because the guy was the consummate gym rat.  I personally enjoyed those battles, and I look back on them fondly, because they gave me a glimpse into his competitive nature.  Pete wanted to win.  It didn't matter if it was a pickup game or a battle in the NBA.  And I think there is a misconception that Pete liked to hog the ball and take all of the shots.  That wasn't the case.  He liked to score, like everybody else who plays the game – and trust me, Pete could score – but he wasn't a selfish player.  No one who ever played with him would describe him as selfish.  The game as a whole flowed naturally from Pete, so there was an immediate connection between us on the court.  There was a lot of unspoken communication that developed between us during the short amount of time we were together – a look, a nod, subtle body language that only we could detect.  Telepathic.  Pete was an outstanding playmaker, and the most skilled basketball player I've ever seen."
Erving's wish to play in larger market was granted prior to the 1973-74 season, when he was traded to the New York Nets, signaling the death knell for the small-market Squires.  The Nets would win two championships over the next three seasons, with Erving assuming the dual role of best player on the planet and ubiquitous basketball ambassador.  The transaction was a portent of things the come, as the cash-starved ABA disentegrated following the 1975-76 season, with four teams – the Nets, Indiana Pacers, Denver Nuggets and San Antonio Spurs – absorbed into the NBA, and the rest of the league's players made available via a dispersal draft.  The game's best player was in his prime, and set to ply his trade in The Association.  Looking back on it now, how does Erving view his legacy during those five tumultuous in the outlandish ABA?
.
"Legacy is something that is both expansive and comprehensive, and to me it really goes back to a body of work," Erving says.  "You build a legacy day by day, brick by brick, and by doing the things that are truly distinctive and that sets you apart from your contemporaries.  For me, I came on the scene and played five years in the ABA.  I played eleven seasons with the Philadelphia 76ers in the NBA.  In total, I played in six championship series and I won three championships – two in the ABA and one in the NBA.  I played in nine conference finals series in those sixteen seasons.  I was an All-Star in every one of those sixteen seasons. I'm a Hall-of-Famer.  So it goes back to a body of work.  I feel like my legacy speaks for itself, and I'm flattered to be recognized for my accomplishments on and off the basketball court.
"When I was a kid, I knew who Babe Ruth was and what he meant to the game of baseball. I knew what he represented in terms of being a legend and a part of culture in America.   That's legacy.  There are icons like that in every sport.  Jim Brown in football and Bobby Orr in hockey, for example. Jesse Owens.  Muhammad Ali.  I think I'm in a peer group that's universally recognized, so it's really humbling that I've been able to build a legacy that's on par with some of the greatest names in sport."
"When I was a kid, I knew who Babe Ruth was and what he meant to the game of baseball. I knew what he represented in terms of being a legend and a part of culture in America.   That's legacy.  There are icons like that in every sport.  Jim Brown in football and Bobby Orr in hockey, for example. Jesse Owens.  Muhammad Ali.  I think I'm in a peer group that's universally recognized, so it's really humbling that I've been able to build a legacy that's on par with some of the greatest names in sport." – Julius Erving
Ultimately, Erving didn't transition into the NBA with the Nets; on the eve of the 1976-77 regular season, a salary dispute forced a $3 million cash trade to the Philadelphia 76ers.  And just like that, Dr. J was embarking on a new journey as the face of the Sixers.  How memorable was that first game in The City of Brotherly Love?
.
"It was a thrill," he says.  The fans were great, the energy was electric.  I'll never forget it, but my first game in the ABA ranks right up there, too.  I grabbed 19 rebounds in my first professional game, and I somehow found a way to score 20 points. I felt real good about that first game with the Squires. I felt that this was the beginning of a special journey. Being a professional basketball player was something that I had dreamed about as a kid, and yet it was something I was never sure would happen.  As I mentioned before, I wasn't a physical specimen like a LeBron James.  Nothing was guaranteed.  But it did happen.  It was the beginning of an amazing experience, and the starting point for all the things that followed:  A sixteen year professional career, playoff basketball, the excitement of winning championships, the frustration of getting knocked out of the postseason,  the frustration of dealing with injuries, the commraderie that comes with being part of a team.  None of that would have been possible without that first game."
Erving's arrival in Philly came with a boatload of hype and a side order of unrealistic expectations, and the superstar's decision to subjugate his individual game to blend with his teammates only fueled the perception that Erving's ABA career was overrated. Not that his first NBA season was a disappointment – far from it; his 21.6 scoring average, an All-Star Game MVP trophy and a trip to the NBA Finals validated Erving's considerable talent.
"When I got to Philadelphia, I was asked to tone down my game a little bit because we didn't need a 30-point scorer," Erving explains.  "I played more on the wing and was asked to play a certain role that I think I fulfilled admirably – getting my teammates more involved in the offense.  The strategy largely worked, because we had the best record in the league and made it to the Finals in the first year. And we were up 2-0 on Portland in the 1977 NBA Finals, and feeling pretty good about our chances at that point.  I really think that if that team stayed together, we would have won one or more championships in those first three of four years. But, unfortunately, it wasn't meant to be.  The team was broken up, and in many ways we were starting all over.  I was rebuilding on the fly, with management focusing on players that could complement my strengths.  It got us to three more Finals over the next six years, so it's hard to argue with the decision to make changes."
Build they did, adding key pieces in point guard Maurice Cheeks and forward Bobby Jones, returning to the NBA Finals following the 1979-80 season.  The Sixers, however, came up just short, losing to the Los Angeles Lakers in six games.  The series was perhaps most memorable for two things: Magic Johnson's 42-point, 15-rebound championship-clinching performance, and Erving's swooping baseline scoop in Game 4 that many consider one of the greatest moves in NBA history.
"I get asked about that to this day," Erving says, smiling at the memory. "I had the ball, and drove drove past Mark Landsberger on the right baseline.  I went up, but Kareem [Abdul-Jabbar] was right there with those long arms.  So I brought the ball back down and stayed in the air, passing behind the backboard and scooping the ball in on the other side.  A great memory, but I would have rather won the championship, obviously."
.
Erving would be named NBA MVP following the 1980-81 season; a season later, the Sixers would fall again to the Lakers, this time in the 1982 NBA Finals.  Sensing the window closing, Philadelphia's management made a bold move, trading for rugged center Moses Malone.
"Moses came in saying this was Julius Erving's team," he says.  "He wanted everyone to know that he wasn't going to rock the boat, that he was coming in to make a great team even better. I was MVP of the league in '81 and he was MVP in '82 and '83. We really had the powerhouse team and every night we stepped out onto the court, we felt we were going to win, so to win that championship in '83 was validation for us as a team and as individuals.  I just remember how happy everyone was, especially me. I didn't even take a sip of champagne in the locker room afterwards. I just poured it on people and myself. I just wanted to be sober and savor the moment. It was one of the most special moments of my life."
That championship would represent the high water mark in Erving's illustrious career, as his physical skills would start to erode over the next several seasons.  He would retire following the 1986-87 season, leaving on his terms and walking away from the game with his legacy intact.
"I have no regrets, he says proudly.  "I think I was chosen by basketball.  I think that my God-given physical attributes, big hands, and big feet, the way that I'm built, proportion-wise, just made basketball the most inviting sport for me to play. And from the first time I picked up a basketball at age eight, there were things that I liked about it. It was hard work. I had to spend countless hours, above and beyond the basic time, to try and perfect the fundamentals. So there was a relationship there. It was a two-way street. I liked the game, I enjoyed the game, and the game fed me enough, and gave me enough rewards to reinforce that this is something that I should spend time doing, and that I could possibly make a priority in my life, versus other sports.
"So, walking away from something you love so much is never easy.  However, I knew what my standards were, and I didn't feel as though I could continue to play at that standard. I didn't want to become a reserve player, or a bench player, and it was time to move on and take on another challenge. That process had already started during the later years of my career. So I was letting go of one thing to be committed to other things, and I thought that was the right move."
~ ~ ~
As I make my move, I can't help but think about the living legend hot on my heels, trailing passively because that's what he's supposed to do – this is a fantasy camp, after all, where memories are made and the layup I'm about to attempt doesn't get swatted into the cheap seats. The photographer is positioned along the baseline, his camera poised to immortalize my once-in-a-lifetime moment.  I think about The Doctor's 30,000 points scored as a professional.  I think about the '81 NBA MVP Award, the two NBA All-Star Game MVP awards, the J. Walter Kennedy Citizenship Award, the selection as one of the NBA's 50 Greatest Players, and the tremendous post-basketball success that Erving has enjoyed in the business world.
It crosses my mind that Erving has also had his share of tragedy and personal failures in his life.  His son, Cory, struggled with drug addiction, was charged with burglary and later died in a fatal car crash.  There was the revelation that Alexandra Stevenson, then a tennis phenom, was fathered by Erving out of wedlock.  A second illegitimate child, Jules Madden, ended Erving's 31-year marriage to his former wife, Turquoise.  Legend or not, Erving is human like everyone else.  But when you soar as high as the Doctor, your flaws draw gasps every bit as deep as your thunderous dunks.
You got this…
Up I go, off my left foot, the basketball in my right hand.  Textbook.  I release the ball, my eyes focused on my target.  A kiss off the glass and a photographer's click away from a dream come true…
Don't  blow this, my mind yammers.  You got this.  You may have ridden the pine on your freshman high school team, you may have been cut as a sophomore, but even you can make this gimme shot.  Don't choke. It's just a layup.  It's just a-
The hand comes out of nowhere.  The ball ricochets off the glass and goes bouncing toward mid court.
And then, laughter.
"Every now and then we'd play a little D at The Ruck," Erving says, grinning.  He drapes a friendly arm across my shoulders and pats my back.  "Thought you might want something fresh to write about.  Come on, let's run it again."
I smile.
I chase down the ball and prepare to give my dream another go.
Just what the Doctor ordered.
The following two tabs change content below.
A West Virginia native, Michael D. McClellan's celebrity interviews appear on his web site, FifteenMinutesWith.Com, and include Olympic heroes Mike Eruzione and Dan Jansen; Grammy winners Al Jarreau, Melissa Manchester, Keb Mo, and Big Daddy Kane; NFL Hall of Fame quarterback Jim Kelly; and NBA legends Magic Johnson, Julius Erving, and Kareem Abdul-Jabbar.
Latest posts by Michael McClellan (see all)
https://www.fifteenminuteswith.com/wp-content/uploads/2014/05/the_julius_erving2_interview.png
400
600
Michael McClellan
https://www.fifteenminuteswith.com/wp-content/uploads/2016/08/FifteenMinutesWith_NewLogoPrototype.png
Michael McClellan
2014-05-31 01:37:44
2018-04-22 19:17:26
Julius Erving - House Call