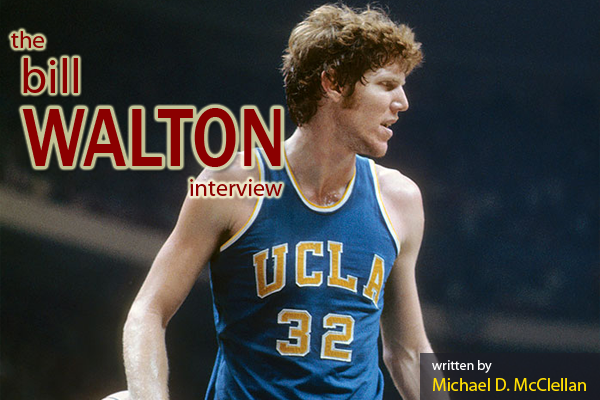 Written By: Michael D. McClellan | Bill Walton wins an NBA championship, an NBA Finals MVP Award, and an NBA Most Valuable Player Award before vanishing into rumor, missing three full seasons and playing only 14 games in another, the one-time "Next Great Thing" undone by feet not designed to support a man his size, the pain taking him on a decades-long journey that includes 37 orthopedic operations and an inner-dialog dominated by thoughts of suicide. In his darkest moments, Walton lay prone on the floor, unable to move, his spine having collapsed, wishing only that he had a bottle of pills, or a bottle of whiskey, or a gun. He can think of nothing else but the radiating nerve pain, pain so severe that no life is the better alternative to the one in which he finds himself trapped. This is a side of Bill Walton the public never sees, at least not until he pulls the curtain back in his 2016 memoir, Back from the Dead, giving readers a backstage pass to three hellish years spent on the floor of his house, eating his meals flat on his stomach, crawling to the bathroom, barely able to hoist himself into bed.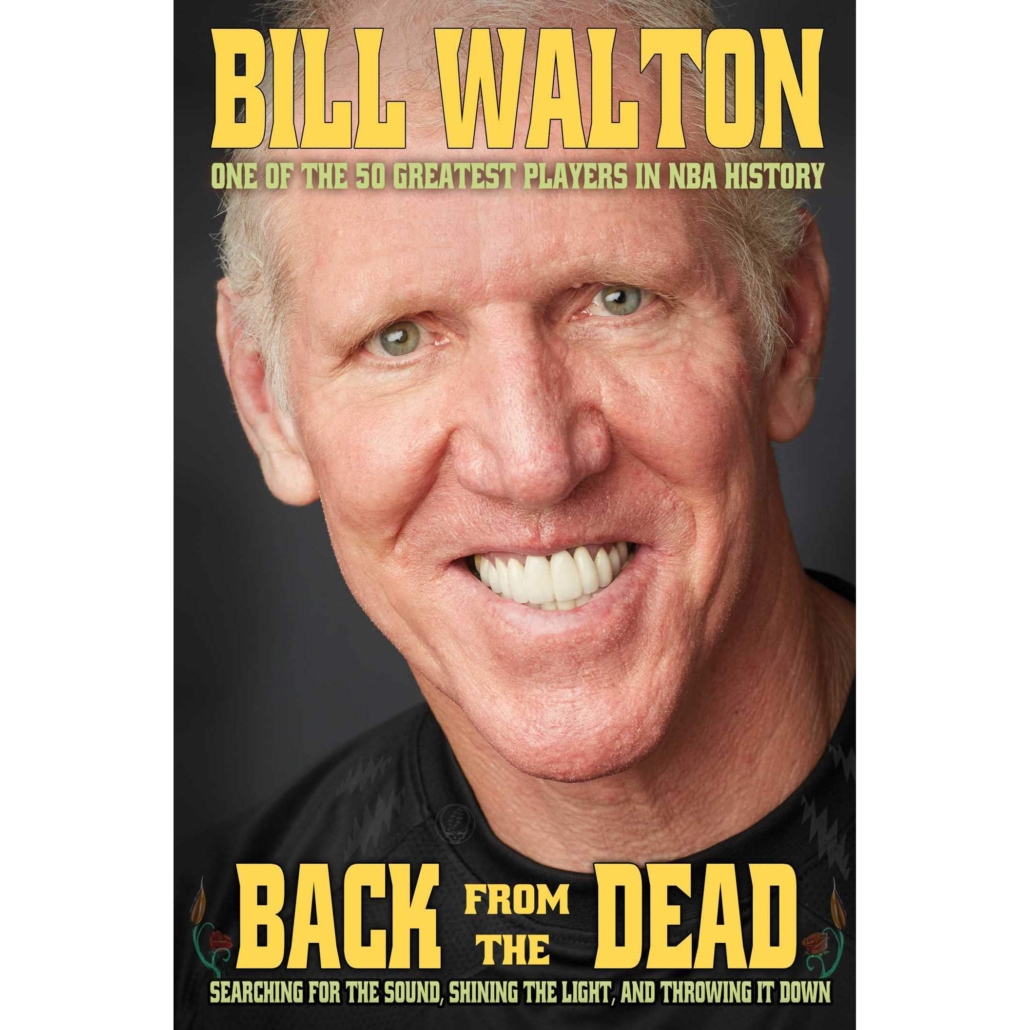 "I'm getting back into the game of life," Walton says, smiling. "Before I had my spine surgery, it got to the point where my life wasn't worth living. I was useless. I can't describe the pain—people who haven't experienced nerve pain can't relate. It's debilitating, excruciating, unrelenting. Today, I'm pain-free."
Walton's story unfolds with an idyllic childhood in La Mesa, California, transitions to a counterculture lifestyle that's alien to mid-70s NBA, and descends into an injury-ravaged abyss that undercuts his vast potential. It's a long, strange voyage filled with contradictions.
"I had the most wonderful childhood," Walton begins. "We had nothing, but I had everything. My mom was our town librarian, so I had an endless supply of books. That was my life. I've never been a television watcher—I'm not really much of a spectator, I like doing things. I had a transistor radio and a basketball. I also had a bike and a skateboard, so I could go places on my own. But that was nothing compared to the places I could visit through the books that my mom brought home daily. The mental travels from those books, and from reading the LA Times in those days, were my form of escape."
It's his mother who sets Walton on his path to basketball greatness.
"In 1964, my mom brought home the first sports book that I ever read, which was Go Up For Glory, written by the incomparable Bill Russell. She said, 'Billy, this book just came into the library, and I know that you have been outside playing basketball, whatever that is, so I thought this might be of interest to you.' I devoured every aspect of that book, and I never gave it back to her. I read it over and over and over again. When I joined the NBA, one of the first checks that I ever wrote was to the San Diego library for the book that I never returned."
Walton's passion for basketball begins not at the playground with other children but as a solitary endeavor.
"I loved playing basketball by myself. I was very awkward and shy, so I was by myself all of the time. There was Little Billy with his red hair, and his freckles, and his big nose, and his goofy, nerdy looking face, and this horrendous speech impediment—I couldn't speak at all without stuttering horribly. But I could play basketball, and I could practice by myself. I would be playing these imaginary basketball games out in the backyard, with legendary Laker broadcaster Chick Hearn transporting me to the NBA where I'd play games as a member of the Boston Celtics. I was 12 at the time and never in my wildest dreams thought that I might one day be doing it for real."
Walton pauses, his mind on constant fast-forward and rewind.
"It is impossible to understate the importance of the Boston Celtics in my life. They were my favorite team as a young boy chasing the dream of being part of the NBA. I'm from San Diego, but I developed my love for the Boston Celtics because of Chick, who spoke with such awe and respect for the Celtics. He was so complimentary of Red Auerbach, Bill Russell, and of all of the players on those great championship teams of the '60s, even though his job was to sell everything Lakers. So here was Little Billy in San Diego, with his transistor radio under the covers, listening to Chick talk about the incredible accomplishments of the Celtics. That's what I wanted to be a part of, so it was the perfect situation.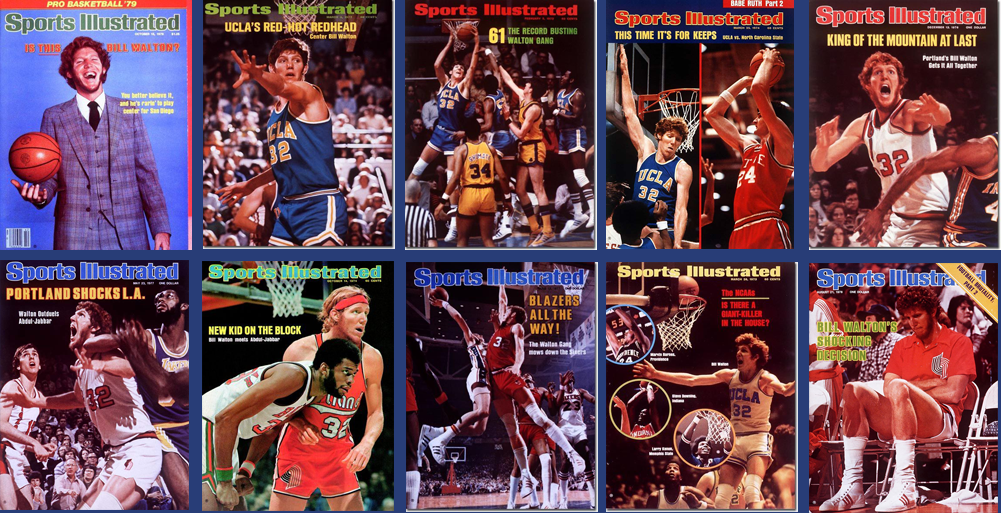 "I love all things Boston."
Little Billy continues to grow, and it's hard not to notice his potential. Walton attends Helix High School, where he grows into the most coveted basketball player on the planet. Helix captures the California Interscholastic Federation High School title two years running, all while winning its final 49 games. He's 6–10 when he graduates in 1970, setting the national record for field goal percentage (79 percent), but some of Walton's favorite high school memories are created away from the court.
"I went to my first Grateful Dead concert when I was 15 years old and immediately fell in love with them. There's this great community and tribal spirit that comes with being a Dead Head. Going to the concerts was the most fun in the world. Everybody's happy, everybody's dancing, and everybody's jumping up and down. The music is phenomenal. The whole experience is one of joy and love."

Walton enrolls at UCLA in 1970, following in the sizable wake of Lew Alcindor (Kareem Abdul-Jabbar). It's an impossibly high bar to clear, but Walton matches Abdul-Jabbar as a three-time Consensus First Team All-American, and as a three-time recipient of the NCAA Player of the Year Award. It's during Walton's freshman season that UCLA starts a mind-boggling win streak that spans four seasons. It begins on January 30, 1971, with a victory over UC Santa Barbara. He joins it 15 games later, his brilliance helping stretch the streak to 88 straight, including two consecutive 30–0 seasons and three national championships.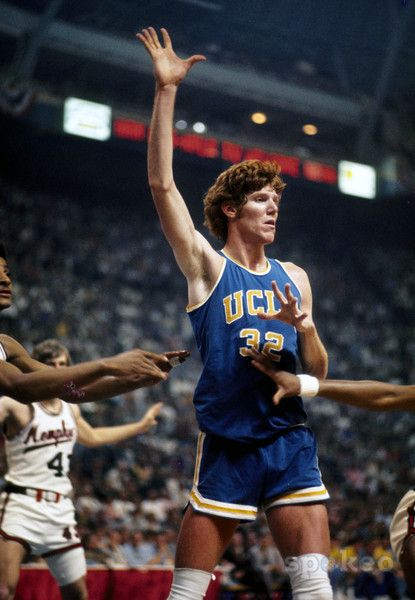 "January 19, 1974," he says, when asked what he remembers most about the streak. "The loss at Notre Dame. We wanted a third undefeated season, but it didn't happen. That loss was a punch to the gut."
The disappointment is easy to understand. As a sophomore, a Walton-led UCLA rolls to a 30–0 season by outscoring its opponents by 30.3 points a game, an NCAA record that still stands. A year later, Walton and the 1972–73 Bruins again go undefeated and again cut down the nets. By his senior season, the streak and the chase for perfection becomes a national preoccupation.
"The loss to Notre Dame was a harbinger of things to come," Walton says. "At any other program, finishing 26–4 and reaching the Final Four would be a cause for celebration. But, like those great Celtics teams, we wanted to win every game we played, and we wanted to go out on top."
Doesn't happen. The Bruins lose two more regular season games, and then, on March 23, 1974, North Carolina State beats UCLA 80–77 in double-overtime in the National Semifinal at the Greensboro (NC) Coliseum, in what is widely regarded as one of the greatest NCAA tournament games ever. The loss marks the end of the Bruins' seven-year national championship run.
"Coach Wooden never talked about the streak," Walton says. "He never mentioned winning, period, because that was a byproduct of everything else that went into preparing to play the game. He kept us focused on doing things the right way. That's why losing to North Carolina State in the Final Four was so difficult for me to overcome."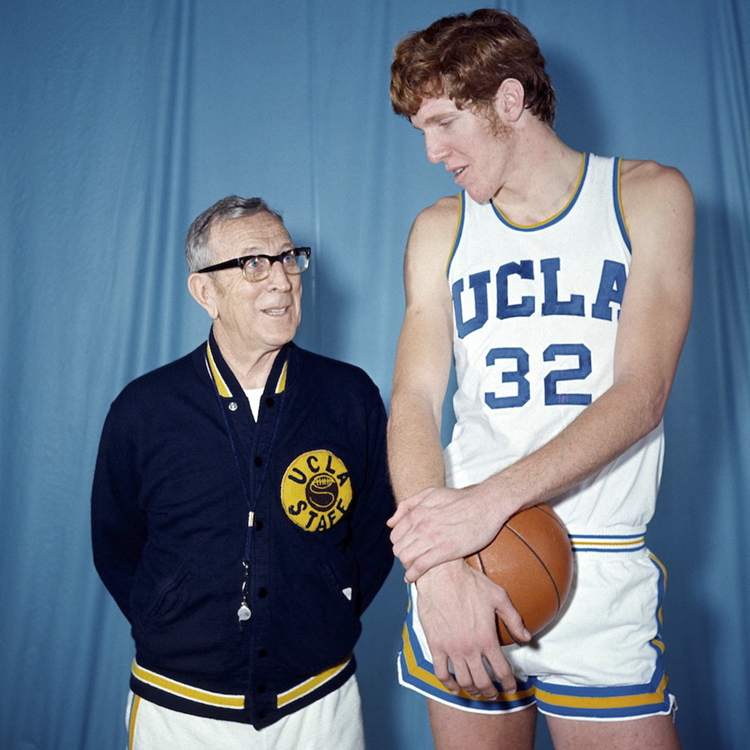 Along the way, Walton becomes not only one of Wooden's favorite pupils, but also one of his biggest challenges.
"I knew I was Coach Wooden's worst nightmare because I fought him on everything. I always wanted to know why," says Walton, who finishes his college career as a three-time Academic All-American. "Why were we in Vietnam? Why did I have to cut my hair? Why did I have to shave? Why was Nixon president? I was never satisfied."
Walton has countless stories like these. Some have morphed into urban legend.
"John Wooden used to place a lucky penny in the corner of the locker room each year and pretend to find it as he was giving a pregame speech," he says, smiling. "Well, I ended up stealing John Wooden's lucky penny. One day I received an anonymous letter stating that there was a curse on me, and that the only way to break the curse was to go to the Philippines and see this witch doctor. Trust me, when you're the most injured athlete in the history of sports, you can't say it doesn't cross your mind."

The Next Great Thing's fairytale ride starts hitting potholes in Portland. Selected by the Trail Blazers with the first overall pick of the 1974 NBA Draft, Walton's first two years are marred by a constant string of injuries, causing him to miss 78 of 164 games.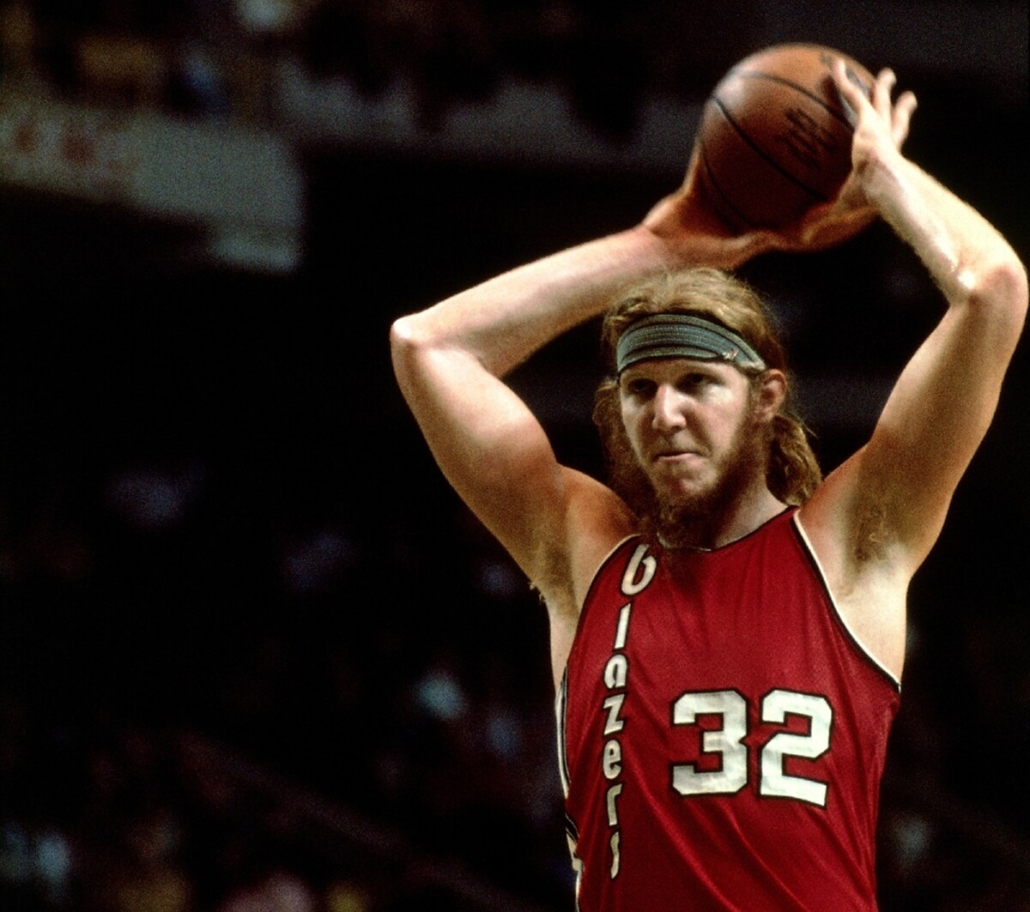 Walton misses time with a broken nose and then follows that indignity with injuries to his wrist, leg, and foot. When healthy, he redefines the center position with his vision and passing. In his third season, Walton plays in a career-high 65 games, spearheading the Blazers' run through the playoffs. He refuses to be singled out for his greatness, instead crediting everyone else as the difference makers against Philadelphia in the 1977 NBA Finals.
"It was a total team concept," Walton says of Portland winning the championship. "We trusted each other, and we trusted the system. I played my part, and I tried to play it well, but the truth is, we had Maurice Lucas, and nobody else did. We had Jack Ramsey, and nobody else did. And, just as importantly, we had the Blazermaniacs, and nobody else did."
An avid biker, Walton endears himself to those Blazermaniacs by biking to Memorial Coliseum on game days. His counterculture lifestyle, seen by many around the country as strange and off-putting, is right at home in Portland.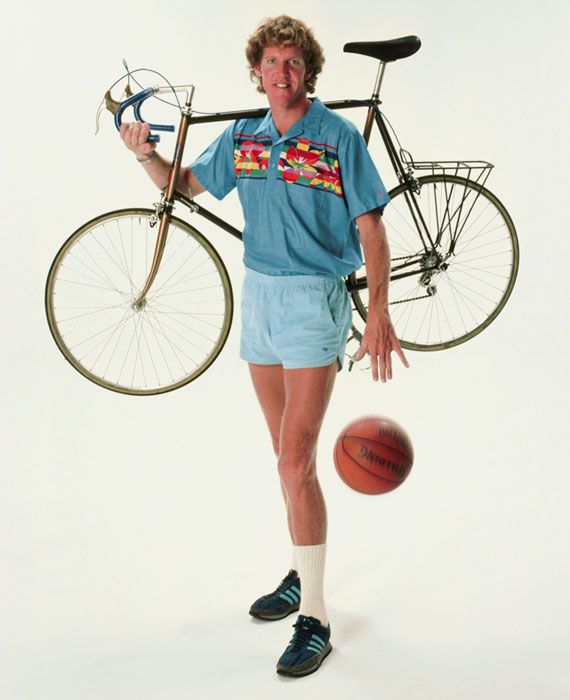 "The crowd made me better; the crowd made me high," says Walton. "They knew they made us better, and that drove them to give us even higher levels to delirious celebration and support."
It's in Portland that Walton's love affair with the Grateful Dead reaches new heights when he's recognized at a concert. It's a memorable affair for all involved.
Walton wins the NBA MVP Award following the 1977–78 season, even though he only plays in 58 games. By the All-Star Break the Blazers are 40–8, and winners of 44 straight at home, but on March 5, Walton has surgery on the nerves in his right foot. That foot heals, but now something is wrong with the left. He misses 22 straight games, returning to play 34 gutsy minutes in the playoff opener against Seattle, scoring 17 points and grabbing 16 rebounds in a losing effort. It's clear to anyone watching that Walton is not healthy.
"The beginning of the end in Portland," he says.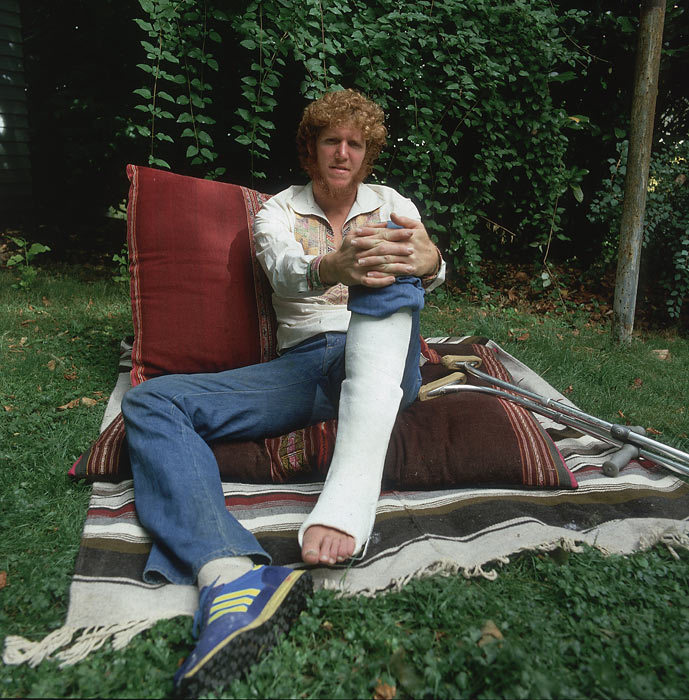 Still in pain, Walton faces a dilemma; rule himself out for a must-win Game 2, or take an injection of Xylocaine, an anesthetic. Walton takes the shot. He plays. And while the Blazers win to even the series, Walton's season, and his career in Portland, is over.
"I played on a broken foot," Walton says. "I didn't want to let my coaches down, or let my teammates down. It turned out to be the wrong decision, because it was based on immediacy. We needed to win that game to avoid a 2–0 hole against the SuperSonics. I wasn't thinking about my long-term health."
The injury leads to legal action and finger-pointing, with Walton sitting out the entire 1978–79 season in protest. After the season he signs with the San Diego Clippers, returning home but playing in just 102 games over five years.
And then, just when he considers walking away for good, Red Auerbach and the Boston Celtics come calling.

The Trade goes down during the summer of '85.
Auerbach, unhappy with Cedric Maxwell's injury rehab, swings a blockbuster deal that delivers Bill Walton to Boston. The feud between Auerbach and Maxwell goes public, with both sides taking the low road; Auerbach strikes mention of Maxwell in an upcoming book, while Max leaves town throwing shade.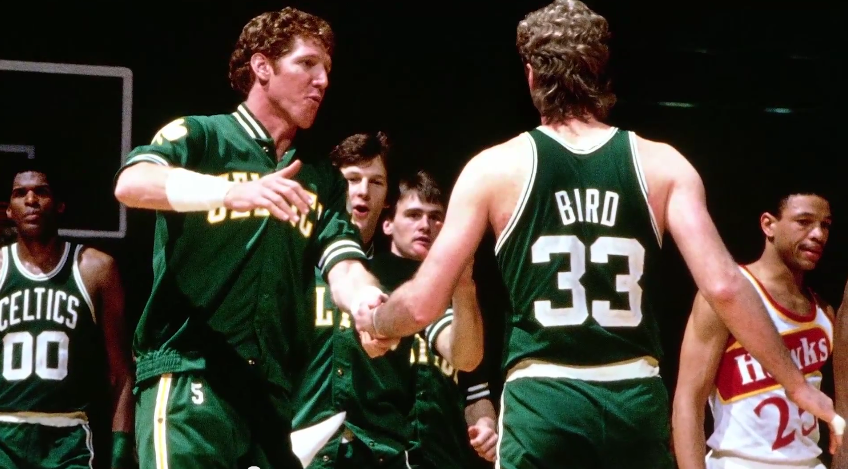 "With Red, loyalty was a two-way deal," Walton says. "Red created a culture of trust, family, loyalty, pride, all the things that we love and mean so much to us. He expected us to be wholly vested in his vision, and the temporary falling out with Cedric Maxwell was, in Red's mind, a violation of that trust. He felt that Cornbread hadn't worked hard enough at rehabbing his knee injury, and Red considered it an affront to the Celtic Way. I'm just glad that they were able to get past their differences because Cedric was a special player who helped the Celtics win two championships."
For Walton, who grows up idolizing Bill Russell, The Trade is a dream come true.
"The Celtics didn't give me my career back, they gave me my life back," he continues. "To be able to go from the bottom to the top in one plane ride was just staggering. I had early success in my career, but the endless string of injuries destroyed everything. The Celtics gave me a chance to be a part of something special, which has always been my dream in life."
Walton's medical history is of prime concern, but it isn't the only concern; the media and the fans immediately wonder whether Walton and starting center Robert Parish can coexist.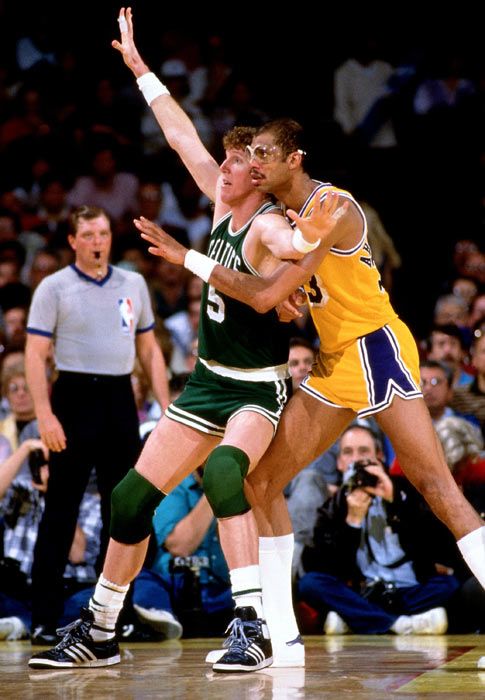 "Meeting with Robert Parish was the very first thing that I did when I arrived in Boston," Walton explains. "When I got off of the airplane, M. L. Carr was there to pick me up. M. L. wasn't going to be on the team that season because he'd transitioned to something else, but he was still part of the Celtic family. We hadn't left the airport yet. I said, 'M. L., take me over to Chief's house, I've got to talk to him.'
"I went over to his house, and I looked at him, and I said, 'Robert, I just want you to know that I'm only here to help you. I'm not here to take anything from you. I'm here to add to what you've already done, to what you're currently doing, and to what you are going to do.' I'm a team guy. That's what I'm all about. I needed Robert to hear that come from me personally because that's the way a team is supposed to work. And Robert could not have been nicer. It was so fun to play with him. I love that guy so much."
Once training camp starts, a healthy and reinvigorated Bill Walton falls in love with his sport all over again.
"I had played against Robert Parish, and I knew he was excellent. I had played against Dennis Johnson, and I knew that he was fantastic. I didn't know how good Larry Bird and Kevin McHale truly were. Larry was the best player that I ever played with. Kevin was the second greatest low-post player that I ever played against, after Kareem Abdul-Jabbar. It was just so much fun. I'm sitting here today, 30-plus years later, and I've got this big, giant grin on my face thinking about how fun it was to get up every day, and to go and spend the day with those guys. It was that way with everybody on the team. Danny Ainge—who should be in the Hall of Fame: Scott Wedman, Jerry Sichting, Rick Carlisle, Greg Kite, Sam Vincent, David Thirdkill . . . KC Jones and the assistant coaches, Chris Ford, Jimmy Rodgers, and Ray Melchiorre. It was an incredible experience. It was better than perfect."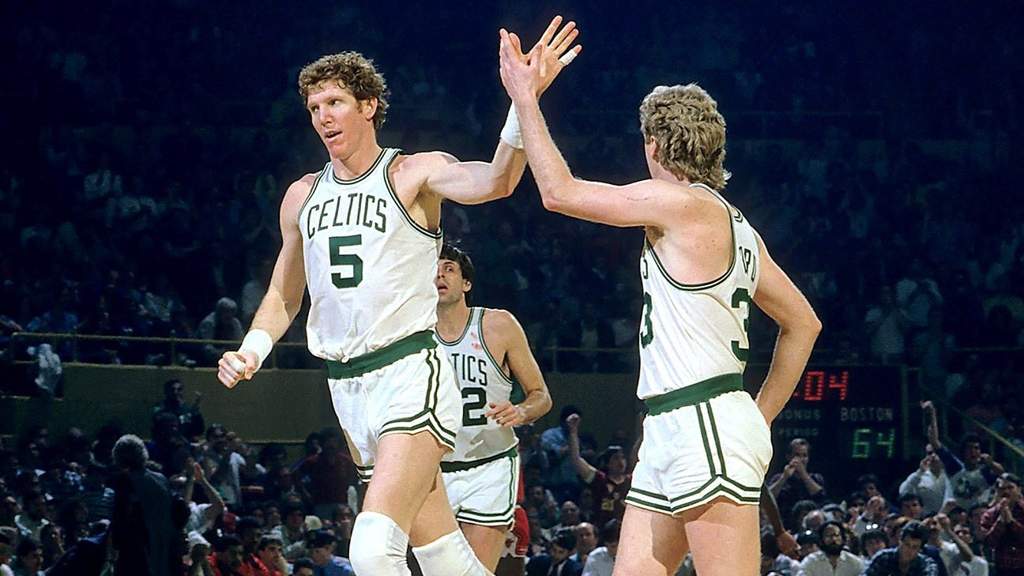 For the first time in his career, Walton doesn't feel the burden of carrying a team on his shoulders. In Boston, he can simply fit in.
"It was a championship team before I ever got there," he says. "I was just lucky to be in a Celtics uniform. My job was to remind the guys of what the schedule was [laughs]. KC Jones would put a variety of combinations out there. Sometimes he would have Larry, Kevin, and Chief on the court doing their thing. And then it might be Larry, Kevin, and me…or Robert, Kevin, and me. He also had Scott Wedman, who was a fantastic talent coming off the bench. Everybody could do everything, including think. There were a lot of interchangeable parts."
In Portland, Walton becomes famous for riding that bike to games. In Boston, he relies on another mode of transportation.
"I hate traffic, and I hate to wait," he says. "The T was the fastest way to get to the games; I remember riding the Red Line and the Green Line to get to the Boston Garden because the traffic was just so awful. The fans would be rocking the cars, just like they did in the Garden, with chants of 'Here we go Celtics, here we go!' And then you'd get there, and the fans were so fired up. They were the best fans in the world. People would buy tickets just to be in the arena, even though they could even see the game. I don't know how many people actually bought tickets because if you knew anybody, you could get in for free. They had that backdoor on the Causeway Street entrance, where some guy was just standing there waving people through. It was just so fun, it was a dream come true. The world as it could be and as it should be. What could be better than that?"

The most famous Dead Head in the world wastes little time evangelizing his favorite group to his new teammates.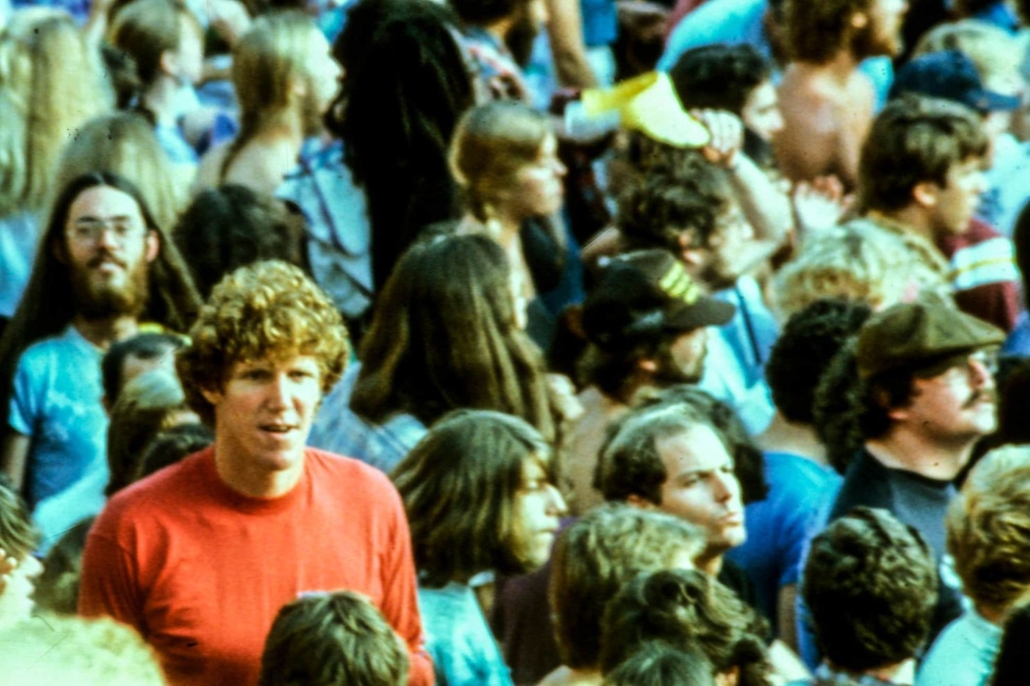 "When I came to Boston, my love for the Grateful Dead was well-known," Walton says. "Larry and Kevin came up and asked me if they could go to the show, because they'd never been and didn't know any of the songs. And my reaction was one of immediate excitement. I was like, 'Yeah, okay, let's go!' And so we put together a road trip, and we all went—well, everybody except for Danny Ainge because his wife wouldn't let him go with us [laughs]. It was a fantastic time! When the show was over, they looked at me with the Kaleidoscope eyes of somebody who's just seen something for the very first time. I don't know that they ever embraced the Grateful Dead. I can't speak for them. But afterward, they said, 'Wow! Can we come back tomorrow?' So we went back again the next night."

With Walton finally healthy and Bird at the top of his game, the Celtics roll to a 67–15 record, best in the NBA. The players are alike in many ways—consummate teammates, brilliant passers, intense competitors. The friendship that develops is immediate.
"Spending time with Larry Bird is like being on a tropical island," Walton says. "There is so much heat, and so much life, and everything is happening at warp speed. I don't know if you have ever been to Maui, but you can sit there in a chair and see the plants get bigger because everything is happening at such an extreme level. That's what life with Larry Bird was like. There was so much fun, and so many things going on. I'm the luckiest guy in the world to have been a part of that."
The connection with Robert Parish is equally rich.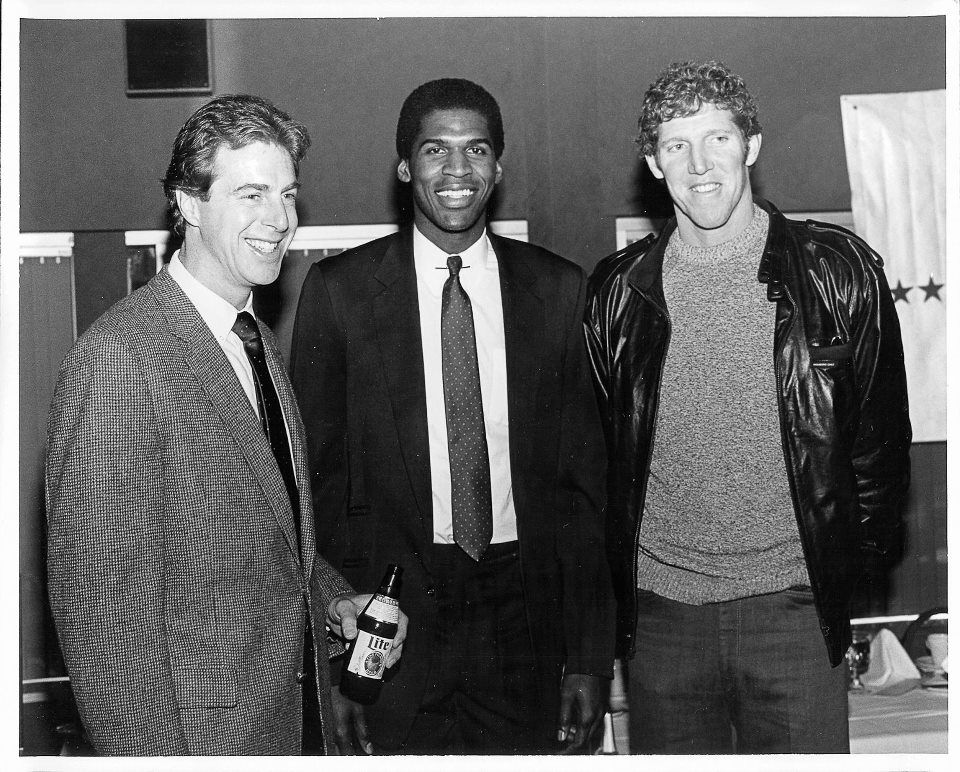 "I love Robert Parish. Away from the spotlight, Robert is very funny. That's the way that he is. On the bus rides, in the locker room, in the hotels, in the airports . . . he was just so much fun. Imagine the honor that I had when Chief went into the Hall of Fame, and he called me up and said, 'Bill, would you be my presenter?' Are you kidding me? I am the luckiest guy on earth. Playing behind Robert Parish, that is akin to following a Brinks truck down a bumpy road and they forgot to close the back door."
Walton anchors the second unit, and the Celtics roll to the '86 NBA championship. For a student of the game, following in the footsteps of the great Bill Russell is the ultimate "pinch me" moment.
"Bill Russell became my favorite player ever, on and off the court. The way he always carried himself epitomized everything that I wanted to be. The way he stands up for a better world. To see someone like Russell stand up to the nonsense, to the indignities, to the injustices . . . he's a beacon of hope, he's a shining star. He's who I aspire to be, knowing full well that I could only hope to be but a tiny fraction of the towering pillar of humanity that he has always been. Bill Russell is a towering giant in a world of shriveling midgets.
"There is this incredible moment in Bill Russell's last game," Walton begins. "It's Game 7 of the 1969 NBA Finals, and the Celtics are playing the Lakers in Los Angeles. The game's on national TV, the Celtics are huge underdogs, it's being played in the Forum. Jack Twyman, who is one of the announcers, goes into the Celtics' locker room before the game. Russell is sitting there. He's got this scowl on his face, and he's ready to go. Sam Jones has already shown him the letter that Jack Kent Cooke wrote to all of the Laker season ticket holders, about how the championship would be celebrated at the end of the game. Russell has also heard about the purple and gold balloons suspended in the rafters and how the Lakers will be releasing them when the final horn sounds. He knows about the champagne chilled in the Lakers' locker room. Jack Twyman says to Bill Russell on camera, 'What's going to happen tonight, Russ?' Russell just glares at Jack, and he says simply, 'We're going to win.' Jack is taken aback, and he asks how he knows that the Celtics are going to win. Russell looks at him and says, 'Because we've done this before.' I was so pumped up when I heard him say that. I was sitting there, watching Russell on TV, and I was like, 'Yeah! Let's go!' And we all know what happened. Russell played the entire 48 minutes and walked into the sunset a champion."

Steer the conversation in any direction, and all roads eventually lead back to the Grateful Dead. Walton has jammed with the Dead, toured with them, and seen more of their concerts than just about anyone. He's so close to the band that they often stay at his home, rather than a hotel, when visiting San Diego. He even met his wife, Lori, through friends of the band.
"She's a fan of the Grateful Dead, and she went to UCLA, which were two very important attributes," he says, laughing.
Walton, who keeps count of his concert tally, certainly doesn't see himself scaling back anytime soon.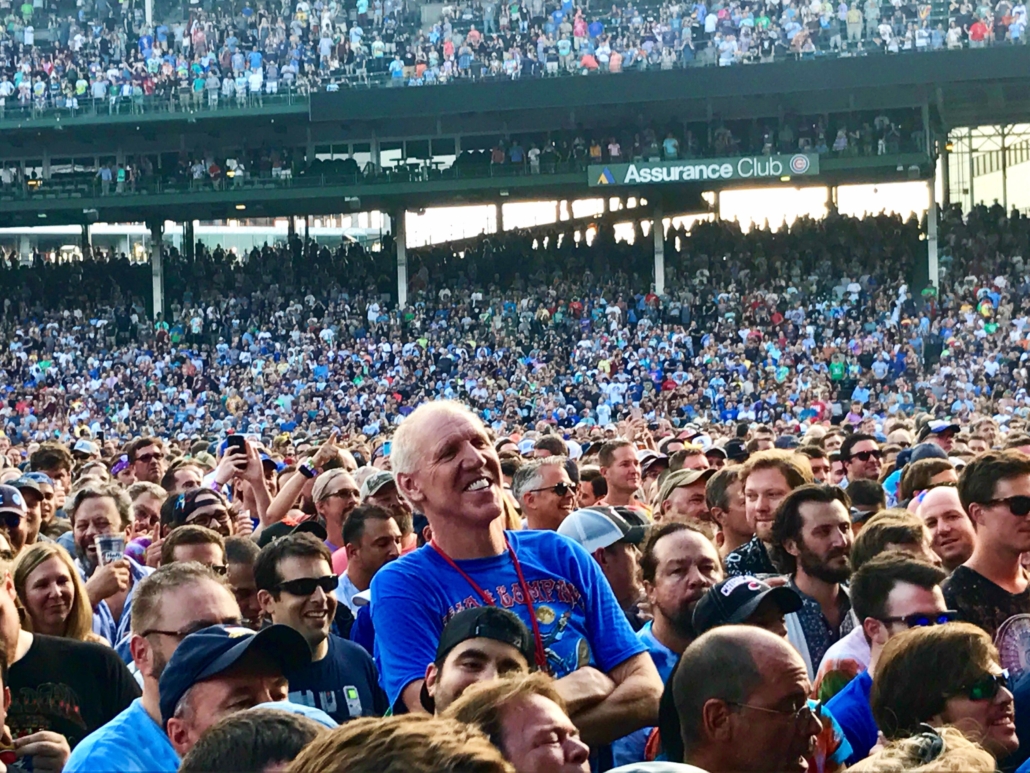 "I didn't count the first 12 years that I went to Grateful Dead concerts—nobody ever thought of counting back then, we just went all of the time. It was during the late '70s or early '80s that I started to count my concerts. Today the count is 889, but it's not important how many. It's important that we were there, that we are there now, and that we hope to be there tomorrow. I used to care where they played and what they played, now the only thing that I care about is that they play at all, and how they play. I want more shows."
Walton sees endless parallels between basketball and the Grateful Dead and moves seamlessly between his two favorite subjects.
"From the very beginning with the Grateful Dead, I looked up on that stage and shouted from the top of the highest mountain, 'I am with those guys!' From the earliest days listening to Chick Hearn, I said the same thing about the Boston Celtics: 'I'm with those guys!' I'm with Red Auerbach. I'm with KC Jones. I'm with Bill Russell. I'm with John Havlicek. And then the '70s came, and the love affair never stopped, because then I'm with Dave Cowens. I'm with Jo Jo White. I'm with Paul Westphal. I'm with Paul Silas. I'm with Don Nelson. And then I'm traded to Boston, and my dream comes true. I'm with Larry, Kevin, Robert, DJ, Danny, Rick, Scotty, Jerry, and all of the guys. I'm with those guys."
Winners of 15 world championships before he arrives, 'those guys' now includes this guy, the oft-injured redhead who resurrects his career in a Boston Celtics uniform.
"I was drawn to those great Celtics teams by the way that they played," Walton says. "Those great teams in the '60s were so fast, and the ball never seemed to touch the floor. You had Sam Jones with his patented bank shot, KC Jones with the great defensive steal leading to transition offense. You had Bill Russell blocking a shot or grabbing a rebound to ignite the fast break. You had Tommy Heinsohn with the running hook shot, John Havlicek doing everything imaginable on earth and never getting tired. And then you had Dave Cowens, who was so fabulous in the early '70s and who was just so fun to watch. And then later you had Larry Bird, Kevin McHale, Robert Parish, and DJ doing their thing . . . To be an admirer of that tradition, and then to be a part of it, you couldn't possibly hope for anything else."

Unfortunately, Walton's injury woes return. He plays in a career-high 80 regular season games during the championship run but appears in only 10 during the 1986–87 season. He's on the bench when Larry Bird makes his famous steal during Game 5 of the Eastern Conference Finals, and he retires shortly after the Celtics fall to the Lakers in the '87 NBA Finals.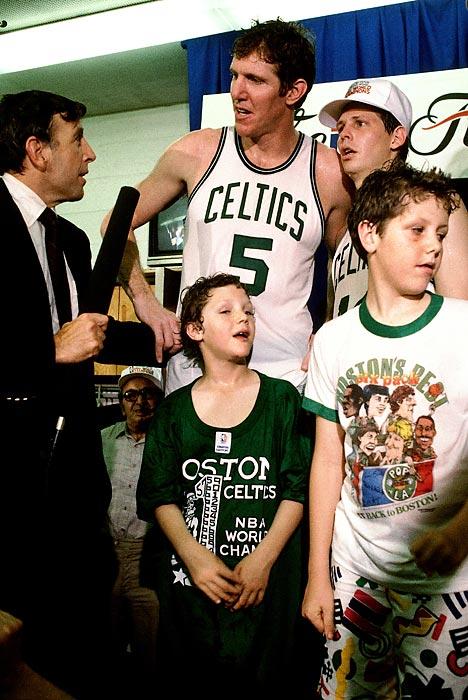 "Being part of a band is the same as being a part of a team," Walton says. "That spirit of, 'Yeah, we're going to get this done,' or 'Let's go, we've got a show to put on,' or 'We've got a game to play.' It all translates into the same thing: 'We get to go do this today, and we get to go do it together.' The teamwork, creativity, improvisation, and imagination that goes into being a great musician also goes into being a great basketball player. Those are the things that I knew I was going to miss when I decided it was time to retire from basketball."
Walton has long ago accepted his lot in life.
"My story is one of a meteoric rise to the top, and then immediately followed by catastrophic orthopedic health problems. I'm the most injured player ever. I missed more than nine full seasons of my 14-year NBA career. I could never sustain. I'm on Bill Walton 17 right now.
"I wanted to be the best, but my body would not carry me where I needed to go or where I wanted to go. I spent half of my adult life in the hospital, endured 37 operations, and never achieved the ultimate dream of being the best. I've learned to appreciate the things that I've accomplished, like being a part of two of the greatest basketball teams in the world, the Bruins and the Celtics. It doesn't get much better than that."

One thing is clear: Bill Walton 17 is happy to be back.
"When you are old like I am, the driving emotions in your life are pride, loyalty, and gratitude. Pride: The satisfaction with your choices. Loyalty: Do we care, and is this worth it? Gratitude: The appreciation and the respect and the acknowledgment of the sacrifice that has gone for you to create what we have today."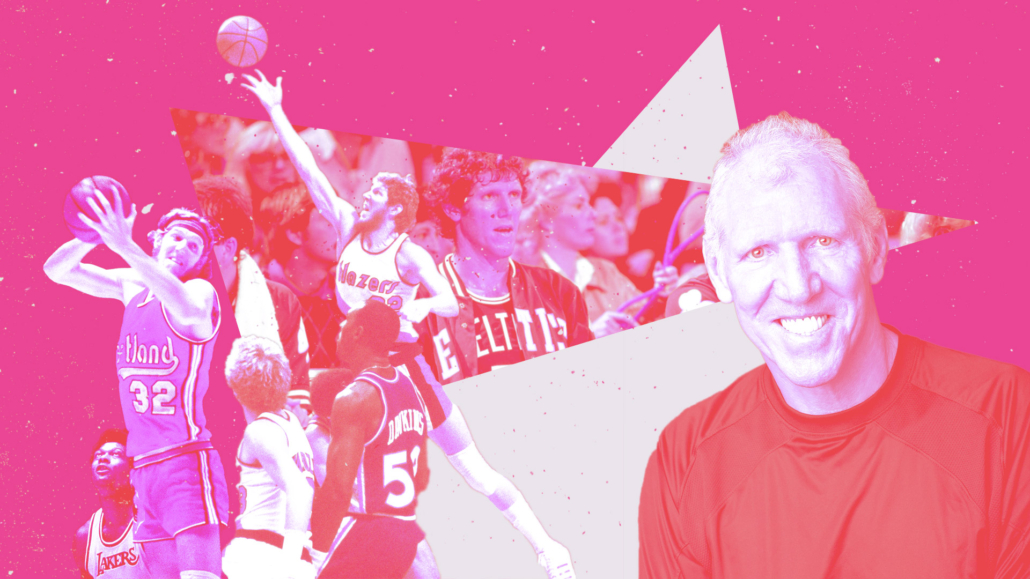 Walton pauses. His smile releases a row of perfect teeth, thoughts of suicide nowhere to be found.
"I try to learn from the past, dream and hope for a better tomorrow, and live for today. Today is what I can go for, and that sense of going for it is what excites and motivates me. There's a song by the Grateful Dead, called Saint of Circumstance. Listening to it reminds me that when you have dreams, and then the dreams come true, and then the reality is better than a dream, there's nothing like that in life. That's happened a lot in my life. The Boston Celtics are such a big part of who I am, and a big part of the life that I have today."
The following two tabs change content below.
A West Virginia native, Michael D. McClellan's celebrity interviews appear on his web site, FifteenMinutesWith.Com, and include Olympic heroes Mike Eruzione and Dan Jansen; Grammy winners Al Jarreau, Melissa Manchester, Keb Mo, and Big Daddy Kane; NFL Hall of Fame quarterback Jim Kelly; and NBA legends Magic Johnson, Julius Erving, and Kareem Abdul-Jabbar.
Latest posts by Michael McClellan (see all)
https://www.fifteenminuteswith.com/wp-content/uploads/2019/09/the_bill_walton_interview.png
400
600
Michael McClellan
https://www.fifteenminuteswith.com/wp-content/uploads/2016/08/FifteenMinutesWith_NewLogoPrototype.png
Michael McClellan
2019-09-15 13:37:28
2019-10-02 01:51:29
Bill Walton - Grateful Red